Yes, real estate is all about looks and detailing. However, real estate websites need to be optimized for SEO, in addition, to be designed in an effectual manner and full of detail-oriented images, videos, and other effective media. Adding quality media can drive visitors into considering your business offerings, however, it's important to let visitors know that you exist and allow them to reach you easily. This is achieved by means of search engine optimization a.k.a. SEO.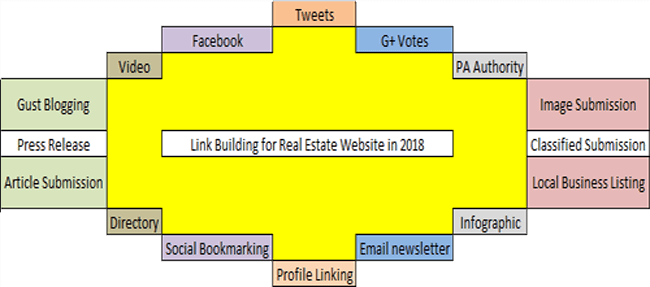 Any website, whether it's about real estate or web development, needs to be easy to use. Building links for the real estate business are important to provide your offerings to the most suitable users. Link building for any real estate website in 2018 is an important and rewarding task. So, here are some great ways of doing so in the upcoming year:
Add your Business to the Google My Business
Google My Business is becoming increasingly popular for a different business to make the most out of Google Search and Google Maps. The free tool let's businesses create listings (list of products and services they offer) to better reach out to clients.
Enlist your real estate business on Google My Business listing. It is completely free and allows you to effectively build your business' presence on the Google Maps and Google Search. Moreover, businesses available on Google My Business are credible organizations, verified by Google itself.
Local SEO
Local SEO lets Google filter out nearby products and services for different geographical locations. Local SEO finds great use in real estate businesses. This is obvious as people looking for real estate at a specific location most likely wish to know about real estate options nearby their location. Hence, local SEO is important for realtors.
However, real estate businesses should not focus entirely on local SEO, especially when dealing is available at different locations. Therefore, an SEO approach with a chief focus on local SEO needs to be adapted for better results. Real estate businesses can either set up an in-home SEO team for the task or outsource as per requirements.
Stay Active on Social Media
Another great way to do the link building process right and make it more productive is by means of staying active on the social media. About 1/6th of the world population is on Facebook. Twitter has a userbase that is about to reach the incredible 1 billion mark. Other popular social media platforms like Pinterest and Instagram also boast a large userbase. All these platforms are apt for spreading the word about your real estate business.
YouTube has become the unofficial video authority. It is a place that is full of entertainment, fun, work, learning, and whatnot. Hence, you might need to create content that can be useful to attract YouTube viewers. It's great to display your business to a wider audience. Moreover, videos allow you to give a better presentation of your real estate business.
Quality and Regularly Updated Content
There are several things that people look for other than an opportune property. These range from educational institutions to employment options. Thus, there are several things for which content can be created related to real estate offerings. While creating content, you need to prioritize quality over quantity. This is important to make your content reach the most relevant audience.
Create and develop less content but it should be of high quality. Moreover, you need to regularly update the extant content according to the present scenario to let visitors stay abreast of the latest. Updating content has become very important following recent updates in Google Search, which now prioritizes quality and updated content over simply quality content.