In today's time, all people do is stick to their devices at every hour of the day, working, searching, browsing, purchasing and doing all sorts of stuff. Now, if you have a website, a blog, online business or anything as such, then without a doubt, your main aim is to lay stress upon the enhancement
In today's time, all people do is stick to their devices at every hour of the day, working, searching, browsing, purchasing and doing all sorts of stuff. Now, if you have a website, a blog, online business or anything as such, then without a doubt, your main aim is to lay stress upon the enhancement of the organic traffic on your website and following the SEO tips will assist you in attaining what you wish to.
Are you feeling that the speed at which the SEO strategy and techniques and their efficacies are changing on a constant incline? If yes, then you are not wrong, because Google is undoubtedly getting smarter and stronger from all the times, not only at monitoring and understanding the web pages but also at how efficacious it is at keeping people within its framework. In the year 2021, Google had accounted for around 70% of all global desktop search traffic which is followed by Baidu at 13%, Bing at 12% and Yahoo at 2%.
Now, just good content is not enough to run a successful blog, SEO techniques are required to be applied to attain more traffic. Advancing content for search engines is a never-ending daunting task.
There are multiple SEO tips that will assist in boosting up the organic traffic on your website and in this article, we will go through some of them.
Here, in this article, you will get to know about the 9 expert SEO tips to boost up organic traffic on your website in 2022. With this, you will get to know how you can create a strong traffic on your website easily, the tips will assist you in understanding the algorithm of Google efficiently. But before jumping to this section, here are some facts and statistics about SEO Marketing.
● According to research, it is stated that around 91% of all pages never attain any organic traffic from Google, mostly because of the fact that they do not have backlinks.
● A study has stated the top four ranking factors and direct website visits, time on site, pages per session, and bounce rate.
● Around 36% of the SEO experts say that the headline/title tag is the most integral and vital SEO element.
● SEO is considered more effective than PPC by 70% of marketers.
● Improving SEO and growing their organic presence is the upcoming priority of 61% of the marketers.
These were some of the insights about statistics and facts of SEO Marketing to offer you with knowledge of the recent trends that have been going on from the past few years, this might help in providing you with strategies and plans for your website and other things.
9 Expert SEO Tips to Boost up Organic Traffic on your Website in 2022
1. Creation of Fresh Content
Fresh content is something that will always be interesting and useful for the audience. The content you write on your website must have a topic which can be constantly searched by the users.
These kinds of posts will always attain high organic traffic. Here are some usual evergreen content formats that you can use with multiple topics. Here are some of them:
● Advantages and disadvantages of products
● Checklists
● Statistics of the market
● "how to" content
● Guide for the beginners
Including these content formats in your blog will always throw a positive impact upon the audience. You must keep looking for new and refreshing topics that will be timeless for your audience. Content Writing can help your website rise or drop down completely.
2. Improve the Experience of the users across your complete website
The main motive of every search engine is to provide the best possible results for each and every query of the users. If they do not implement this task properly, the users will not use the search engine again. And in this case, Google is doing extremely well, which is why it is said to be the largest search engine globally.
What you need to do is keep wondering about the constant want to show the best results when you are optimizing your website for SEO. This is to be done because the poor-quality series have less chances of getting ranked.
If the appearance of your website is not trustworthy to look at, or is outdated, with slow speed and very basic, then the users will most of the time bounce back to the SERPs and then check for another result. You have lost a user and the bounce back rate of the affected website will increase. And, it is said that, the search engines reward those webpages that hold low bounce rates.
For improving the experience of the users on your website, you can do the following things:
● Create easy to read posts by writing quality content, shorter paragraphs, mixed sentence lengths, sub-headers, bullet points, Pictures or screenshots. You can use these content writing strategies for bettering the user experience in your website.
● You can use the inverted pyramid style of writing on the top of your website which shows all the important elements, making it easier for the users to understand the importance of your web page.
● You can use several UX/UI designs for making your website look attractive and not have an amateur look. This will catch the attention of the users.
● Another thing that you can do is increase the speed of your website so that the users can easily operate the site. This fact is a ranking factor and will help you attain an audience. You can use various SEO tools that can assist you in increasing the speed of your site.
3. Advanced Voice Search
According to a study, it is stated that around 25% of the adults in U.S own a smart speaker, and it is very obvious to state that voice search is something that you should add into your SEO strategy. Here are some points that you must keep in your mind while optimizing for voice search:
● You must use long-tail keywords. They have a very important role to play in voice-search, with long-tail usually referring to the terms that contain around three or more words.
● You must use structured data, using this can assist you in boosting the chances of your data being used to answer a voice query over a competitor's. There are multiple types of structured data that can be used by the SEO users.
Taking the assistance of SEO services will help you in executing this accurately.
4. Create Designs for Mobile First
While the voice search is integral, time has portrayed that it's not as vital a tool as we thought, especially when the topic comes about conversions.
Whether this states that voice search will never be important to e-commerce marketers or whether it just needs to evolve, remains to be seen. But what we actually know is, for now, most of the searches and 50% of the purchases are done through mobile phones. It is stated that 77% of Americans today own a smartphone.
This means that any new website that you create should lay emphasis on the mobile experience. No doubt that the performance of your website depends upon your desktop too, but mobile phones need to come first.
5. Research of keywords
Keyword research is no more what it used to be as Google has included plenty of things to the results pages which involves shopping, featured snippets and multiple others. These things have resulted in lower CTRs for websites on the top of the SERP as both user attention clicks are diverted to these results.
The outcome of this enhancement is that the marketers are shifting their focus from the top search positions, to a new concept in keyword optimization on the SERP marketing. The main aim of this type of keyword optimization is to advance the content to make them appear in various search elements, like top stories, videos, questionnaires and pictures.
If you wish to survive in today's Google search environment then you will have to align your website's goals with keyword opportunities that SERPs offer. The SEO users must optimize for specific keywords as Google no longer depends upon the keyword strings, providing relevant results by keeping in mind the user search intent.
6. Unique Content
Original Content is one of the most important requirements in SEO. Although, the landscape of content undergoes multiple changes that the industry is very quick to adapt. Firstly, the access of interactive images will continue to dominate the websites. This development is indicated by the popularity of social media and multiple video streaming platforms.
This trend of generating high quality unique content has been determined by both the creators and the marketers. Around 90% of the successful content marketers put the requirements of the audience first than the promotional requirements.
7. Social Media Marketing
This is another tip that you must follow if you wish to boost the organic traffic on your website. You can promote your website through social media handles, this is one of the best ways to gain organic traffic.
Through social media, you can attain potential visitors, you can simply talk about your website by creating valuable content and then post it on the social media redirecting to your website, this will attract a huge amount of organic traffic.
8. Lay Stress upon the User Search Intent
Keep the aim of your work in mind before you initiate with everything. You must always stick to the part which states that how can your products and services assist the audience and what value will the post bring back to your website? There are around 3 types of major user intents that you need to keep in your mind:
● Informational Intent which are the posts that are exclusively focused upon delivering the information on a particular topic, tool, etc. These posts must be very detailed and extensive.
● Navigational Intent or query is the one which is done by the user to find out the particular website in search engines. This states that while executing tehri search, they are very clear about what they need and where they need to head without scrolling through all the pages.
● Transactional Intent is the intent in which users have the intention of buying something, downloading something, joining up or registering and so on.
9. Include Video Content
Videos carry the potential to better the digital presence of a company, increasing the traffic and boosting the website ranks in the search engine results. Putting efforts and resources into the video content creation can generate incredible returns from both SEO and Marketing perspectives.
Informational and engaging video material must be involved in your SEO campaign. You should not ignore the requirement for organic website visits because of the inclusion of high-quality video content.
Take Expert Approach
It is very important in today's time to understand the working of the ranking system if you wish to provide a good ranking to your website. Following the SEO tips will assist in boosting the organic traffic in your website.
It is very necessary to keep yourself updated with the latest SEO trends for ideal growth. Understanding the SEO's scope expands every day and climbing higher in SERP results is not as easy as it sounds.
You can attain the highest SERP results, and face an increment in the organic traffic in your website with the assistance of SEO Corporation which is the best SEO company that provides the ideal SEO services.
Our main motive is to provide you with all the latest SEO tools for boosting the audience rate on your website. We will help you in the development of your website with all our efforts. Hiring our services will provide your website with a different face and achievement.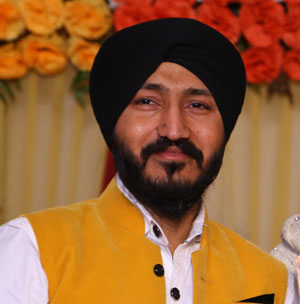 Jaspreet Singh, the genius mind behind SEO Corporation. A Digital Marketing enthusiast who speaks fluently on all arrays of Internet marketing. He beholds in-depth understanding of digital platforms and guided countless businesses globally in achieving top position in the market. Whether you would like to perceive recommendations for your startup or tips related to digital marketing for your business, he is never short of talking about it.