Grow Your Business with
Result-Oriented Plumbing and HVAC SEO Services
Want to grow your plumbing and HVAC business? We can help you reach more customers using the latest digital marketing techniques. We specialise in plumbing and HVAC SEO and can helpyou take your business to the next level.
Our plumbing and HVAC marketing services
Search Engine Optimisation
Get your pages to rank in the top 5 of Google listings using result-oriented SEO for plumbers/HVAC businesses. Get more leads and conversions with the help of world-class SEO techniques.
Local SEO
Our Google My Business page optimisation and Google Maps optimisation services for plumbing companieshelps you get found locally. Get more local leads and surge ahead of your competitors!
Social Media Marketing
Our SMM for plumbing services and HVAC increases awareness about your business and also helps you get more inbound traffic. Connect directly with your audience and start building lasting customer relationships.
Paid Marketing
PPC for HVAC companies and plumbers can get you instant results. We can plan your PPC ads to maximise ROI so that every penny spent helps your business grow.
What our customers think of us:
SEO Corporation designed my business website and is currently doing SEO. I am extremely satisfied with their services, and I highly recommend using this company. I have recommended SEO Corporation to all of my friends and will continue to do so. Very happy with everything.

Justin I
Founder
Jaspreet and his team have tremendous knowledge of what's new in SEO. They are truly experts in their field and very detailed oriented. I highly recommend this company for digital marketing services. They always get us great results.

Doron Farber
CEO
I was looking for an SEO expert to turn the tide of my business. I came across SEO Corporation and liked their business profile. I hired their SEO experts and they did a commendable job in bringing my business back on track.

Harry Thomson
CEO
Why should you hire us as your marketing consultant?
SEO SERVICES FOR PLUMBERS & HVAC:
How to Grow Your Plumbing Business Online
Not getting enough qualified traffic and leads for your plumbing and HVAC company?
This ultimate plumbing SEO guide will teach you how to grow your business in a fast and affordable way by boosting your online presence.
You will get to know the precise step-by-step search engine optimization process employed by the best Plumber SEO companies to generate more leads and revenue. You will learn many things, including:
Why you are not getting plumbing traffic and leads
How to get more local leads for your plumbing and HVACbusiness
Our guide will tell you how to grow your plumbing business online within a span of just 3 months. So let's start on this MILLION-DOLLAR journey!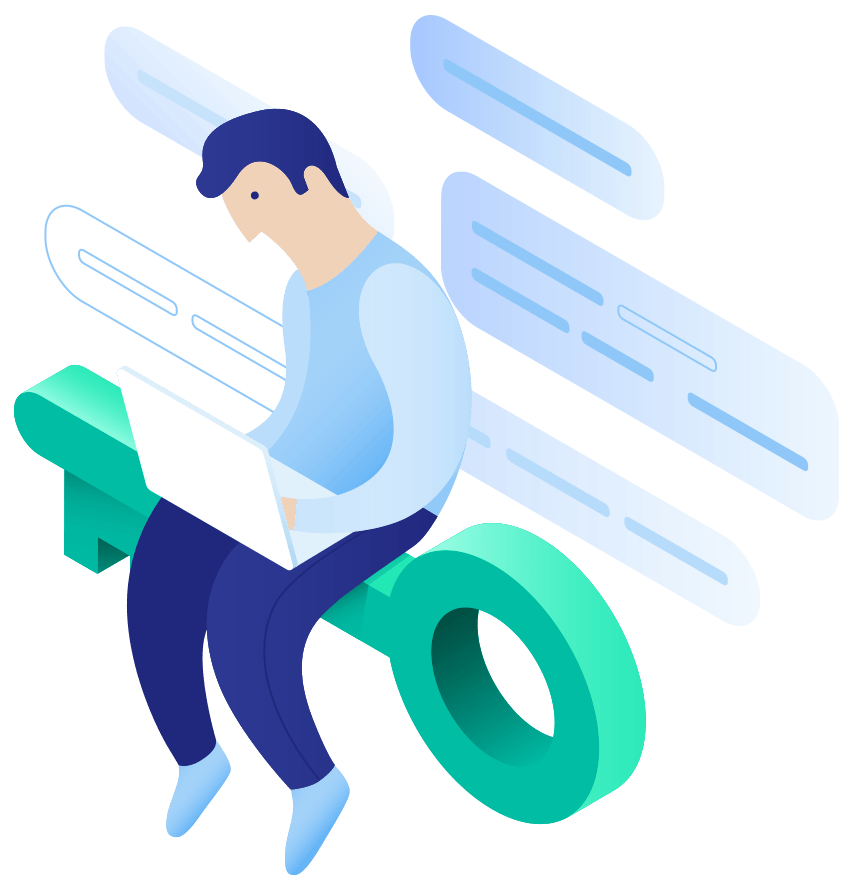 Why You Are Not Getting Plumbing Traffic and Leads
You will learn how to deal with these SEO issues step by step in the respective chapters
REASON 1:
Poor On-Page Optimization
If your plumbing and HVAC repair page is not properly optimized, Google crawlers will be confused about the contents of the page.
That means your entire effort will go down the drain. The purpose of on-page optimization is to give enough clear indicators to search engine crawlers about what is on the page.
We will teach you how to rank your plumbing and HVAC website No.1 on the Google SERP (search engine results page).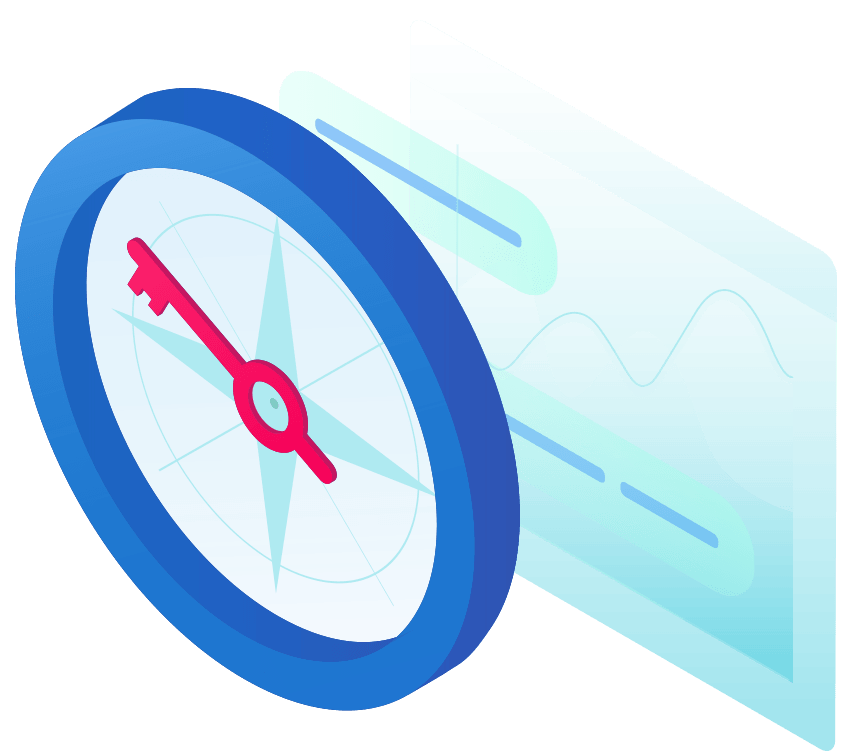 What is On-Page Optimization?
On-page optimization is the process of optimizing each separate web page to increase its rank on Google. It involves working on the coding as well as the content of the page.
If you perform on-page optimization, you will be doing many things like optimizing page titles, meta descriptions, meta tags, body tags, managing keyword density, performing image SEO and so on.
Why On-Page SEO is Important for a Plumbers and HVAC Website
On-page SEO helps search engines understand your website better and gauge if your content would be relevant to people seeking information about something online using a set of keywords.
On-page Plumber SEO is the process of making each page more Google-friendly. If Google likes your page, you will get high rankings, which will make you more visible to your customers.
The importance of on-page SEO factors cannot be overlooked as its absence will lead to the loss of customers. A good internet marketing company for plumbers understands the secrets of on-page SEO. We will reveal those secrets here.
4 Basic On-page Optimization Factors
Here are the 4 basic on-page optimization factors you should be careful of:
Keywords optimization
Title tag
Meta description
Header tag
We will learn how to take care of these 4 factors one by one. Let's understand the first point.
Fundamentals of Keywords Research
Keywords strategy is at the core of the search engine optimization process and you cannot afford to go wrong here. However, I can tell you, this is not going to be easy. You have to do it very intelligently. We will understand each concept step by step. Without understanding it properly you cannot optimize other on-page elements such as title tag, meta description and header tags.
So Why Keywords Research is Important in Search Engine Optimization
Suppose you are a plumbing and HVAC repair company in Minneapolis and you want to get organic leads for your business.
You have optimized your website content in the hope that it will rank on Google so that many more people can see it. This will help you attract more business. Or you can hire a content writing company to write SEO optimized content for you.
How does Google know that it needs to display your website when people post a relevant search query?
This is where keywords come in.
After your website is updated, Google's bots will crawl through the site to find out what it is about. They will do this with the help of certain signals based on keywords.
First, it will go through your title tags, meta tags, and header tags to analyze the keywords that are present in them. It will also scan the body copy and image files for keywords.
Once the crawling is done, Google indexes your website accordingly. Now, when someone posts a query on Google looking for the "Best HVAC Company in Minneapolis," Google displays links from your website if it contains the keywords "Best HVAC Company in Minneapolis" or similar phrases as mentioned in the query.
So keywords are the primary means through which search engine crwalers get information about your website.
Now let us go back to the point we were discussing earlier about why your website wasn't getting any traffic.
As we mentioned there could be 3 main reasons why this was happening.
Let us discuss each of these one by one:
In this section, you will learn everything at the precision of a cardiac surgeon.
You will get a detailed primer on:
Why your site is not getting enough traffic
How to perform keywords research for plumbing and HVAC businesses
How to choose the right keywords for your plumbing business
What keywords research tool to use and how
Advanced keywords research tips and strategies
Let's begin right away.
Imagine you are a plumbing and HVAC business which has developed an excellent website with separate pages for different services.
Yet you are not getting any traffic at all.
You keep logging on to Google Analytics in the hope that traffic has picked up only to see your hopes dashed time and again.
What could be wrong with your website?
This is not a million-dollar secret. You can diagnose the problem yourself. You don't need to go to those who offer fancy tags of "SEO for HVAC contractors". I'm revealing the problem right away. , In 60-70% cases, the problem may be related to your faulty keywords strategy. And here only 3 scenarios are possible. If your website falls in any of these scenarios, you can be sure of not getting qualified traffic.
Your main web pages have no keywords or very few relevant keywords.
Even if your website has a few keywords, they are not optimized. This means it is not ranking for any of the important organic keywords.
While your website is optimized for keywords, those are not the right ones. In other words, your website does not appear in the top 3 spot for any of the right keywords.
We will discuss each of these problems separately and offer solutions. But before that, it is important to understand a few keyword basics.
Scenario 1: Your Website Has No or Very Few Keywords
We have seen in the previous section how Google's crawlers depend on keywords to make sense of a page.
If your website has no exact-match or LSI keywords, how will Google know what is on the page?
For example, if you are a plumbing company in Tampa, your webpage should contain keywords apart from the words containing the root word "Plumbing/HVAC" such as :
"Bathroom Remodeling Contractors in Tampa"
"Handyman Service Home Repair Contractor"
"Best Toilet Repair &Installation Services"
"AC repair Services in Tampa, FL"
"bathroom designs for small spaces"
"24 hour plumbers near me"
Besides, your webpage should also contain an adequate number of LSI keywords. LSI or Latent Semantic Indexing keywords are those keywords that are closely related to the original keywords and generally appear alongside them.
For example, if "plumber" is your seed keyword, your content should ideally also contain the following LSI keywords:
plumber near me
plumber 24 hour
plumber companies
plumber fixtures
Commercial plumbers and contractors and so on.
The presence of LSI keywords tells Google that there is more than a passing mention of a particular seed keyword on a page.
Their presence indicates that the seed keyword has been discussed in detail and which act as a signal to Google that it is alright to rank your page in response to the search query.
If your webpage has no relevant primary or LSI keywords related to your service area, your content will not rank at all.
Scenario 2: Your Website Does Not Have the Right Keywords
In this scenario, your website has a number of keywords but none of them are the right ones.
Right keywords are those that are important to drive the business. Let us take the previous example of an AC repair company in Tampa.
If the content does not include important keywords such as "AC repair and installation services in Tampa", "Emergency AC Repair Contractors in Tampa" and "Home AC Repair Services in Tampa, FL," you will find it very hard to get traffic from customers who are looking for plumbing services in your area.
The absence of the right keywords will impact your business. However, these keywords are highly competitive since everyone wants to rank on them.
Just a cursory observation will tell you where your targeted webpage appears when users type these keywords.
Scenario 3: Your Website Does Not Appear In the Top 3 Spot for Any of The Right Keywords
Even Google study says that 80% clicks or traffic is captured by top 3 search results, you can easily guess how much you are losing if your targeted webpage doesn't appear in the top 3 search result for the most competitive search result.
You still did not get hang of what I am talking about. Just think what did you type to land up to this page?
No need to put stress on your memory! I'm revealing right away.
"Plumber SEO Services"
"SEO Services for Plumbers"
or it can be:
"best Internet Marketing Services for plumbers"
"SEO for Plumbers"
"Guide to Local SEO for Plumbers"
If our website doesn't rank on these keywords or similar primary keywords, you could not have probably reached to us.
Should You Worry about Exact Match Keywords?
This is a question people often ask while writing title tags, meta descriptions, and heading tags.
With Google making regular updates to its search algorithm, the manner in which keywords are read have evolved over the years.
Gone are the days when Google looked for 'exact match keywords' to determine the ranking of your page. Its algorithms are much more sophisticated now with the ability factor in synonyms and semantic linkages.
The following example will help you understand this better:
Type the words "Best Plumbing SEO Company" on the Google search bar.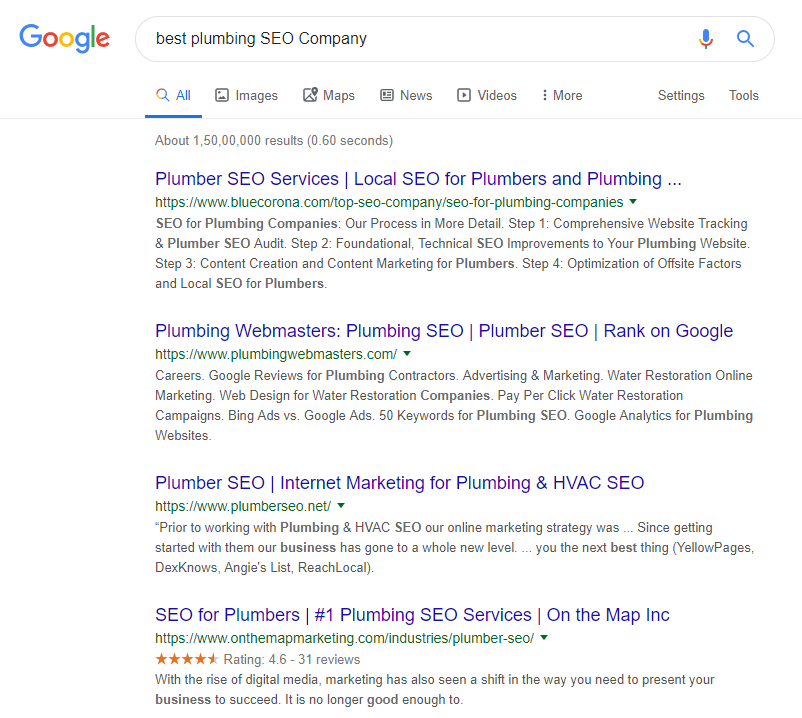 Here is a list of the top 10 results that appear. Though the results may vary depending on location, you will notice a similar pattern.
"Plumber SEO Services | Local SEO for Plumbers and Plumbing …"
"Plumber SEO | Internet Marketing for Plumbing & HVAC SEO"
"Plumbing Webmasters: Plumbing SEO | Plumber SEO | Rank on Google"
"Plumber SEO Company"
"SEO for Plumbers & Plumbing Firms"
"10 SEO Tips For Plumbers, Heating Engineers & Drainage Contractors"
"SEO for Plumbers | #1 Plumbing SEO Services | On the Map Inc"
"SEO Services Plumbers Need Today …"
"SEO Plumber Pro – Plumbers Only Marketing – be #1 on Google"
"Guide to Local SEO for Plumbers: 5 Steps to Rank #1 in Google"
What did you notice? There are only two search engine results that include the word "company"—one in the title tag, and the other in the URL.
There are no results that contain the word "best."This little experiment proves that the era of exact-match keywords is over and there is no need to be obsessed with it anymore.
However, that does not mean you should ignore exact match keywords at all. The point is, even if you use closely related keywords, Google's RankBrain algorithm is smart enough to understand what is the page is about provided it is relevant.
By this time, you have probably acquired a good understanding of on-page optimization. It's not a rocket science, but making a mistake here could prove to be damaging.
In the coming section, we will reveal how you can benefit from keywords research. This is a very important concept that will propel you onward in your million-dollar journey.
Plumbing and HVAC – How to Find Keyword Ideas
Now that you understand the importance of keywords, let us get down to brass tacks.
In this section, we will show you how to find keyword ideas related to the plumbing and HVAC business so that you can incorporate them into your website.
We will use a number of different methods to uncover those keywords that are most relevant to you.
Let's begin!
Plumbers and HVAC – How to Optimize Content Around Keywords
Now that your keyword research is complete, it is time to start putting those terms you so painstakingly collected to good use.
The first step is to optimize your website for the main keyword.
Once that's done, don't stop there.
It is also important to optimize your page around synonyms and related words/phrases to attract more site traffic.
For example, if your main keyword is "plumbing services in Miami" then you should also optimize your website for related search terms such as "plumber in Miami beach," "plumbing services in Miami," "plumbing contractors Miami," and so on.
How to Map Keywords
Simply put, keyword mapping is the process of planning which keyword to assign to which page of a website.
It is the process of clubbing together relevant keywords so that the correct pages show up on searches.
After the keyword research process is over, you will have a list of different keywords. Some topics may have more keywords while others may have less.
For example, say you have a page on "commercial plumbing" for which you have 100 keywords. From a practical standpoint, it is impossible to include all 100 keywords on a single page.
In this situation, the number of keywords to include on the page will be decided by the client in consultation with the SEO expert.
Once the number has been finalized, the SEO Expert will create a carefully-planned combination of keywords for the page so that it looks natural and yet makes sense from an SEO perspective.
For instance, they may use a combination of 2-3 primary keywords ("plumbers and HVAC experts,""plumbing services," "HVAC experts"), a few secondary keywords("plumbing contractors in Miami," "cooling experts in Miami") and some long-tail keywords ("how to fix a plumbing leak in the kitchen").
All these keywords will be incorporated on the page. But what happens to the remaining keywords?
Based on discussions between the client and the SEO expert, the remaining keywords are bunched off into related groups and new pages or blogs are planned around them.
These blogs, then, are linked back to the original page to boost its ranking. This ensures that the extra keywords are not wasted.
For example, if you have written 10 blogs on "commercial plumbing" due to the availability of excess keywords, each one should link back to the original page so that its ranking can get a boost.
The SEO expert will also use primary keywords in the URL and header tags to drive the ranking of your page.
There is an interesting detail I will reveal here which you may not find elsewhere.
Based on our experience, we have noticed that keywords used in the first line of a paragraph or at the end below the last paragraph of the copy leads to a significant boost in terms of ranking for that word.
Lastly, it is important to remember that it's not enough to solely focus on keywords.
The Google algorithm has become sophisticated enough to assess the quality of content which has become an important factor in search rankings.
That's why you should try and strive for high-quality content.
What is a Title Tag?
It is a part of the HTML code of your website and contains the most important keywords. It is important for both Googlebot and users.
It indicates to search crawlers what the page is all about. Users will click on it mostly based on how you write it.
Hence you need to be VERY careful while writing the title tag of your HVAC website. Making a mistake could prove to be costly.
You can see the title tag on the address bar when you open a page. Google also tends to display it on its search results page, though not always.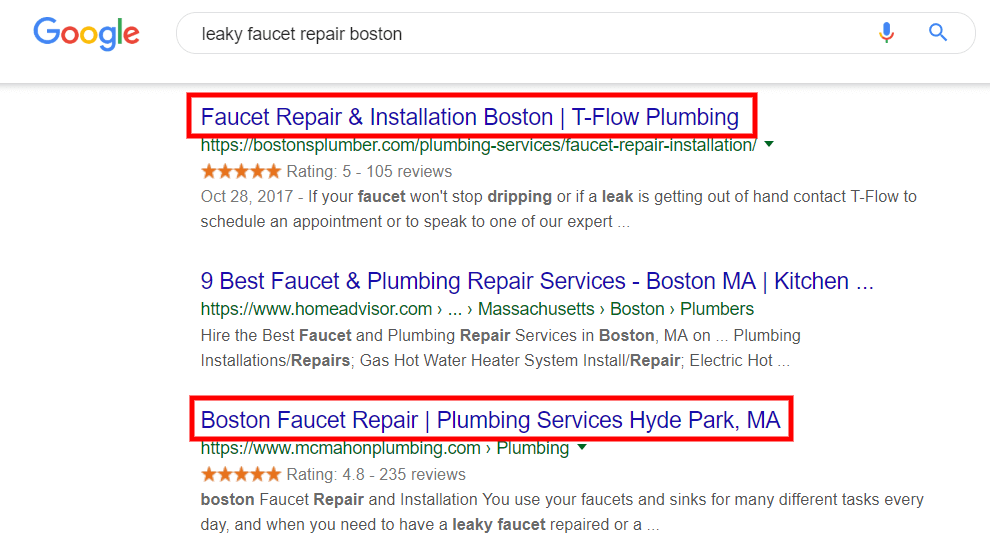 What is the Purpose of a Title Tag?
As you already know now, the key role of title tags is to help users assess the relevance of a link or a web page. They are also very important from an SEO perspective.
The biggest role of title tags is that they boost CTR (clickthrough rate). Having an enticing title tag means more clicks, and traffic on your site will be higher.
Title tag is the first thing users notice while performing a search. So this is where you can make a positive first impression.
You also need to remember that Google bot also tries to make sense of your page when it arrives.
How to Write a Good Title Tag for Your Webpage
Since Google starts cutting off title tags in the SERPs after around 50–60 characters, your approach should be to tell your story within this character limit.
The best title tags provide an accurate description of the page, they are unique, and they are brief.
It is a good idea to try and pack in primary and important secondary keywords in your title tag to increase its relevance for the user and strengthen SEO.
In order to understand the correct way to write it, see this screenshot again.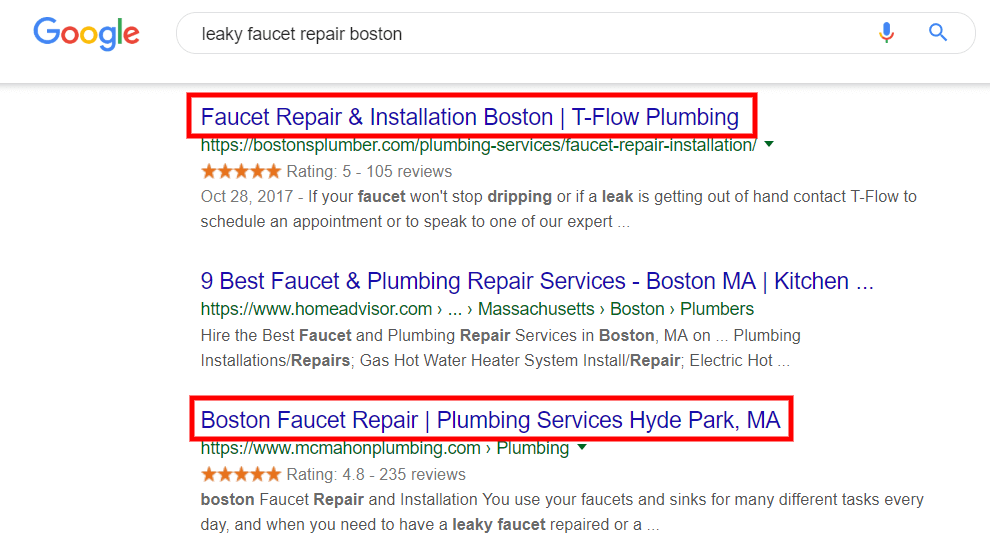 Both these title tags contain a primary keyword. (We will take up keywords in detail in another chapter. For now, it is enough to know that primary keywords are the most important keywords for your local business.)
In the second title tag, the company has used two primary keywords:
"Boston Faucet Repair", and
This is good practice as the company has taken full advantage of the 60-character limit.
What to Avoid While Writing a Title Tag
Here are 5things you should not do at all while writing a title tag:
Avoid stuffing irrelevant keywords into your title tag. Google is smart enough to understand your intention.
Refrain from exceeding the character count and also using unclear or ambiguous tags.
Avoid similar title tags spreading throughout your website. It can negatively impact your search rankings.
Avoid writing ALL CAPS title tags as in the given screenshot. This is a strict no-no!

Above all else, make sure that your title tag is relevant to the page.
Last but not the least, here is a screenshot that demonstrates how people waste this premium space. There is no need to explain this.No wonder they are languishing somewhere at the bottom of the search result pages.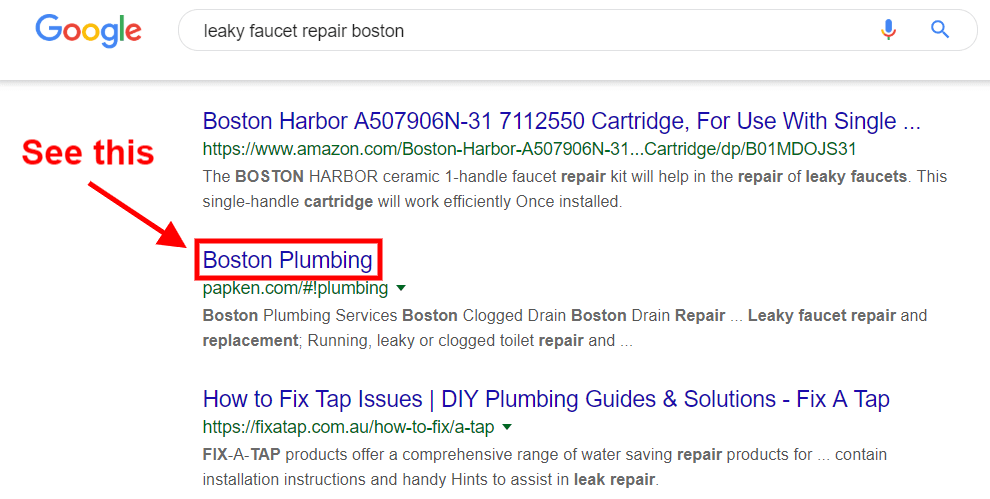 What Is a Meta Description?
Meta description refers to snippets of text that appear just below the first line of a Google search results link. Its function is to give the reader a brief idea of what the site is about.
With the help of the title tag, you have provided a primary signal to Google search engine crawlers that this web page is relevant to the query.
With the help of meta descriptions, you can drive this point even further to erase the slightest doubt in the mind of the Googlebot. See the screenshot below: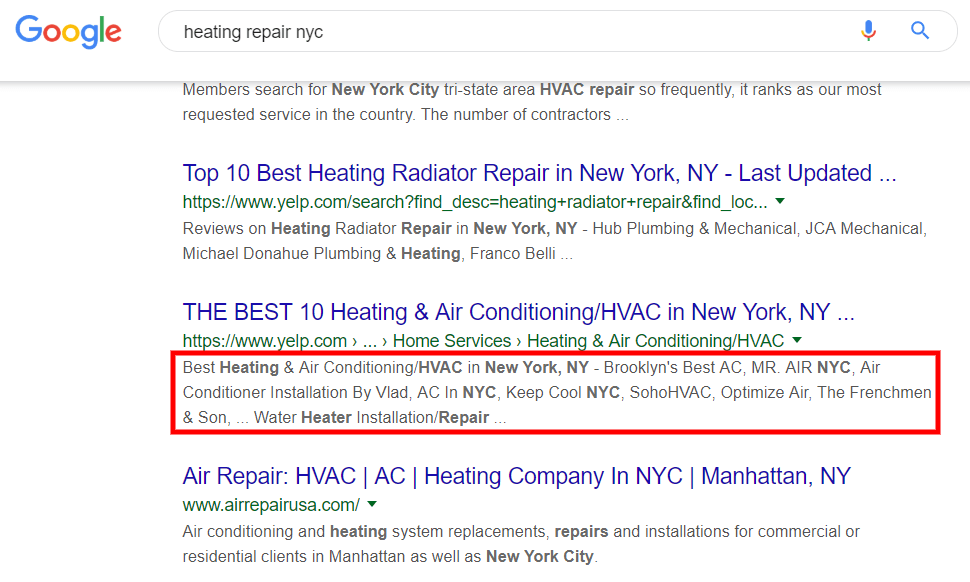 You can find the meta description on any web page by right-clicking on the page and selecting "view source" or "view page source."
However, Google doesn't always place meta descriptions below the first line of a link. It may choose a different snippet from the page if it is more relevant to the search query.
What Should Be the Ideal Length of a Meta Description?
Google has no specific character count for meta descriptions. However, it is best to limit your text to 150-160 characters so that is descriptive but not truncated.
If you haven't been able to use your important keywords in the title tag, you can use them in the meta description.
How to Write an Effective Meta Description That Drives More Clicks, Traffic and Conversions
A good meta description gives an accurate picture of the content of a page.It supplements the title tag in providing additional information to the reader. See the screenshot below: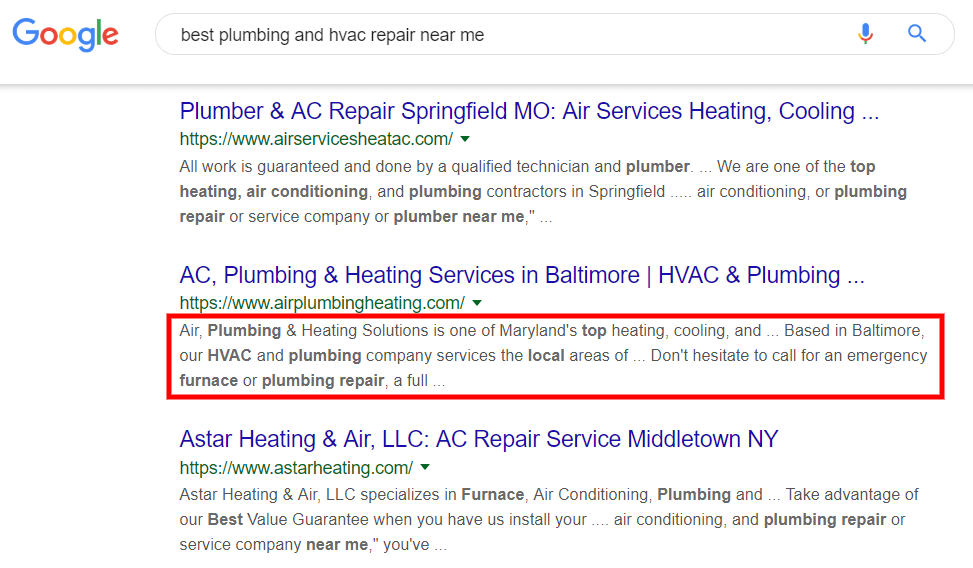 Notice the portion marked by the rectangle. The meta description contains the necessary information and some important keywords. Here are some of the keywords it has:
Air Plumbing & Heating Solutions
Maryland's top heating, cooling…in Baltimore
HVAC and plumbing company services
This should give you a good understanding of optimizing your meta descriptions.
What to Avoid While Writing a Meta Description
Here are some of the common mistakes to avoid in writing meta descriptions:
Only use relevant, specific, and descriptive information. Text that is generic and not relevant to the page should be strictly avoided.
Avoid writing keywords-only meta descriptions.
Each meta description should be unique and not common to all the pages on the website.
What are H1 and H2 Tags?
They are also known as heading tags. H1 and H2are embedded in the coding of a web page and are used to format the text that lies within them.
Confused?
This sounds too technical, isn't it? I have done this deliberately to show off my knowledge!
Jokes apart, these are headlines and sub-headlines that you use in your body copy. Google search engine crawlers consider them more important than the rest of the body copy.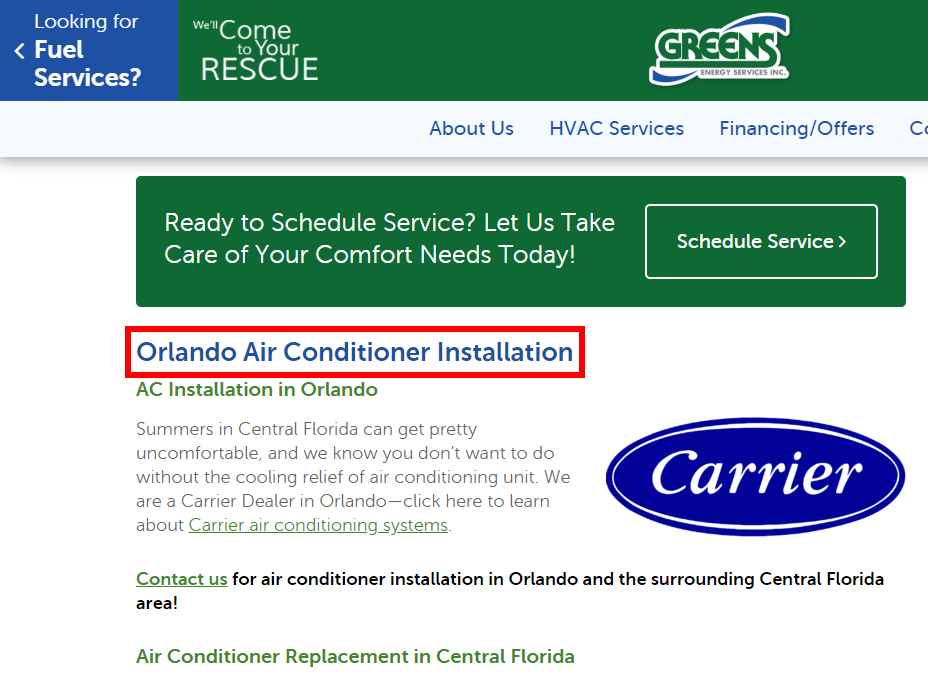 This is the H1 tag. In the same page, if you scroll down, you can easily locate the H2 and H3 tags.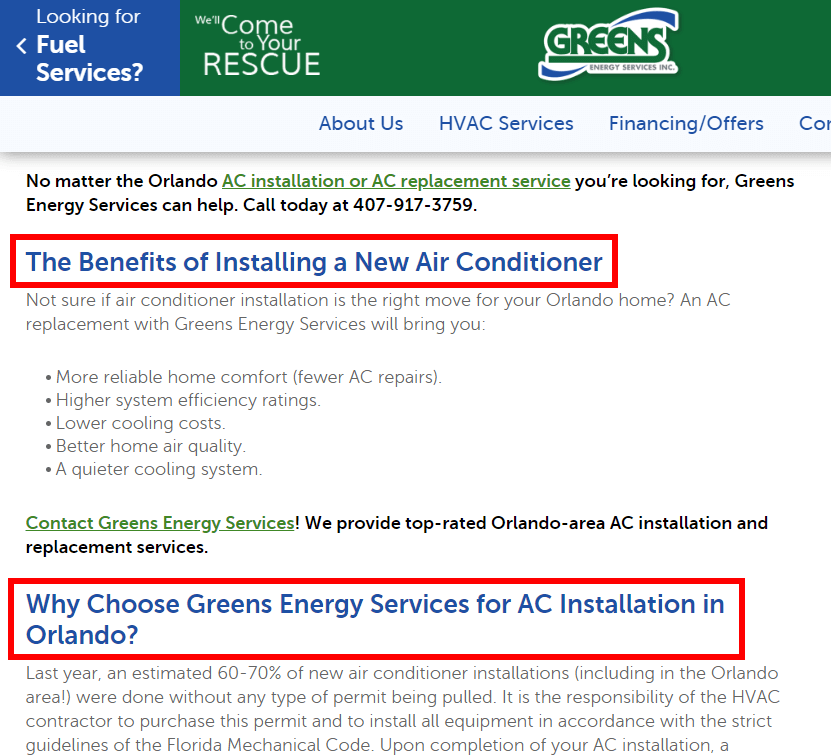 Header tabs are not limited to H1 and H2. They can extend up to H9.
However, h1,h2, and h3 tags are more important from an SEO perspective. It is not very difficult to understand that these heading tabs are always long-tail keywords.
Google crawlers recognize the text placed within header tags (especially H1 to H3) as being important. Populating them with high-value keywords or long tail keywords related to the page can boost your search ranking by a significant extent.
How to Write Effective H1 and H2 Tags
Needless to say, H1 and H2 tags are header tags that need to be used carefully on the page. They should be structured in such a way that it is able to fully encapsulate what the page is about.
Avoid keyword stuffing. Also, ensure that your headers are readable and grammatically correct.
Jot Down Some Topics
The first step to finding keyword ideas is to jot down a list of topics related to your sector or domain with the help of some brainstorming.
You will need to create a list of industry-related topics that people usually search for online.
Since you run a plumbing and HVAC business, these could be some of the topics on your list:
Plumbing
HVAC
Toilet
Ventilation
Heating
AC
Leakage
Construction
Kitchen
Drainage
It is important to understand that these are not keywords. These are broadtopics noted down by you which will help you hone in on your actual keywords.
Google Auto Suggest
Type each of these topics into the Google search bar to see what suggestions it comes up with.
Let's say we type the word "heating."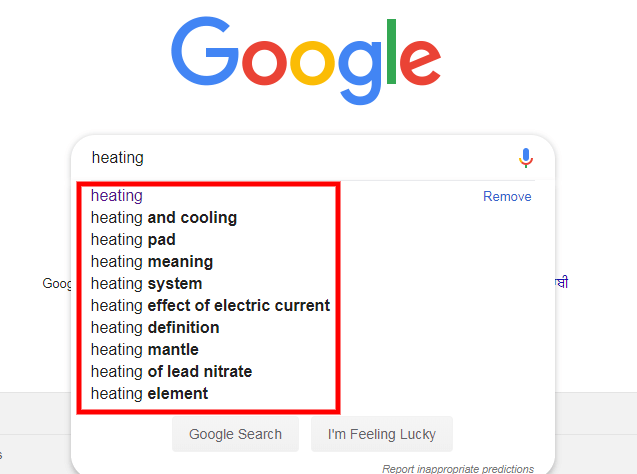 You can see from the image above that Google Auto Suggest immediately supplies a list of related keywords which you can add to your list.
There will be many keywords, some of which won't be connected to your industry. Pick only those keywords that are relevant to your business.
For instance, terms like "heating and cooling," "heating and air-conditioning," and "heating and cooling near me" in the image above are related to the HVAC domain, but "heating pad" and "heating blanket" are not.
Google Related Searches
Google's Related Searches is another great place to tap to get keywords.
This is the section that appears at the bottom of the page below the search results.
Let us see what happens when we type the word "heating" in the search bar.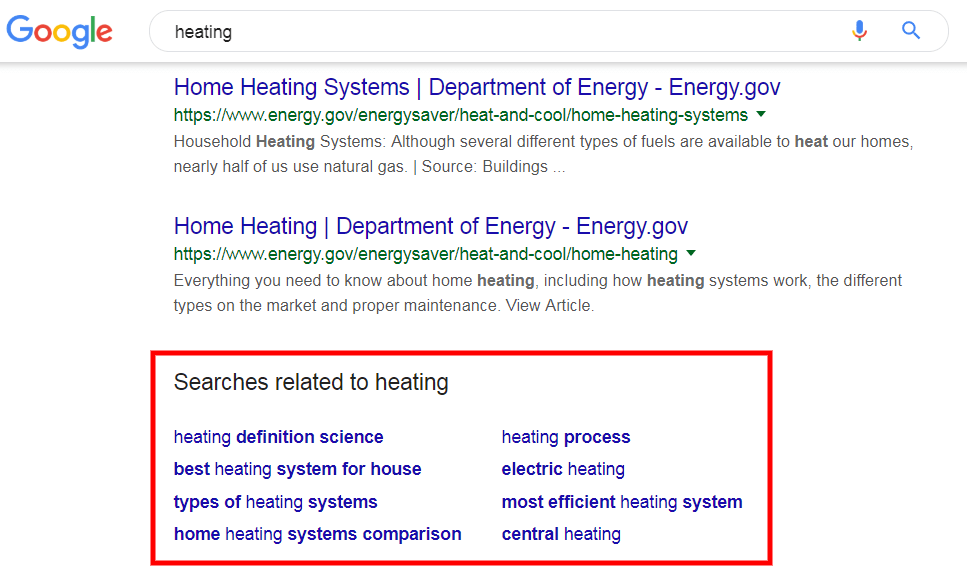 Google suggests additional keywords when you scroll down. Pick the terms and phrases that relate to your business and add them to your list.
Auto Suggest and Related Search are excellent keyword sources since Google itself is providing them to you.
Wikipedia
Wikipedia can be useful when you are conducting keyword research. After all, it has tons of articles on every conceivable subject.
Open the home page of Wikipedia and type in a related topic. This will take you to the Wikipedia entry on that topic.
For instance, typing "HVAC"will take you to this page: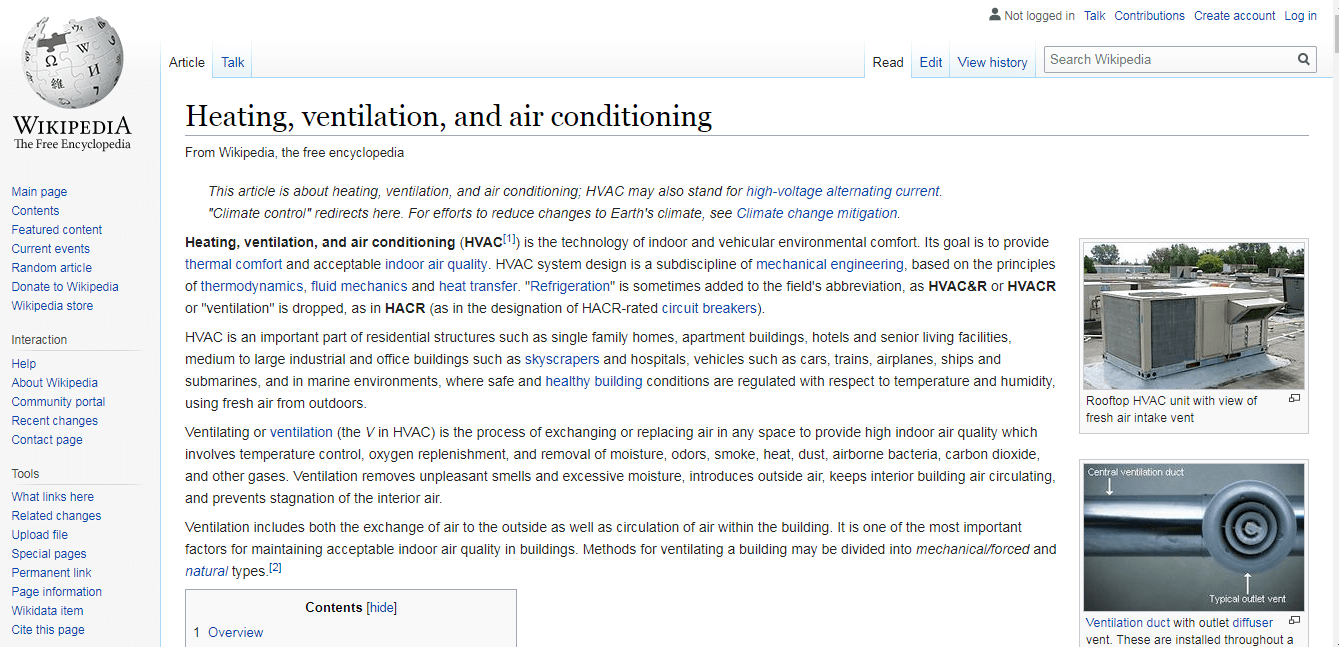 Scroll down to the Contents section just below the introduction.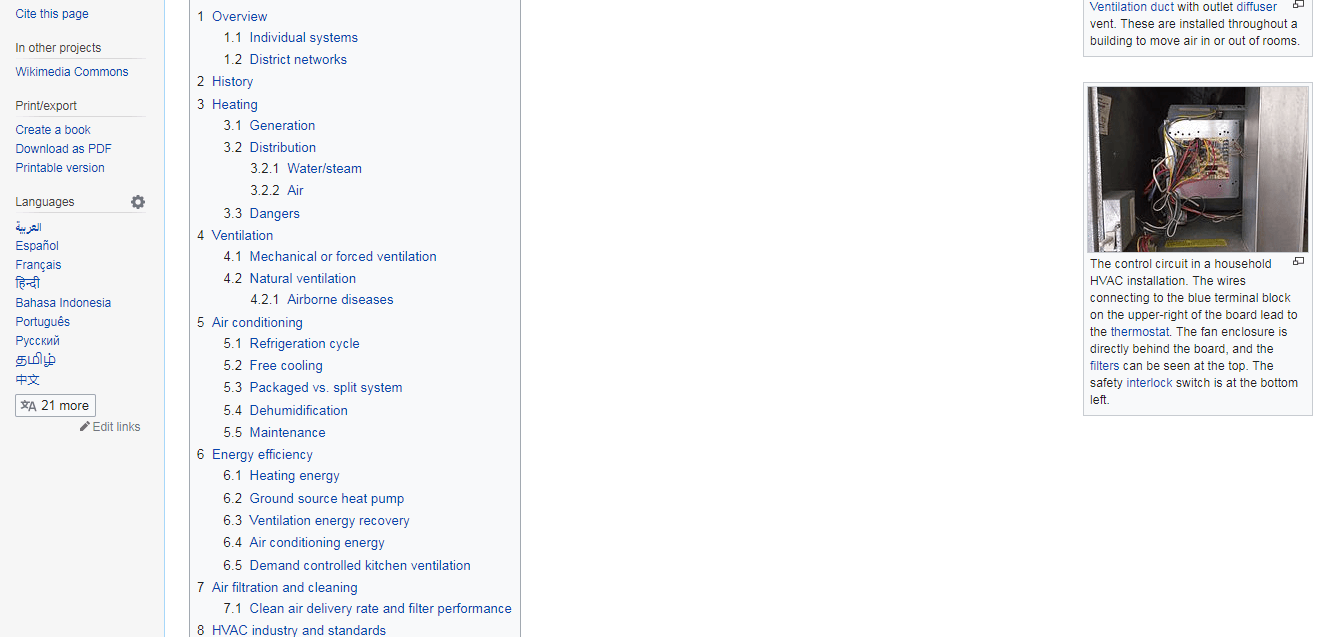 It is a treasure trove of keywords.
For instance, words like "refrigeration cycle," "dehumidification,""maintenance," "energy efficiency" and so on are valuable keywords you could use liberally in your website.
Bonus tip
Sometimes, it is a good idea to click on related topics listed next to the subheads to discover even more keywords. Let us click the term "central heating" below.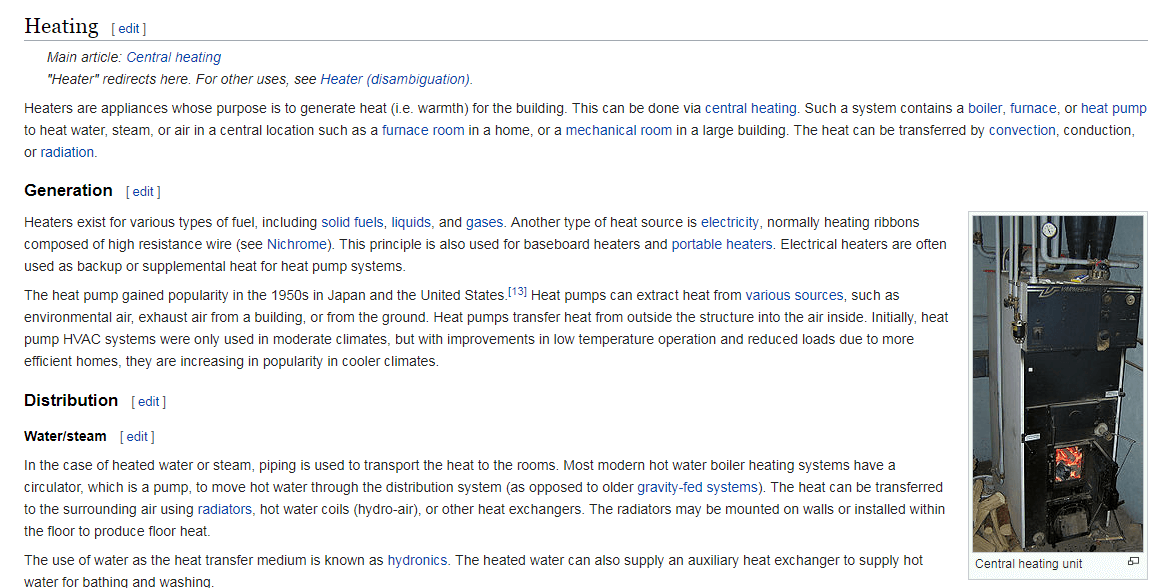 Here is what it displays: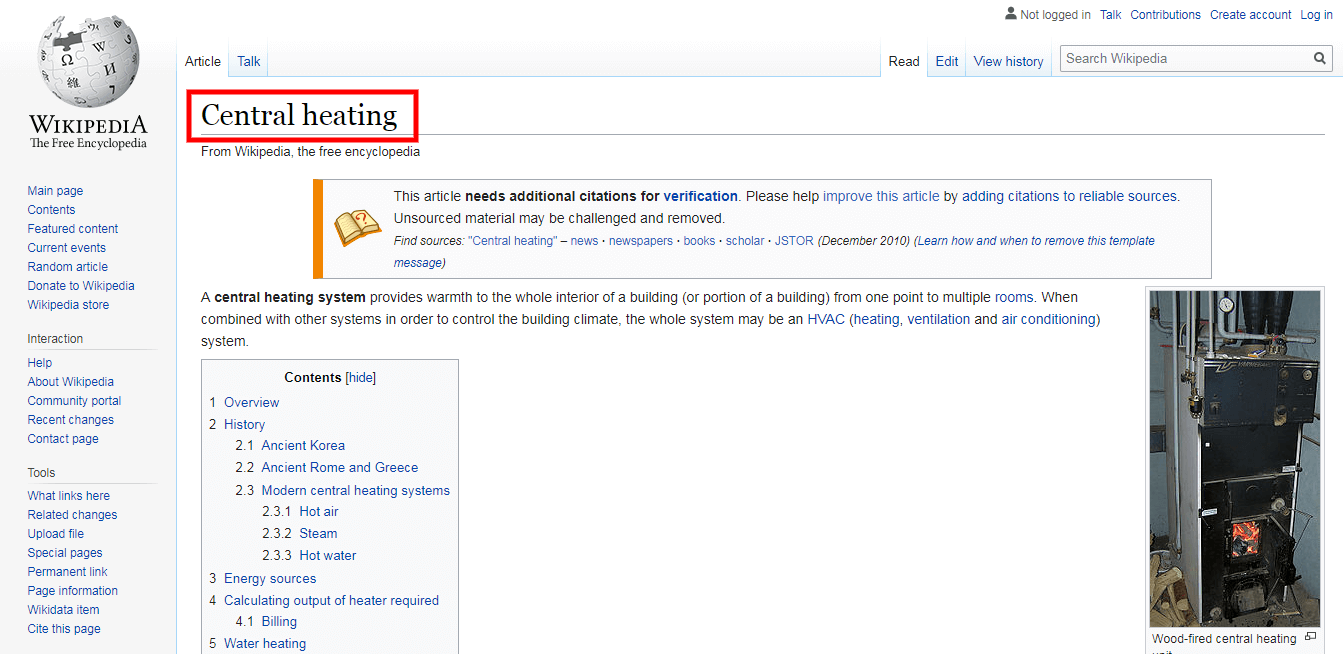 You can find additional keywords related to HVAC in the Contents section of this page.
Forums
You can also find many keywords on industry-specific forums.
Go to the Google search page and type in the topic along with the word "forum." You will get a list of all forums related to the topic.
Let's type in "HVAC forum".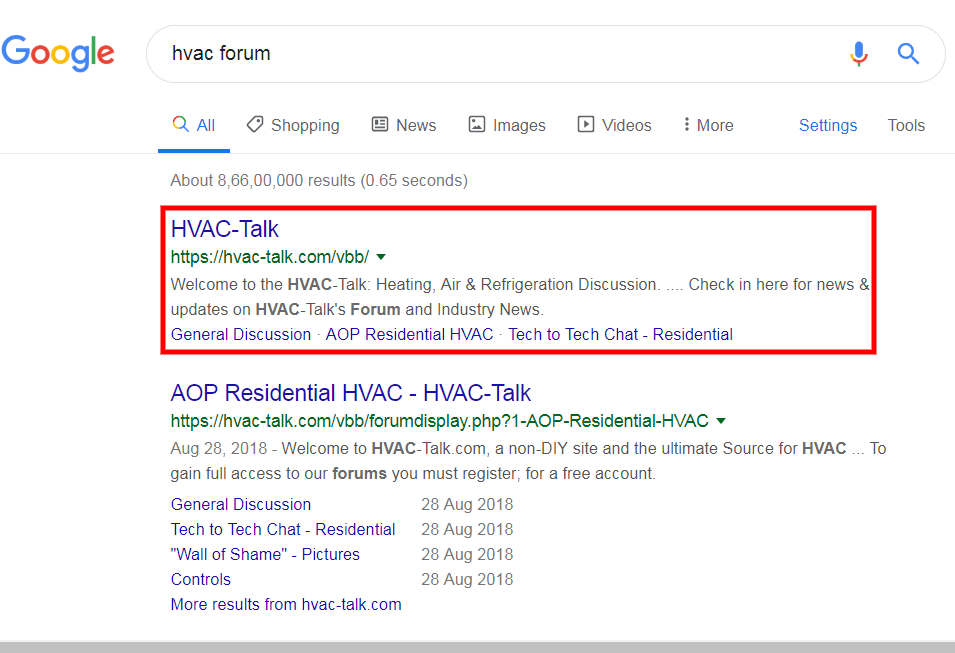 If we click on the first result above it will take us to this page: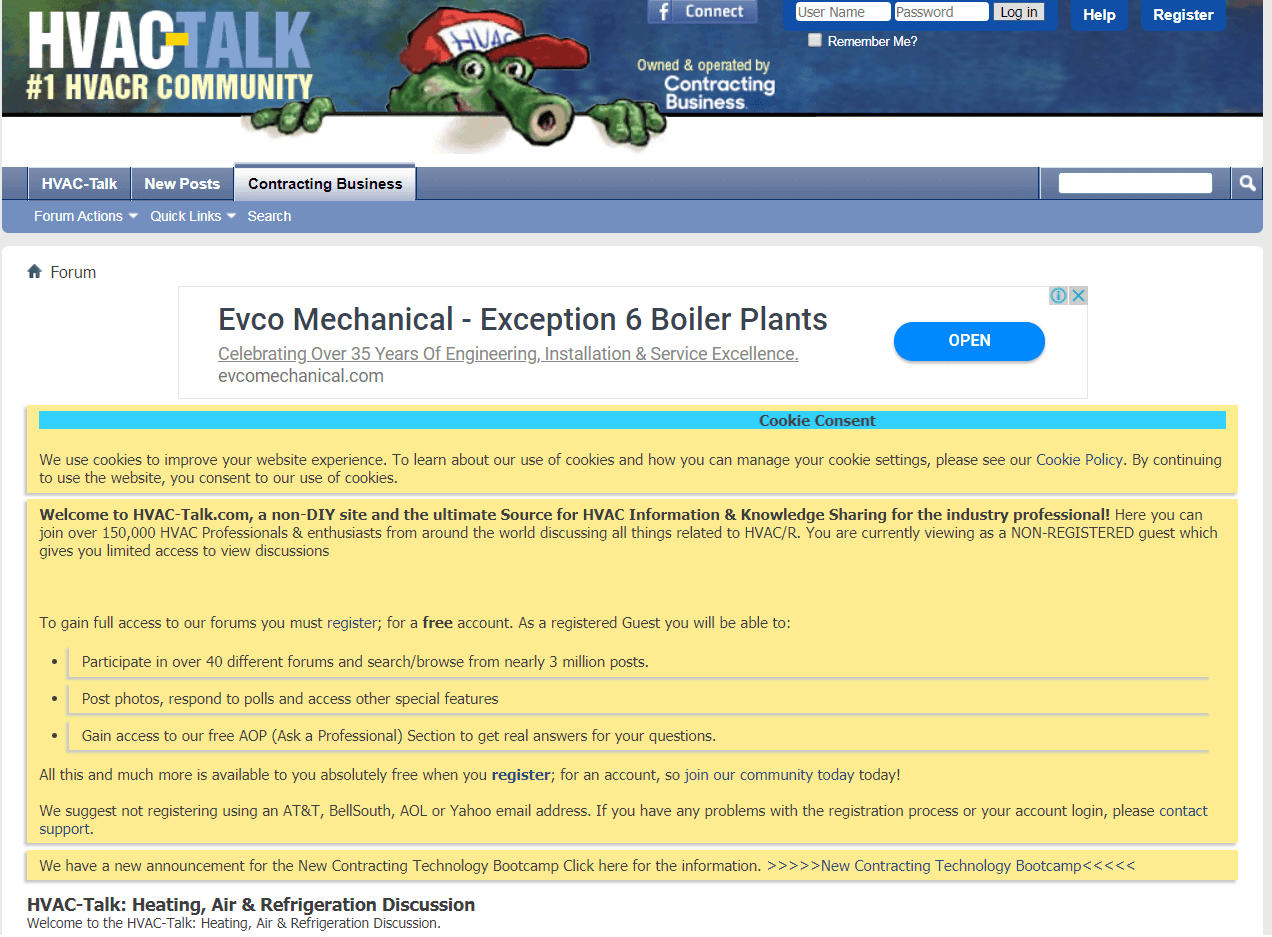 Scroll down to view the list of chatrooms. These chatrooms can also be a valuable guide to keywords.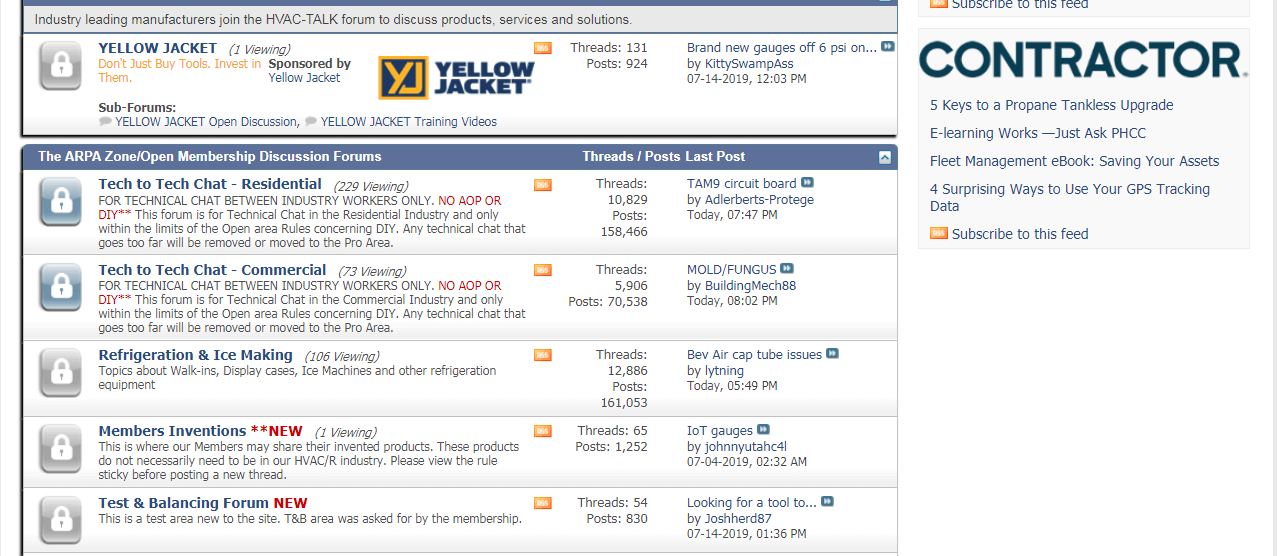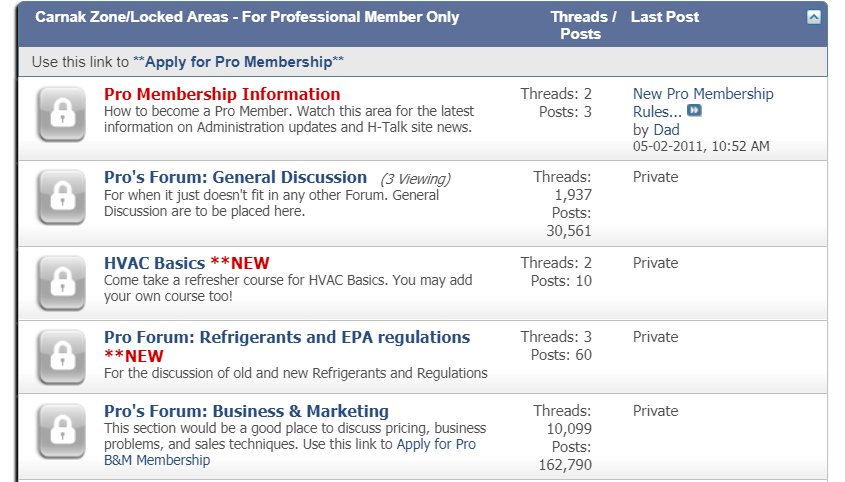 You may also click on some of the threads to expand your list of keywords.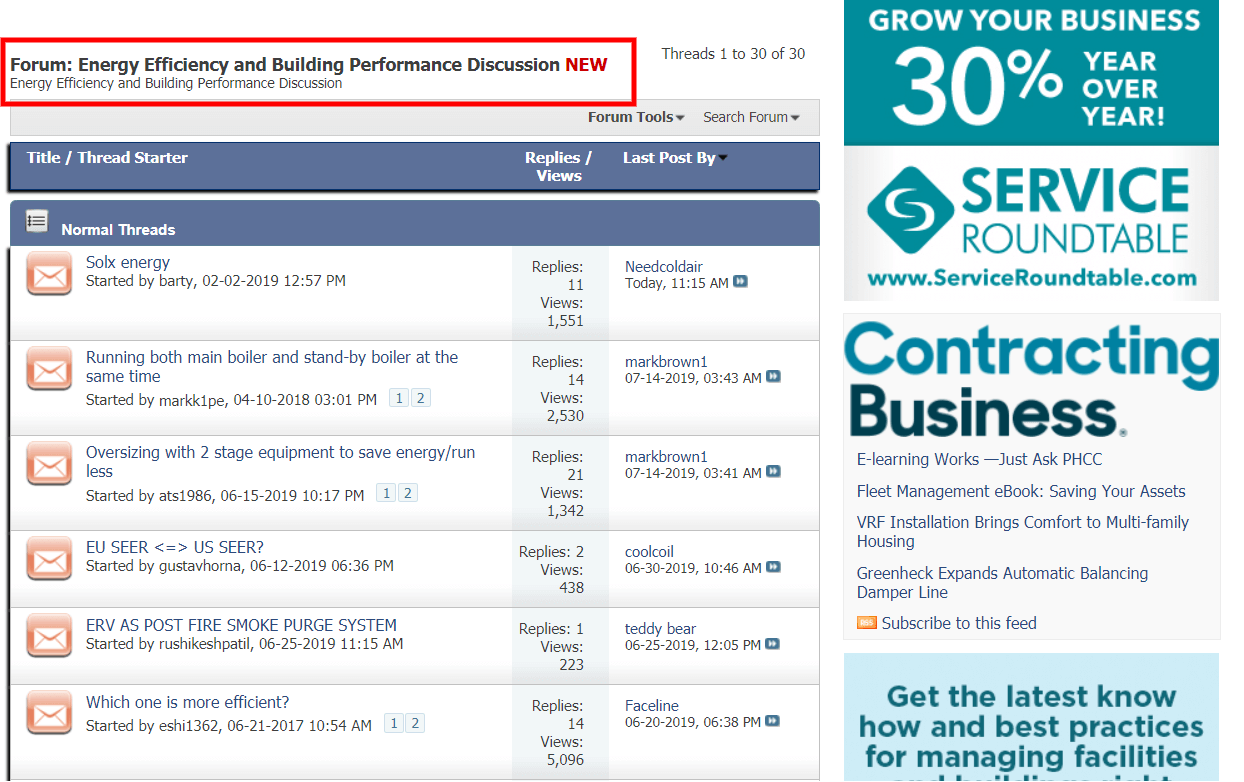 Quora
With discussions on almost everything under the sun, Quora is another valuable keyword resource you can tap for your SEO.
Let us take the example of "air conditioning."
Searching for "air conditioning" on Quora will lead to a page like this with lots of questions and answers.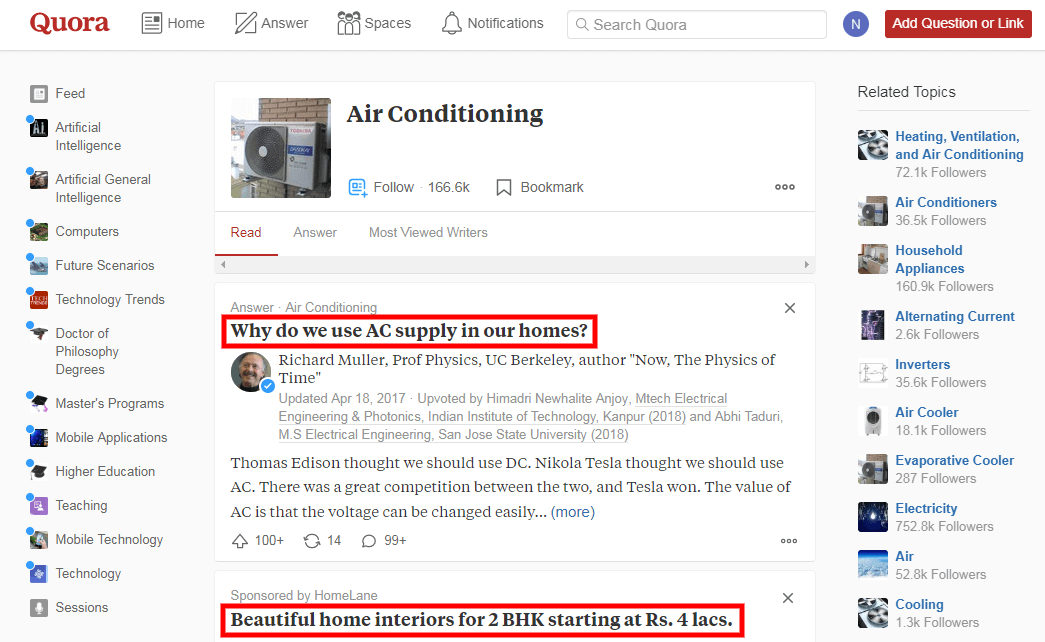 These questions contain important keywords people often use while performing AC-related searches online.
For instance, in the image below, you can spot keywords like "outdoor unit," "split air conditioner,"and "best air conditioner" which can be included in your list.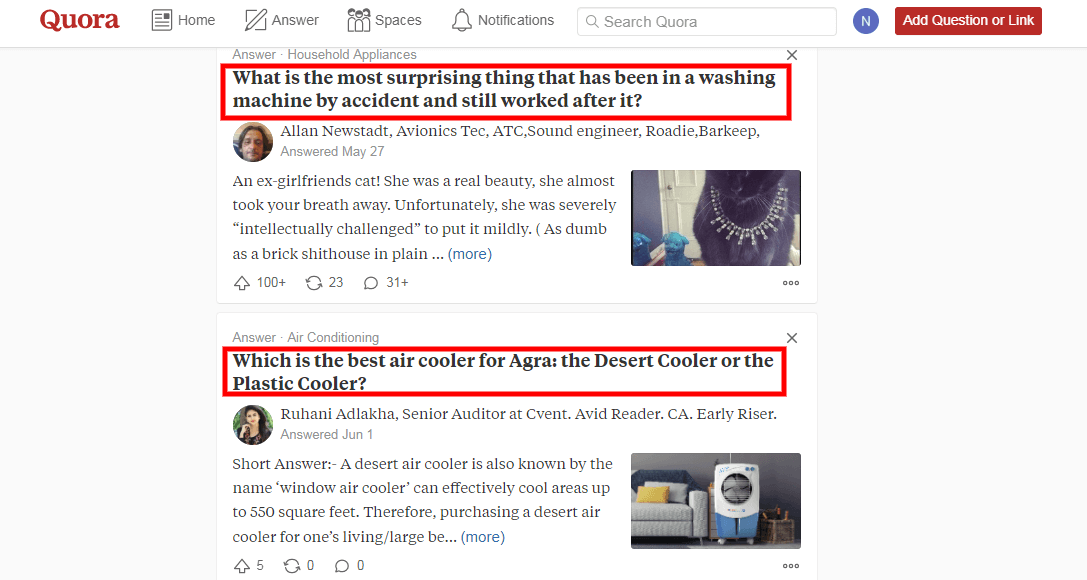 Further, typing these keywords on Google will allow you to discover even more keywords to add to your list.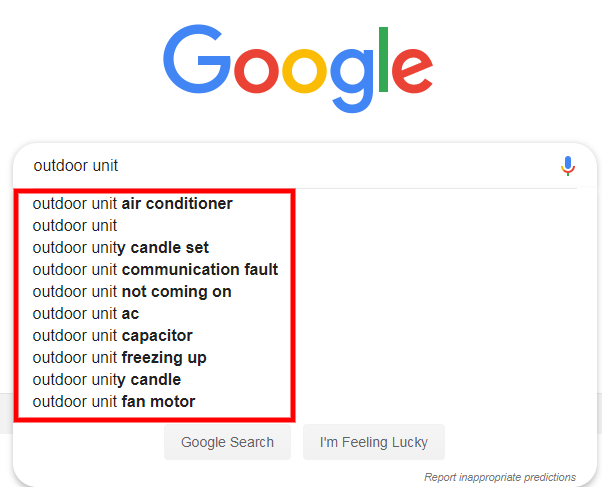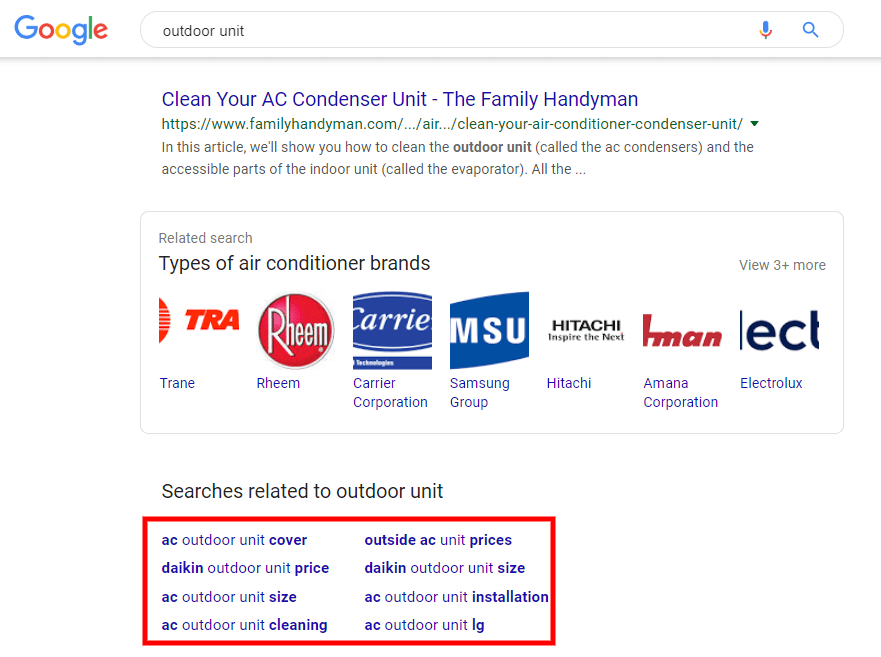 Bonus tip
Quora is a great source for high-conversion keywords.
To find high-conversion keywords, scroll down the list of questions and look for those that indicate that the user is close to purchase.
For instance, the question "How can we move a split A/C without leaking the gas?" indicates greater need for a service compared to the next question ("Why do appliances made today not last as long as appliances made 30+ years ago?").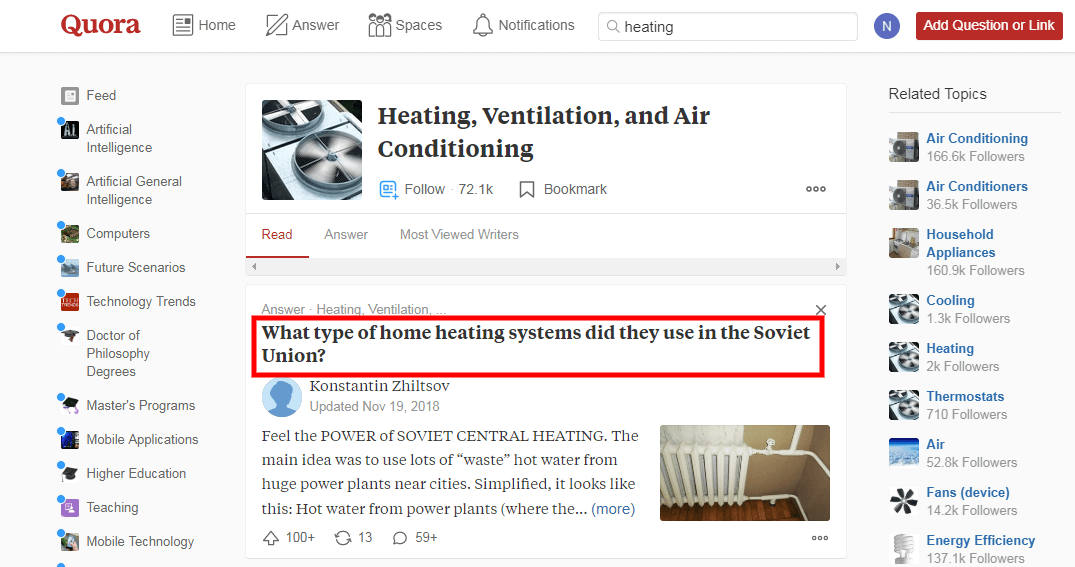 The first question offers a conversion-focused long-tail keyword like "move a split A/C without leaking the gas" which prospective customers are likely to use.
Besides, clicking "more" will take you to the answers page where you can find other related queries and hence more conversion-focused keyword ideas (see image below, right-hand side).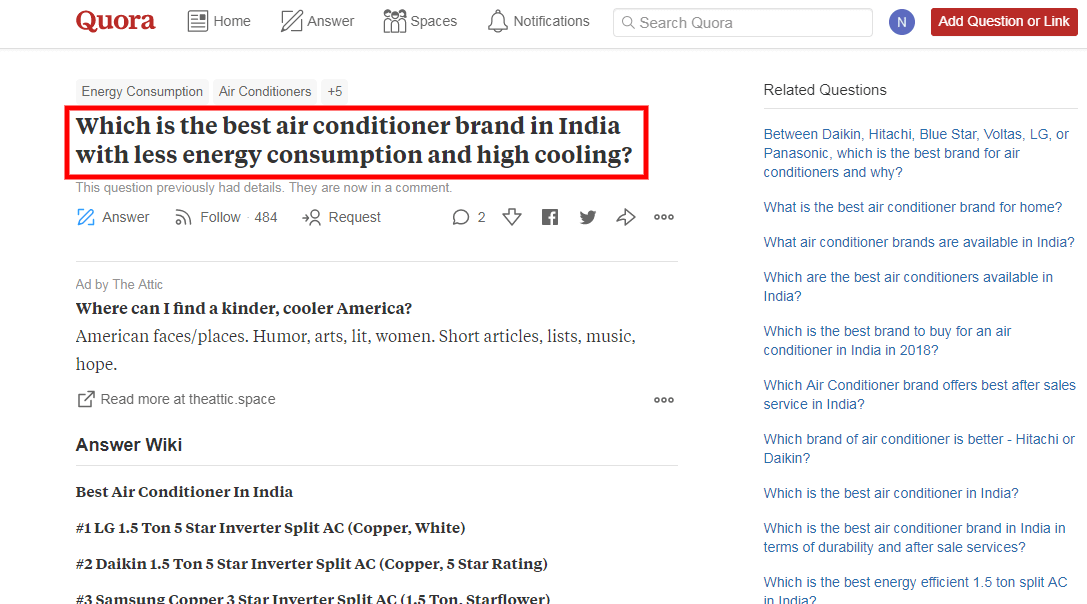 Reddit
Reddit is another rich source of keywords for SEO. It can be a hidden goldmine. Go to the Reddit home page and type in the topic of your choice.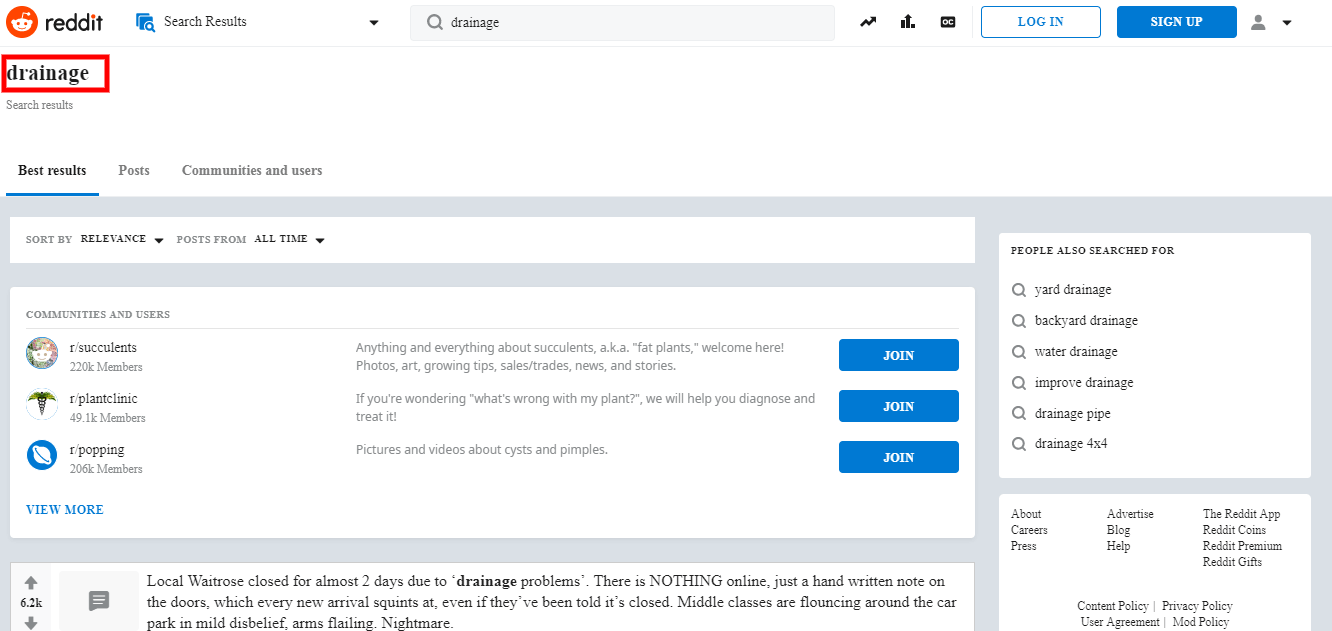 You will find many discussions on the topic which offer great keyword ideas. For instance, the first post below reveals the keyword "drainage problems" and the second post suggests "drainage issues."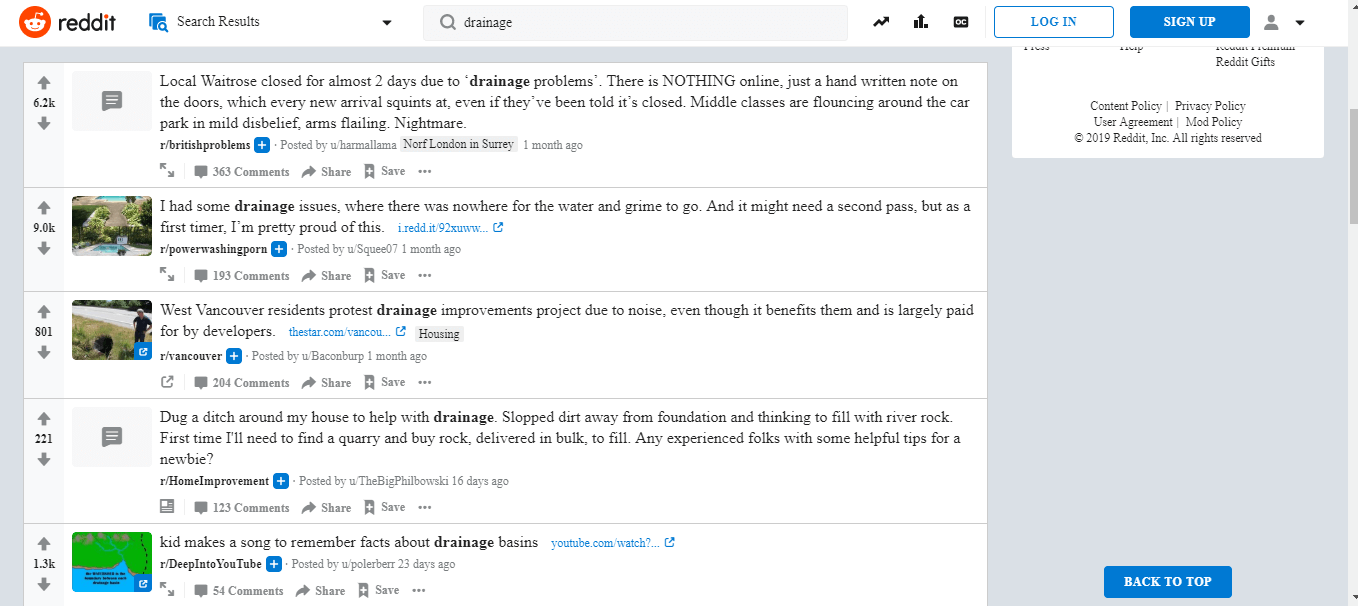 You may click on those posts that are closely related to your business for an extended list of keywords from Reddit.
Google Trends
Most people use Google Trends to check out the popularity of various terms and topics, but did you know it can also help with keyword ideas?
Let's type the word "toilet repair" into the search bar.
Google Trends will display its popularity using a graph.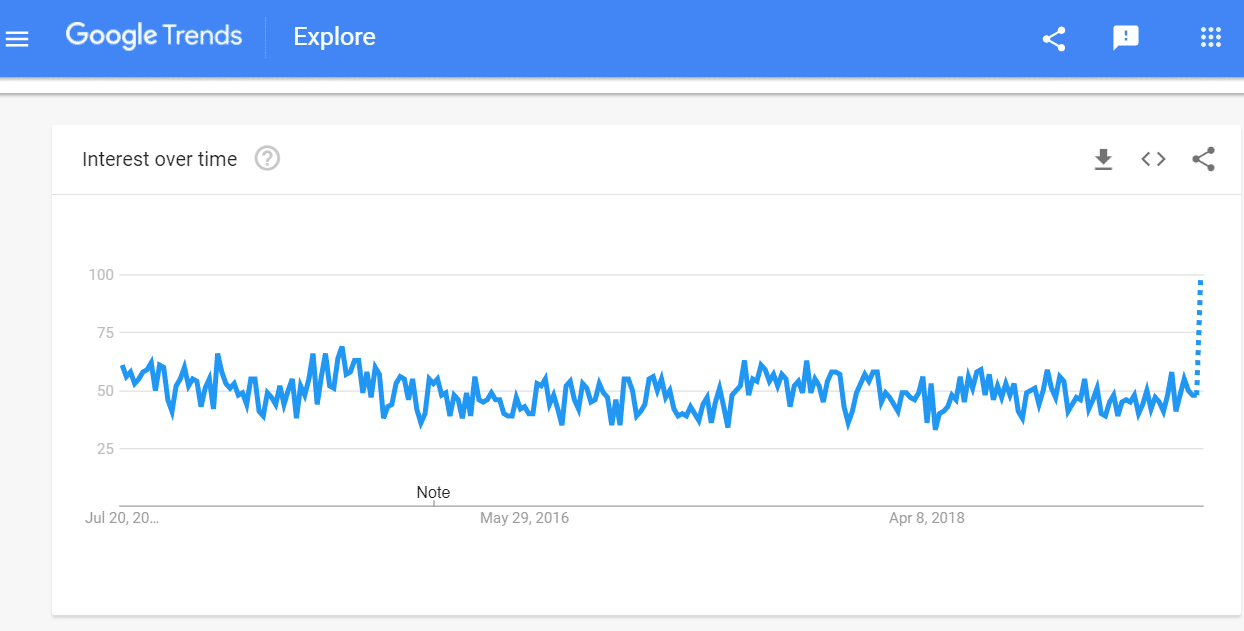 The graph reveals whether the interest in the term is increasing, decreasing, or stable.
In the example above, Google Trends indicates that interest in the keyword "toilet repair" has been more or less stable in the past five years. Hence, it is a good idea to proceed with the keyword.
Google Trends also suggests related keywords upon scrolling down.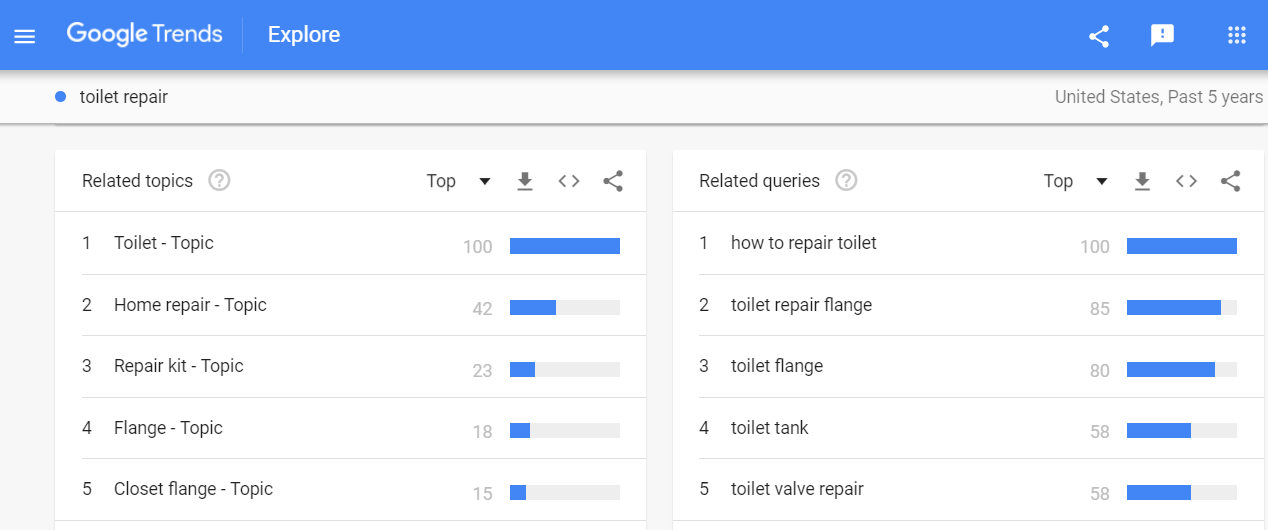 You could incorporate the best ones for your business into your list if they aren't there already.
You can also view the popularity of each keyword by region and subregion to help you fine-tune your keyword strategy.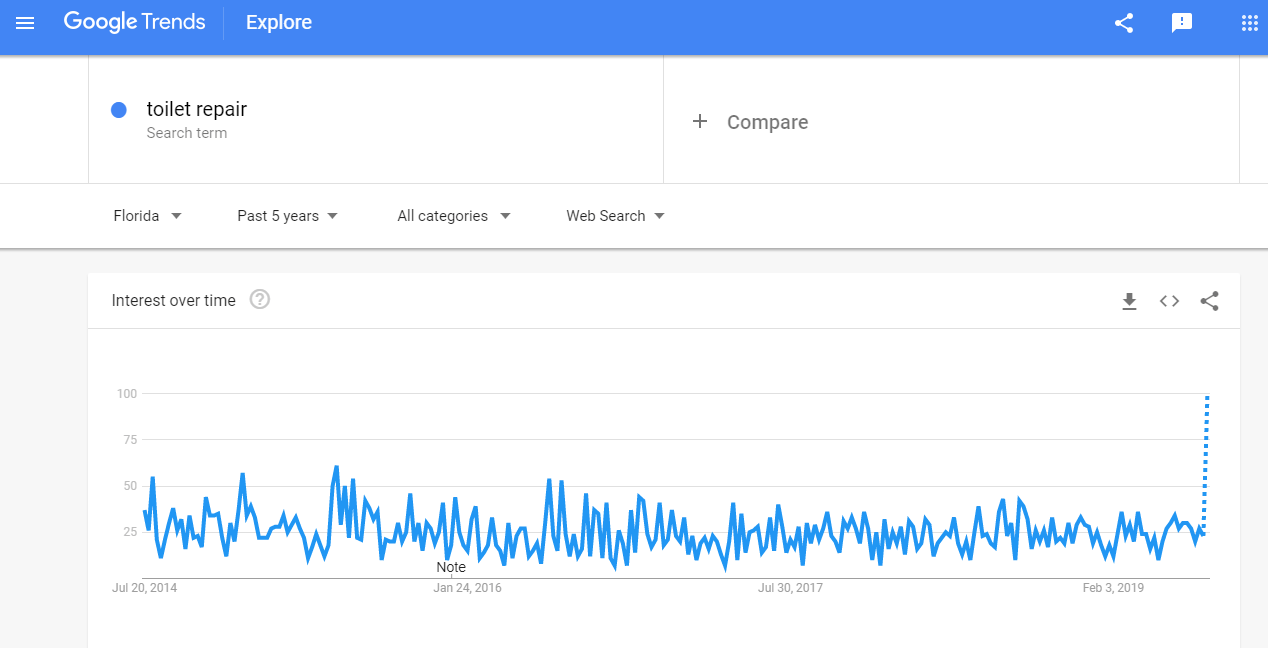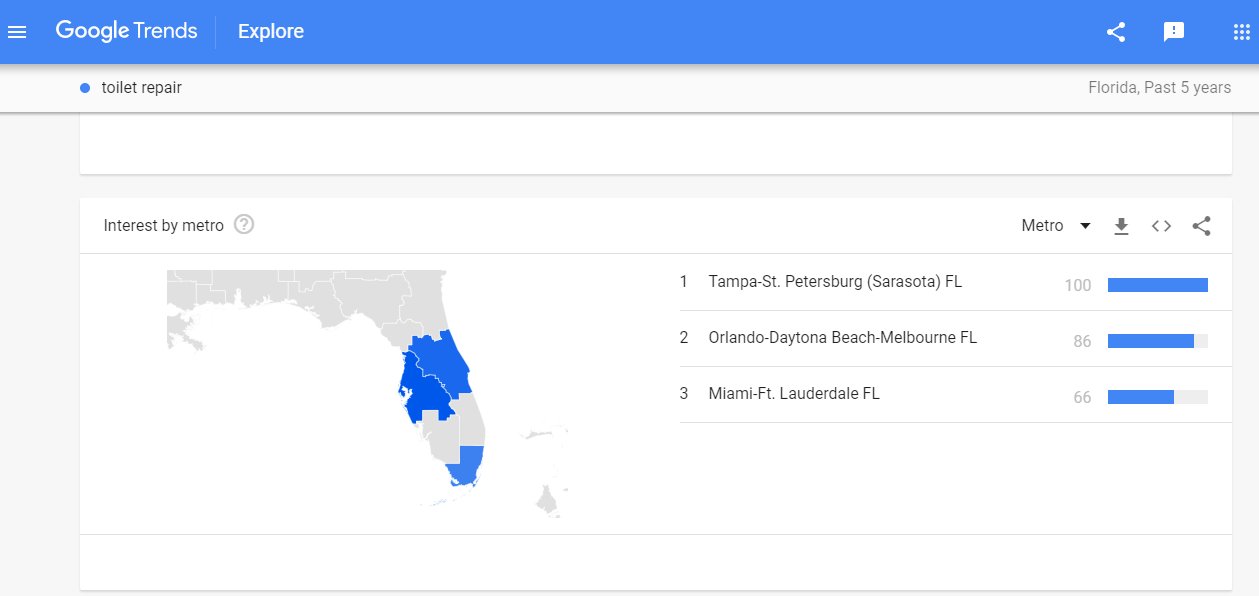 Ubersuggest
Ubersuggest is a free tool that derives its results from Google's Auto Suggest feature but presents the data with much more information.
Here is what the interface looks like: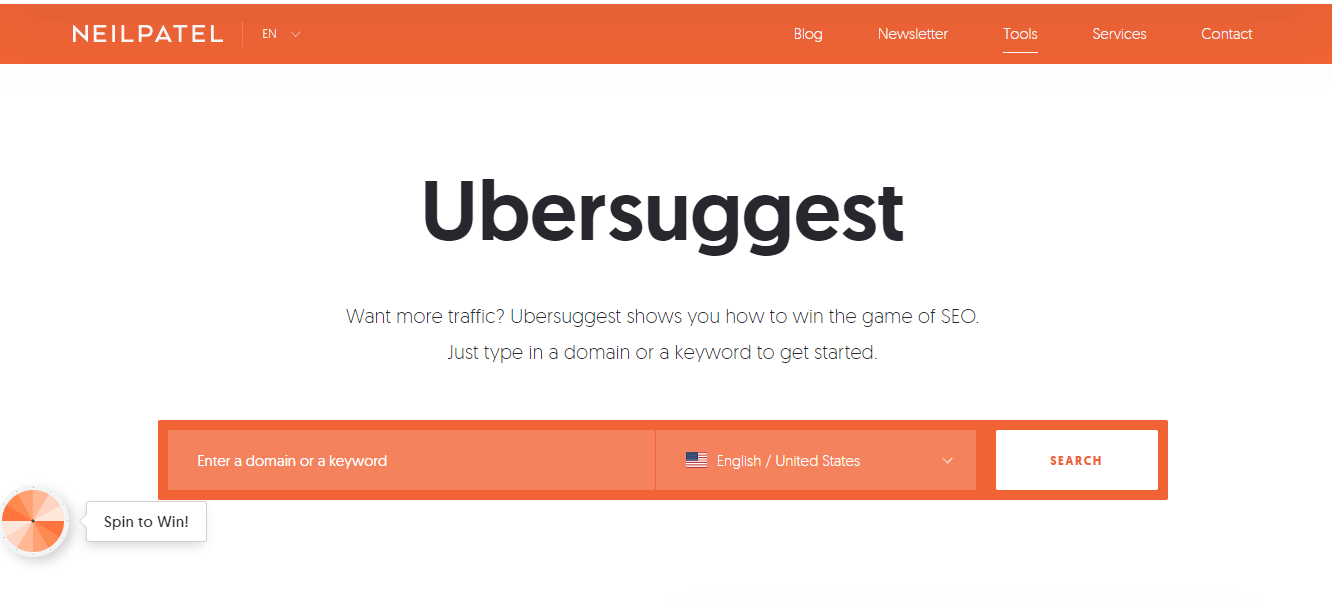 You can also find keyword ideas and content ideas using this tool.
SEMrush
SEMrush is a paid tool that is highly popular in the SEO industry because it speeds up your work. It does so by eliminating the need for typing each and every keyword separately on the interface.
SEMrush works by evaluating entire websites for keywords it is ranking for.
All you need to do is feed in the URL and the results will be displayed on your screen.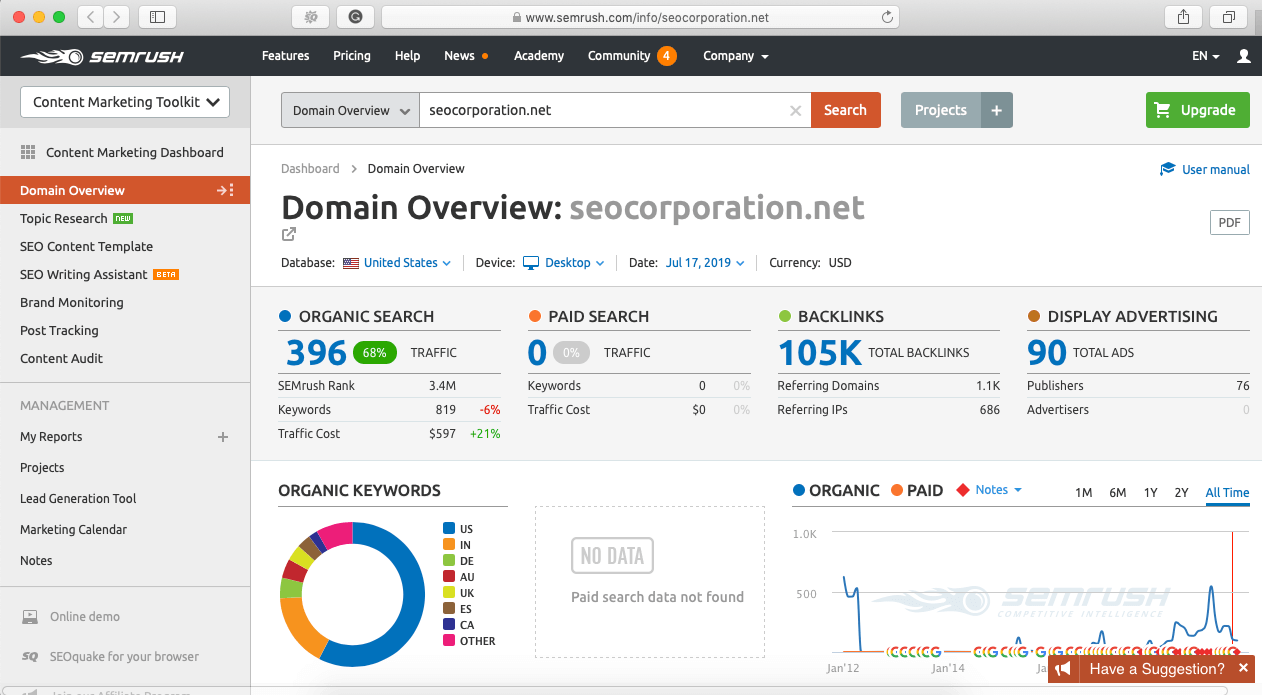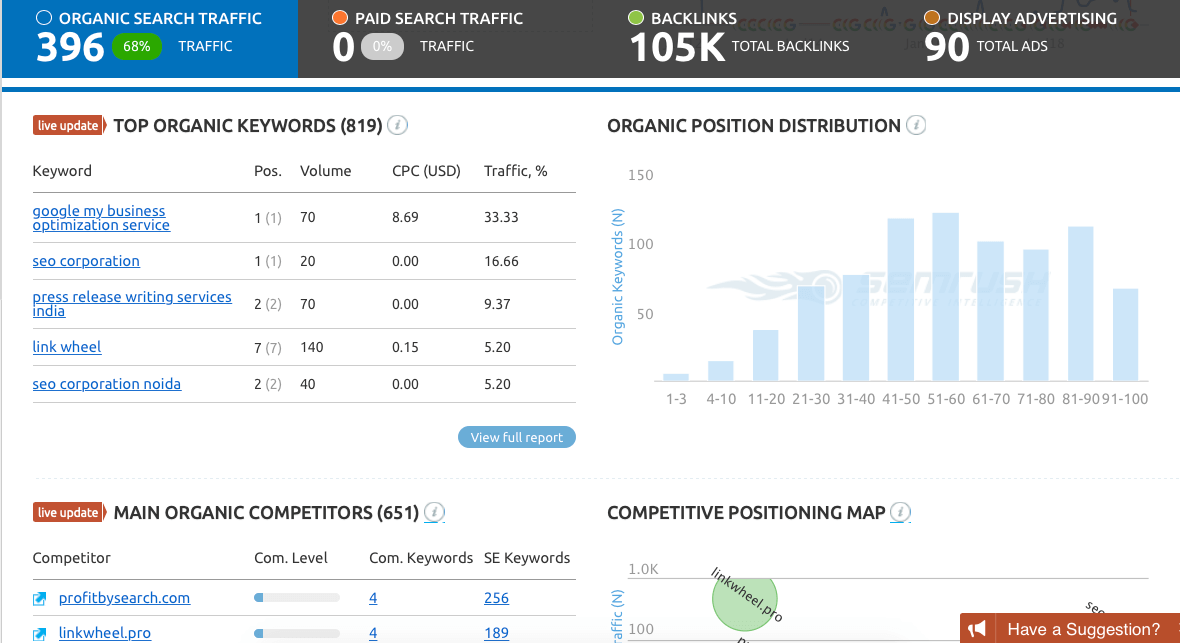 SEOprofiler
This is another great paid tool for keyword research.
Type in a keyword into the search box and the tool will do the rest.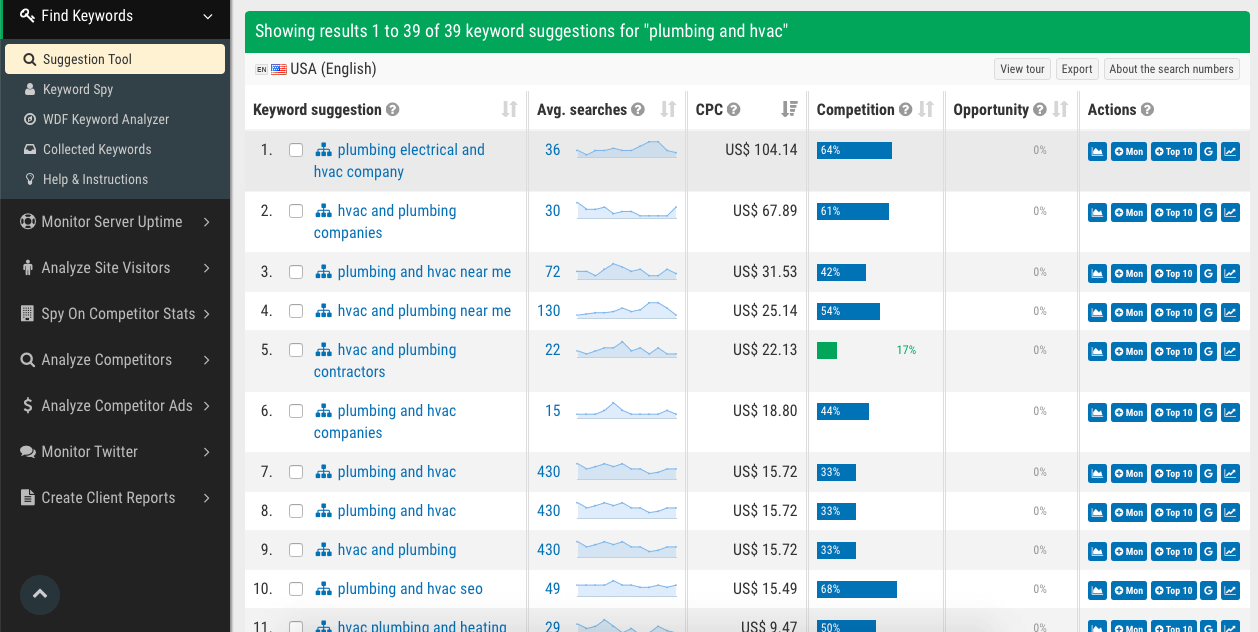 The tool has options for Keyword Suggestion, competition research (Keyword Spy), Keyword Analyzer, and so on.
Factoring in Searcher Intent
Good optimization requires you to pay careful attention to the intention with which a searcher is likely to use a particular keyword. This is called "searcher intent."
There are four main categories of searcher intent:
1. Navigational – where the user performs a search with the intent of finding something that is highly specific. E.g.: "Twitter,""LinkedIn," "John Snow Plumbers" etc.
2. Informational – where the user is seeking general information. E.g.: "How to fix AC motor" and "How to reroute a plumbing pipe."
3. Commercial – general queries related to products and services. E.g.: "Best AC brands," "plumbing kit."
4. Transactional – where the user is likely to make a purchase shortly. E.g.: "Carrier AC best price" or "Trane HVAC dealers."
While optimizing your website for keywords, it is best to eliminate keywords with "navigational" search intent since they are likely to lead to negligible boost in traffic to your website.
That's because people who search for terms like "Twitter" "LinkedIn" or "John Snow Plumbers" are likely looking for that particular website and not pages/reviews/articles associated with them.
On the other hand, optimizing your content for the "informational" search intent category can help you get noticed by users who may avail of your servicesat a later date.
Optimizing for Informational Search Intent
While optimizing your website for keywords, it is natural to focus on those ones that are more likely to lead to a sale (e.g. "plumber near me," "plumbing contractors Miami" etc.).
However, it is a big mistake to focus solely on those keywords at the cost of the rest.
There are many keywords which, while not leading to an immediate sale, could help in relationship-building with the customer.
Since these customers are already familiar with your content (and hence your business), there is a strong chance that they will approach you when they need a related service the next time.
That is why it important to focus on keywords from the informational search intent category.They may not lead to an immediate sale but have the potential to lead to many future ones.
Examples of informational search intent keywords in the plumbing and HVAC industry include:
How to fix AC unit
How to fix a kitchen faucet/sink
Why is my heating not working, and so on.
REASON 2:
Poor Off Page Optimization
By now you have understood on-page optimization and now we will move to off-page optimization. It is mainly referred to as link building and it is one of the 3 most SEO ranking factors as per MOZ. Poor off-page optimization can be a possible reason why your website is not ranking.
However, it is also extremely challenging. That's because it depends on an entire gamut of factors many of which are beyond your control. Let's understand each concept of off-page optimization sequentially.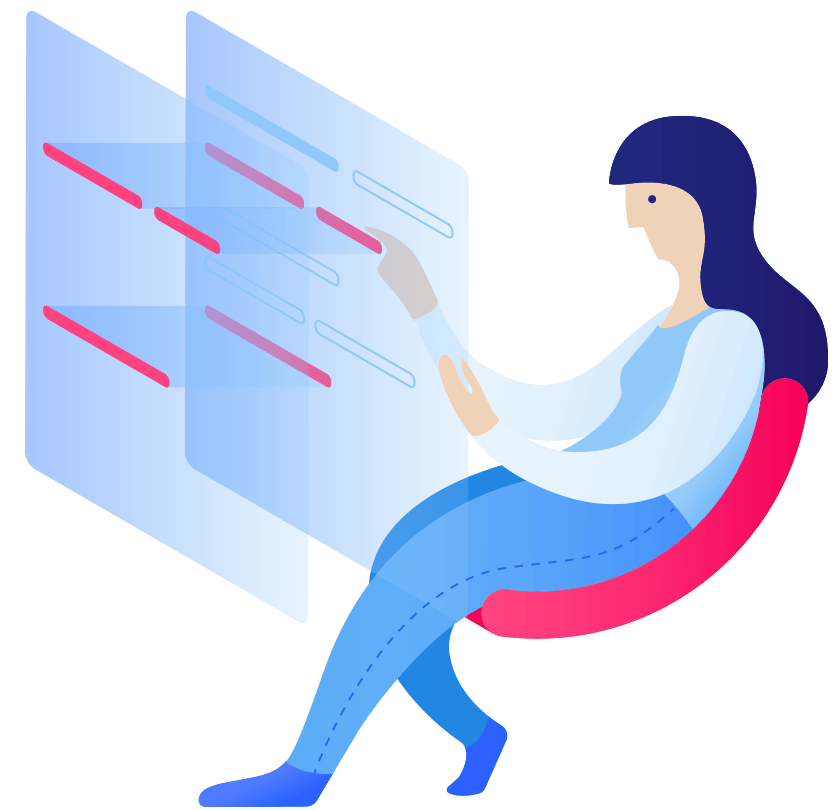 Off-Page Optimization Basics
In the earlier section we learnt about the basics of on-page optimization including keyword research, titles, headers, and meta tags. Now we will proceed to the next stage—i.e., off-page optimization.
We will deal with the fundamentals of off-page optimization with a special focus on link-building. You will get to know everything about off-page SEO—from how to conduct a backlinks analysis, to implementing a successful off-page optimization strategy.
What is Off-Page Optimization?
We noted earlier that there are three main parts to SEO—on-page optimization, off-page optimization, and technical SEO.
Off-page optimization refers to those activities that are carried out outside the website with the goal of boosting search rankings.
These actions are performed on websites other than your own to result in higher rankings.
Why is Off-Page Optimization Important for Plumbing and HVAC Businesses?
Google ranks pages based on many factors and one of them is quality and credibility.
It determines credibility on the basis of the number of links your pages receive from other (reliable) websites.
This makes off-page optimization extremely important for all businesses including plumbing and HVAC.
Strong off-page optimization can help you boost your search engine ranking considerably and lead to more traffic and higher business revenue.
How to Perform a Backlinks Analysis
A backlinks analysis reveals important information about the quantity and quality of backlinks to your site. It can help you identify links from dubious websites so that you can disable them before they negatively impact your ranking.
Let's understand backlinks analysis with the help of an example. We will use the Ahrefs.com's audit tool for this purpose.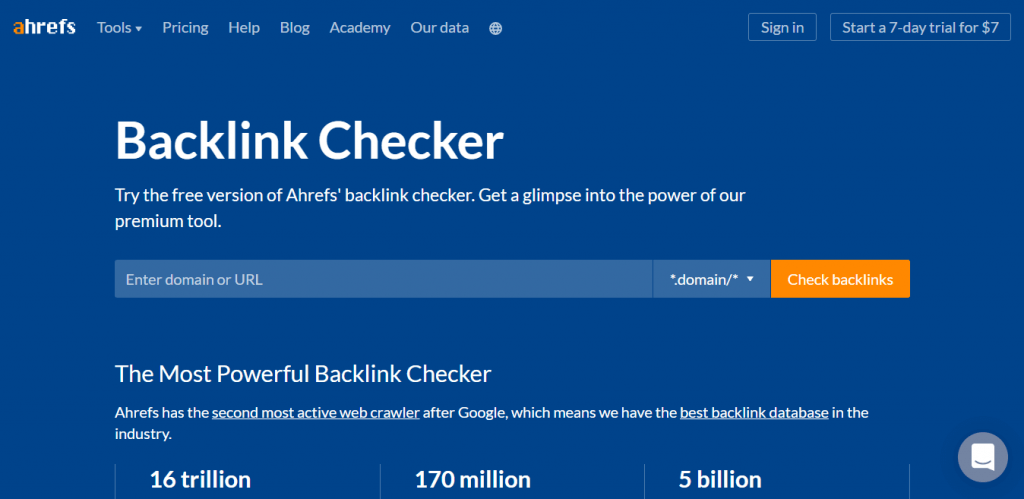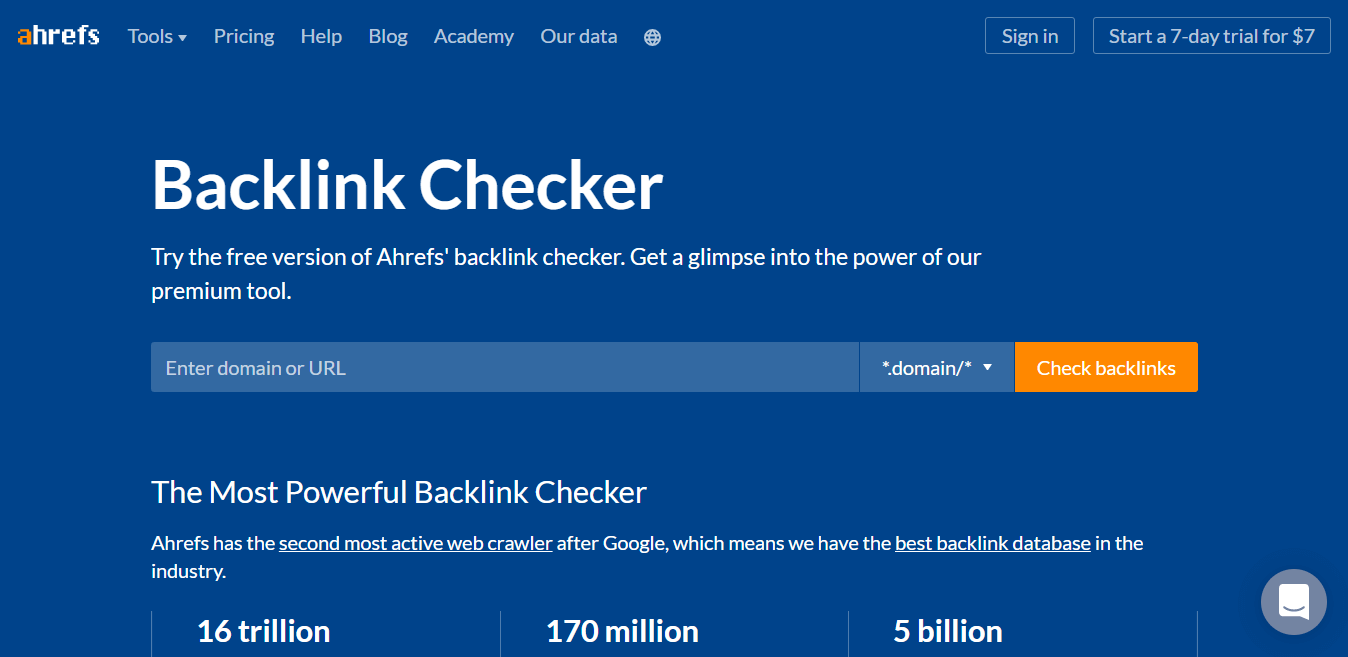 Apart from Ahrefs, there are other backlink analysis tools such as Majestic SEO, Open Site Explorer, and Google Search Console which also perform the same function. But Ahrefs is the most popular.
Let's compare the backlinks of two different websites for the search term "plumbing contractors in New York."
We will choose one website with a high SERP ranking and the other with a low ranking to find out whether their respective positions have anything to do with backlinks.
www.fredsmithplumbing.com (appears on the first page of search results)
www.allcountycorp.com (appears on the fourth page of search results)
Let's find out what the Ahref backlink analysis tool reveals about these websites.
Company 1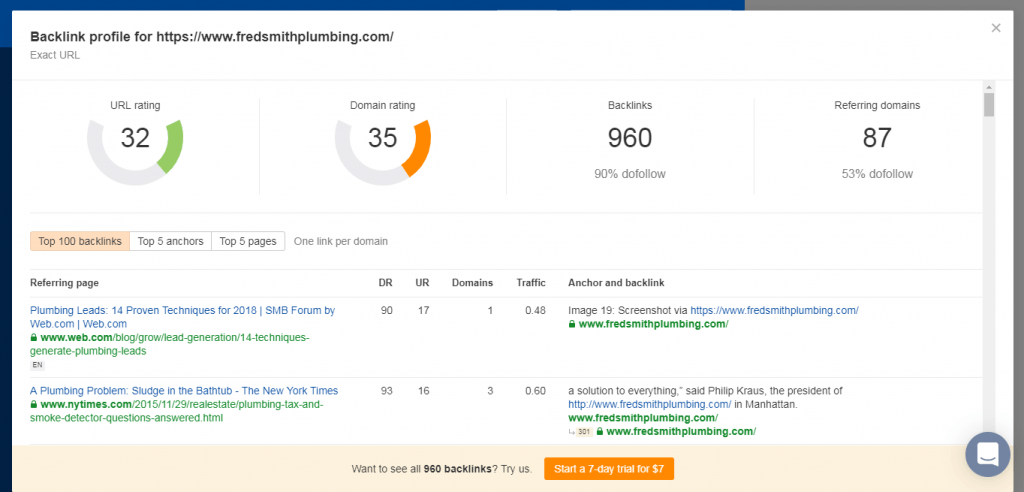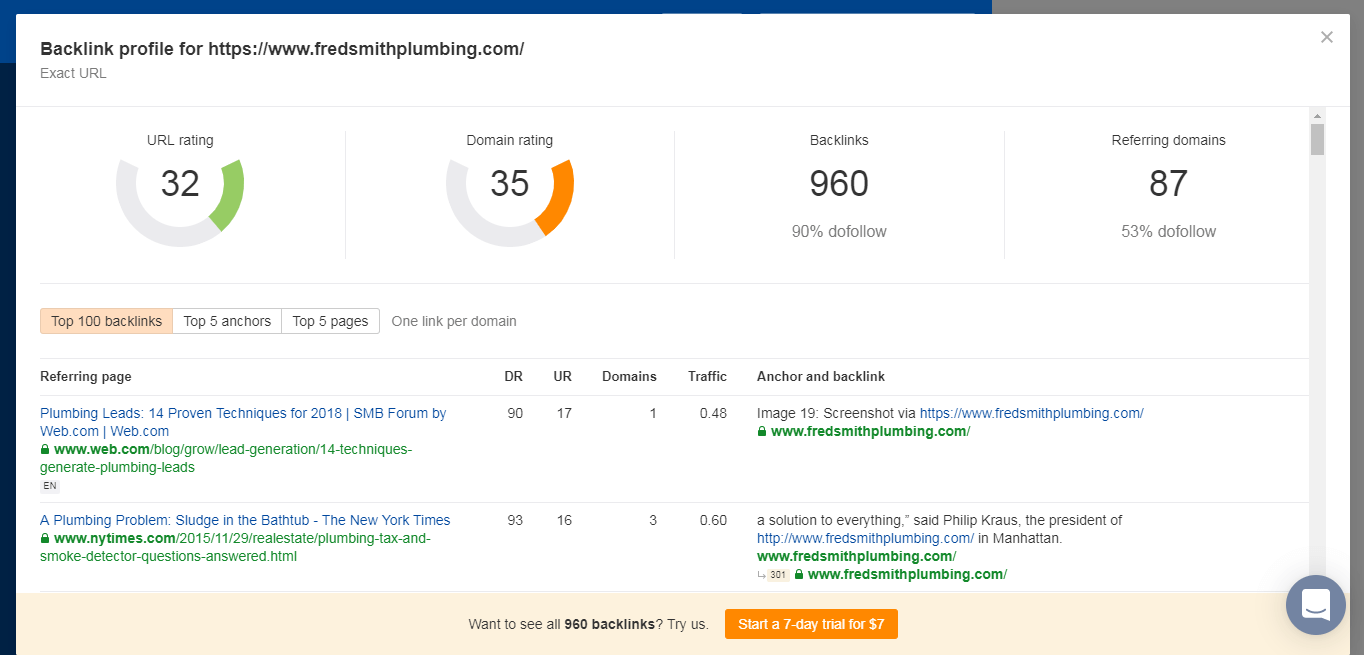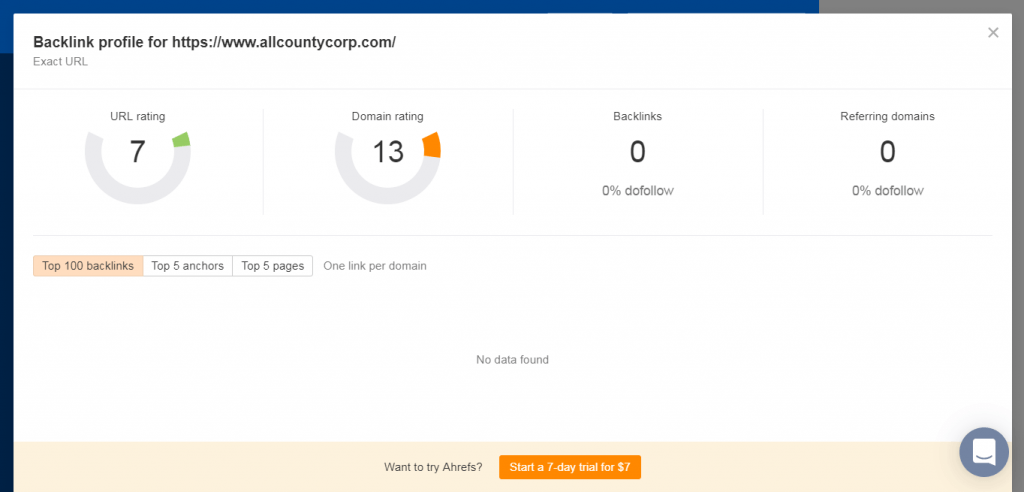 As you can see, Company 1 has a URL rating of 32 vis-à-vis 10 for Company 2. URL rating is a metric used by Ahrefs to measure the strength of a backlink profile.
Company 1 outperforms Company 2 on each and every parameter including domain rating. The number of 'do-follow' backlinks and referring domains are also more for Company 1 than Company 2.
'Do-follow' (link juice flows from higher DA website to a lower DA website. However, in No-follow links, this is not the case. But having even no-follow links from highly reputed websites such as Wikipedia matters a lot ) links are those that allow search engine crawlers to follow the links, resulting in a boost for the back linked page.
The above example reveals how Company 1 has stolen a march over Company 2 with some smart back linking. No wonder Company 2 is languishing on page 4 of Google while Company 1 is getting all the traffic.
Use Guest Blogs to Build High Quality Links
Say you've performed a backlinks analysis of your own website and realized that its profile is weak. What should you do to strengthen it?
Guest Blogging
Guest blogging is one way for businesses to increase the number of backlinks. Though it is a lengthy and time-consuming process, it is one of the most popular methods to acquire backlinks since it delivers solid results.
Guest blogging involves persuading the editor of a website/blogging platform to carry your article.Naturally, your copy will have several links pointing back to your website.
Say you have written an article, "Spring cleaning tips for your home's plumbing and pipes." Here is a step-by-step process to get it published on a credible website.
1. Searching for an appropriate platform
Google can be useful here. Try typing in "blogs accepting guest posts" or related terms to hone in on leads. Twitter is another place that may offer important clues. Go to industry-related accounts and review the list of followers. Visit their websites to see if they have blogs and accept guest posts.
2. Understanding the rules
Choose only credible websites. See if they accept the sort of post you've written. Find out about word counts, rules concerning the use of images etc. Don't forget to review their backlinks policy.
3. Writing to the editor
You need to find out the editor's email so that you can send your article. VoilaNorbert.com and Hunter.io are some helpful resources for this purpose. Write a short cover letter and attach your article. Since these are extremely busy people, you may need to remind them two or three times before they respond to your mail.
4. Post-publishing process
Once the article has been published, create social media posts around the article so that it receives adequate publicity. Don't forget to write a thank-you note to the editor/moderator informing them of the steps you are taking to promote the copy.
Things to Consider While Building Links
Your links should come from authoritative and credible websites – links from dubious websites may reduce your ranking. Disable low quality links.
Try to obtain do-follow links .
Donot buy links – it is a violation of Google's Webmaster Guidelines.
Factor in link velocity. 'Link velocity' refers to the rate of growth of back links. If the link velocity is too high compared to the rate of posting new content, Google is going to flag it and this may affect your ranking.
Ensure you do not get too many links from the same IP address – it could indicate that these are obtained through link networks and your site will be marked 'suspicious.'
REASON 3:
Poor Technical SEO
Irrespective of how good the quality of your content is, you will not be able to achieve a good search engine ranking without good technical SEO.
In this section, we will cover the most important aspects of technical SEO.
Let's start the journey!
What is Technical SEO?
Put simply, technical SEO refers to the process of carrying out changes on a page using any method that is sufficiently technical in nature with the objective of boosting your page's Google ranking.
It deals with optimizations that make it easier for Google's crawlers to find your page, index your page, render your page, understand the content of your page, and so on.
It is a constantly evolving discipline. That's because Google is always making changes to its search algorithm, making it necessary for technical SEO to keep up.
Why Technical SEO Matters
Without good technical SEO, all the other optimizations you have performed will fail to show results.
Here is a list of some of them:
Improving site speed
Removing code bloat
Implementing a responsive design
Improving crawlability and indexation
Mobile-friendliness
Technical SEO Tips
Here is a list of 10 technical SEO tips which can improve the ranking of your site on Google.
1. Mobile friendly website
Google tends to like mobile-friendly websites more than others and ranks them higher. Audit your website for mobile-friendliness using free tools like Google's Mobile-Friendly Test or HubSpot's Website Grader. Google's mobile-first indexing is also set to favor mobile friendly websites over others.
2. XML Sitemap
These help Google crawlers find and index your pages. Create one if you haven'tdone it yet. Don't forget to optimize your XML Sitemap by highlighting the important pages. Have a big website with over 50,000 pages? Try dynamic XML sitemaps.
3. Page load speed
Google will penalize your site if the page load speed is low. In other words, it will rank other pages before yourseven if it is more relevant to the search query. Steps to take include optimizing images on the website, enabling browser caching, and reducing server response time.
4. Run a regular audit
It's vital to run a weekly SEO audit if you are serious about your site's search rankingto identify and fix periodic issues. SEMrush is a great tool for this purpose. A periodic audit will allow you to spot errors, rectify them, and maintain proper website health.
5. Optimize internal links
Internal links may not have the same value as external links but they are important nonetheless. A crucial function of internal links is to help search engine crawlers understand the information hierarchy and site architecture on your website. Highlight the right keywords in the anchor text to optimize internal links.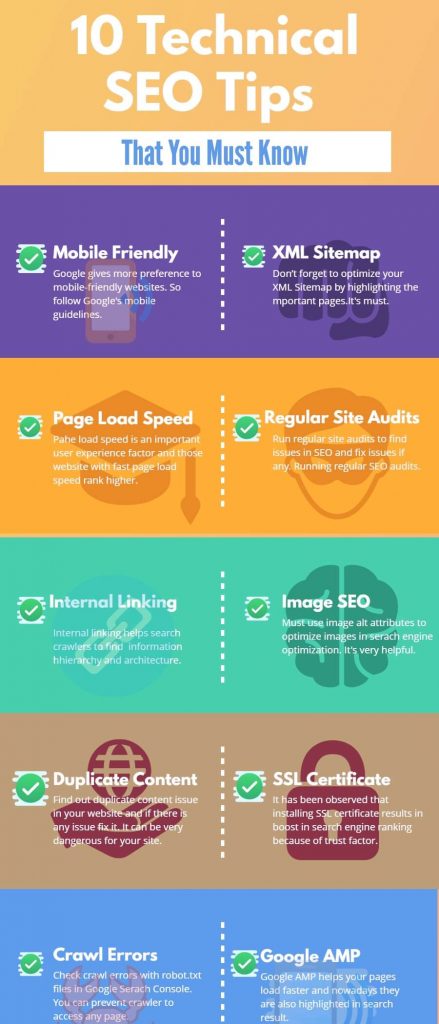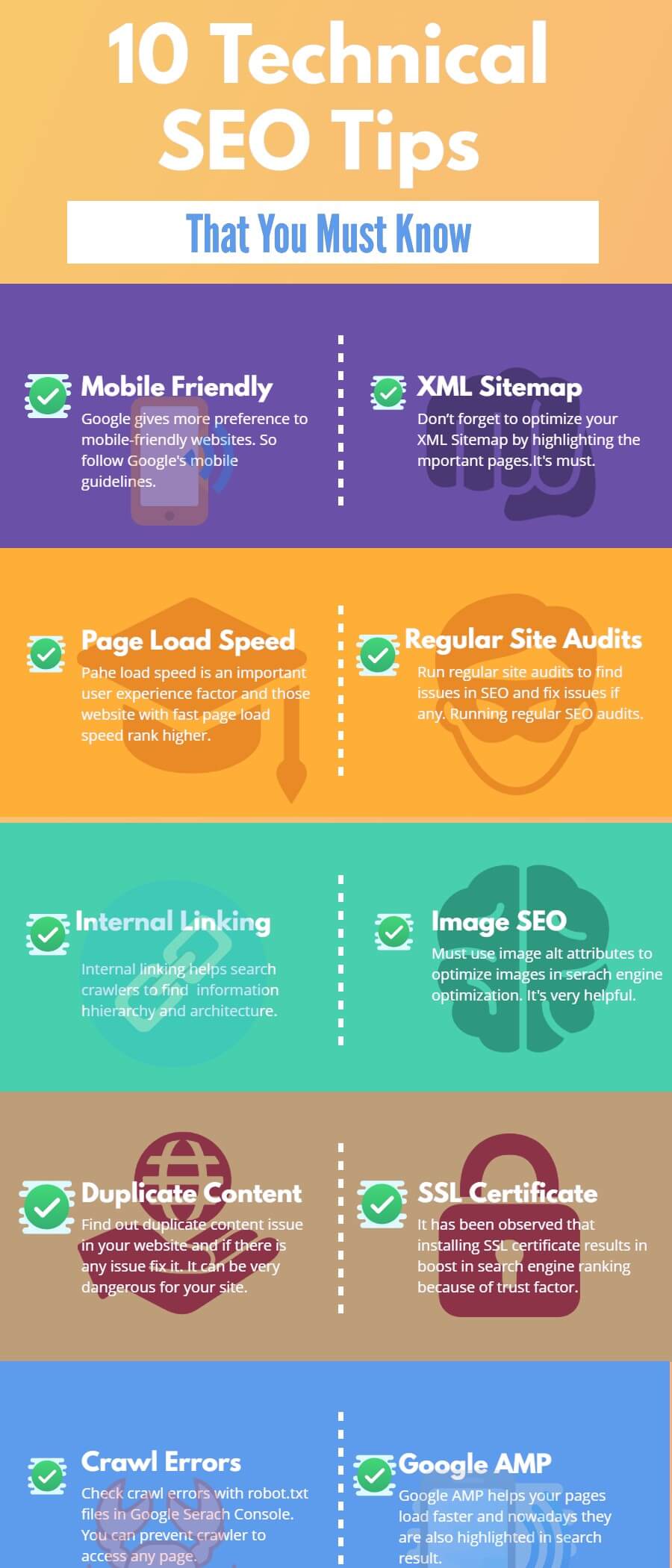 Copy & paste this code on your web-page to display this infographic.
6. Use the right keywords in image alt text
Google interprets images with the help of file names and image alt text. Using the right keywords in the alt text helps optimize your page. However, you need to ensure that you're not stuffing it with keywords.
7. Avoiding duplicate content issues
SEMrush can help you identify and resolve the issue of duplicate content. In places where duplicate content can't be avoided, use canonical URLs.
Canonical URLs indicate to search engine crawlers that certain URLs are the same. It allows you to duplicate content without lowering your ranking.
8. SSL Certificate
Installing an SSL certificate for your website will push up your ranking since site security has become an important issue for Google. SSL certificates have been used for ranking since 2014. If you don't have it, you need to get one soon.
Doing this once a week will keep your website in top shape from the point of view of SEO. This is also a good time to check whether the Robot.txt file is preventing crawlers from accessing any of your important pages.
10. Using Google AMP
AMP, or Accelerated Mobile Pages, help your pages load much faster on mobile devices. The company has been encouraging its use in recent times. Pages with AMP are also highlighted on the search results. However, there has been no official word from Google about it affecting your search ranking.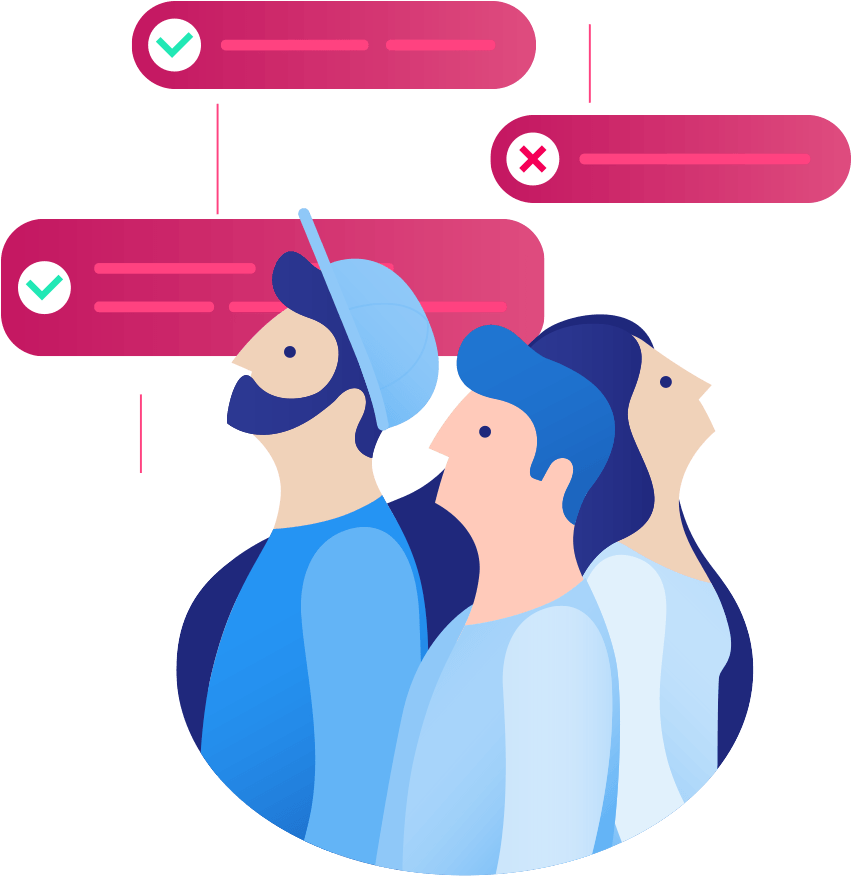 REASON 5:
HVAC & Plumbing – Content Gap
Content gap analysis is a crucial part of SEO.
This section will discuss the key points related to the content gap analysis. We will also tell you how to address the content gap.
You will learn about the following topics:
What is content gap?
Why content gap analysis matters to an HVAC and plumbing company
How to find content gaps
Tips to address content gap
Knowledge about content gap will help you make your website more relevant to your customers and increase your sales.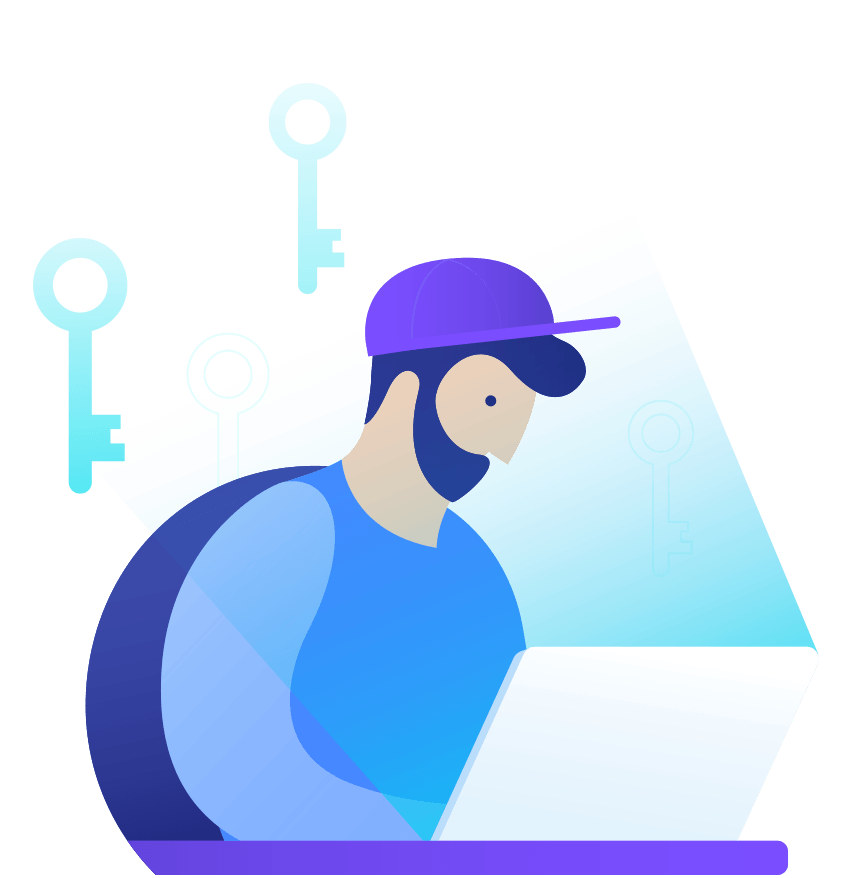 What is Content Gap?
Have you ever opened a web page only to find that it gives you half the information you need?
It's quite frustrating, right?
That is due to content gap.
It is the gap between what your readers/visitors/customers want or expect vis-à-vis what is offered to them.
It can be a big reason why your site is not ranking compared to your competitor. You can expect a miracle without addressing this issue.
Why Content Gap Analysis Matters to an HVAC and Plumbing Company
Content gap analysis is important for HVAC and plumbing businesses because it reveals the divide between what customers are searching for and what your site is offering them.
A content gap analysis identifies the holes in your content and gives you an opportunity to plug them so that it becomes more relevant to your readers and they don't need to go to your competitor sites to find the answers they need.
Here are four key reasons why you should conduct a content gap analysis:
1. Finding the Right Keyword Strategy
People carry out searches for different reasons. This is known as search intent. There are different keywords that are associated with different search intents.
A content gap analysis will help you target your customers with the right keywords as per their search intent.
2. Preventing Customers from Going to Your Competitor's Website
We noted above how insufficient data might turn off customers and lead them to your competitor's website in a bid to find the information they need.
Carrying out a proper content gap analysis can prevent this from happening.
3. Nurturing Your Leads
Proper targeting based on search intent can help you establish contact fairly early in the buyer's journey (see image below) and nurture customers as they travel the mental distance from awareness to decision.
You could provide blog posts, pages, videos, etc., gently nudging them all the while into contacting your business. You need to provide suitable content for each of these stages.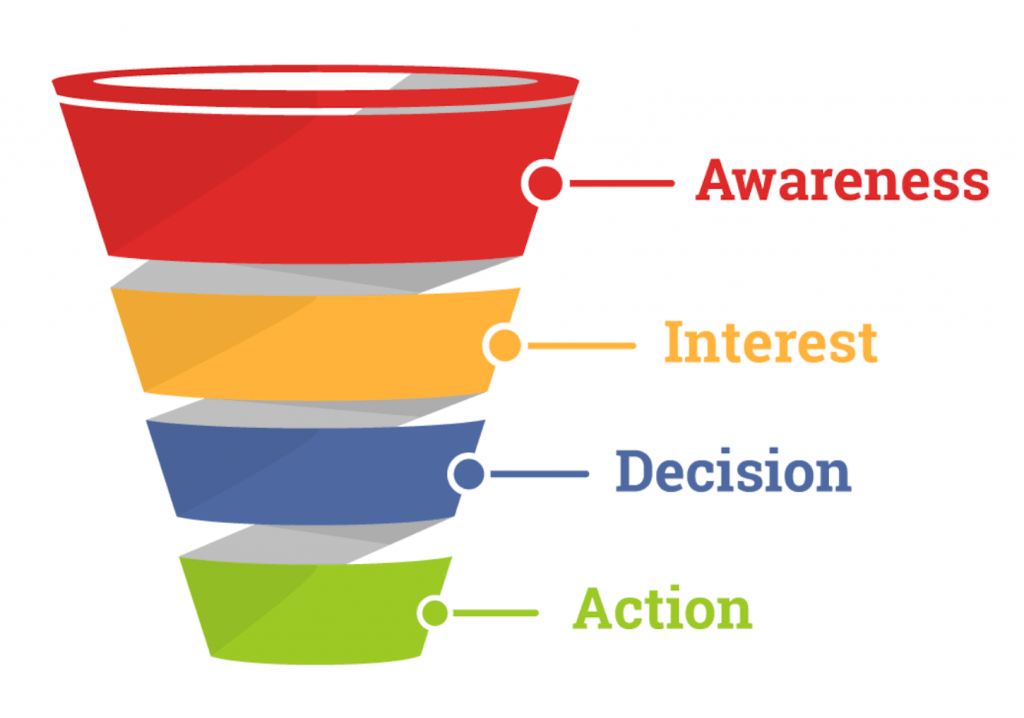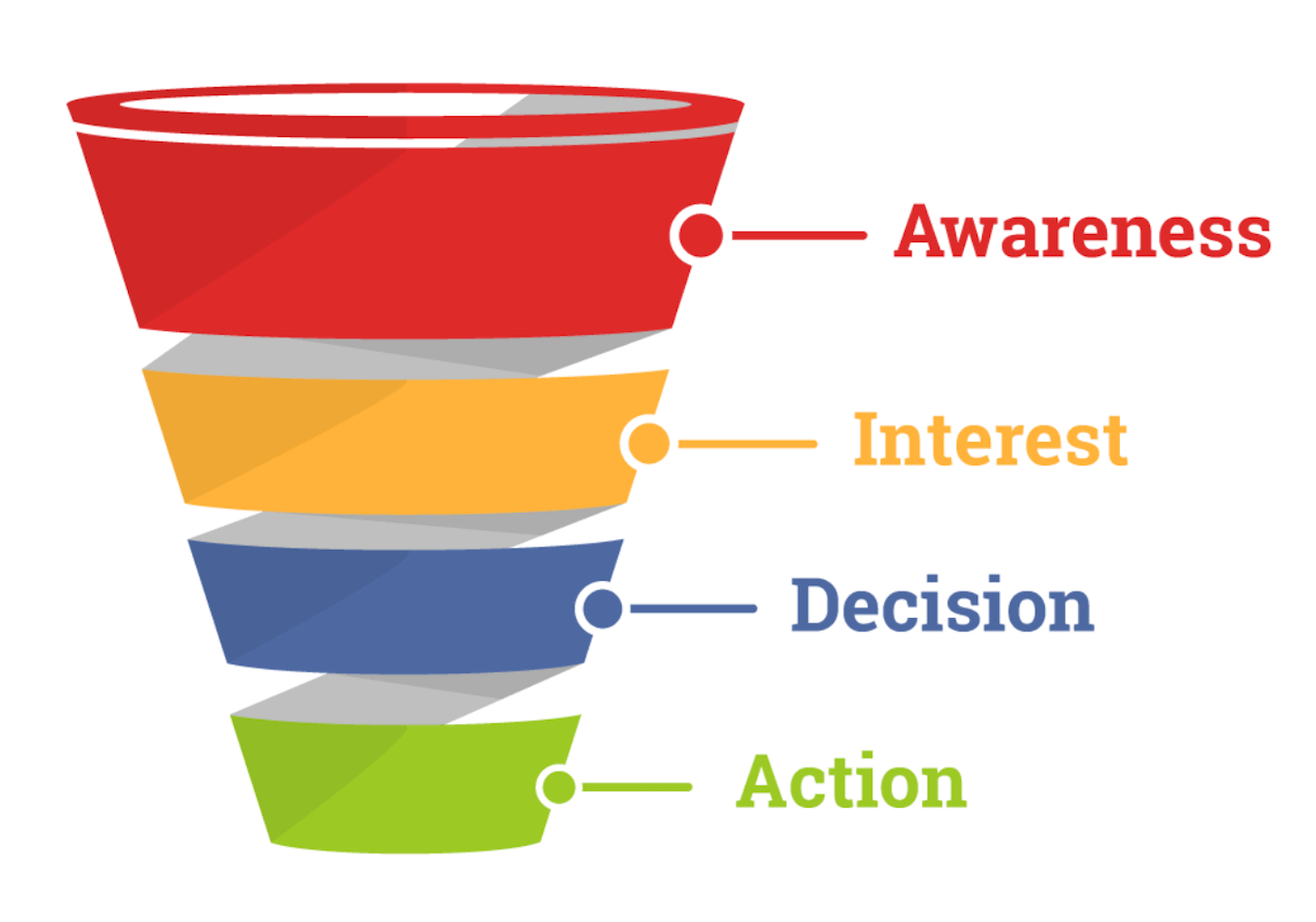 The Buyer's Journey
4. Providing the Right Calls to Action
A mismatch between search intent and call to action could lead to the loss of valuable customers. Performing a content gap analysis on your website can prevent this from happening and optimize your pages for calls and conversions.
How to Perform Content Gap Analysis
Content gap can of two kinds:
Keywords gap
Content strategy gap
1. Keywords Gap
By 'keywords gap,' we mean those keywords that are being used by your competitors but are missing from your website.
You can use tools like SEMrush, Ahref or SEOprofiler to find out which keywords your competitors are using and include them in your site.
Let's see how it's done.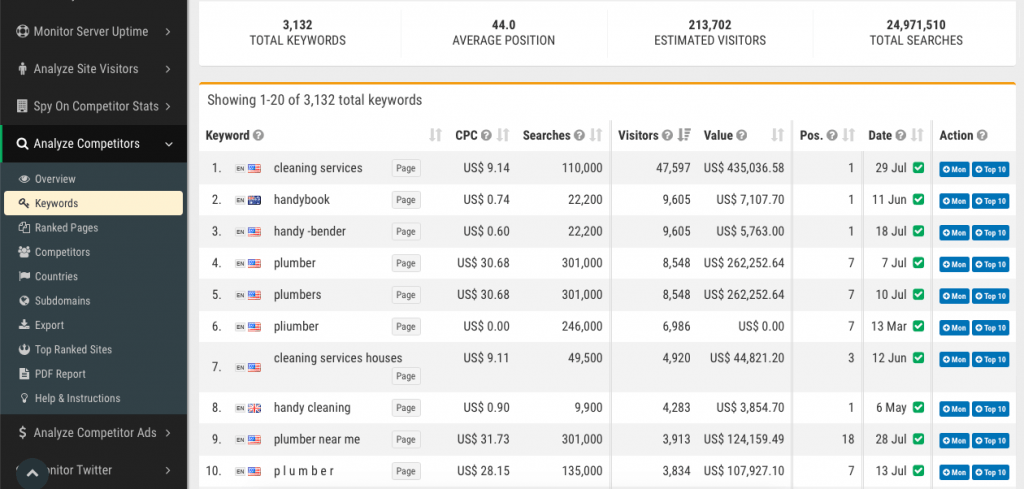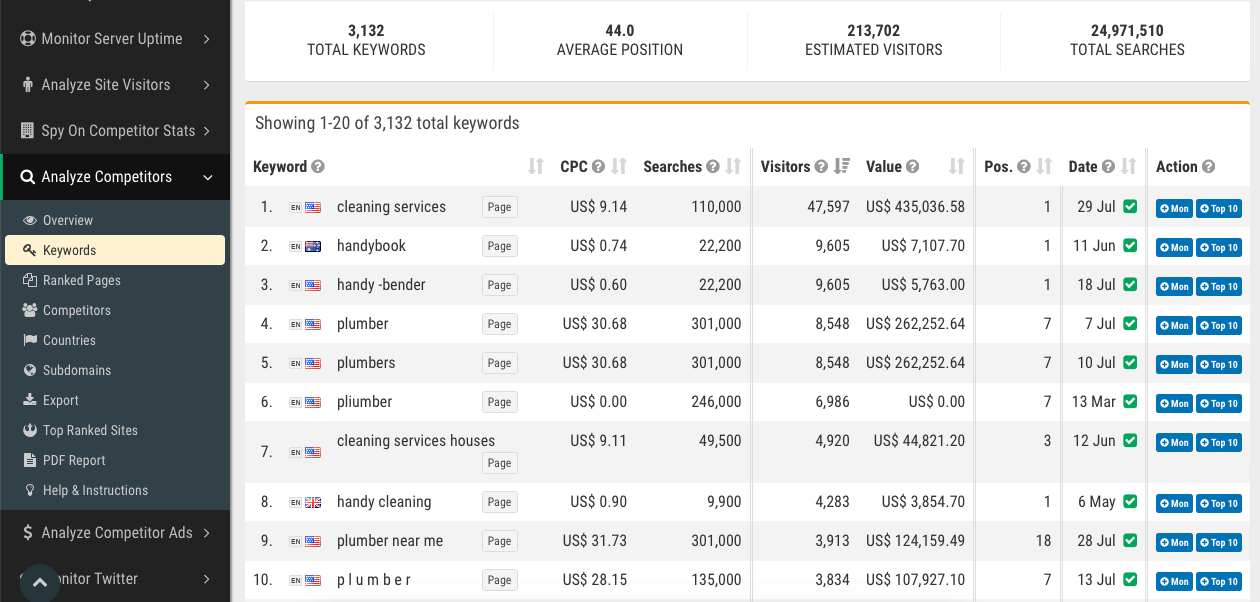 Now, you can compare these keywords with those from your website and incorporate the ones that are missing.
Here's how to do that most effectively:
Create new pagesfor each of these keywords. That way, it will be easier to rank since you can have a dedicated title, meta description and body content for those particular keywords.
Add them at different places in your website such as blogs, case studies, e-books etc.
2. Content Strategy Gap
Here we analyze the methods and mediums employed by your competitors which help them rank higher than you.
For instance, one of the things you could do is find out whether they are posting blogs and do the same for your website. You will need to find out the frequency of blog posting, the word length for each blog post and so on and replicate the same strategy.
Also confirm whether they are publishing videos on plumbing and HVAC related content, posting on social media, or writing e-books.
You might want to add these to your to-do list. On the other hand, if they are only publishing blogs, you could think of creating videos, e-books, infographics etc. on your own to outrank them on SERPs. Know how to optimize your YouTube Videos.
REASON 6:
No Directory Optimization
It isn't enough to rank on Google, you need to get listed on local search directories too.
Here we'll cover basics of how to get listed on business directories like Yelp, Bing, Foursquare and so on.
You will learn about the following topics:
Why local search directories are important for SEO
Top local search directories for plumbing and HVAC businesses
How to optimize local search directories
Getting listed on online directories will not only help you reach out to more customers but also help with your SEO.
Let's start!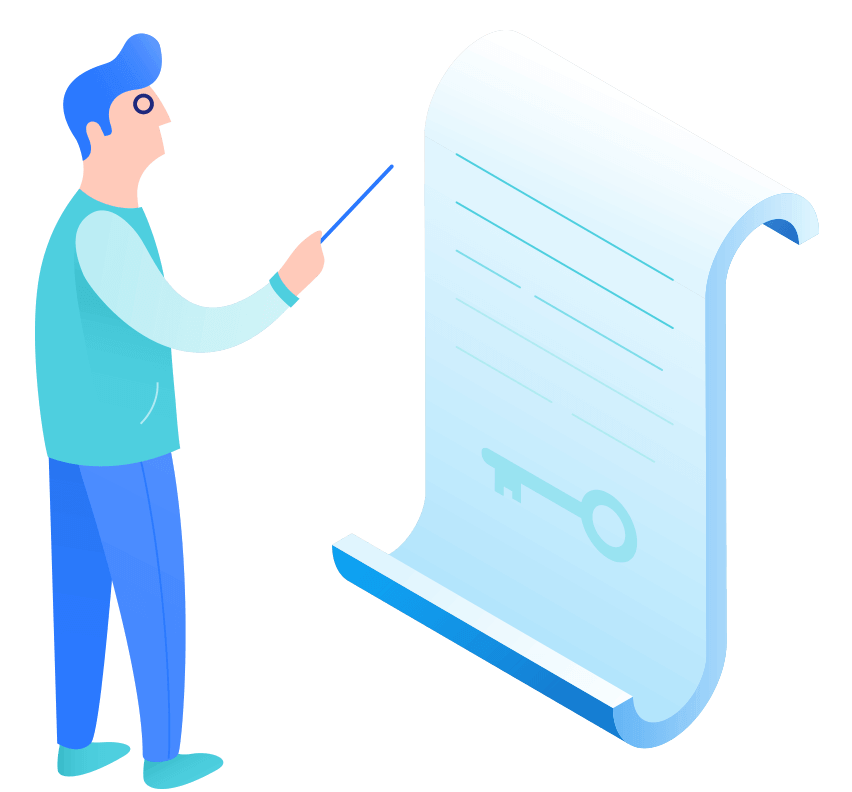 Why Local Search Directories are Important for SEO
Local search directories are important for SEO due to one key reason: They generally occupy the top rank on Google local searches.
If you carry out a search for plumbers in Memphis (or anywhere in the United States for that matter), chances are the first few organic results will be something like this: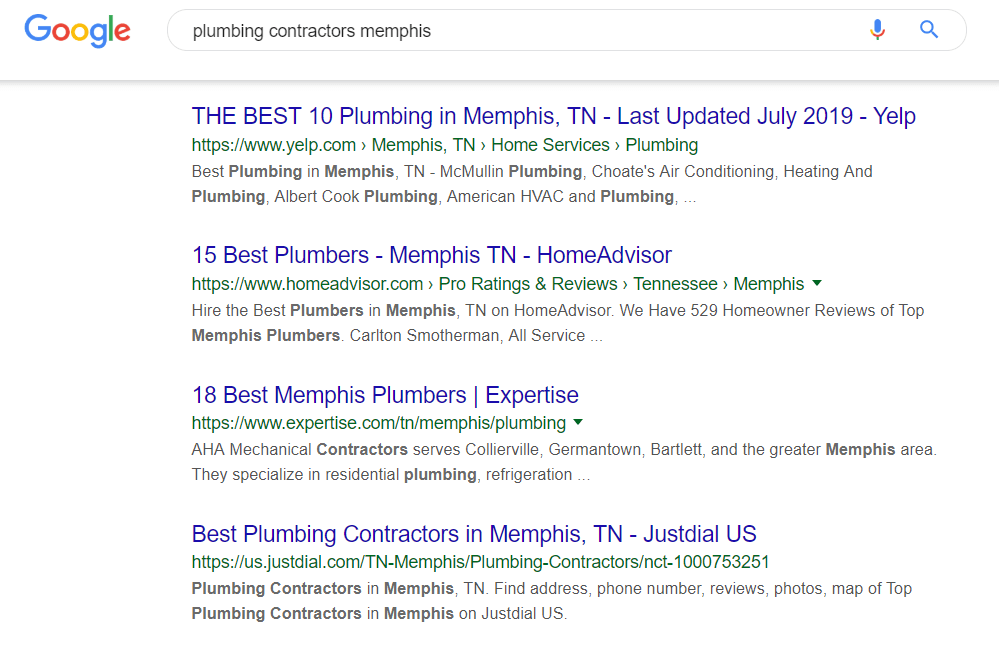 Notice that all the results in the example above belong to business directories with the exception of just one.
This is the main reason for getting listed on business directories is important for your company. It will help you increase your online exposure.
Top Local Search Directories for Plumbing and HVAC Businesses
If you are planning to get listed on a local search directory, ensure it's the right one. Choose a well-known business directory because having your name on a dubious one could affect your SEO. Since it's a local business, ensure that you list your company for the right location.
Here's a list of five best local search directories for plumbing and HVAC businesses:
1. Yelp
2. Angie's List
3. HomeAdvisor
4. FourSquare
5. Local.com
How to Optimize Local Search Directories
Optimizing a page on a local search directory isn't very different from optimizing your Google My Business page.
Here's how to do it. This advice is relevant for most business directories with a few individual variations.
Fill out all the details related to your business.
Request happy customers for reviews.
Respond to each review. (This also includes the bad ones. It shows that you take customer feedback seriously.)
Offer discounts and special services to customers.
Last But Not Least
By now you should have gained a good idea of SEO. You may have also realized why SEO is absolutely critical for plumbing and HVAC businesses.
Without good SEO, it is hard to get noticed online.
As a result, you could end up losing customers to your business rivals even though you offer better services.
SEO offers an easy and cost-effective route to more traffic, more business, and more revenue. A well-optimized page is the first step to growing an HVAC and plumbing business.
You will start noticing the difference within a few months of performing SEO on your pages.
You will get more leads and more customers, pushing up sales and income. It will launch you on your path to your million-dollar dream!
However, don't forget that SEO is a continuing process that needs to be carried out regularly for best results.
It is important to keep posting new blogs, updating your website, and performing regular checks on to ensure optimum online performance at all times.
Following these tips and methods will put you on the path of million dollar journey.
This is not impossible to do, but certainly very difficult. If you feel the same, we can do it for you.
Want To Get More Traffic And Leads?
Anything On your Mind. We'll Be Glad To Assist You!