your listings, the next step entails applying structured data markup or local business schema. It would ensure that all of your website pages are optimized for local SEO.
While looking for a local hair salon or a plumbing Service or Xyz (could be anything) what is the first place most people refer to? Yes, it is Google.
And, if you're are not visible to them there's quite a good chance that you are losing out on potential customers. Hosting a website with strategic SEO planning just isn't enough. You'll also need to think of ways to optimize your website for local SEO so that all those looking for your services in your area, don't miss out on you.
Moving ahead, you are going to find out exactly how to go about it:
Enlisting with Google My Business (GMB) Page
Yes, you heard it right. The first place to start with is to claim your business listing with Google My Business (GMB) and filling out the essentials details, especially Google Local Park and SERP results. Though it is an exhaustive process and you might need an expert's help, but it is mandatory. Believe me, when I say it's not easy – there're over 2000 categories (some of them are really weird) and finding which one will fit yours can be daunting. Once you have found the best fit, you'll need to fill out your content. Use both primary and LSI keywords. The right content will increase your chances of getting into the local pack by almost 20%.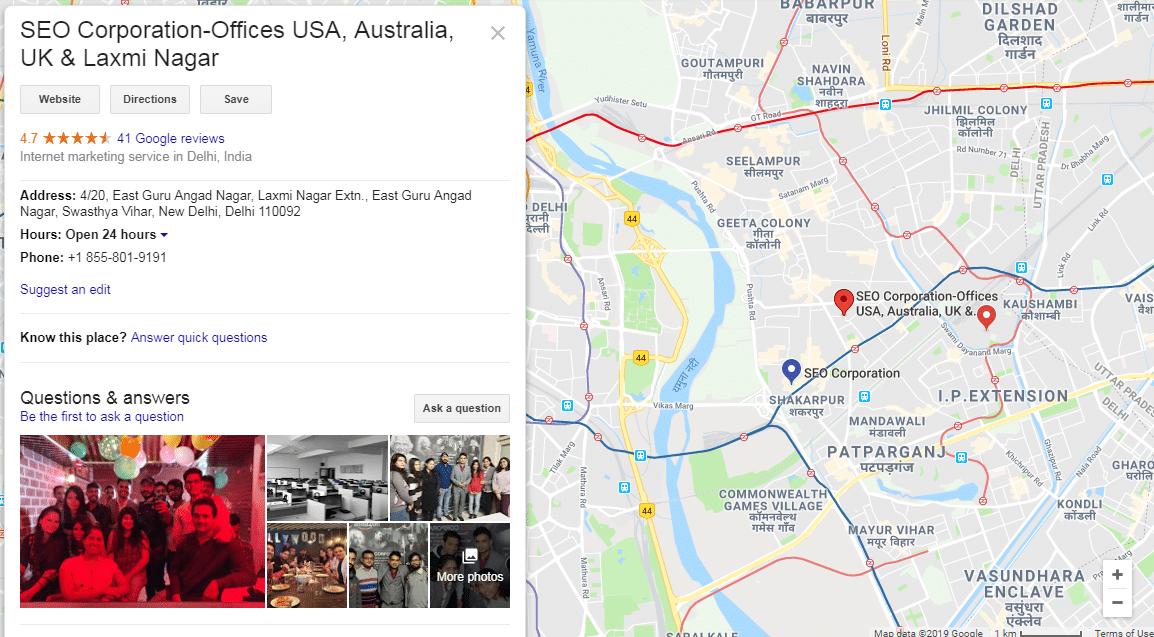 The presence and quality of your GMB listing plays a vital role in differentiating your business in the local search results. Once Google has recognized your webpage as a top contender it will show your name on top. The actual result goes just beyond accurate listing as it enables you to connect multiple locations for your business. If you operate from multiple locations, you'll need to create different GMB pages for all of them. Don't worry, this part isn't that difficult, you can easily manage all of your listings using the same login.
Optimize your website
Your website is your face of business on the Internet and how people see you there is totally up to you. Make sure it has clear and crisp content that states exactly who you are, what you do, where you are located and all the details important to your business. Try to make it easy for google to understand the elements of your business. After all, it's an automated robot that reads exactly what you feed in. Your page title, metadata description, and header tag should clearly state your location.
Your page title and metadata description are a huge factor in deciding the kind of impression it will leave on your visitors. Whether or not it will affect your ranking is a different discussion, but it is relevant to the readers. When you are targeting local businesses, ensure that your page title includes the name of service/business and your city/state/area. It will only help the search engine to find you and ensure that your name pos up in local searches. So to say, it's a way to telling people, this is where to find me.
Create a different webpage for every detail
While working on your website, make sure that you are not skimping the details. You should create separate pages for all your products, services and locations. For instance, say if you are a service provider offering cleaning and maintenance services for chimneys, washing machines, and gas appliances. Do you think, it would be easy for Google to find all of your services if you have created only one page for them and enlisted all of your offerings on a consolidated page? The answer is NO.
Consolidating details into one, isn't going to help your business in SEO, neither it's of any help for local SEO. In order to apply product/service schema, you should have a different page for every individual offering. It is amongst the best SEO practices that not only help you to paint a better picture of your site map but also helps you to get specific ranking for all of your offerings/services. Which is why you should have a different page for every detail. Why would you want to give bunk beds to your children when they can have an individual room of their own.
Similarly, if your business operates from multiple locations, you should create a different web page for each and every location. For instance, if your services are available in New York, Philadelphia, Chicago, and New Jersey, how do you expect, Google to find them all if you have enlisted everything on a single page. It might need an extra bit of effort while creating the website but believe me it's going to be much more effective when called upon. Ensuring that you have assigned a different space/territory for every detail – product, service, and the location is going to pay off in the long run.
Apply local business Schema
After you have successfully created a different web page for all of your listings, the next step entails applying structured data markup or local business schema. It would ensure that all of your website pages are optimized for local SEO. It is almost impossible to mark your visibility at local search results without local schema. Some of you, who are not very much aware of the famous SEO jargon, might be clueless about what is Schema? It is nothing, but just a set of additional codes that can be added to your web pages so that it's easy for Google to understand who you are, what you do and where to find you. After all, you must do everything possible to ensure that your web page lands exactly where people need to find you. What is the purpose of hosting a website if you are not visible to relevant people when they are looking for you.
For those who want to find out if you have schema on your website or not, you can check on Google's Structured Data Testing Tool. All you need do is type your website URL on this link and it will lead you to the break down of various schemas on your website.
Following is an example of ours:

Now, all of that said and done could be a bit overwhelming, believe me, it's just the tip of the iceberg. A vast section of other topics I have not been covered in this write up includes:
Updating NAP citations on your website
Adding your business to local directories
Setting up local media signals
Prioritizing reviews
And most important of all – Implementing best SEO practices
Winding up, I would like to add, if you are planning to get a great start for your business in 2019, the best way to do so is to start with local SEO optimization. Good SEO practices not just makes you visible to your potential customers but it also ensures that you don't miss out on a single opportunity and your clients can reach you in time. If, I had been at your place, I would hire an expert to do the job for me.
If you need any further assistance about local SEO optimization or you have any other doubts regarding your website and your online presence, feel free to write in to me.