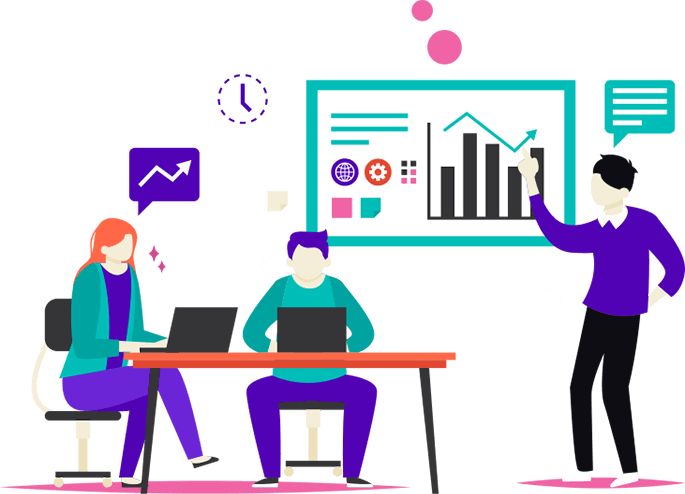 Why Do I Need Voice Search Optimization?
Sometime in the future, you won't be typing into your computer system. You will be speaking to it. And it will be speaking back to you. Welcome to the brave new world of voice search.
We are already seeing it happen all around us. People are asking their smart speakers to play music, answer questions, and even ordering groceries. Outside the home, they are asking their smartphones to locate shops and restaurants. And the trend is only expected to gather steam.
Which is why you need voice search optimization. Voice SEO will help you tap into the increasing number of customers who are actively switching to voice search. It will also help you prepare for a world where voice rules the internet.
We can help you optimize your website for such a scenario. Get in touch today!
Voice SEO For Businesses
If you run a business, you need voice SEO. There are no two ways about it. Why? Because almost a quarter of voice searches are local queries.
The advent of voice search has enabled users to find answers to their questions on the go–whether it is to seek general information, or find a local business. This has made it vital for business owners to optimize their website for voice search.
At SEO Corporation, our experts are well-equipped to cater to your voice SEO needs and ensure a 'position zero' rank for your content. We use sophisticated tools like AnswerThePublic to ensure that your copy contains relevant natural language keywords. Our experts will also carry out the necessary modifications like page speed optimization and mobile optimization to ensure that these factors do not drag your ranking down.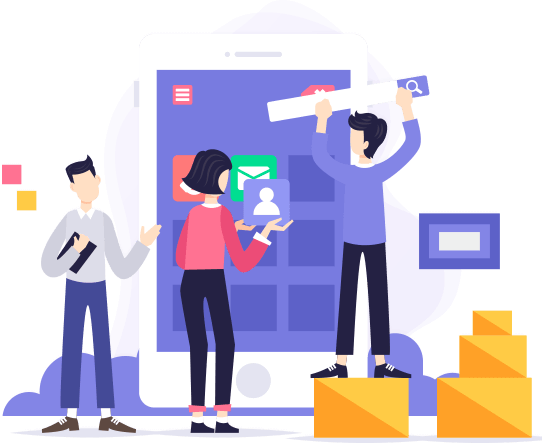 What Is Voice Search Optimization?
Voice search optimization is the process of enhancing the discoverability of your website vis-a-vis voice searches. It is expected to be the next big thing in search engine optimization. It involves optimizing your website for voice-based queries using specific SEO techniques so that your content answers the exact question posed by the searcher.
What Is The Difference Between Text Search And Voice Search?
There are several key differences between text search and voice search including the length of the queries and the importance of location (which matters even more in voice search). The differences are discussed in detail below:
Length of queries: One of the key differences between text search and voice search relates to the length of the queries. Unlike text search, which usually incorporates short phrases, voice search queries are longer in length because they are more conversational in nature. This impacts the optimization process which needs to take into account the longer phrase structures for voice search.
Predominantly mobile-based: Where is voice search mostly used? Hint: It's not smart-home devices. While devices like Google Home and Amazon Echo do indeed depend on voice search, they are not its biggest source. Smartphones are. In terms of SEO, this means voice search optimization must necessarily include mobile optimization to avoid losing out on a major chunk of the user base.
Importance of location: Almost a quarter of voice-based queries are local searches, putting the focus firmly on location. Be certain to optimize your website for local SEO if you want to reap the full benefits of voice search optimization. In fact, local and voice SEO should be performed together to fully optimize your website for the latter.
Why Is Voice Search Important?
Voice search is the medium of a search for the future. It is the next big search trend. In the coming years, searchers will not be punching queries into a search box but speaking them into their devices. This will change the way people interact with search engines and could also have a considerable impact on your online marketing strategy.
Voice search, in fact, is not an emerging technology–it is already here. A 2018 BrightLocal study revealed that 58% of all consumers used a voice search to find local business information sometime in the previous year. Additionally, it is estimated that 30% of all online searches will occur in a screenless environment by 2020.
Here are some other statistics that underscore the importance of voice search:
These figures suggest it is prudent for business owners to optimize their websites for voice search so that they are in a position to capitalize on the trend.
How To Do Voice Search Optimization?
Voice search optimization follows the same basic principles as organic SEO although the approach is slightly different. It involves optimizing your website for long, conversational keywords such as those used in voice-based queries. In this respect, it differs from optimizing for short keywords for text search.
Let us briefly understand how voice search optimization is performed:
Keyword research: It is the same as regular SEO, the only difference being the type of keywords. Voice keywords are longer and more conversational in nature compared to traditional search keywords. A detailed guide to finding voice search-based keywords is given below.
Optimizing your content: The next step is to optimize your content for voice search. Use the keywords you found to create short paragraphs of about 30 words each to answer common queries. Google tends to prefer content that is of a certain length so that it can be easily read out to searchers.
More than 40% of the answers picked out by Google in response to voice-based questions come from featured snippets. Hence, it is vital to optimizing for these. Optimizing for featured snippets, or 'position zero' as it is sometimes called, is particularly important if you wish to rank on smart-home devices because they read out only these.
You should also optimize for long-tail keywords and write in a conversational style to enable Google to match your answer with the voice search.
Optimizing for local search: As we have seen in the section "What Is The Difference Between Text Search And Voice Search?" above, location is extremely important when it comes to voice SEO. Hence, it makes sense to optimize for local search along with voice search. Find a detailed guide to local search optimization here.
Mobile-friendliness and page load speed: Along with local search, you shouldn't forget to optimize your website for mobiles given the high search volume that emanates from them. You can check your mobile responsiveness score here (Mobile-Friendly Test). Page load speed is another critical factor that can significantly affect your efforts at voice SEO, so be sure to take a look into it as well. Check your page load speed here (PageSpeed Insights).
What Are Some Of The Important Voice Search Optimization Strategies?
Voice search offers a relatively small window of success compared to text search. Whereas with text search, you can rank in the first three, five, or even the first page of a SERP and still get results, voice search makes it mandatory to rank among the first three (since everything after that spot is ignored). With smart speakers, the window is even smaller because it picks out only one result. This makes it a case of all or nothing.
Therefore, your voice SEO strategy should be designed in such a way that it targets nothing less than the number one spot on the search engine.
Here are a few strategies that can help you do exactly that. Use them in isolation or with other SEO techniques depending on your overall strategy.
Use a Q&A format
Voice search generally happens with the searcher asking a question, and the smart device reading out the most suitable answer. This means your content should follow a Q&A format. Your answers should be short and precise. Try and keep your answers to around 30 words which are the optimum length preferred by Google. Collate your questions to create a single FAQ page of decent size to make Google like your page.
Target featured snippets
With nearly 41% of the queries answered by Google coming from featured snippets, optimizing for it should be a no-brainer. Optimizing for featured snippets also gives your content a chance to appear on smart speakers like Google Home and Amazon Alexa which return only one result. A website that isn't optimized for featured snippets risks being blocked out from a search originating from these devices.
Write in a conversational style
Since voice search is carried out in conversational style, it makes sense to write your content in a similar style to improve its chances of matching the search query. Additionally, try and write simply and lucidly to make your content easily understandable to users. Ideally, your content should not exceed Class 9 or Class 10 level of understanding. There are plenty of writing complexity checkers available online that will analyze the level of your copy.
Don't eliminate 'non-keywords'
Unlike text search, where articles and filler words like 'and,' 'the,' 'I,' 'my' etc. are generally ignored by the algorithm, they assume new importance in voice search. In fact, including them in your keywords drastically improves the chances of your copy matching the voice query.
Optimize for local search, mobile and page speed
We have already noted how voice search is predominantly location- and mobile-based. Hence it makes sense to optimize your site for local and mobile search as well. Additionally, ensure that you optimize your site for page speed since lacking on this front could drag down your ranking and prevent your website from occupying the coveted position zero slots.
What Are Some Important Voice Search Trends?
Awareness about the latest voice search trends and statistics can help you fine-tune your SEO strategy.
Here are some interesting statistics you should know about to make your SEO strategy more effective:
The average length of a voice query is 4.2 words. On the other hand, the average length of a text query is 3.2 words.
Voice search is 3.7 times faster than typing.
The majority of smart speaker owners are in the 18-36 age bracket (53%).
Most smart speaker owners are men (60%).
Smart speaker owners are more likely to be married, with children.
52% of people keep their smart speakers in their living rooms.
Voice shopping is the next port of call for voice search.
Mobile voice searches are 3 times more likely to be local compared to text search
How To Do Keyword Research For Voice Search?
Voice search keywords differ from text-based ones in terms of both length and tone. Hence, a keyword research strategy for text-based keywords will not work well when it comes to voice search. You will need to tweak your keyword research methods and tactics for voice SEO. Here are a couple of tools you can use to make the task easier.
AnswerThePublic: This is an excellent tool to help you arrive at questions based on seed keywords. It uses these to collate a series of questions from sources like Google Autocomplete and presents them in the form of a search cloud. The questions are divided on the basis of type—'who,' 'what,' 'when,' 'where,' 'why,' 'how,' 'can,' 'are,' 'which,' and 'will.' Here is what a search cloud looks like. It is an excellent source of common search queries.
Question Analyzer: BuzzSumo's Question Analyzer is another great tool to help you uncover common questions asked online. Like AnswerThePublic above, Question Analyzer is able to derive a long list of questions from a single seed keyword. It collates questions from different sources such as Quora, Amazon, and Reddit.
While carrying out keyword research for voice SEO, remember that the use of mechanical terms such as "SEO," "content marketing," or "best SEO agencies" won't work. Instead, you need to use full sentences like "What is SEO?", "What are the best strategies for content marketing?", and "What are the best SEO agencies in Detroit?" Incorporate full sentences into your content to improve your chances of appearing in the zero spots.
Does My Website Need Voice Search Optimization?
Any website that needs to improve its traffic needs voice search optimization. It is true that online searches are overwhelmingly text-based in the current scenario, but voice search is steadily gaining ground. It is the search method of the future. That's why it makes sense to start preparing for it now.
Voice search is particularly important if you have a local business. We have already noted that mobile voice searches are 3 times more likely to be local compared to text search (see "What Are Some Important Voice Search Trends?" above). If you are a neighborhood business and have not optimized your website for voice search yet, get in touch with us now. We can help you optimize your website for voice SEO by providing reliable and affordable services.
How Much Does Voice SEO Cost?
As with all types of SEO, the cost of voice search optimization depends on the volume and complexity of the job. At SEO Corporation, our prices start at $XXX for XXXX. SEO Corporation offers some of the most competitive rates in the market. We have a qualified and experienced voice SEO team with a proven track record of delivering successful results to clients across continents, countries, and verticals.
Do Normal SEO Tactics Help Voice SEO?
Normal SEO does help voice search optimization. In fact, voice SEO requires you to simultaneously optimize for traditional SEO because many of the parameters are similar. For example, you will need to optimize your content quality, title, meta-description, headers, backlinks, page load speed, and mobile responsiveness to gain a good voice search ranking. Regular SEO is the basis of voice SEO and a prerequisite for the latter.
Does Voice SEO Require Any Special Tools?
The only special tool you will require for voice SEO is a keyword research tool that will help you uncover voice search-based keywords. These keywords are generally longer and more conversational than text search keywords. Tools like AnswerThePublic and BuzzSumo's Question Analyzer are some popular keyword research tools for voice search optimization. See the question "How To Do Keyword Research For Voice Search?" for more information on this.
Is Link-Building Important In Voice SEO?
Both internal link-building and external link-building are of critical importance in voice SEO. In fact, all regular SEO techniques including content optimization, page speed optimization, use of structured data, link-building, etc. are integral to voice SEO as they are the underlying platform on which it is built. More than 99% featured snippets are drawn from a page that ranks in the top 10 results. This indicates a strong link between traditional SEO and voice SEO.
How Do I Improve Google Voice Search?
You can improve Google voice search by performing voice SEO on your website. Refer to the questions "How To Do Voice Search Optimization?",  "What Are Some Of The Important Voice Search Optimization Strategies?", and "How To Do Keyword Research For Voice Search?" to learn about effective voice optimization techniques which you could implement.
What Are Some Best Practices For Voice SEO?
Optimizing your website for specific voice search keywords, local search optimization, targeting featured snippets, and using a question-and-answer format to write content are some of the strategies you could adopt to improve your voice search ranking. Read the section "What Are Some Of The Important Voice Search Optimization Strategies?" for a detailed discussion on the topic.
How To Measure Voice Search Traffic?
There is currently no direct way to measure voice search traffic on Google or Bing. Google has said it plans to offer more insight into voice search traffic in future.
Is Voice SEO Different From Regular SEO?
Voice SEO and regular SEO are different from each other but there are strong links between them. It is necessary to have a well-optimized page to carry out voice SEO. Regular SEO is the foundation on which voice SEO rests. Read "Do Normal SEO Techniques Help Voice SEO?" for a better understanding of the relationship between the two.
What Can We Expect For Voice Search In 2020?
The volume of voice search queries is only expected to grow in 2020. Gartner predicts that "30% of web browsing sessions will be done without a screen." Voice recognition will also become more effective because of big data, machine learning, and AI, enabling a variety of different applications of this technology.
While smart speakers are mostly used for doing fun things like playing a song, they could serve a more serious purpose in the future. In the long term, voice search could also be used to consume long-form content with smart devices reading out content from relevant web pages.
Our Additional Services That Will Boost Your Business online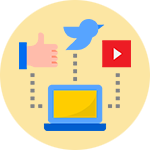 Social Media optimization
Target your customers where they are. Our Social Media Optimization Service will boost your social presence and make your business a brand.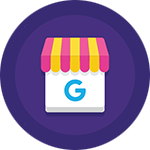 GMB Optimization Service
Be on the top when your customers search your company name on Google. Our Google My Business Optimization service will help you discover on search results.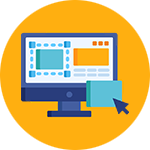 Website Designing Services
Our Web Designing experts will provide you a professional and user-friendly website. Take your business online with our website designing service.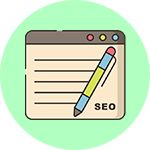 Content Writing Services
Your website content decides your position on search engines results. Our Content Writers will provide you content with good readability.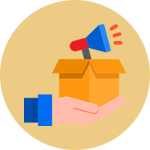 Digital Marketing Services
Make your business digital and boost your online presence. Reach your targeted audience easily with our digital marketing services.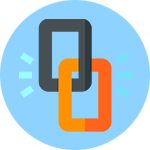 Link Building Services
Boost your website domain authority with high-quality links and increase your possibility to rank on your desired key-phrases.
Why Choose Us
Here are 6 strong reasons to choose our digital marketing services. We can be your one-stop Internet Marketing service provider for all your requirements
Experienced Professionals
Our designers, developers, copywriters etc. are skilled professionals who possess several years of on-the-job experience which helps them deal with all kinds of real-world challenges.
Result-Oriented Service
We understand the value of your money. That's why we have a relentless focus on results. Irrespective of what your SEO goals are we always strive to meet them.
Our SEO techniques are built along the lines of those adopted by the world's top SEO companies. We follow 100% white hat techniques which makes us certain of our results.
Money-Back Guarantee
Think we haven't delivered? We will refund your money.We are so confident of our ability to meet your expectations that we even have a money-back guarantee in place!
24/7 Support
Once we have taken up a project, we are available for 24/7 technical support. After completion, we will handhold you for three months until the changes we have made have stabilized.
No Long-term Contract
Unlike many other SEO Companies, we don't bind you in a long-term binding contract for 6-months or 1-year. You can cancel the contract in a month if you are not happy with our services.
Want To Get More Traffic And Leads?
Anything On your Mind. We'll Be Glad To Assist You!