Grow Your Clinic with Our SEO for Doctors
20% off on Doctor SEO Services for New Clients. Limited Discount.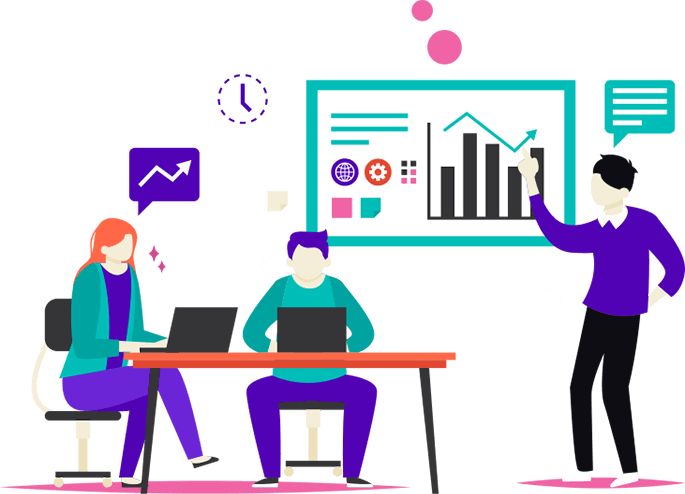 Why You Need Physician/Doctor SEO Services
We understand that time is of the essence for medical professionals. Physicians, surgeons, gynecologists, cardiologists, etc. are extremely busy people who don't have time to market their services. That's why it's important to hire an agency to look after your SEO. Most people these days go online to search for products and services. Medical services are among the most common search queries on Google. Therefore, you need a strong online presence if you want to draw in prospective patients and help your clinic grow and expand.
Since most patients go online to locate medical services, doctors can't afford to ignore the internet anymore. Our Doctor SEO Services are specially tailored for medical professionals to help them get traffic that leads to conversions. Our services can ensure that patients are able to find you easily and you don't lose them to your competitors.
Our SEO Approach
We are a 100% white hat SEO Company that employs rigorous processes and industry best practices to achieve client objectives. We follow a 360-degree approach that covers everything from on-page optimization to technical SEO and link building so that you don't need to go looking for piecemeal solutions. This also enables us to integrate your SEO Strategy better so that everything is geared towards achieving the overall objective.
We do not go by trends and fads while working on a strategy but follow a fully scientific, data-driven approach toward the analysis, planning, and execution. You will never catch us taking shortcuts since we understand that it might end up harming your business in the long run and thus we take no chances. Our rigorous, properly-validated SEO for Doctors and strategies are guaranteed to get results for your business.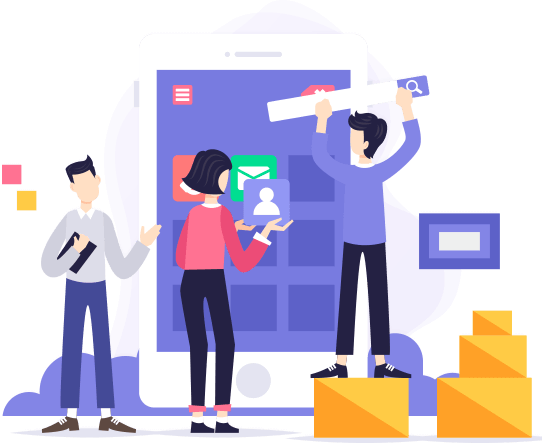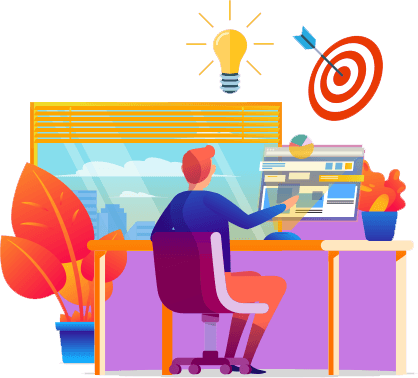 Why SEO Corporation
We are a prominent SEO company in the United States with an industry presence of 10 years which is a long time in the industry. During this period we have honed our skills and strategies to the extent that we can guarantee outcomes for our clients. We rely on 100% white-hat techniques to achieve our outcomes. Our developers and experts are equipped to handle any challenge and possess over 150 years of cumulative experience in the industry.
If you are looking for the best doctor search engine service provider company or the best doctor SEO company, get in touch with us. We have worked with 550+ clients across 57 countries with an incredible retention rate of 95%. We helped many medical clients in the US boost their profits and can do the same for you.
Why You Should Use Doctor SEO Services
As a doctor, you need a constant stream of patients to successfully run your clinic. This means establishing a strong online presence. Our Medical SEO Services for Healthcare Companies can help you get leads and conversions by improving your ranking on search platforms such as Google and Bing.
There are three major ways to get leads online—PPC, SEO, and Google My Business Listing or local SEO. PPC is a paid service, and though it can get results within 24 hours, the cost per lead is quite high which makes it unsustainable in the long term. SEO, including optimizing your Google My Business page, is cheaper to carry out and the cost per lead is lower. This makes it more sustainable. For instance, if you pay $1,000-1,500 per month for SEO Services, you could recover this cost by treating just a few patients and the rest of the ROI could be your profit.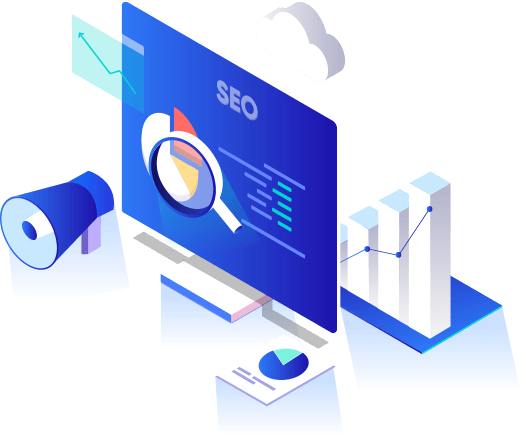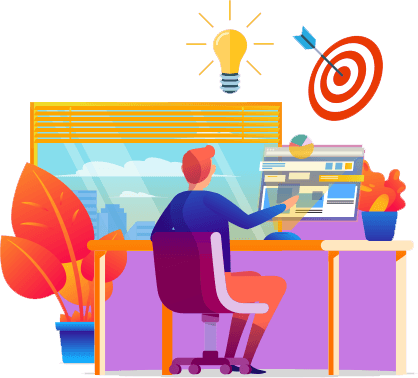 Are We the Best Medical/Healthcare SEO Company in the United States?
Many SEO companies boast that they are the best medical/healthcare SEO Agency in the United States but few care to reveal the basis of their statements. Even those companies that reveal the source of their ranking rely on lists that are often dubious. We realize that these rankings lack credibility. Therefore, we do not lobby to get into such lists and don't see ourselves as a part of the rat race. Instead, we rely on our rigorous SEO processes and proven methodology developed through years of experience to obtain positive results for our clients.
When we take up a project, we make it a point to follow validated, data-driven SEO strategies and global best practices to achieve the desired outcomes. This is done whether it is on-page optimization, off-page optimization, link-building, or technical SEO. It is one of the key reasons for our long and successful track record in the industry. And it's also probably why some top SEO companies eventually end up outsourcing to us!
Our 12-Step Search Engine Optimization Process
To make sure that your business ranks in that first page of Google search results, we make a 12–step comprehensive SEO strategy
Evaluating Your SEO Goals
Our first step when we take up a project is to try and understand your doctor SEO Services objectives. We will sit with you and discuss what exactly you hope to achieve. We will also try and understand your business operations so that we can fine-tune our strategy accordingly. All the information that is thus acquired will act as a guide when we finally get down to creating your customized SEO plan.
Performing an SEO Audit
We will perform an SEO audit of your website which will give us an idea of how it is faring in its present form. It will help us identify its strengths and weaknesses. We will examine all parameters of the website such as inbound traffic, conversions, and bounce rates. We will be using high-tech tools such as SEM rush to check the condition of your backlinks, analyze technical SEO, and find out your keywords ranking.
Analyzing Competitor Websites
Analyzing your competitor websites could throw valuable light on their strengths and weaknesses, industry trends, and help you draw important lessons to boost your ranking. It will reveal exactly why your competitors rank above you. We will carry out backlink analysis, keyword research, analyze their content and meta tags, find out where their traffic is coming from, evaluate load speed, etc. for a better insight into what is working for them and what isn't.
Creating a Suitable SEO Strategy
The information we have gained from the above processes will then be used to create a customized SEO strategy that can help you increase your ranking on search platforms. A key part of this is optimizing your content so that it meets Google benchmarks and is relevant for your target audience. It will also include strategies to optimize your URLs, secure your website, reach out to influencers and so on.
Keyword Research
Keyword research lies at the heart of SEO. By looking up the terms and phrases related to health and medicine that people are searching for online, you are in a better position to boost inbound traffic. We use sophisticated tools such as SEO profiler and SEM rush to perform this job. Our focus is on long-tail keywords that have a greater chance of conversions. As much as 70% of all search queries relate to long-tail keywords.
On-page Optimization
We optimize the title, meta descriptions, H2, and keywords on your website to boost your SERP ranking. It is called on-page SEO because the modifications are neither carried out outside the site (like off-page SEO), nor behind the scenes (like technical SEO), but on the page itself. We will optimize the individual pages on your website to boost their search ranking to help you draw leads and conversions.
Off-page Optimization and Link-building
Google's algorithms are designed to rank pages with good quality content higher. One of the ways of doing this is by establishing how many websites across the web link back to yours. This is known as link-building and is one of the most important parts of off-page SEO. We can help you get links to websites that are authoritative and reliable. We will also focus on other aspects of off-page SEO for Doctors like guest blogging.
Technical SEO
Apart from the quality of content, keywords, meta-descriptions, link-building etc. Google also ranks your pages based on factors like page security, responsiveness, and load time. These factors are optimized during our technical SEO process. We will also eliminate duplicate content, create an XML sitemap, improve site architecture, and remove toxic links to make your website more SEO-friendly. These changes will enable Google to crawl and index your website more efficiently.
Content Optimization
We will optimize your content by ensuring that it contains the appropriate keywords in the body text, image text, titles, and URLs. We will ensure that your content follows SEO best practices—i.e., it is written with the user in mind, is original and well-researched, contains credible links, is shareable, and contains a proper call to action or points your readers to the next step of their search. Google ranks content extremely high when it comes to organic search ranking.
Optimizing Your Google My Business Page
Optimizing your Google My Business page is one of the most important aspects of local SEO for medical professionals since it ensures that new patients can find you easily. The results appear just above the organic rankings (and below the PPC ads section) when you search for a business. A successful SEO strategy should ensure that you achieve high organic rankings as well as figure prominently on the My Business page results.
Optimizing Google Maps
It goes hand-in-hand with optimizing the My Business page to enable searchers to find your clinic or medical facility. The goal is to use the features of Google Maps to help potential leads to locate you. When you search for a local business, Google Maps may offer results segregated by distance, ranking, or optimization. We can help you optimize your Google Maps page to ensure that you maintain a high ranking and are able to achieve maximum online visibility.
Optimizing Facebook Marketplace
Launched in the US in October 2016, Facebook Marketplace is a free, organic business service that allows you to display your products to users that are logged on locally. It is often compared to Craigslist and it is already achieving a high monthly growth rate. Its users communicate with each other via Messenger. We can help you optimize your Marketplace listing so that it is visible to your target audience.
Our SEO Services Pricing Plans
Here are our standard pricing plans. We can also customize the package as per your requirement.
SILVER PACKAGE
Number of Keywords 20
On Page Optimization
Local Search Engine Submission
GMB Creation
20 Social Bookmarking
4 Article Submission
10 Article Social Bookmarking
1 Blog Submission
1 Video Submission
Business Page Creation
Press Release Submission
Local Listing Optimization
Web Content Writing
Directory Submission
1 Additional One Way Links
15 Photo Sharing*
Profile Content Writing
1 Hour Consultation with SEO Corporation
Facebook Sharing
GOLD PACKAGE
Number of Keywords 30
On Page Optimization
Local Search Engine Submission
GMB Creation
30 Social Bookmarking
6 Article Submission
20 Article Social Bookmarking
2 Blog Submission
2 Video Submission
Business Page Creation
1 Press Release Submission
Local Listing Optimization
Web Content Writing
Directory Submission
Additional One Way Links
Photo Sharing*
Profile Content Writing
1 Hour Consultation with SEO Corporation
Facebook Sharing
PLATINUM PACKAGE
Number of Keywords 50
On Page Optimization
Local Search Engine Submission
GMB Listing Optimization
60 Social Bookmarking
8 Article Submission
40 Article Social Bookmarking
4 Blog Submission
4 Video Submission*
Business Page Creation
2 Press Release Submission
Local Listing Optimization
Web Content Writing(upto 700 words)
20 Directory Submission
1 Additional One Way Links
15 Photo Sharing*
Profile Content Writing
1 Hour Consultation with SEO Corporation
Facebook Sharing
Our SEO Services
Our doctor SEO services are tailored to different needs to help you maximize leads and conversions. Some of the SEO services we offer include:
Dental SEO
Running a dental clinic? Our dental SEO services can ensure that links to your website appear above those of your competitors on SERPs resulting in greater leads and conversions. Our scientific and data-driven SEO strategies will help you achieve maximum online visibility and increase your customer base. Yours will be the first dental clinic searchers will see online leading them to choose you over other dentists. Our time-tested white hat SEO strategies will ensure that everyone in the neighborhood knows about you and your clinic.
Hospital SEO
If you run a hospital, our SEO for hospital services can help you increase the number of leads and patients. By helping your website rank above those of other hospitals in your area, we can ensure that you don't lose patients to other hospitals because of poor SEO. We understand that hospitals need a constant stream of patients to remain profitable and can help you achieve this goal. Along with on-page optimization, we will also help you get quality backlinks to enhance your reputation and boost your SERP rankings.
Gynecology SEO
Since obstetricians and gynecologists cater to women, we can help you customize your SEO accordingly. We can also help you rank for important keywords that pregnant mothers/teenagers/prospective customers are likely to use. This will enable you to achieve greater brand awareness for your clinic. At the same time, we understand that each practice is different and caters to different types of medical procedures and/or customers. We will create a persona after acquiring a thorough knowledge of your business to target those people that are looking for the kind of services you offer.
Physician SEO
Physicians can benefit greatly by using our local SEO for doctor's services since they normally cater to a local clientele. We will optimize your local SEO in such a way that it ranks above all other physicians in your area. We can also help you get positive reviews by contacting those patients who have had a good experience dealing with you. Our on-page optimization will ensure that Google's bots are able to crawl through your site effortlessly thus facilitating a high ranking.
Dermatologist SEO
Whether it is a skin disorder or a cosmetic problem, dermatologists are in high demand across the United States. But in order to ensure that patients know about you, you need to ensure maximum visibility for your practice. Our customized dermatologist SEO services can get the leads your business deserves on a sustainable basis at cheaper rates than traditional forms of marketing such as print/broadcast ads, direct mail, and billboards. We will help you reach the top of enterprise search results and get the maximum ROI for your investment.
Medical SEO
Apart from the above, we also cater to a wide range of other specialists such as pediatricians, psychiatrists, cardiologists, endocrinologists, ophthalmologists, neurologists, ENT specialists, and so on. We have worked on many medical SEO projects in the past and have an in-depth understanding of the industry. We approach our SEO Services for Healthcare Industry from a holistic perspective covering everything from on-page and off-page optimization to local SEO. Our scientific approach to SEO takes into account the specificities of your practice to create and execute a strategy that is customized and effective.
How Our Search Engine Marketing Services Can Help You
We are among the top SEO services provider who can guide your online business to dominate search engines
Get More Qualified Traffic
By ensuring that you rank high on SERPs with respect to important keywords, we can make certain that prospective patients are able to find you easily and you receive more qualified traffic than your competitors.
More Leads at Low Cost
SEO is among the cheapest forms of marketing in terms of ROI. Our rigorous, data-driven SEO processes will generate leads at a much lower cost compared to both traditional and online marketing techniques.
More Conversions
Driving traffic to your website is futile if it doesn't result in conversions. Our result-oriented SEO strategies are created with a special focus on increasing conversion rates for your clinic and improving your ROI.
Earn Trust
Credibility is of prime importance in the medical profession. At SEO Corporation, we go the extra mile to help you get positive reviews, influencer mentions, and backlinks from high-authority websites to enhance patient trust and credibility.
Sustainable Result
Our holistic, white-hat SEO processes are geared towards getting sustainable results for your medical practice. Our uncompromising focus on technical SEO, user experience, content marketing etc. and the shunning of quick-fix solutions ensures the sustainability of our processes.
Long Term Benefits
One of the biggest advantages of SEO includes the long term benefits it offers for businesses. Once your website is search-engine-optimized, you can derive its benefits for a long time and enjoy the fruits of your investment.
Our Additional Services That Will Boost Your Business online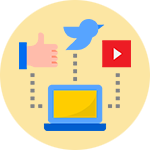 Social Media optimization
Target your customers where they are. Our Social Media Optimization Service will boost your social presence and make your business a brand.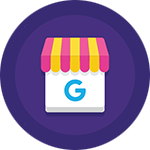 GMB Optimization Service
Be on the top when your customers search your company name on Google. Our Google My Business Optimization service will help you discover on search results.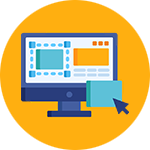 Website Designing Services
Our Web Designing experts will provide you a professional and user-friendly website. Take your business online with our website designing service.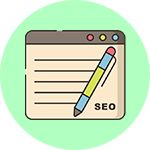 Content Writing Services
Your website content decides your position on search engines results. Our Content Writers will provide you content with good readability.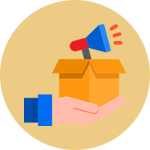 Digital Marketing Services
Make your business digital and boost your online presence. Reach your targeted audience easily with our digital marketing services.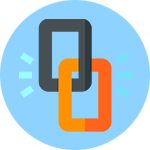 Link Building Services
Boost your website domain authority with high-quality links and increase your possibility to rank on your desired key-phrases.
Our SEO Formula That Always Works
We do not have a magic wand, but we are reasonably sure that the techniques and processes we employ will work for you and the results will meet your expectations. While no SEO Company can get results overnight, we follow Google-approved processes and methods and employ industry best practices to obtain the exact outcomes that our clients desire. Our techniques and strategies have been honed and perfected over the past 10 years in the business. Our approach to SEO is based on solid, data-driven models and not fads and quick-fix solutions. All this helps us be reasonably certain that we will be able to deliver the outcomes you want.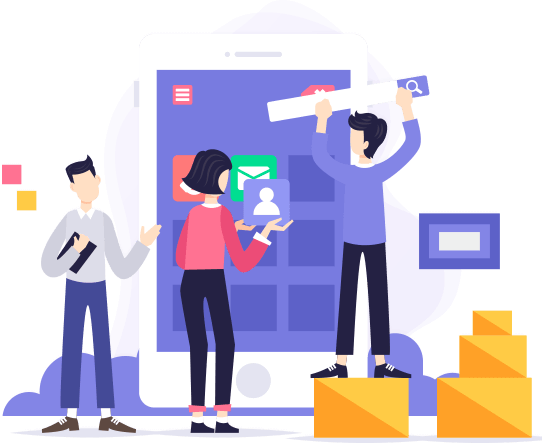 What is medical SEO?
We're sure you understand the basic purpose of SEO. That's to get your website on the top of Google search results.
Now, apply this principle to your medical practice. Probably you have a basic doctor's website. Maybe you have a landing page for your dental clinic. The purpose of these web assets, of course, is to get more clients.
Any SEO activity you do to promote your healthcare or doctor SEO website is medical SEO. Let's understand why doctor websites need a dedicated sub-category of SEO.
Not long ago, the healthcare practice industry used to be supremely challenging for new entrants. There was no way for a newly established doctor/dental/physician clinic to get more footfall because each neighborhood would have a 'trusted' doctor.
Digital marketing has leveled the playing field, as the days of a monopoly in the healthcare market are gone. Now it's easy for prospective patients to know a lot more about a doctor, via the website, user reviews, online reputation, and so on.
Because the web presence has become such a big factor in determining how trusted and reputed a doctor will be, there's a definitive need for dedicated SEO for doctor websites.
Right from establishing your authority in a subject matter via crisp, credible, and comprehensive content (we call it the 3 C's test for medical content), to ensuring you get genuine user reviews and ratings to boost your doctor website's visibility – medical SEO is an extensive branch of SEO in itself.
And we'll answer all possible questions you may have about doctor SEO.
What is a doctor SEO service?
Great question.
Now any SEO service can't offer dependable solutions for doctor websites. Why? Because a doctor's service is, first of all, highly unique. Secondly, Google has well-established methods of determining the relevance and authority of doctor's websites, in a manner that's different from that used for any other service business website.
It will be a waste of time if you replicate an SEO formula that's originally devised to work for, let's say, a house cleaning service business, or an attorney service business. This, in turn, could mean wasted time, money and effort.
The solution – an SEO service that has:
Specialized knowledge of how a doctor/healthcare service business operates
Experience in successfully implementing an SEO strategy for a doctor website
Expert SEO consultants who know the specifics of Google's search algorithm as they apply to medical websites
Web design experts who know the nitty-gritty of healthcare websites
Medical content specialists who know how to create and promote credible medical content
Clearly, you need a dedicated doctor SEO service if you wish to promote a healthcare-related website. Any generic SEO strategy won't be nearly as effective as a tailor-made doctor SEO strategy.
Do I need a doctor SEO service?
Here are some alternate questions you could have asked.
Do I need more visitors to my clinic?
Do I want my city's residents to trust me as a credible healthcare service provider?
Do I want readers to benefit from expert medical content that I can contribute?
Do I want to expand my base of patients who trust me and benefit from my service?
Do I want my medical practice to thrive?
We're 100% sure that all the questions we mentioned above have a 'no-brainer' answer – YES!
If you have a doctor's website that's not already in the top 5 search results for your target keywords, you need a doctor SEO service.
If you have a medical practice that's not as well known as you'd want it to be, you need doctor SEO service.
And even if your doctor website is doing well already, you need a dependable doctor SEO service to remain #1.
The right question to ask maybe – how to choose the most value-adding doctor SEO service (we'll answer this later). Up next, let's answer some of the most frequently asked questions related to what all doctor SEO services entail.
Does doctor SEO service also include social media account management?
Almost all our clients have asked this question while signing their contract with SEO corporation, so we feel the question demands a clear answer for everyone's benefit.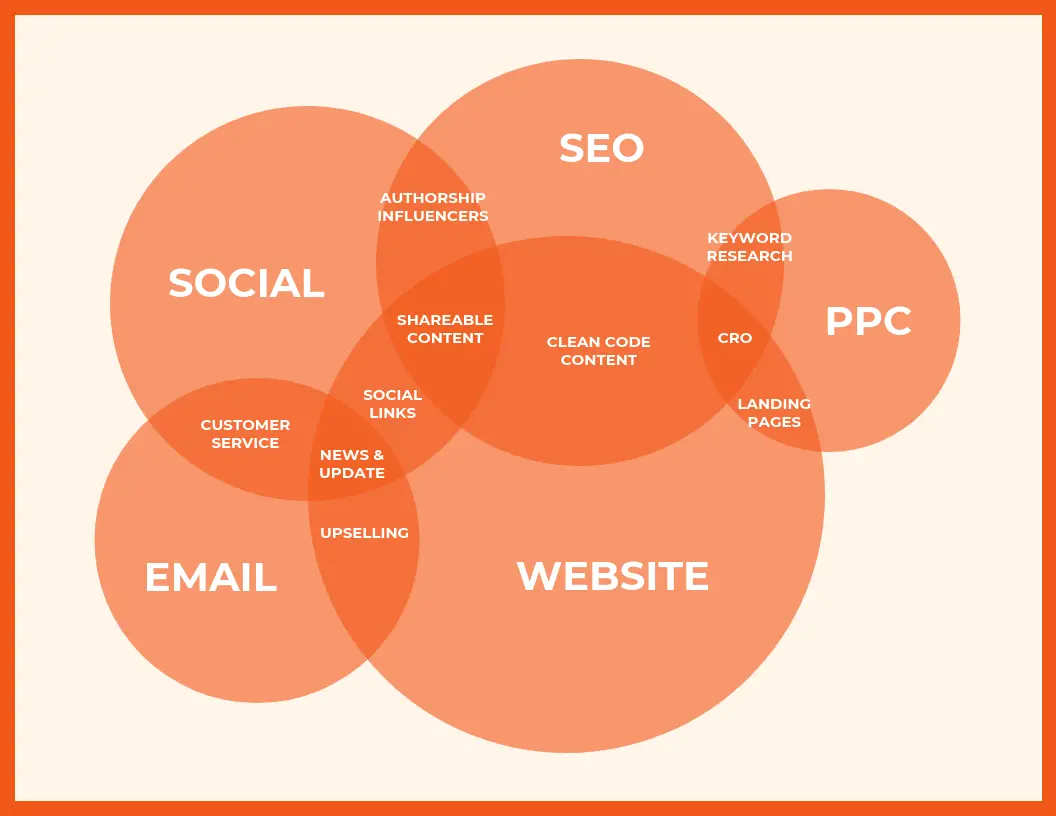 Social media marketing, in itself, is a very extensive subset of digital marketing. Like every customer-facing service business, healthcare services also need to establish a brand. This means there's a definite place for social media marketing in the digital branding strategy of any healthcare service.
However, that's separate from SEO.
Think of SEO and social media marketing as two distinct subsets of digital marketing. Both, however, may contribute to each other's success.
At SEO Corporation, we strive hard to include the basics of social media marketing for doctor websites in our SEO service packages. For extensive and advanced social branding, however, we have separate dedicated teams and can tell you a lot more about how our social media service can benefit your doctor's website.
How will the doctor SEO service help me get more clients in my city?
We could literally dedicate a separate webpage to answer this question; there are so many ways how doctor SEO will get your clients.
For the sake of brevity, here are 5 of the most important mechanisms through which a doctor SEO service will get you more clients.
Google My Business (GMB)
If you don't already have a GMB profile for your medical clinic, our doctor SEO service will help you secure one at the earliest. This is the equivalent of getting a place in the world's most commonly used business directory!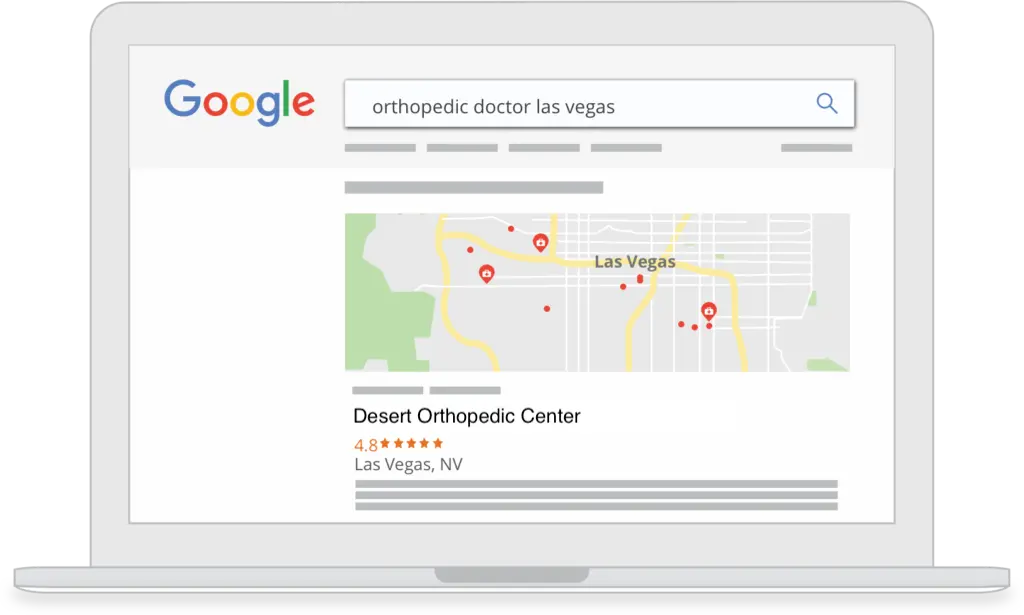 Google 3 Pack
Often enough, you'd have noticed how a search for a local business leads to a pack of 3 results at the top of the Google SERPs. Here's an example of a 3 pack result for the search 'doctors Bedford NY'.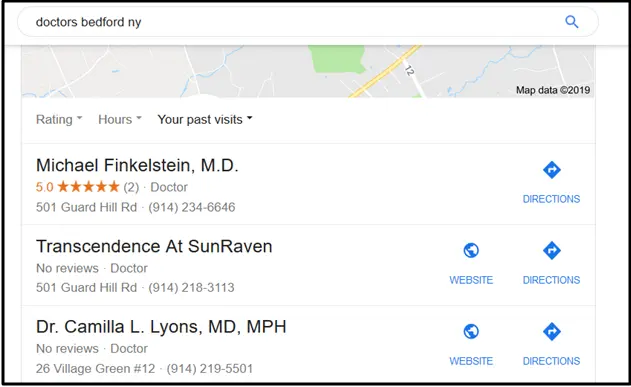 This specialized result invariably draws more attention, gets the searchers to click on at least one of the results, and then even follow up with an appointment.
At SEO Corporation, one of the prime focus areas of doctor SEO is to optimize your Google My Business profile such that it features in the 3 pack.
Maps
Doctor SEO, if done right, can result in an immediate and significant increase in the number of appointment requests and patient walk-ins you get.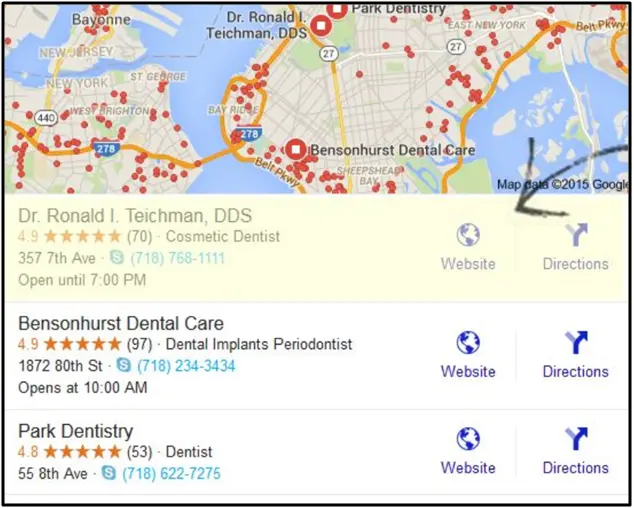 When anyone does a 'doctor near me' search, the top 3 to 5 results that show up are the ones best optimized for Google Maps.
Our doctor SEO service encompasses extensive Google Maps optimization techniques that will get your service to feature in such a search.
Authoritative Content
Make no mistakes, the first source of information for people, especially when they need health-related advice, is Google search.
Now, if you're a chiropractor, you know everything that a person would want to know about how the service can help him/her enjoy better health. And securing a person's mind-space by giving answers, is the first step towards building a relationship of trust.
Medical content, hence, has a massive role to play. We optimize your medical website's content such that it ranks better, stands a chance to feature in Google's Rich Snippets, and reaches out to more and more people.
User Reviews
This is the era where shoppers look for user reviews even before they buy a pack of handkerchiefs. Just imagine how desperately they'd look for user reviews for a doctor's service!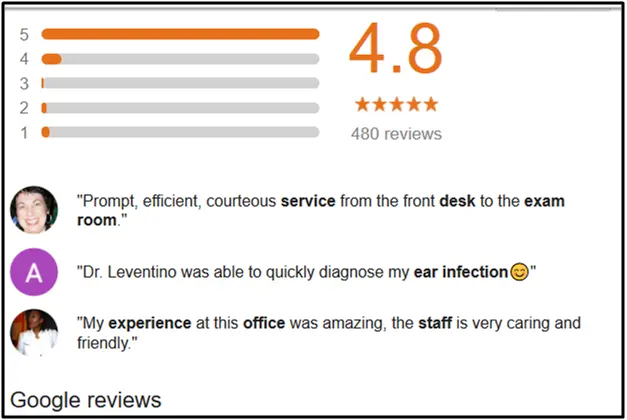 When we devise a local SEO strategy for your healthcare business, we do it with a lot of focus on getting genuine user reviews, which lend a lot of credibility to your service.
How much time will SEO Corporation need to rank my doctor practice website on page 1?
Here's a list of the factors that help our SEO experts determine the quantum of work needed for your doctor websites, and the time they'll need to get your website to rank on page 1 for your target keywords.
Current ranking of your doctor website for the primary keyword
Competitiveness of these keywords
Number of websites belonging to healthcare services in your neighborhood, offering similar services
The current volume and quality of your medical content
The current state of your local SEO
Now, without all this information, and without conducting an SEO audit for your doctor websites, we'll need anything between 30 to 60 days to get some tangible results. Getting the website to rank on page #1 of Google SERPs will need meticulous planning and continual effort, and will need 3 to 6 months.
What different do you do for doctor SEO as compared to other businesses?
Over the years, SEO Corporation has helped doctors, chiropractors, surgeons, dentists, and general physicians establish their digital brands. We do this by differentiating our SEO techniques for doctor websites.
The 4 pillars of differentiation for our specialized doctor SEO service are:
Medical Keyword Research
Keyword research for a medical website is unique. The patient's journey from a query to a visit to the clinic can be divided into three stages.
Awareness: when the patient wants to know more about the medical problem
Consideration: when the patient considers seeking medical consultation
Decision: when the patient chooses one medical service from many
Now, your doctor's website has to be relevant for the patient for all these stages, which means it must be optimized for the keywords used by the patient at these stages.
We'll explain this in more detail later.
Medical schema
Local SEO for a medical website is unique in the sense that Google has a prescribed set of medical schema that we can use.
In fact, there are different schema tags prescribed, depending on the type of medical content you do.

Here's a sneak peek into what kind of information can be highlighted with the help of medical schema tags.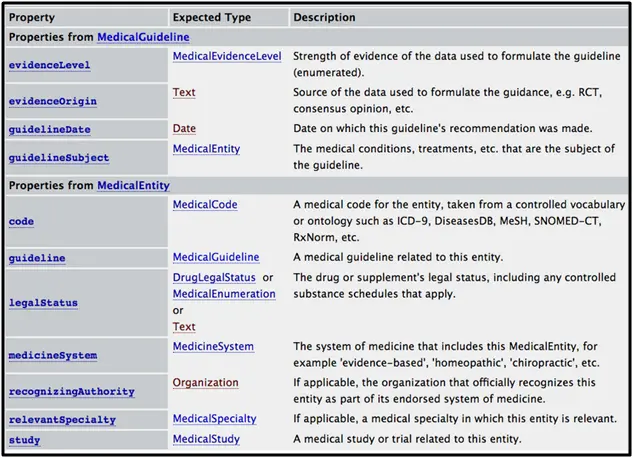 The use of schema helps your content appear in Google's Knowledge Cards.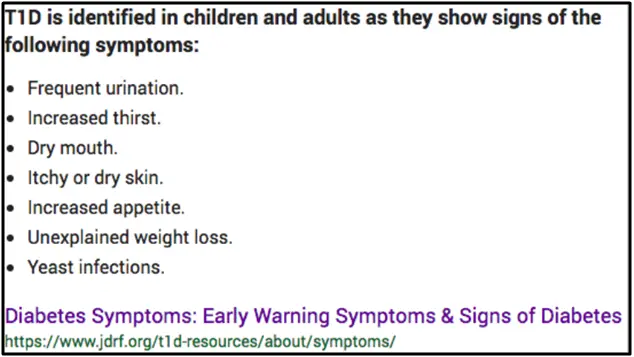 Medical content (medical micro-moments)
There are 4 core levels at which users look for answers on search engines. These 4 questions are:
What does …. mean?
How can I do ……..?
Where can I buy……..?
How do I reach……..?
Now, your medical content needs to be optimized such that it answers one or more of these kinds of questions. Our doctor SEO service also includes content optimization, which means we'll take care of all this, and more.
Medical citations
Google will push your web pages up the search rankings as long as its algorithm deems that your content is credible. Also, because the consequences of misinformation in the medical niche are dire, there's all the more reason for you to make your content credible.
And for all practical purposes, credibility is established via citations. So, use scientific research papers and scientific website articles for your content research and link to them to prove that your content is well researched and credible.
How is keyword research done for a doctor/healthcare website?
Technically speaking, keyword research for your doctor websites is not very different from routine keyword research.
However, you can beat the competition and rank for high-traffic keywords if you can anticipate user intent, and conduct the keyword research accordingly.
The 3 stages of a user's journey while finding and acting on medical content/healthcare information online are:
Awareness
Consideration
Decision
Awareness: At this stage, the user needs information, answers to his/her questions, and that too in a crisp yet comprehensive manner. The keywords at this stage are long -tail, as users want to specify their queries (such as the symptoms of their medical condition) clearly. Expect a lot of questions form keywords here.
The two tools to help you are:
Keywordtool.io

See how the tool generates a list of similar long-tail keywords that you can include in your content.

Now, you need to pay for the tool to get all other details such as keyword volume. The costs, as you can imagine, can add up if you try to do all the medical keyword research on your own.
Hiring a specialized SEO agency like SEO Corporation, hence, makes sure you benefit from the best and premium SEO research tools, as we use them all for your doctor website SEO.
Here's a tool to help you generate a lot of questions form keywords. If you're preparing an FAQ based medical content piece, this tool can be invaluable.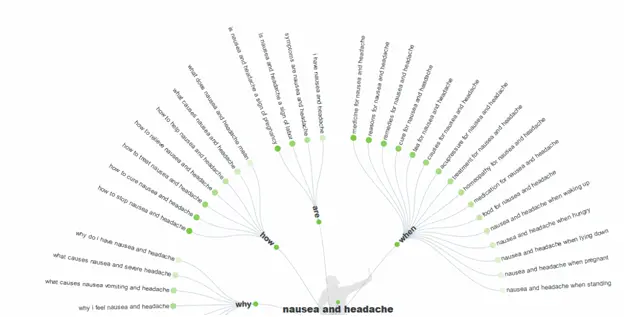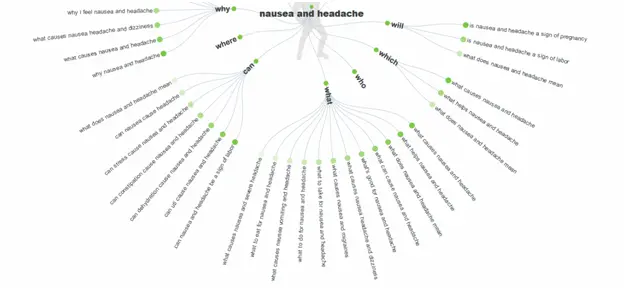 The treasure trove worth of question-based keyword helps you make your content comprehensive, ensures you understand what people actually want to know, and also gives you long-tail keyword ideas.
Why is local SEO a must for doctor websites?
A Forbes study explained how 95% of the surveyed users said that they used their device to conduct local searches. Out of these, 61% called the business, and 59% went on to visit the business.
If the purpose of your doctor SEO is to get more calls and more clinic visits, local SEO is a must.
With a robust and long term local SEO strategy, you can even expect to feature on the Local 3-pack, which is a collection of 3 business listings that Google shows for " …… near me" searches.
This can lead to a massive boost for your website traffic, which will slowly and steadily transform into more revenue for your doctor/healthcare business.
Which online directories should I target to list my doctor/medical practice?
Any online mention of the name, address, and phone number (NAP) of your clinic adds weight to your local SEO. In this direction, online directories are a great source of citations.
Here are some of the most important directories where you can secure a listing for your business.
Doximity – It's almost a dedicated social network for healthcare service providers
Healthgrades – The most trusted doctor-search website
RateMDs – A healthcare service provider rating website
Vitals – Another healthcare ratings and reviews portal
WebMD – A highly trusted medical content portal
UCompareHealth – A portal you can use to compare healthcare service providers
ZocDoc – Find and book a healthcare service provider
Apart from this, there are several effective ways to get more citations. For instance
Working with a PR distribution agency to feature in all leading newspapers' websites
Engaging local bloggers to cover the healthcare market in the neighborhood, featuring your clinic too
Creating a listing on all business directories, right from AngiesList to DexKnows
Using platforms like Yahoo Local, Yelp, and Indeed
What are the critical ranking factors for a doctor's website?
The competition in the medical service space is fierce. And it's no different when it comes to medical websites, each trying to outrank the other.
You can't expect enduring success if your doctor websites SEO operated in silos. Instead, you need an integrated SEO strategy that attacks all key ranking factors.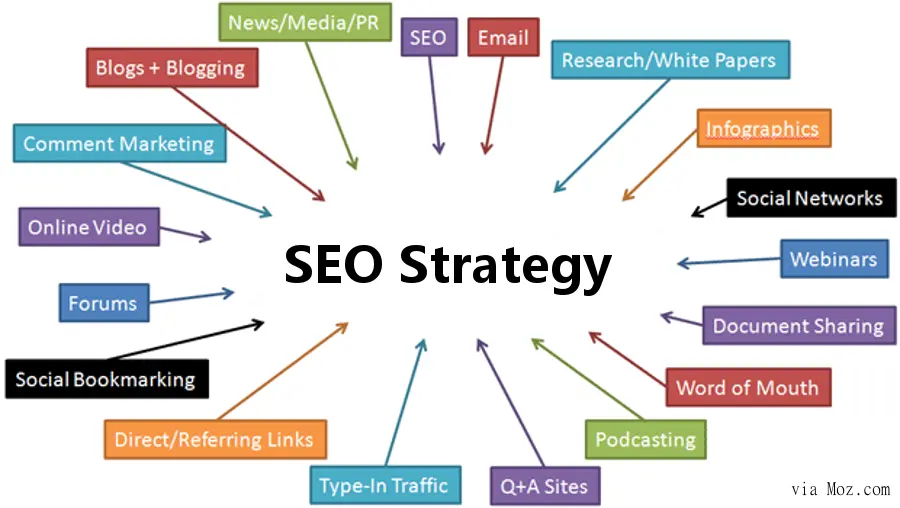 Here are the most important ones:
Target the right medical keywords
Use the keywords in your page title tag, meta description, and image alt tags.
Create high-quality content that gets a lot of backlinks from credible sources.
Cite credible sources in your medical content.
Generate content across channels, such as blogs, YouTube, social media, FAQa on Question Answer websites, whitepapers, etc.
Optimize your website for local search, using relevant keywords.
Secure and complete a Google My Business listing for your clinic.
Optimize the website for super-fast page loading and mobile-friendliness.
Target user ratings and user reviews.
Create content that solves user queries and appeals to search intent.
Do doctor websites need mobile optimization?
Look around yourself. Observe your own search behavior.
Mobile web browsing has well and truly overtaken conventional desktop web searches. And statistics collaborate with this.
Google, in one of its knowledge releases, wrote at length about the idea of micro-moments.
These are the moments where a user feels the need to:
Know something
Do something
Buy something
Go somewhere
Now, for all these micro-moments, the first response of a user is to reach out to his/her mobile device.
Now, contextualize these micro-moments around personal health.
Millions of web users around the world and thousands of them in your city feel the need to:
Know what their medical symptoms mean
Do something to alleviate them
Go to a doctor for expert advice
Buy medicines, medical equipment, self-test kits, and related products.
Your doctor websites can get you 10x more clients if you can provide relevant information to them during their micro moments. No wonders, mobile optimization is a must have for any medical website.
SEO Corporation's mobile optimization strategy for your website involves:
Auditing current web design and identifying major areas for improvement
Making your web pages AMP compliant
Optimizing the mobile web experience delivered by your website
Help you develop a dedicated mobile app to deliver advanced user experiences
Implement advanced Javascript-based code optimizations to speed up page loading
Make your website compliant as per Google's Pagespeed Insights tool
How do I get a GMB profile for my doctor's practice?
While it's easy enough for any doctor or healthcare service provider to create a Google My Business (GMB) listing, you may need help to complete it and optimize it.
First of all, decide on the kind of medical GMB profile most suitable for your business.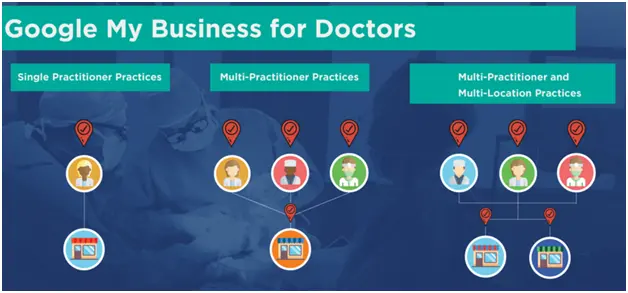 Here is a quick walkthrough of all the steps you need to follow:
Add consistent NAP
Add some photographs
Add videos (this is a major boost for your GMB profile)
Add your work hours
Select a category (very important)
Add a business description
Add a URL to your website
Get user reviews and ratings
What are the most common SEO mistakes made by doctor websites?
Here are some of the common mistakes that can bring down your doctor SEO, and end up wasting your marketing dollars.
Not working on the page loading speed of your website: Google has categorically declared that page loading speed is one of the biggest ranking factors for websites.
Not optimizing your title and meta descriptions: These are the 'first impression' your website creates for Google's search bots. You can't afford to go wrong here.
Optimizing your content for the wrong keywords: Ask yourself, the page you're trying to rank higher, what's the purpose of the page, and what user intent does it appeal to, and what keywords will come out of the user intent.
Not caring enough for your content: Medical website SEO is arguably the most challenging in terms of content quality, as demonstrated by Google's Medic update that caused the ranking of several medical websites to plummet.
Keyword Stuffing: Don't let this happen, as such a practice could very well result in a Google penalty. Engage a reliable doctor SEO service for a website SEO audit that can highlight such issues.
Will SEO Corporation help me rank on Google Maps?
Yes, SEO Corporation's local SEO services pay a lot of attention to Google Maps optimization.
Here are the key activities we perform for your doctor websites' Google Maps optimization:
Organize your online citations for NAP consistency
Optimize your content with local information
Make your website's mobile-friendly
Optimize your content with "near me" related keywords
Include location-specific keywords in your content
With dedicated efforts to optimize your website for Google Maps, we make sure that your SEO investments get you more calls, footfall, and clients.
Will you sign a privacy policy or nondisclosure agreement?
Yes.
We've worked with the biggest health care brands in the country and understand your concerns around data safety.
SEO Corporation is a professional and client-focused SEO company. Expect nothing short of the most robust processes when you engage us.
We understand that your website may have proprietary information stored in the backend CMS. Stringent data protection norms such as HIPAA require medical and health care businesses to take full responsibility for protecting this data.
Our work processes ensure that all your proprietary data and patient records remain secure. While working on something that may involve access to such data, we can simply follow an agile process where we share all the details of the changes to be done, and let you execute those changes.
We will happily sign a detailed privacy policy and a non-disclosure agreement. Expect the most professional and seamless service from SEO Corporation.
Why should I entrust my doctor's practice website to SEO Corporation?
Let's give you ten reasons, to begin with (call us if you need more, really):
We have well established SEO audio practices that will quickly enable us to plan a full-fledged SEO strategy for your doctor website.
We enhance your websites with best in class on-page SEO, right from medical industry keyword research to optimizing your website's navigation structure to meet Google's suggests best practice guidelines.
We'll help you understand how medical content marketing differs from doing content for any other service business and will help you create and market authoritative medical content across several web channels (blogs, guest posts, expert comments, QnA, videos, infographics, and more).
With our doctor SEO service, you'll get a consistent flow of high-quality backlinks, which will quickly establish your website's authority for Google's search algorithm.
Another unique benefit of SEO corporation's doctor SEO service is that your website will be audited for mobile-friendliness, and then optimized for high page speed and readability on mobile devices, which is a massive ranking factor for Google search on mobiles.
When people do 'doctor near me' searches in your clinic's locality, your business listing must appear among the top results, and we invest a lot of effort towards this goal.
We're focused on local SEO as a vital component of your website's SEO strategy and cover all bases, right from getting online citations for your clinic's NAP (name, address, and phone) to getting user ratings and reviews for your service.
Our multidimensional and multi-channel SEO strategy is bound by strict timelines, which ensures your health care business enjoys the best possible ROI.
We have 10+ years of experience working with the hospital, dietician, surgeon, physician, and dental services, and know the ins and outs of doctor SEO.
We're among the rare SEO services that offer you industry-specific SEO service, and that too with a commitment and firm adherence to ambitious timelines.
What sort of experience do you have in doctor website SEO?
That's the single most important question you'll ever ask an SEO company if you're looking for the best bang for your buck.
SEO Corporation has been a leading SEO company for years, having helped dozens of US businesses enjoy the fruit of digital marketing success with time tested and proven effective white hat SEO.
Over the years, we've served several kinds of healthcare service businesses. From single person medical practices to dental health chains, from mega hospitals to specialized surgeons, from renowned pediatricians to psychologists – we've delivered great SEO results for all.
Over 10 years of experience in the industry, well established SOPs of doctor website SEO, understanding of Google's search algorithm nuances related to medical websites, thorough knowledge of medical content best practices, and above all, the acumen to align an SEO strategy with your business goals – all these specialities make SEO Corporation a name you can trust for your doctor websites SEO.
What is the Medic update that Google did to its search algorithm?
On August 1, 2018, Google rolled out a core algorithm update, which soon became known as the 'Medic' update because it impacted a lot of medical websites.
Several high performing medical websites lost major percentages of traffic overnight because of the update. And there was no clear information from Google as to what exactly changed.
In fact, even up to several months after the update, affected websites failed to regain their lost rankings. This made Medic a pretty infamous update.
If your medical/doctor's websites were affected by the Medic update (that is, if they lost a lot of traffic after August 2018), we can help.
Also, if you only started focusing on digital marketing recently, you still need SEO consultants who know the common patterns among websites that Google penalized with ranking-downgrading, and to ensure that your websites don't do the same mistakes.
How has the Medic update changed medical and healthcare SEO?
In many ways!
The medic update meant that medical websites were left fending for themselves, with no idea how to prevent being downgraded by Google.
In our experience of helping websites recover from the Medic update, we have noticed several patterns that can speed up your website's recovery, and also prevent any future downgrades.
Among these, the most important factor is 'trust'. We will implement a multi-dimensional SEO strategy for your website to enhance it's trust signals, whether that's by getting high-quality hyperlinks, re-designing your websites' About Us page such that it inspires confidence, or by creating highly credible medical content and attributing all sources of information.
Apart from this, medical schema plays an important role in ensuring that your website remains in Google's good books. We top it up with high-quality content, linking to authentic medical information databases on the web, and make sure your website remains on the right side of Medic.
What are the top 5 SEO strategies for doctor websites?
Remember the good old Pareto principle? 80% of your results are a result of 20% of your efforts.
Now, while we could make a list of '100 things to do to get your doctor's website to rank higher', let's stick to the 5 most value-adding strategies.
And it's safe to assume that these strategies, implemented perfectly, are guaranteed to bring great results.
Create your bucket list of medical keywords, with a focus on user intent
Optimize your website's content to rank for these keywords.
Undertake an aggressive backlinks building campaign, targeting high authority sources.
Get your Google My Business listing and complete it 100%.
Implement an integrated local SEO strategy based on local keywords, Google Maps Optimization, online medical directory listings, and user reviews and ratings.
Now all these strategies demand focused attention and continual improvement. Hiring a dependable doctor SEO service with a proven track record is the first yet a giant step towards elevating your doctor websites up SERP rankings.
What is the role of content marketing in medical website SEO?
A major role!
We talked about the Medic update to Google's search algorithm earlier. It proved to be a major demonstration of how Google envisioned that medical and health care websites need to go the extra mile in creating credible content.
Ordinary content on your doctor website could stick out like a sore thumb to Google's bots, and this could bring down the hours of great work done in SEO.
Here's how you need to manage content marketing for your doctor websites.
Define the subject matter in which you wish to establish your expertise.
Align your existing content with your medical keyword research, and plan all future content accordingly.
Prepare a content editorial calendar, and either create the content yourself or hire a dedicated team of medical content creators.
Target a multi-channel content marketing plan, with maximum focus on blog posts, QnA, and video content.
Make your country highly credible, by citing medical journals, research papers, and interviews of credible men and women of medicine.
Your medical content needs to be comprehensive, so experiment with tactics such as pillar posts, content clusters, skyscraper method, etc.
Will medical niche related schema help in my doctor website's SEO?
Schema is hugely important for medical websites because it 'tells' Google the context and meaning of your medical content.
Anything that helps Google show results in the right context is great for your website's SEO. For a doctor's website, using the medical scheme to display something as basic as the opening and closing hours of your clinic can help you outrank the competition.
Of course, business hours related schema is rather generic. SEOCorporation's SEO services for doctor websites ensure that your websites benefit from highly specific schema tags such as medical condition, MedicalGuideline, MedicalScholarlyArticle, Drug, and MedicalWebPage, among many others.
After Google's Medic update, websites that use the medical scheme are almost guaranteed to rank better than those that don't use any schema. So, medical schema becomes a bit of a shortcut to success for doctor websites.
Get in touch with us today to get your websites' medical schema in the right order.
How does video marketing for doctor websites fit into all this?
Video content is slowly and steadily becoming the new frontier of information dissemination on the web.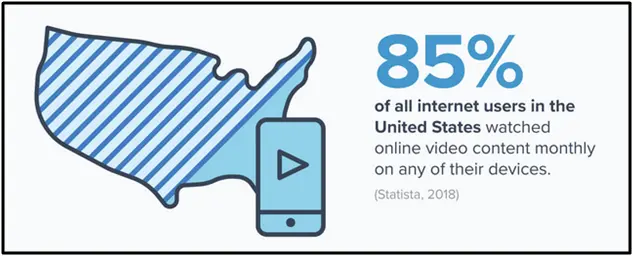 For medical and healthcare service providers, video content offers unique opportunities to:
Establish authority in a subject matter
Solve complex problems by offering information in an easy to consume manner
Building a base of subscribers on YouTube, which can boost your organic traffic
Get some SEO love from Google!
Notice how common search queries related to health and medicine also feature YouTube video search results. So, your keyword-optimized videos could land you with a lot of real estate on a popular search query, particularly if competitors haven't done video content on it already.
SEO Corporation has robust video marketing capabilities, and we'll be glad to explain how we can get you started on YouTube Marketing for your doctor websites.
Which elements of my doctor's website design influence SEO?
Your doctor's website is the center of your digital marketing universe. And your website design matters, as far as SEO is concerned. In fact, without an SEO friendly website design, you'd be cooking the right recipe with the wrong utensils!
Whether you're looking to design or redesign your doctor's website, understand the design elements that matter. SEO Corporation has an in-house website design team with experienced web design consultants who'll audit your website and highlight the most important opportunities for improvements.
Here's a quick look at the major web design factors that influence SEO.
Your website's domain must align well with the type of website.
All variations of the domain and subdomain must point to a single canonical version of the website.
The URL structure of the website should make sense to Google as well as to your website visitors.
Your website hosting must be robust enough to ensure minimal downtime and must provide enough bandwidth so that the page loading speed is maximized.
Flash, image, and video content are hard to index for web crawlers, so all your content (apart from the text) has to be optimized for easy indexing.
A medical website's design heavily influences important SEO KPIs such as dwell time, average session duration, and bounce rate. At SEO Corporation, we make sure we quickly highlight any major issues with your website design that may be affecting SEO in a negative way and then correcting it.
Do I need to worry about user ratings and reviews for my doctor/dentist/healthcare business from an SEO perspective?
All doctor SEO eventually culminates into local SEO. That's because eventually, you went more people to visit your clinic, seek consultation, and then become your advocates.
For local SEO, user ratings and reviews are a major success factor. All other factors remaining the same, the business listing with a higher average user rating and with a higher number of reviews will rank better.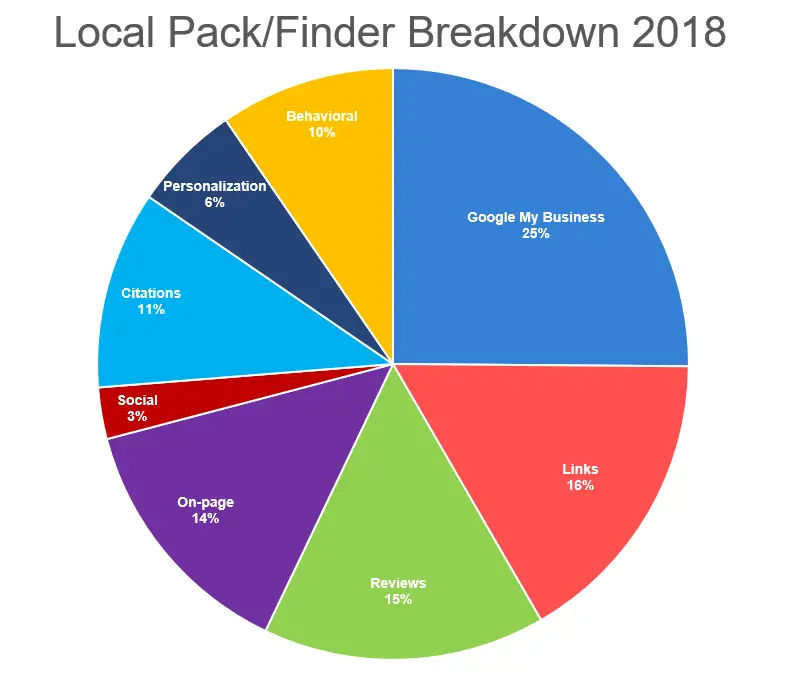 For a medical and Healthcare clinic's business listing, you need as many positive user reviews and 4 or 5 Star ratings as possible.
With the support of an experienced doctor SEO service, you can forget all your worries about following up with people to get reviews and ratings. We'll set up seamless processes wherein all your clinic visitors will feel compelled to leave their positive reviews, thereby contributing immensely to your doctor website's local SEO.
SEO Corporation will help you:
Set up multiple easy and user-friendly mechanisms using which your clinic visits can leave ratings and reviews.
Use medical schema markup to make sure your ratings and reviews appear along with your business listing.
Reach out to dubious users who've posted negative reviews and 1 or 2-star ratings (these may well be SEO vandals hired by your competitors) so that you can get them removed.
What all services can SEO Corporation offer for my medical websites?
There was a time where you could simply pay an SEO agency for keyword research and content optimization, and sit back.
Today, SEO is a complex and highly sophisticated enterprise. It doesn't work if you don't approach it from multiple directions, such as:
Industry-specific keyword research
Advanced on-page SEO
Multi-channel content marketing
Continued pursuit of high quality backlinks
Social media marketing to drive traffic to your websites
Video marketing to leverage the potential of YouTube
Schema markup to increase your website's chances of appearing in Google's Rich Snippets
Optimizing content as per Google's micro-moments philosophy of determining user intent
Local SEO
Mobile website SEO
Now, this seems like a lot. Thankfully, you can engage SEO Corporation, because we offer integrated SEO services with expertise in all the components described above.
How do you use Facebook Marketplace to optimize my medical practice website for SEO?
There's a very strong overlap between SEO and social media marketing.
For a healthcare website, Facebook has become the most important social media channel, because users here inherently want to connect with the content, acquire information, get word of mouth, and even seek quick answers to medical queries.
Here's how Facebook marketing helps enhance your website's visibility:
Social shares get you more organic traffic
More likes and shares mean you get an ever-expanding network of followers
Improving website visibility with keyword optimization
Facebook Marketplace is another great channel for doctors to promote their services, without creating a nuisance associated with general classifieds services such as Craigslist's.
We will help you leverage the reach of Facebook Marketplace to pitch your doctor service to thousands of residents in your target neighborhoods.
What is the importance of Google Maps for my doctor website's SEO?
According to Google's stats, 50% of people who do a local search also visit the store within 24 hours of the search.
The conversion rate is massive!
And, Google Maps is right at the forefront of "near me" searches. If someone needs an emergency medical service, you want them to come to you, right?
To do so, your doctor website and Google My Business listing must appear among the top 3 that Google shows for "doctor near me" searches.
This calls for deliberate and continual effort to optimize your listing for Google Maps. The key to Google Maps optimization is:
A 100% filled and optimized GMB profile
NAP accuracy across the web
Details such as business hours, user reviews and ratings, adding videos and images, etc.
SEO Corporation handles all aspects of Google Maps optimization for your doctor websites, so all you need to do is to contact us and get started.
In how many months can I recoup my SEO expenses for all my doctor websites?
While most SEO companies tend to sidestep such direct questions, we believe in complete transparency and will do our best to address it objectively.
Let's consider some impotent variables.
Your monthly SEO expense
This could vary between $500 per month (if you need very specific SEO services) to $2,000 per month (if you need an end to end SEO services)
The time period in which your doctor websites search ranking will improve significantly
This could vary between 3 to 9 months, based on your website's current state of SEO.
Your website's conversion rate:
A client's lifetime value
the lifetime profitability potential of a client
Now, let's assume that you spend $1,500 for 6 months, and that gets your website from rank 35 to rank 4.
That's $9,000 spent for an increase in monthly traffic from, let's say, 500 visitors to 2,000 visitors.
Now, you're converting 40 website visits to clinic visits, as compared to 10 visits earlier.
Even if a single client's lifetime value is $1,000, that's $30,000 contributed per month. The ROIs are massive, and the payback period very short. And we've not made any exaggerated assumptions in this calculation.
Need we say anything further! Dedicated doctor SEO can help you multiply your business manifolds.
How much does medical SEO cost?
Medical SEO implies that you'll receive specialized services around:
Medical industry keyword research
Medical content optimization
Credible medical industry backlinks
Medical schema markup for your business listing
Google Maps optimization to make the most of 'doctor near me' searches
For such specialized doctor SEO, you can opt for basic monthly service packages starting from $500 per month to advanced packages that could cost up to $2,500 per month.
Consult with our medical SEO experts to understand what you ought to be spending on.
How do you do link building for a health niche website?
Content, RankBrain, and Links – These are the three pillars of SEO.
SEO Corporation differs from most SEO companies because we understand that backlinks are the most significant ranking factor for a medical website. We also understand that as a medical practitioner, you simply don't have the time to either create content or to go look for linking opportunities.
We deliver end to end backlinks solutions, and that's primarily because, throughout our several years of experience in digital marketing, we've nurtured and grown our database of reliable and highly trusted backlinks for your doctor websites.
Business directories, local and national press agencies, suppliers and service providers in the medical space, or reviews and ratings website – we have strong connections with all kinds of web channels via which we can get you high-quality backlinks.
Apart from our ever-expanding library of backlinking opportunities for medical websites, we also leverage your connections with medical service providers and local businesses to get backlinks.
We'll also audit your biggest competitors' backlinks profile and make sure you don't miss out on any backlinking opportunity that they may be using already.
Get in touch with us to know more about how we execute our backlinks strategy for your medical websites.
Why should I get AMP implemented on my website?
The digital landscape has become fully aligned with customer search behavior – which means search giants, Google included, want websites to be designed in a manner such that they load quickly on mobile devices.
Accelerated Mobile Pages (AMP) is the most important framework for all websites to follow. This open-source framework provides for a mechanism of creating a mobile-optimized (stripped down of speed-taxing design elements) version of a web page and using HTML tags such that this AMP version is called when users request the page from a mobile device.
The key components of AMP are:
AMP HTML
AMP Javascript
AMP Cache
Over 160 ad platforms and 15 CMS already support the AMP Project. This makes it essential for all websites to have AMP versions for delivering effective mobile user experiences.
AMP automatically makes your websites likelier to rank higher for mobile web searches.
SEO Corporation's doctor SEO services also encompass AMP web design. We'll guide you about the opportunities for quickly creating AMP compliant web page versions, and elevating your Google rankings in the process.
How will AMP help in ranking at top in Google?
Google is rapidly altering its search algorithm to benefit websites with super fast loading speeds. In July 2018, Google announced that its Speed Update would apply to all users on mobile devices. This meant that slow loading websites were at risk of being downgraded in search rankings.
Google also suggests that an increase in the loading time of a web page from 1 second to 5 seconds, could increase the bounce rate by 90%! Bounce rate, of course, is SEO cancer, and that's where AMP becomes so important.
Google has clearly shown its preference AMP by dedicating a fixed part of its search display to news aggregating websites that use AMP. This indicates how websites can remain future proof by aligning with AMP right now.
Apart from this, AMP reduced server load for websites that already get a lot of mobile traffic.
We understand that AMP could be a very technical and complex idea for a medical practitioner, and assure you that our service will not only make your website AMP compliant but do so in a manner that makes it totally hassle-free and seamless for you, letting you focus on your medical practice.
What factors do you take care of on-page optimization of the website?
Comprehensive on-page SEO extends across several aspects. However, some of these are more important than others, and that's what we start with, for your doctor websites.
After a quick website audit, we insert keywords in your web pages' title tags
Next up, we add modifiers to your page titles (words such as "near me", "2019", "symptoms, cures, side effects", etc.)
We'll make your URLs SEO friendly
We'll use <H1>, <H2>, and <H3> tags to make your content easy to understand for Google.
Also, we ensure that your content is optimized for your target keywords.
We'll implement intelligent internal linking on your website.
We'll invest time in medical niche keyword research with a focus on local search, LSI keywords, long-tail keywords, and question form keywords to optimize the content for voice search.
Implement social sharing buttons on your website to drive user engagement
These are just a few of the on-site SEO factors we'll optimize your website with, to begin with, followed by several more advanced strategies.
How to attract local patients with appropriate use of SEO?
How does a local patient search for a healthcare option? These are primarily three stages of this search.
Information search
Specific medical advice
Choice of doctor
We optimize each aspect of your website to ensure that your content such that your web pages show up in the right context to the user.
Also, we optimize your doctor websites for local SEO and mobile search, because these are the two most important aspects of a patient's search for a doctor whom he/she wants to visit.
With the ranking improvements we bring to your website, you can expect a lot more traffic coming to your pages, which will result in more calls and store visits.
Also, because of Google Maps optimization, and because we'll optimize your Google My Business listing, your business will get much better chances to show up on the top results when any patient in your neighborhood makes a 'doctor near me' or 'dentist near me' search.
Who writes blogs for my website? Where they are posted?
We have an in-house team of expert content creators and editors who collaborate with our SEO consultants, create a detailed editorial plan, create authority content, optimize it for your target keywords, and then share it with you for posting on your websites.
For all the guest blogs we do to promote your website via backlinks, we submit the content to leading medical and related niches' blogs. We have a strong network of medical niche blogs where we can post great content on your behalf, to get high-quality backlinks.
Who makes changes to the website?
We are a professional SEO company, with several years of experience in delivering high-quality SEO services. We understand your website is your most important digital asset, and it may be discomforting for you to entrust it with someone else.
That said, we assure you that we make updates to your website with the utmost care. Even then, if you prefer, we can set up a process where we will send clear communications of the changes to be done to your web design and backend management team, and you can manage them at your end.
What questions should I ask a medical SEO/ Doctor SEO company before hiring them?
Here are the top five questions you must ask a medical SEO service provider:
How many doctor websites have they worked for in the past 6 months?
What is the ranking improvement that they were able to achieve?
How else did they help improve the healthcare service provider's business?
How will they ensure they don't take up SEO contracts from your immediate competitors?
Can they mention clear goals in the contract and follow a timeline in achieving them?
Comparison of rates of Doctor SEO services of SEO Corporation and other SEO companies.
Doctor SEO is different from routine SEO, and the service comes at a 15-25% premium because of that.
While most doctor SEO companies offer their service at prices beginning from $1,500 per month, SEO Corporation understands that you may not be comfortable investing such massive amounts in SEO upfront.
So, we have service packages that start from $1,000 a month. This ensures you can start reaping the benefits of SEO without spending a lot initially.
Remember, while you may even get SEO services at $500 a month, that won't help you, as your healthcare business needs dedicated strategies that are unlike traditional SEO.
Top 10 medical companies/doctor SEO in the US.
1. SEO corporation
2. Einstein Medical
3. Thrive Internet Marketing Agency
4. NKP Medical
5. Elite Rank Media
6. WEBITMD
7. Advice Media
8. Supreme Optimization
9. Surge Tactic
10. Web to Med
Why Choose Us
Here are 6 strong reasons to choose our digital marketing services. We can be your one-stop Internet Marketing service provider for all your requirements
Experienced Professionals
Our designers, developers, copywriters, etc. are skilled professionals who possess several years of on-the-job experience which helps them deal with all kinds of real-world challenges.
Result-Oriented Service
We understand the value of your money. That's why we have a relentless focus on results. Irrespective of what your SEO goals are we always strive to meet them.
Our SEO techniques are built along the lines of those adopted by the world's top SEO companies. We follow 100% white hat techniques which makes us certain of our results.
Money-Back Guarantee
Think we haven't delivered? We will refund money. We are so confident in our ability to meet your expectations that we even have a money-back guarantee in place!
24/7 Support
Once we have taken up a project, we are available for 24/7 technical support. After completion, we will handhold you for three months until the changes we have made have stabilized.
No Long-term Contract
Unlike many other SEO companies, we don't bind you in a long-term binding contract for 6-months or 1-year. You can cancel the contract in a month if you are not happy with our services.
Want To Get More Traffic And Leads?
Anything On your Mind. We'll Be Glad To Assist You!