If you follow blogs religiously, you're not alone in the online universe. Millions of readers have found solace in such outlets. People have embraced reading online, fueling the blog revolution. This quiet and somewhat subtle transformation is supported by Google, which has openly declared its love for informative and engaging content. Keeping the provision of
If you follow blogs religiously, you're not alone in the online universe. Millions of readers have found solace in such outlets. People have embraced reading online, fueling the blog revolution. This quiet and somewhat subtle transformation is supported by Google, which has openly declared its love for informative and engaging content.
Keeping the provision of quality intact, the real fluctuation arrives from length of the post. I have always battled this issue, struggling between my writing impulses and reader's comfort. Adding to the dilemma is Google's increasingly visible fondness for lengthier blog posts.
So, the battle between short and long blogs is not going to settle down anytime soon. Still, I have successfully cracked the code for the perfect blog length. Read on to find out more.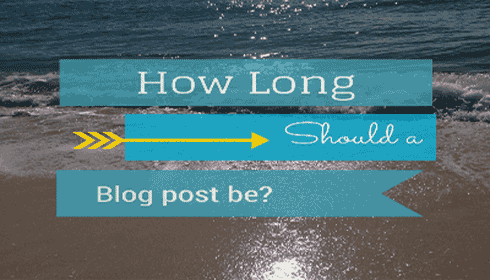 Does Blog Length Impact Your Page Rankings?
In the present circumstances, it can't be denied that length of your post holds the power to influence your rankings. Google considers it as a positive signal; however, it's always been a challenge for most bloggers to decide the 'ideal length 'of a post.
Ask any search marketer about the importance of content, and he will bombard you with a really lengthy speech. I am not going to explain the importance of content quality. In the similar fashion, the length of content has emerged as an important factor in determining the fate of your rankings.
If you've ever analyzed the Search Engine Results Page, unsurprisingly, content with at least 1000+ words. This proves that Google is openly infatuated by posts with ample details. See the graph below:
Source: quicksprout.com

Furthermore, People are highly likely to link to an in-depth content than a short content with shallow approach. Without a doubt, there is direct co-relation between blog length and number of links.
Even Social Media Adores Lengthier Blogs:
If you also believe that social media is all about short and simple, get ready for a surprise. Even I was surprised to learn that the attention-starved online readers community is all for detailed content. It should be noted that Google and other search engines consider social signals as an important factor in deciding the rankings of your site. Here's the breakdown: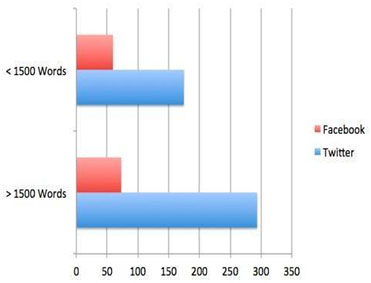 Source: quicksprout.com

The above graph clearly shows that the lengthier the blog, the more shares on Twitter and Facebook. However, the graph was limited to two social media outlets, its implications influences every social network out there. Coming back to the graph, posts with 1500+ words witness maximum shares.
Affect Your Bounce Rate As Well:
If your blog is engaging, it will work wonders for your bounce rate as well. Obviously, readers have to shell out more time to grasp the entire post, minimizing the bounce rate. However, you will have to walk on tight rope, as the length should be complemented by high quality.
If the text is lengthy but uninteresting, the bounce rate is certain to give your sleepless nights. You need to weigh-in the strengths and weaknesses of your blog, before your blog makes its way to internet.
Improve Your Access to Long Tail Keywords Searches:
More people are dumping 2 or 3 word phrases for long phrases. Hence, increase in content and lengthier blogs is essential to capitalize on the trend. Particularly for search marketers aspiring for long tail keywords, this is the right way.
Improve Your Conversion Rate:
It is widely observed that lengthier posts leave a long lasting impression on reader's psyche. This enjoys indirect influence on his decisions. In fact, many marketing experiments have strengthened this view. So, go for lengthier content on blogs, landing pages, etc.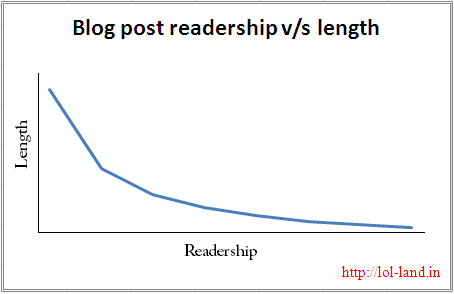 Are Shorter Blogs Completely Dead?
As per followers of this trend, people are generally attracted to blog with 200 words length. The attitude aims for brief content, and asserts that long blog postings are destined to die. In my view, they've gotten it all wrong. So, it's better to claim that shorter is not always better. In many posts, it may work, but the trend is clearly favorable towards lengthier blogs.
Of course, deciding the length also relies on your preferences, and I am totally inclined towards writer's creative freedom. But, there is not dearth of topics demanding an in-depth analysis.
Sometimes, short is the way to go. For publishing breaking news, short length is acceptable. However, there is no excuse for editorials and opinions. You must engage in intense brainstorming & research; plus, give your creativity wings for better results.
Don't Overstress Length of Blogs:
Many search marketers and writers commit the mistake of overemphasizing the length of blogs. They are unable to stop themselves from rambling, and ultimately killing reader's interest. There is no excuse for dragging the content. I am not denying the cliché 'content is king'. But, length is not the only deciding factor, when it comes to engaging content. There are hosts of things to consider. Some of them are explained below:
Essence: An effective writer knows the importance of substance in the content. Before writing a post, ponder over your offerings. Back it up with relevant facts. There is no need to adopt a hasty approach. Remember that people actually read your blogs. So, be careful and alert.
Formatting: It's all about style! Even your blog needs its own styling. Here, you can involve sub-headings, captivating headlines, conclusion, bullet points, etc. You may observe other blogs, and include some of their key strengths. These steps will make your long blog easy to read.
Frequency: Some bloggers post daily and others post once in a week. I am not here to argue about the ideal posting frequency. However, frequency should correspond with quality of the content. And quality demands both time and efforts.
Purpose: Every blog should possess a purpose. Actually, there could be more than one purpose. Of course, length will depend on the purpose. If your aim is to prepare an ultimate guide on a specific topic, you're better off with extremely lengthy post.
Readers: Know your readers. Try to understand their fears, needs, mindset, their desires, etc. in this way, even your lengthy blog will seem appealing to them.
Other Medium: Words are great, but blog you should comprise of a lot of other things. It could be images, info graphics, videos, etc. In this manner, you can maintain reader's attention.
What You Should Avoid in a Lengthy Blog?
Never write Tedious content: Anything boring is certain to fail. Your blog is lengthy; hence, it should be really great. Otherwise, you will miss out great rankings and social networking shares.
Take Help from Social Media: Without social media outlets, your blog will not get its deserved attention. Sure, quality content is essential, but you need to promote it. So, go out and make social media accounts for better visibility.
Don't Stroll in Your Content: Remember your favorite movie and its natural and engaging flow. You need to follow this approach in your content as well. There is no need to go overboard. Don't write only to increase the word count of your blog. Write from your heart.
Final Words:
I want to end this post by warning you of the length obsession. You should never hang up on content length. Anyway, a writer's imagination knows no boundaries. So, length should not bother you.
If you're still looking for number, anything between 800 to 2000 words should be your aim. Go the natural way, and trust your instincts. The results will definitely be encouraging. However, length is no guarantee to overnight results. An active social presence, compelling content, right optimization and appealing design are also required.
So, what is your take on short and lengthy blogs? Let us know through the comments section below.