If you logged-in Google Analytic today , you must have noticed the missing colors and the following message at the top of page.
Feature Update
Analytics now includes Change History, a log of account changes. Learn more
Google analytic changed its dashboard and user interface with introduction of some new features like renaming profiles to views and enabling "view of account changes"
Click on the following image to enlarge it.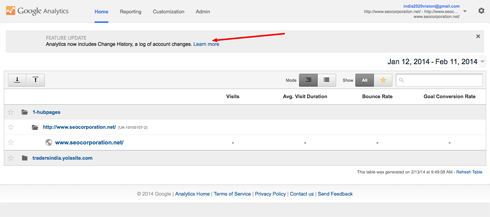 The official statement about the change is as follows:
With the advent of the new Admin interface in Analytics, we are renaming profiles to views. The term views provides a more accurate description of the functionality: views of the data for a property."
This new terminology may not show up in the new Admin interface upon initial launch, but will follow soon after.
The design update in Google analytic will help you "view the history of account changes" too.
If you are wondering how to view the history of account changes in Google analytic, follow this steps.
Login to your Google analytic account

Click Admin at the top of any Analytics page.
Use the menu in the Account column to select the account whose history you want to see.
In the Account column, click Change History.
Click on the following image to enlarge it.

This feature will help search engine marketers by keeping tab on the activities performed by team members in the same account. Say, someone added or made some changes in filters in an account then with this feature you can see who made changes and at what time.