I love this question, this is something like "walking into a realtor's office and asking, 'How much amount can be invested to buy a house? Or visiting a car dealer and asking the price of the car? What are the features of the car? Reply….Do you want a luxury car or a sport car? There
I love this question, this is something like "walking into a realtor's office and asking, 'How much amount can be invested to buy a house? Or visiting a car dealer and asking the price of the car? What are the features of the car? Reply….Do you want a luxury car or a sport car? There are some approximate guidelines, but still the answers are not clear. There are many variables.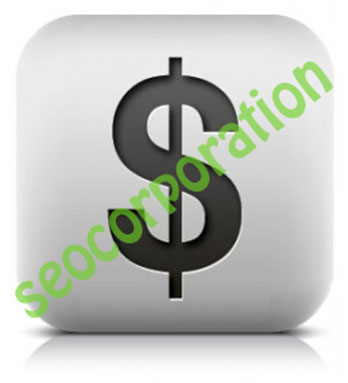 At seocorpoartion.net, we are in the mobile application development, and we love to connect people with each other. Probably the first question that we get is "what is the cost of mobile application development'?
So, what does it cost to develop a mobile app? Like other piece of software, the mobile apps vary widely in terms of development costs. We have surveyed some of the leading mobile app development companies on the costs of mobile app, and the findings were as that the median costs range is between $37, 913 and $171, 450, but could also climb up to $500,000 or higher.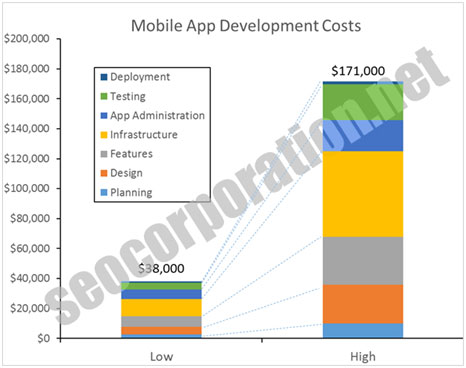 In the few years, the app market is exploded and we cannot deny that a mobile app is doing wonders in our life.
In the recent past years, the app market has exploded and the mobile app usage has grown by 77% in 2014, and an average US consumer downloads on average 8.8 IOS and Android apps a month.
Still the question arises, how much does it costs to build an app
There are some of the most crucial factors important for mobile app development.
The costs of app solely depend upon the complexity, features and platform.
Apps those who are made on back end servers costs more than other category of mobile app.
Simple apps with one platform costs around $25,000
Complex apps fetches price in six figures, but can push over to $1,000,000
Costs of mobile app vary on who build it. ( e.g., offshore versus high –end agency )
Remember to budget for updates, marketing, your own salary and other costs.
What are the crucial factors that are important for app pricing decisions?
Factors to Consider When Pricing App Development
Challenges while developing a mobile application vary intensely. The costs question has not changed until 2010. Costs obviously vary for different mobile application.
As, for example, there is marked difference between hiring a freelancer, offshore development team, or an agency like savvy apps. In the same way, app that requires a back – end servers built or APIs integrated in compare to the one that is completely standalone can differ drastically.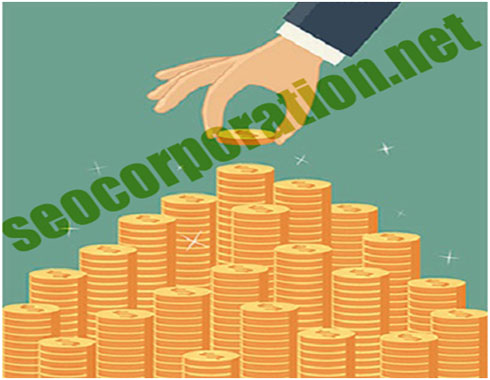 As, cost varies, here I am going to highlight what some of the efficient venture capitalists today believe are the necessary amount of money to raise for a new venture. Most of the start-ups are exclusively app-focused.
Secondly, we can highlight either the known costs or the actual funding raised for well-known apps or app-focused companies.
Lastly, the previous year data from the well-informed apps seen in the last year is considered for app development costs.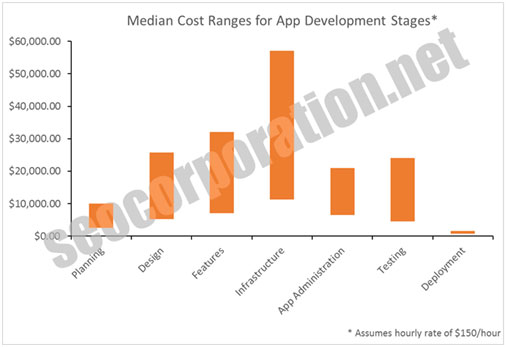 These factors need intense research, experts from seocoprpoartion.net can help you to develop mobile application by considering all the factors mentioned above.
Most Cited variable of cost included for mobile application development are:
Types and numbers of platform performed while developing mobile app.
Newness, complexity and other important feature
Application programming interfaces and Backend infrastructure
Customization of visual design
1) Types and numbers of platform performed in the development of mobile app – The type and the number of factors including app functions, budgets, desired quality of user's experience and the type and the size of audience you would wish your mobile app to reach directs the numbers of platforms chosen for mobile app development.
"Platform choice is another cost consideration. In the case of native apps, if the client wants two platforms, that means iPhone and Android. In that case, there is not one team. The two teams will be working separately, so your cost is double. If it's hybrid, that means only one team is working and, at the same time, you're getting an iPhone and Android, so you're getting double for a lesser cost."
— Manish Jain, Co-founder, Konstant Infosolutions
2) Newness, complexity and other important feature- The size of the app and the numbers of features and screen involved. The costs become more, if the features are more complex and involve unknown new technology.
"The biggest cost driver is the features. The complexity of the app, how many buttons, how many fields, how many screens, the amount of logic required, that's 60 percent to 80 percent or more of the cost of the app."
— Paul Fruia, VP Engineering, Softeq
3) Application programming interfaces and Backend infrastructure – You will not find most app to interact only with the user and the device. App features pull data from and interact with Web-based APIs.
Example- A PayPal payment within the app will only interact with the PayPal API to verify the payment before user leave the app.
"The application may work independently, for example, if I had an app with a book for users to read. It would be the application without any kind of back-end. There's no logging in or anything like that. It very much simplifies the process because there are no backend developers, PHP for example, or any other technology developers would be required. When there are so many interconnections, more things need to be done. Everything needs to be verified and to be checked for different use cases, and you must figure out how the errors are going to be handled. All of that would be a separate, large part of any application that works with servers. Locally stored mobile apps are usually much simpler but, at the same time, it very much depends on the functionality. If there are a bunch of things inside, then it might be the similarly expensive or even more."
— Valerie Verveda, Project Manager, Intersog
4) Customization of visual design – There are different design quality, which you can choose according to your budget for your app. The visual design element is highly detailed customized according to your brand, which is costlier than using a ready-made design. If you hire a service provider with proven visual design skills and creativity can be more costlier.
"[Another factor is] how custom you want your app. Our business is based around clients who typically want a very custom experience, clients like the NCAA, HBO, the NBA, ValPak, and so on. Those are all the types of clients for which it's really important to their business that the apps are unique and are part of their brand positioning, and they don't look like cookie-cutter apps that use Apple or Android's out of the box building blocks."
— Tobias Dengel, CEO, WillowTree, Inc.
I Phone App Development Costs
Let us have a glance at the iPhone development costs
Games – $10,000 – $250,000
Database App (native) – $8,000 to $50,000
Simple, table based app – $1,000 – $4,000
What are the additional costs, which are included, while the development of mobile app?
In app purchase- $1,000 to 3,000 – This feature allows user to buy new content or full versions of the apps.
A web service includes $1,000 – $5,000 – This takes the content to the remote access, so that it becomes easy for you to update your app with an XML files instead of raw files.
Game center – $1,000 – As, long as you keep the numbers clean, you should be able to integrate it easily. Apple has done a good job by making this integration easy with the SDK
Share Capabilities $500 – $200 – This is mostly used for social media (twitter and face book) and for emailing.
IPhone App Design Costs
The design of your app is going to make a huge difference in the overall ROI and user experience. The good design will help to convert viewers to downloads from the screen shots you decide to upload.
How app design is available in the market?
App design mostly comes in packages. You have to buy a "suite', of .png pr PSD files that can fulfill all your needs.
iPhone only – $500 -$10,00 – This will only provide a base design that you can send to your developer, who will add images into the code.
iPhone 6 plus compatible – Addition of 25% to above costs. In these images will be different and will provide more height to the images.
iPad – Addition of 50% to above costs – In this the layout is very similar and user flow is also similar. In most of the cases, you will have to sometimes alternate functionality to accommodate for the iPad size and speed.
Survey Respondent Details
Below is some information on the companies we surveyed:
Count Country/Region Number of Employees Average Hourly Rate (USD)
1. UK 50-249 $100-149
1. UK 10-49 $100-149
1. Eastern Europe 50-249 not listed
1. Eastern Europe 10-49 $50-99
2. Eastern Europe and U.S 50-249 $50-99
1. Eastern Europe and U.S 50-249 $25-49
2. U.S 50-249 $100-149
1. U.S 10-49 $150-149
1. U.S 10-49 $100-149
1. India 50-249 <$25 *Company has a strong engineering/delivery team based in the US in addition to overseas presence.
Conclusion
Before developing a mobile app, first criteria is to determine your budget and your priorities in terms of the desired platforms, functions and qualities of the app.