When people contact for building a website or a blog, their first question arises "How much does it costs to build a website or a blog"? It is obvious that if anyone is interested to make his or her website and blog, means that they want to promote their business and start their own venture.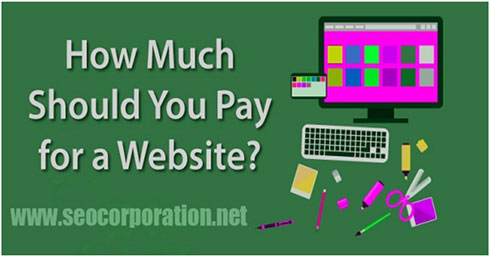 When people contact for building a website or a blog, their first question arises
"How much does it costs to build a website or a blog"?
It is obvious that if anyone is interested to make his or her website and blog, means that they want to promote their business and start their own venture. There are different categories of people who want to make a website and blog.
So, who are they?
They are the students.
They are teachers.
Writers? Alternatively, Businessperson?
All the mentioned above categories of people love to make their own website. Why?
Yes, they want to promote their business, their talents, and their qualities to the world. Therefore, the first step in the promotion is a website. We can call a website a place of identity for the website owner.
"How much website is going to cost?
"This is a very logical question to ask. Not in the case of website, but also for any purchase we opt in the market place".
Those people who are not so well to do have little amount of money, and money used in the smartest way help to pay in return. People become especially cautious, when they are paying for an intangible thing like a website.
They are confused, whether; their invested money will pay back or not?
The website cost design varies widely; If you will ask for the price of the websites from 10 different designers then you will get 10 different answers and price for building a website. It may range from few hundred dollars to several thousand dollars.
How to decide? What is the correct amount to pay for a website?
Several factors affect the price of a website design. Lest look at the main factors and conditions
1. The features and the component that you need
It is worthless to assume that your needs are "cheaper", or the rates which the website developer is offering is more. Remember, that things are not so easy and sometimes complicated than the actual it looks.
Reversibly something looks complicated, but is easy to implement. Website, that you want to be designed may consists of a single page, but is not cheaper than the site with 5 or 500 pages.
Remember, the grass is always not greener on the other side. The website designer may not cost according to the time for developing the same, because it needs precision, skills and accurate knowledge to develop the best.
2. Skill level of the designer
Yes, you can get your website for less than $200, but not so excellent as the website which is costing $1500. It is certainly like the difference between a bullock cart and a bicycle.
Bullock cart can also take you the same destinations, but not as quick and swiftly like a bicycle. Therefore, if you are facing trouble in your business after developing a website in fewer amounts, than it is obvious that you have to spend extra amount and money to again restructure your website.
"A bad road always brings hurdles and a swift one passes easily".
Designers, who are charging more amounts, are always expertise in their field, in compare to the designers who bargains. If you are choosing a cheapest option, then you are at risk of hiring a designer who sucks.
3. Your demand level as a client
If you are too much demanding as a client, you are continuous knocking through the email, calling several times a day, then remember, " we also have our own personal lives", so if you are in the most need of your website, then a website developer, kills his / her own time, and will definitely costs more, for their compensated extra efforts
Please remember that designers are also human beings and we have lives away from the computers.
Now, you are aware about the necessity before you are opting or hiring a website designer. Now the question arises, how much should you pay?
Important……………….Very important
How Much Should You Pay
Before deciding on a budget for a website or a blog, you should keep following points in your mind.
For Blogs:
What is the type of your blog? Is your blog just for photo sharing, memories, or your blog is to convey some information to the user.
If just for sharing photos and memories, and do not want to make any money, then I would suggest that you go for the free theme. However, if you want to make million dollars, then it's the time to increase your budget.
What will you gain from the professional design?
If you want to be featured on big name, or want to attract advertiser, than a professionally designed blog will always outshine in compare to the generic blog. If you know that spending $2000 in this year will help you to earn 5 – 6 times more in the next year alone, wouldn't it makes sense to spend the money.
What you should spend on your blog?
If, I would be in your place, then anywhere from few hundred to few thousand dollars, depending on the value after choosing certain blog design.
It is not advised to spend more than $5000 on a blog design, unless you have a huge audience, and a very specialized need of yours.
For Business websites:
For the need of business websites, I would like to pin point some needs for the same.
Why would you like to have website for your business
We are living in the 21st century and over 70% of users search products online. Internet and computers is slowly and slowly expanding in the most remote part of the world. If your company does not have any website, regardless of your employee and what you do, you are totally missing out the actual platform.
An ugly and an outdated website is not goig to help in branding your business. You will certainly lose your potential clients and customers if they perceive your brand as "cheap", or out of touch.
What website will do for your business?
Do people visit your website? Do they make an appointment?
I would like to explain here, that if your website is not bringing business, then there is a problem with your site and not with the web.
If your website has good conversion rate, then it is the time to ask yourself, what could help to improve conversion rates, or make things easier or the clients.
What you should spend for your website?
Why $30,000 is a bargain?
Website, which is designed for business, is difficult to price exactly as there are complexity and many factors involved in the designing.
You should always expect at least several thousand dollars, if not much more than that. Didn't like the answer? Ok just look down……….
Your website is your employee
Imagine that you have hired Mathew as a new salesperson, and you need to just know every detail about him.
Mathew works 24/7, 365 days a year. He never sleeps and he never get tired.
Mathew is the perfect sales man; he knows every details about the company. He can pitch everyone with a smile and can even convert the person faster according to your wish.
Mathew talks to hundreds of people every day. He can talk to 100 people at once without any pause.
Mathew travels well; he can be in any part of the world in nay time and at multiple choices.
Mathew learns quickly, you have to explain him only once.
Now Best part of Mathew
Mathew is cheap. I mean extremely cheap. Let us assume that your company gives employment to Mathew for three years.
The initial $30,000 just comes to a meager salary of $10,000 per year. In addition, longer he works, cheaper he gets, and he will never quits.
He can work tirelessly, without asking any question. Why?
Mathew is a website. He has no feelings and he is not going to ask you any question. He's your website
How much does a website cost?
After reading this perspective, it should not matter to you now as $30,000 is a steal because its value is exponentially greater than its price tag.
Conclusion – Your website is your online shop. It has to be decorated with care. A shop made of raw brick will fall easily, but a shop made of solid materials never fails. So, if you are planning for your website, then go for the best and get the details form our experts.