Actionable Tips from a Recent Study
The most obvious thing you'd want from your YouTube videos is more views. That's quite predictable. Now, what if we told you that certain words are more likely to attract more views? What if adding words like "easy" or "ultimate" could make your videos more popular?
A recent study by the Pew Research Center revealed that certain keywords helped increase the number of views for particular videos.
How the Study Was Conducted
Carried out in the first week of 2019, the study's researchers zeroed in on the words in the title, instead of names or specific terms related to the channel.
A sample of 100 different videos was taken from 10 channels. The study only included videos on high-subscriber channels, i.e., channels with more than 250,000 subscribers.
A total of 353 words fell into the category and comparison was made between the median number of views for videos that mentioned that particular word in the title, and the median for videos that did not mention that word.
Below are the findings of the study, in a nutshell: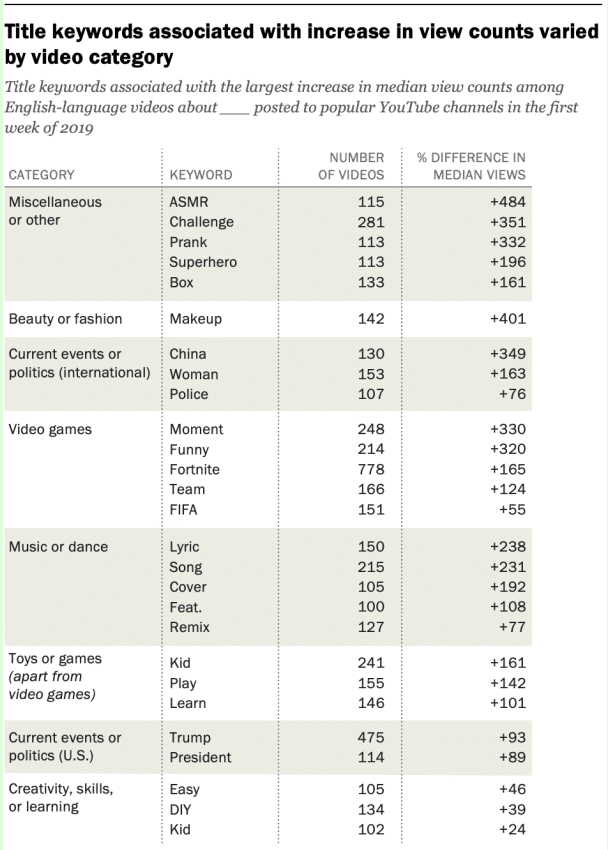 Image Source: Pew Research
Top Keywords
Categorization in terms of genres like "video games," "music and dance," etc., makes it easy to track the most relevant keywords for YouTube channels.
The top 20 keywords which the study revealed are:
Fortnite
ASMR
Slime
Rainbow
Prank
Worst
NFL
Makeup
Moment
Wrong
Eating
PubG
NBA
Ultimate
Hack
FIFA
Player
Mystery
Insane
Roblox
These are the top keywords from a rather long list. Though for the rest of the median, the difference is not as significant as these, one may still be able to reap more views by simply including terms like "Feat," "DIY," "Learn," etc.
5 Key Takeaways from This Study
Considering the popularity of certain words, adding them to your video titles make perfect sense. But it can't be randomly done. Here are some tips that can help you take advantage of this study and provide a boost to your video views.
1. Do Not Use Keywords as Click Baits
It is true that YouTube is yet to come down heavily on those openly practicing the use of click baits, yet it is important not to use them as it lowers the credibility of your channel.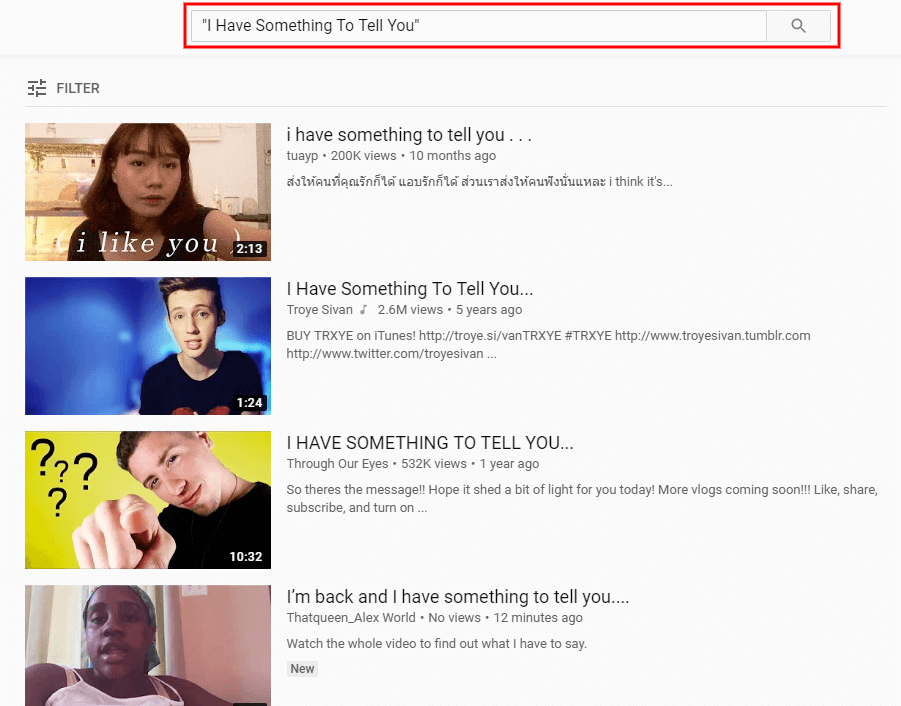 There are many who advocate the use of click bait and mention its benefits, but it should be used wisely.
Yet it is equally true that adding keywords in the title when they are not directly relevant to your content is never a good practice.
2. Strategic Use of Keywords
The strategic insertion of keywords in a way which is not misleading can do the job of garnering more views.
For example, if your video is not ASMR, you should obviously not claim it as being so.
But you could include the words "non-ASMR" in the title which does not deceive viewers and at the same time helps you add an important keyword to the title.
The same means can be applied to other keywords. Besides, there are certain keywords that are more generic in nature and lend themselves to be used easily in the title.
For example, words like "worst," "easy," "insane" etc. are common in everyday usage and just by being a little careful while drafting a title, it is possible to insert them without making the title sound awkward.
3. Link Your Videos with Other Social Media Platforms
Apart from identifying the most relevant keywords, the study also looked at the effect video views had on the mention of other social media platforms.
It was found that 70% had a mention of one or the other social media platforms in their description.
The most common platforms that found a mention were Twitter (58% of all videos), Facebook (51%) and Instagram (50%).The last rank was taken up by Snapchat (9%).
4. Mention the Keywords as Thumbnails Too
For a YouTube video, the thumbnail is as important as the title. In fact, the final determinant of whether a user will click on the video or not is often the thumbnail.
Now that we know certain keywords are resonating with people, it is not at all a bad idea to make a mention of them in the thumbnails too.
It is true that it can be a challenging task to use them as thumbnails for all videos, but conscious effort to try and put it in as many videos as possible may further increase the chance of clicks and views.
5. Make Certain Videos Deliberately Targeting the Keyword to Widen Your Reach
As now you know what topics and words people are searching for, and what is resonating with them, it is a good idea to create a few videos specifically on these. For example, if you are not into ASMR videos, you can create 2-3 videos and upload them on your channel with the objective to win more people over to your channel.
In other words, you will use the ASMR videos as an invitation card for your channel and then introduce the user to your content.
To conclude, the study gives a peek into the likes and dislikes of people that could help you boost your YouTube views.
It is essential to come up with a strategy of your own customized to your business needs to best exploit this information. Some experimentation could help you hone in on strategies to make this insight work for you.