Unarguably every search engine optimization process starts with the keywords research—the phrases search engines attach a lot of importance as a ranking factor. Understanding keywords research seems an easy task from the hindsight; but believe me, it's the trickiest strategy to master in SEO. Choosing the right keywords perfectly weaved in a well-written piece can
Unarguably every search engine optimization process starts with the keywords research—the phrases search engines attach a lot of importance as a ranking factor. Understanding keywords research seems an easy task from the hindsight; but believe me, it's the trickiest strategy to master in SEO. Choosing the right keywords perfectly weaved in a well-written piece can put your article on the top of the search engine page result. It, however, requires a lot of effort and time in searching right keywords.
Brian Dean, one of the cult figures in SEO, writes, "Keywords are like a compass for your SEO campaigns: they tell you where to go and whether or not you're making progress." He compares the keywords research to market research which is perfectly apt.
More than 75-80 percent marketers don't know how to do the keywords research in the right way. They normally do it from Google Keywords Planner which hides more than it reveals. You'll be, in fact, never able to rank as there are thousands of marketers who would have pinpointed exactly the same keywords or keywords phrases to rank for.
"Keyword research is an art, not a science. While there are some good tools out there, they should be the start of your research, not the end. Most SEOs use keyword research to figure out how much search traffic they could potentially attract for free." writes Neil Patel, a legendary SEO guru of our times.
How to Search For The Right Keywords (And Use Them)…
Searching the right keywords is more an art than science. If you learn the keywords research strategy, you'll not only benefit from the more search engine traffic but also dominate your niche. Most marketers, however, do it in the traditional way which does not yield results.
Why Starting from Google Keywords Planner is a Bad Idea?
Why I am saying this because Google Keywords Planner is very bad at suggesting new keywords ideas. Google Keywords Planner shows only limited keywords related to your desired keywords. And they hardly show the most closely or profitably related keywords.
Now knowing what these keywords mean; you are missing out on the profit. Another thing is that if everybody is vying to get ranked for the most profitable keywords, it would be difficult to rank for. Our idea is you should think beyond Google Keywords Planner for ranking. That's very important if you seek higher ranking.
Let's learn how to evaluate keywords for football. What comes to your mind when you think of the word 'football': Lionel Messi, Counter Attack, Defender, Copa America etc. However, you won't get these terms from GKP. You will get keywords such as 'football game online', 'history of football', 'football rules'or 'how to learn football'.
The Google Keywords Planner will hardly show you keywords that are close but not directly related to the keywords in the market. So everybody would be targeting the same keywords in GKP and that makes the task of ranking very difficult. So what can be your strategy? You should try to find niche topic. "A niche topic is what your customers are interested in".
How to Create Your First Niche Topic List
Your goal is to create a topic list for your target customers who are searching for in Google. According to Brian Dean, Backlinko "You should be able to come up with at least 5 different Niche Markets off of the top of your head…which is enough to find some great keywords." Here is what you can get a topic list for a flower shop:
Here's an example Niche Topic List from our basketball hoop site:
How do you take care of flower?
How do you take care of a bouquet of roses?
How do you make flowers last longer?
Best flower tips for your girlfriend
Getting a Keywords Idea from Wikipedia
Wikipedia is a great source of information for potential keywords as it ranks for almost all keywords. We are going to show you a detailed process on how to scout Wikipedia for potential keywords. It has the best organic SEO on the web and its popularity shows people like credible information. It can be your source for great keywords. How you can do that:
Go to Wikipedia and type in a broad keyword
Now go to the content section of that specific Wikipedia page
Go through these topics under the keywords section which can be a great topic for your niche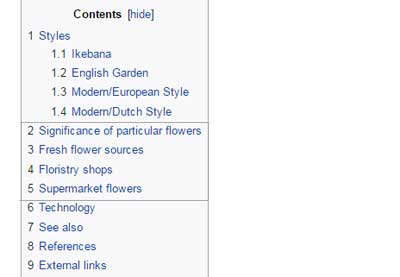 See the above image to get an idea of the process. These topics in the content section can be targeted by you. Study the different terminologies mentioned in these sections and use them in the article. Take another example in mind.
Suppose you've a Magento development company. With its help Wikipedia, you can create articles on 'Magento Community Edition', 'Magento Enterprise Edition', and 'Magento Enterprise Cloud Edition'. Look for what terminologies have been used by Google.
How to Use Reddit as a Potential Keywords Source
Reddit is a very popular social forum for discussion on any topic. It's an extremely powerful site. It can be a goldmine of potential keywords if you dig carefully.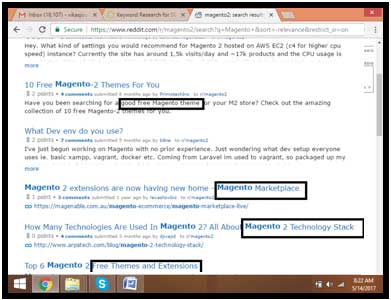 You can see how you can search for potential topics on Reddit. For a Magento development company, they can come up with topics related to "Free Magento Themes", "Magento Marketplace", "Free Magento Themes and Extensions"
It's a terrific keywords research tool to find out the most common keywords related to your niche. I got an idea about this tool through Reddit and I am thankful to the person. Not only it gives you the list of the most closely related keywords idea but you also get how difficult is to get ranked for these keywords.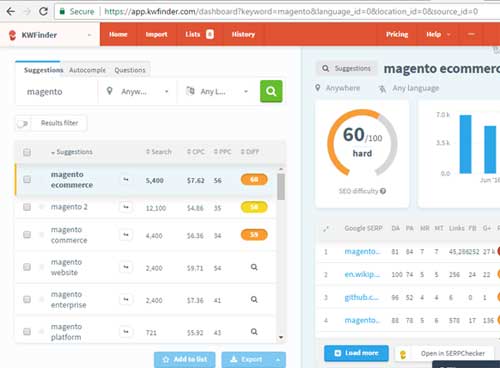 Understand Long Tail Keywords
Search marketers are now focusing on long tail keywords which are a group of words having a higher chance of conversion.
They may have a low search volume, but studies have corroborated that they convert better. Instead of ranking on the word 'shoes', focus on "black Adidas Shoes", they would convert better.
That happens because they are close to the conversion cycle. A person just searching for 'shirts' may just be browsing, but the person searching 'John Player Black Casual Summer Collection' is more specific in its choice and he may be doing the search with strong intention to buy it.
According to Moz, "Understanding the search demand curve is critical. See the graph below; we have illustrated the small number of queries sending larger amounts of traffic alongside the volume of less-searched terms and phrases that bring the bulk of our search referrals.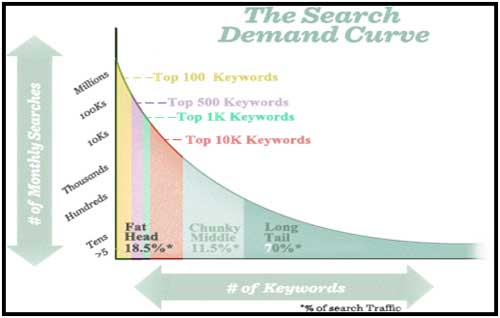 How to do Long Tail Keywords Research
1. Use Wordstream
Long tail keywords have a higher chance of conversion despite lower search volume. You can find long tail keywords with WordStream's free keyword research tool. Just enter the word you want to research:

The free tool shows 100 most popular keywords. Just enter your email to receive the full list of long-tail keyword phrases, completely free.
2. "Searches Related to…"
Brian Dean of Backlinko says, "Take one of the keywords from the "Searches related to…" area, pop that into Google, and check out the "Searches related to…" results for that keyword. Rinse and repeat until you have a laundry list of awesome keywords that the Keyword Planner doesn't show you."
3. Use Google Trends
Google Trends can be a very useful tool for finding favorite keyword research tools with high volume. With the most helpful Google Suggest feature you can quickly check a keyword's popularity over time.
Can you afford to invest $60000 SEO campaign whose primary keywords popularity is falling? For example, if you're an e-commerce web development company; you can check that the popularity of 'Magento 2' keyword has sharply increased after 2015. So your strategy should be to find keywords around Magento 2.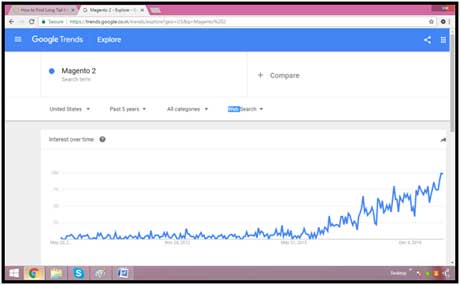 Now you've confirmed that Magento 2 is a better keyword. Now scroll down the result below.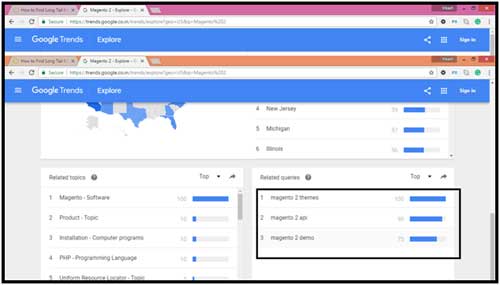 See 'Related queries', it can help you find great keywords around which you can weave your article.
4. Use Soovle.com
Soovle.com is a free keywords research tool that shows keyword suggestions from top sites such as Amazon, Wikipedia, Ask.com, and Google Suggest. You should just go to the Soovle website and enter a keyword in its search field: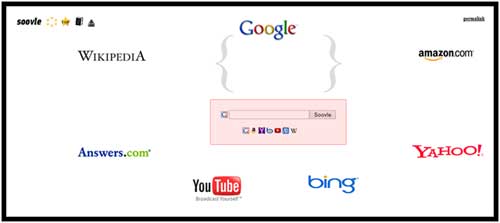 5. UberSuggest: Google Suggest Scraper
UberSuggest is another Soovle like the tool that captures information from Google Suggest. However, it provides much more keywords suggestions than Soovle. You just need to put the keyword and get hundreds of suggestions.
6. Explore the Language of Social Media
You should keep a close tab on what people are chatting about on Facebook and Twitter. These specific words can offer useful clues about keywords. Moz's tool Followerwonk can help you in this endeavor.
7. "Monetization first" approach
Explore different monetization methods. Select a product or offer you like and think about the possible search queries that people may type in. After some interesting permutations and combinations, you can find out interesting keywords possibilities.
Bonus Tip: Depending on Google Keyword Planner is the worst possible thing you can do in the SEO for generating keyword ideas. The tool has been designed to suit advertisers and not for SEOs. It offers extremely limited suggestions.
8. Use Google Webmaster Tool
I know the idea will never strike in your mind. It's possible that the best keywords are those you are already ranking for. If like many other people, you have a handful of pages sitting on 2nd, 3rd, or 4th page and by just focusing a little bit, you can start ranking on the first page with the little amount of effort. You just need to promote more.
Bonus Tip: You should maintain a proper balance between head terms and long tail keywords research. Head terms are generic terms not more than three words long, longer tail keywords consist more than three words. Having a proper mix of these two types will help you win in both long and short-term. That's because head terms are searched more frequently, but are harder to rank.
Determining the Commercial Intent of the Keywords
Spending enough time on the commercial intent of keywords research is important and you should pay due attention to it. In fact, that's more important than the search volume.
Brian Dean explains this in detail. He segregates keywords in four categories:
Buy Now— It includes buy, discount, coupon
Informational— How to, the best way to, ways to…
Product—Review, best, top 10, cheap, affordable
Tire Kicker— Free, download…
Why this is important to understand this categorization. How would you feel ranking #1…only to discover later that the keyword does not value more than a penny or two per visitor?
We try to understand this with an example: there are two keywords "WordPress hosting" and "web hosting". Since 'web hosting' keyword is searched by the people in the early stages of buying cycle, advertisers don't bid more on this keyword.
You can judge the power of commercial intent of a keyword by checking competition by searching for your keyword in Google and observe how many Adwords ads show up on the page.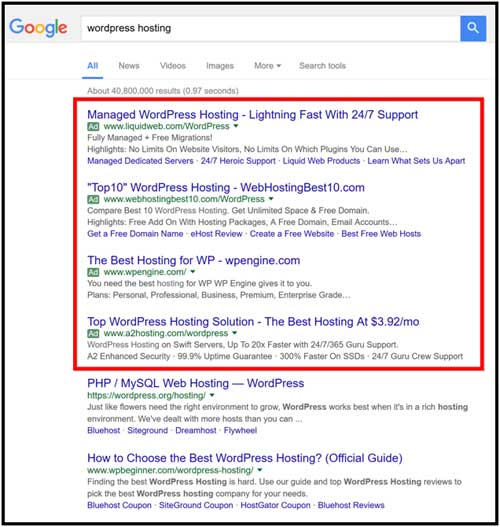 Understanding Keywords Competition
That's the next important task after understanding the strong commercial intent. You should try to judge how competitive the keyword is in its niche. If you find that the first page is littered with authoritative brand pages, your job is going to become tougher. The better approach is to find another set of keywords. However, if you dig a little deeper, you can find useful keywords with reasonable search volume without any considerable amount of competition. That would be a favorable situation for you to deal with. You can dominate with less content, links, and promotion to claim your spot on page one.
Step By Step Guide to conduct Keywords Competition Analysis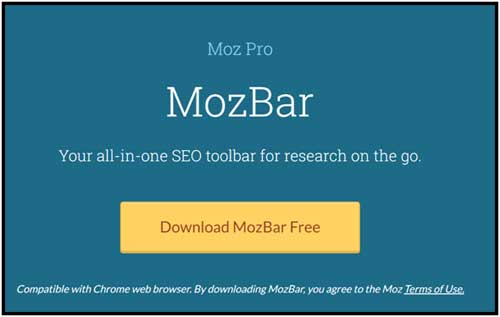 If your competition is with low-PA pages, you should be happy as you can easily knock them out by your high-quality optimized content. Seeing such content in competition, you should quickly give your green signal to such keywords. However, there is hardly any wisdom in fighting with high DA and PA pages.
Brand signals are increasingly becoming important in the eyes of Google and they are becoming integrated into Google's algorithm. So if your competition is with Amazon, ESPN, and Washington Post, you should better concentrate on other keywords.
Study Link Profile
Link metrics can be highly misleading as sites having higher DA and PA can have spammy links. If you find such sites, be sure that they won't stay on top for a long time. Such links don't come without using Black Hat SEO technique. Why it's important to make such an effort, it's because you should understand how a particular website has cracked this code. This can be done by using a tool Ahref. If the links are coming from low-quality blog directories, article directories, spammy blog comments.
On Page SEO
Pay close attention to the on-page SEO factor. If you find that title tags are lousy and not well optimized. You can easily knock them out.

You can see that above title tags are well optimized. But if title tags have no powerful keywords, you can beat them hollow.
Content Quality
If you find a very high-quality article in competition written by a genuine expert, you should be cautious. It will take you to put the high amount of effort to beat the product.
Competitor analysis of keywords makes sense as you should why your competitor is ranking for some primary keywords and how you can improve your ranking on those keywords. But it is also important to understand that you can also capitalize on those keywords ignored by your competitor.
Popular Keywords Research Tool You Should Use
Moz Keywords Explorer
Moz's new keyword research tool has an impressive list of features that the other tools on the market hardly has. But how it stands in comparison to SEOCockpit and SEMrush.

Moz's Keyword Explorer makes it quite unique and useful research tool, but it's not as good as SEMrush. However, it's very close to it.
SEMrush

SEMrush is a solid keywords research tool which must be the part of your SEO arsenal and it can back your SEO campaign. It has three major advantages:
SEMrush Rank is based on the total organic traffic.
Organic Search is the number of monthly organic coming from Google.
Traffic Cost indicates how valuable this traffic is.
If there is a domain with a lot of organic search traffic at a relatively low cost, you should understand that these keywords won't convert easily.
The real value of SEMrush lies in the quality of organic data it provides:
The biggest advantage of SEMrush is that it shows how easy or difficult is to rank for a particular keyword. For example, if you wanted to rank for the keyword "stock market", you'll realize that its very difficult to rank for.
Keyword Snatcher
Keyword Snatcher is a dream come true if you want a lot of keywords ideas. You can generate around 1000 keywords with your seed keyword.

Keyword Snatcher has the ability to generate a massive list of keywords and no other tool can compete with it with its ability, though it takes little more time to come up with the result.
Ahref
It is another great tool along with SEMrush which tells the difficulty score of a keyword and the number of backlinks you will need to break into Google's TOP 10.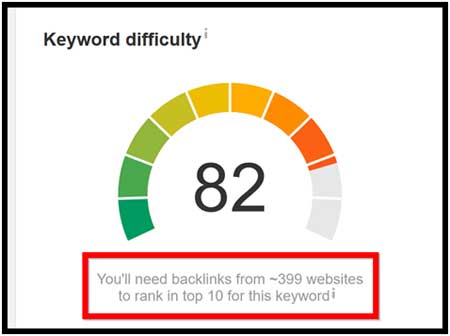 If you think 1500+ word articles are in-depth, change your opinion, they are more run-of-the-mill. And forget to achieve any goal with 500 words articles. The only problem with the long form of content is that it takes a lot more effort and time. However, you can also embed a lot of keywords seamlessly in a longer form of content.
Conclusion
By now you must have realized the enormity and the complexity of the task. Keywords research is like gold mining. You dig a lot to get a very little amount of the gold. Hope this article will help you search your own goldmine.