Which came first—hen or egg? One can debate endlessly without worrying to reach a conclusion. Similarly, nothing is more fascinating than debating on "Magento vs. WooCommerce" for ecommerce folks. This is one of the most classic debates in the field of CMS development. Let's see a classic debate on Reddit: Overview of E-Commerce CMSs Both Magento

Which came first—hen or egg? One can debate endlessly without worrying to reach a conclusion. Similarly, nothing is more fascinating than debating on "Magento vs. WooCommerce" for ecommerce folks. This is one of the most classic debates in the field of CMS development.
Let's see a classic debate on Reddit: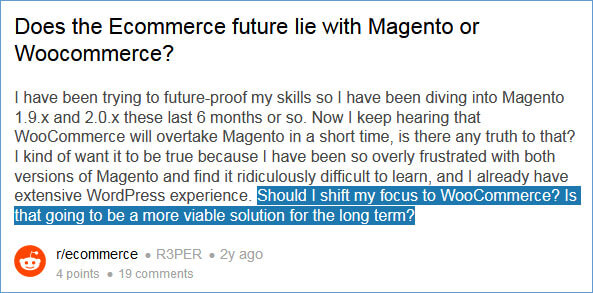 Overview of E-Commerce CMSs
Both Magento and WooCommerce are stalwarts in their own way and they're very popular among businesses, so picking winner among them is not easy. You'll have to weigh various factors and evaluate on these metrics. Unfortunately, most comparisons on the topic are either biased or incomplete. They leave you more confused than bringing clarity in mind.
Each of these CMSs serves unique needs— and both of them have die-hard supporters. But that, too, creates noise –and adds to confusion. We are going to review these CMS platforms based on key parameters such as price, performances, scalability, ease of use, security, scalability and will try reaching a conclusion. So we are going to analyse every detail comprehensively to help you take an informed decision.
Similarities And Differences
Both CMSs are open source, free to use, self-hosted, deeply customizable, and abundance of community help. So what makes them different? Magento has been designed and developed as a full-scale solution to e-commerce needs. WooCommerce, on other hand, is an e-commerce framework built on the top of the WordPress framework. So you'll first need to install WordPress and then add the WooCommerce plugin.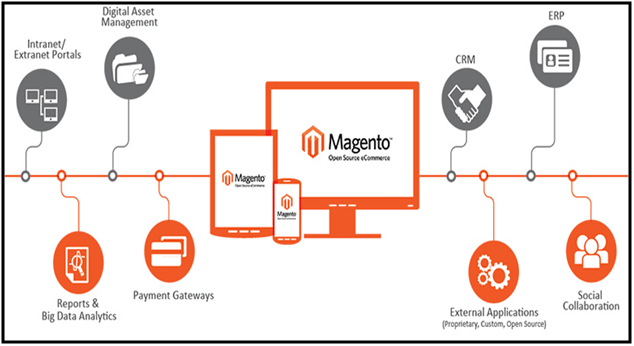 Introduction: Magento and WooCommerce
Magento is an open source software, owned and operated by eBay. It's complete content management system developed specifically for online stores. It comes in two versions: one is the free community version and the other one is enterprise version which is paid. Like WordPress, there is a huge community around it. Magento is a resourced hungry platform where you can achieve any objective, but only after paying a lot of money.
WooCommerce is a relatively new kid on the blog which was born only in 2011 as a plugin created by WooThemes, that converts your site into a fully functional e-commerce store. The CMS is known for its flexibility and bespoke features.
#1 Magento vs. WooCommerce: Design And Features
Design plays a critical role in the success and stability of any CMS platform. WooCommerce has an intuitive design which is great for both small and medium sized enterprises. You can set up an online store just in a matter of few clicks.
It has a clean and sleek design with a wide range of customization options and also comes in premium paid themes ranging from $79 to $139 which can solve advanced purpose to a great extent. Managing your online store becomes very easy once you setup your online store with WooCommerce theme.
Magento has more versatile options to the available ecommerce solutions. It's more feature rich as the platform natively supports cross-sells and up-sells. It has more robust product organisation and filtering functionality than what's available in the WooCommerce without plugins.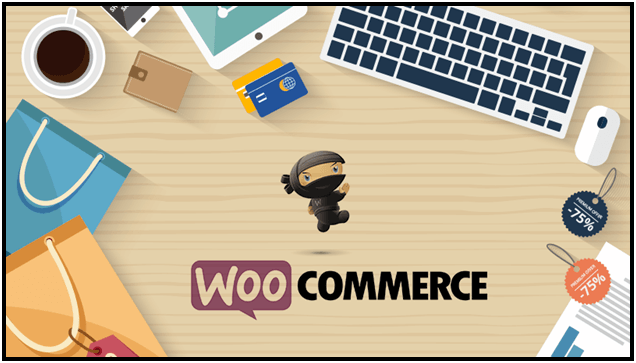 It can handle unlimited products can be integrated with different currencies, payment options, and multiple languages. You can run multiple storefronts through single dashboard. So if you manage a number of websites or have local variations of your website.
Initial installation in Magento is as easy as WordPress and there are a lot of instructional videos to help you complete the process. The problem is, however, it does not as wide range of extensions and plugins. It has a steep learning curve for those having no experience of coding in Magento. Only an experienced Magento developer can solve these complexities. Though it's packed with powerful features and is highly scalable, but all of this comes at a cost.
It provides multi-store capability, multi-language option, complex configurable space, layered navigation. All of these features are difficult to find in WooCommerce. You can achieve these features in WooCommerce through plugins and extensions.
#2 Magento vs. WooCommerce: Product Management And Structure
Magento is highly organised and developers have to write codes in such a way that it's compliant to overall structure. So programmers just can't go start developing. They have to take a deep dive in the Magento's structure. With Magento you have a complete control over product management on online carts. It has also a powerful inventory management system.
Winner: Magento is the clear winner.
#3 Magento vs. WooCommerce: Hosting
WooCommerce is very light on the server space and takes very little disc space. Taking a basic shared hosting package of $5 per month is sufficient for up and running of your store. This is not possible with Magento which is a more bulky framework so it takes more disc space. You'll require a dedicated server for the smooth running of your stores, otherwise its performance will be sluggish. Therefore, it costs extra.
Winner: WooCommerce wins clearly.
#4 Magento vs. WooCommerce: Ease of Use
WordPress is the easiest to use CMS and that's the reason WooCommerce wins comfortably on this front. It has an intuitive design and navigation. Adding a product in the WooCommerce based shopping cart is much easier. Just go to the product menu and add a product. Magento's dashboard is not that easy-to-use compared to WooCommerce.
However, the learning curve with Magento is steeper. It's even complicated to develop from the development point of view. If you're ready to face these obstacles, Magento will pay you much more than your investment.
#5 Magento vs. WooCommerce: Cyber Security
Magento is a specially built platform for e-commerce, it's considered to be a more security reliable than WooCommerce. It requires fewer plugins so it leaves very limited loopholes for security breaches. However, security patches are not easy to apply and newbies might feel out of their depth. WooCommerce is basically built on the blogging platform.
It has not been naturally designed and developed for handling e-commerce transactions. This flaw can be addressed through security plugins for which you'll have to pay.
Winner: Magento wins this round.
#6 Magento vs. WooCommerce: Scalability
Both Magento and e-commerce have a large number of extensions and plugins. Since WooCommerce is not so feature reach, it has to depend on plugins and e-commerce. Also adding plugins and extensions in the WooCommerce is easier. You can also consider installing plugins via FTP.
WooCommerce is suitable for those sites having a limited number of products. For specific needs, you'll require custom development. That's not a problem with Magento; it has a lot of in-built features. For example, it can power to support multiple stores with a single backend.

Its search and filtering features are quite advanced. This is very useful for stores having thousands of products with variations. However, once the number of products on WooComerce hits 2500, the limitations of the platforms is exposed. Magento, on other hand, can support any number of products with its enterprise edition. However, that can be pretty expensive. With Magento you have every information under a single dashboard whether its inventory or logistics— which is a big differentiating factor.
#7 Magento vs. WooCommerce: Themes
With Magento you can think out of the box solutions and can implement it. You'll require widgets to achieve such solutions with WooCommerce. They're, however, easier to edit.
Winner: This round is tie.
#8 Magento vs. WooCommerce: Pricing
WooCommerce is far more affordable compared to Magento and suitable for small entrepreneurs. From hosting to plugins and extensions, it's far more affordable than Magento. So this is ideal for entrepreneurs having a small budget.
#9 Magento vs. WooCommerce: Promotional Options
Magento has much better promotional features compared to WooCommerce. You can control shopping cart rules. These features are limited with WooCommerce. For example: if you need to display every item in your shopping cart 20% off, that will be a herculean task to achieve that. To achieve such kind of features, you'll have to develop extensions and plugins in WooCommerce.
Summing Up…
Overall Magento outshines WooCommerce by a wide margin. However, that doesn't reduce the utility of the WooCommerce platform. It's very useful for small businesses with limited requirements. Magento is suitable if you've enterprise level ambitions.