What is Domain Authority?
Domain Authority or DA is SERPs ranking score that helps in predicting how well the website or webpage will rank on SERPs of different search engines, most notably Google. It is developed by Moz. The ranking system allows assigning a number anywhere between 1 to 100 to a webpage or website. The assignment depends on a number of factors, ranging from SEO to the total number of high-quality backlinks known as the total backlink profile. Higher DA rank means higher ability to rank in SERPs.

How to Improve Domain Authority of my Website
Domain Authority is made up of a number of metrics, including MozRank and link profile. Each of them has a significant impact on determining the DA of a website. The best way to positively enhance Domain Authority is to have an effective SEO of the website.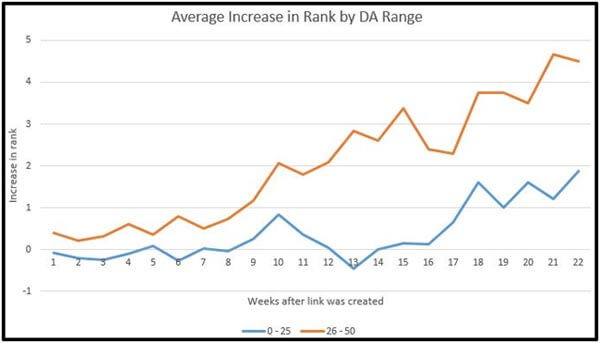 Factors to Improve Domain Authority
There are several factors that collectively play a role in shaping Domain Authority (DA) for any website. These are briefed up as follows:
Domain Age – The older a website is the more preference it receives. The total time since your website came to life is called the domain age.
Linking Root Domains – There are 2 important ways to link root domains, page links, and domain links. Domain links go to the domain whereas page links are links from a specific website to a specific webpage on your website.
Moz Rank – A unique metric used by Moz that tells about the rank of a website or webpage in the Moz web traffic database is the Moz Rank. It is the most important determiners of the DA.
Moz Trust – Another unique metric used by Moz. It tells the level of confidence users put on the website under consideration.
On-page SEO – SEO is an important contributor to Domain Authority. On-page SEO should be apt and free from any suspicious search engine optimization tricks.
Site Load Time – Yes, loading time of a website also plays a crucial role in determining its Domain Authority. The faster a website is the better it will receive standings on Google SERPs.
Social Signals/Social Shares – Facebook likes and shares and Twitter tweets also plays an important role in determining the Domain Authority of a webpage.
Total Backlink Profile – Total backlink profile is determined by means of the total number of backlinks linking to a website. Ensure to add only quality and relevant backlinks.
User Experience – The easier a website is to use, more will be its Domain Authority. Hence, you need to enhance user experience to rank better in terms of DA.
Website Structure – Website structure is another influencer of Domain Authority. Websites with more streamlined structure are better ranked in terms of DA than those not.
Desirable Domain Authority
Typically, websites with a great number of high-quality external links to trusted sources, including Google and Wikipedia, have desirable domain authority. Websites that have a fewer number of quality links or a number of low-quality inbound links charts at the lower end of the DA scale. Desirable Domain Authority score is 60 and above.