All of us must have used Google Maps at some point in our lives and it's difficult to deny that it is an immensely useful tool. Surely, Google Maps is incredibly amazing as Google has spent a substantial amount of time in refining and enhancing the functionalities of the app, and the results are evident.
Apart from being an extremely beneficial app for those who plan for a holiday – to get a comprehensive idea of the roads, distances, and places; did you know that Google Maps can also be an excellent marketing tool for your business?
By adding your business to Google Maps, you get a complete online presence. Apart from the PPC ad rank formulas, the listings of the Google Maps are prioritized based on the location you are based on.
For instance, when prospective customers and businesses search the streets where your business is located, they instantly get an idea of your presence. Most businesses, however, provide only cursory information and this results in poor ranking on the Google Maps.
In this post, we discuss three effective tips to take advantage of Google Maps for your business:
1. Use Correct and Detailed Address
Putting your address right plays a significant role in increasing the visibility of your business. This is an important part of the local SEO. When you enter your address in Google My Business Profile, make sure that you use the applicable postal service.
This includes the exact details of the room, suite, accurate zip code or any information that makes it simpler to locate your business. Also, make sure that you check any formatting errors.
2. Specify on the Areas You Serve
There are businesses that have a physical store at a particular location but serve a wider area. For instance, pizza delivery services generally have a particular storefront but the area of business is widespread. If the same rule applies to your business, ensure that you specify the areas of your business services.
3. Get Your Business Listing Verified
Verification of Google My Business Listing is important. The entire process of verification can take a few weeks. Though Google insists sending a postcard with the unique zip code, it also verifies the address of some businesses via phone.
It is true that like other digital marketing efforts, increasing the visibility of your business on Google Maps is important. But, the right methods play a huge role in search engine optimization. So, follow the right tactics and let your business show up in search results.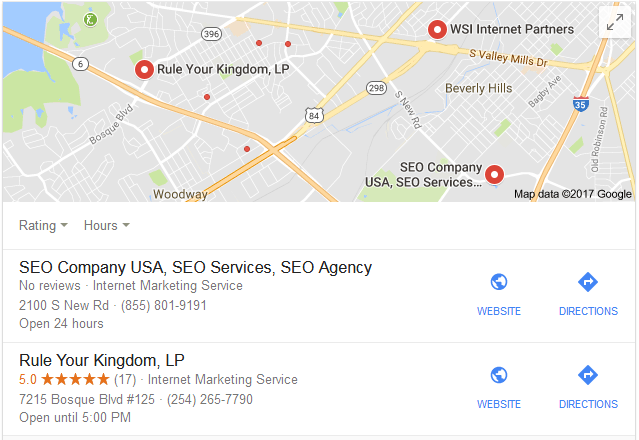 Conclusion
Google Maps Optimization is an important part of the local SEO and you should attach due priority and importance to this. The above-mentioned tips are short and simple, nevertheless, you will find them very effective. Most useful things in life are also simpler. Once you start following these tips, you will witness a drastic change in your local SEO ranking.
If you're looking to optimize your Google Maps services, we can help you out.