Most of the companies promote their business digitally. 58% of startup businesses invest about 75% of their marketing budget into digital marketing. But 37% of Startups manage their digital marketing platforms themselves without having any knowledge, and due to that, most startup businesses fail to sustain in the long run. Why Outsource Marketing Services? Outsourcing
Most of the companies promote their business digitally. 58% of startup businesses invest about 75% of their marketing budget into digital marketing. But 37% of Startups manage their digital marketing platforms themselves without having any knowledge, and due to that, most startup businesses fail to sustain in the long run.
Why Outsource Marketing Services?
Outsourcing digital marketing can be a beneficial step for a business that saves money and time. The best search engine optimization company can manage all the digital platforms of your business on your behalf. Your competitors follow every step that leads their business growth with digital marketing and most likely has the best SEO companies on board.
To stay in the competition, you should outsource your business to any best SEO company that comprises various abundant possibilities. It is nearly impossible for your team to know all of them, let alone have mastery over them.
Thus, the bigger and more able and skilled your team, the more exposed you're to the digital advertising sector and the more aware you're of the opportunities available in digital advertising. A restrained group or limited understanding will yield limited outcomes, even though the team will understand them because the ultimate achievable results limit the team's collective paradigms.
But is it worth it for any startup to outsource their digital marketing services? Let's dive for the benefits and find out:
Knowledge of the Latest Technology:
In digital marketing, every day brings new changes and optimizes it; there are various tools available, but picking the right one for your business can be challenging. However, the best SEO marketing companies can help you with that.
The marketing team is well–experienced in the different tools used towards digital marketing. They are experts, but they will also know how to use tools effectively to market your business digitally, and they will be able to do it. If you outsource your marketing services, they are updated with devices, and your company will get the best possible service.
Cost-effective to Hire Experts
If you are planning to hire and build a marketing team inside, you should first calculate the amount of money and time spent on it. When you do the math, outsourcing digital advertising is almost a no-brainer. To build a team inside your business requires going through a long process of hiring and providing training for months till they will develop the expertise on it. However, it is much easier and cost-effective to employ an external agency and start work immediately with them.
You have to bear some other expenses while hiring the team internally, like having to pay a monthly salary, leave pay, sick pay, and tax expenses among them. But hiring the best SEO firms will minimize all this pay, and they can't ask you about any sick or leave pay so that it won't be money out of your pocket.
Outsourcing may be costly at one time, but hiring and training employees internally may cost more in the long run in terms of money and time.
Agency provides Expert Advice Immediately
When you are hiring a digital marketing agency, you hire an entire team of professionals. These experts know how to promote your company by using their good wealth of knowledge. They will use all the tried and tested methods to drive results. They will create strategies that will ensure the guaranteed benefit to your company.
They are very well–known what strategies will work and won't work. This way, they're great at avoiding errors that would typically trip up others, including enterprise owners trying to tackle digital advertising themselves. The marketing agency will provide work immediately after hiring them, and they provide feedback and advice from the get-go. It means that your company starts making profits as quickly as possible.
Agencies are up to date on the latest trends and Strategies
The marketing agency keeps itself updated with the latest trends and strategies for modern marketing; however, in-house marketing uses the same methods repetitively. But external marketers must stay updated with the latest techniques used by their competitors.
If any last modification occurs in the industry, the external marketing agency is more equipped to handle that change. They will follow all the methods which prove beneficial for your company.
External Agency provide onGoing Optimization
When you outsource your business to a digital marketing agency, there is a constant requirement to prove their worth with a return on investment. The best SEO optimization companies will continually hold interest and optimize their marketing strategies to provide and achieve the targeted goal and objectives. By hiring an agency, it lessens the chance of strategies becoming neglected and stagnant.
Gain outside Perspective
The best SEO services can bring an entirely new perspective to your company. Everyone in your business believes that they know the business well inside out, but a new set of eyes on your marketing will make a difference.
For example, an outdoor advertising organization would possibly note blind spots to how you target your audience. They can inform you the way better to improve your website and visibility by pointing out gaps in your current strategy.
SEO is Officially Implemented
SEO stands for Search Engine Optimization. The fundamental search engines on the internet, including Google, Bing, and Yahoo, offer outcomes primarily based totally on the keywords typed in the search box.
The best SEO services company essentially integrates keywords into the content, which is going well with the search engine's search engine. The result section, the optimized company, comes in the top and into the eye of potential clients.
When a person searches for something over the internet, they don't exceed the primary 3-four pages of the search outcomes, and they are lost in the infinite businesses on the internet. Still, search engine optimization has been invented to get what they are searching out, and the company additionally reaches its perfect audience.
SEO is a distinctly specialized activity, and its success relies upon talent and experience that excellent agencies possess.
A company does thorough research on each company and its audience. It creates keywords for search engine optimization, which could efficiently put the company up with its best competitors.
Provide Better Insight and Results
The digital marketing agency will provide the complete insight and marketing metrics that deliver meaningful results. The Agency will provide all the details of where digital marketing has worked and the areas that need improvement.
Many agencies will provide many essential solutions to the startup business, including:
Website SEO and optimization
Customer communication via mail or text
Online reputation management services
Google ranking and Google my business
A mobile-friendly website and other facilities such as online order placement and customer support service
Website design (it only takes 50 milliseconds for a visitor to stay or leave)
Marinating social media marketing channels
Paid social media platforms to target customers directly.
Leveraging those advertising and marketing services allows small-enterprise owners to have higher control over their online presence, build their business enterprise and brand reputation, and grow their ratings on numerous search engines.
An Agency Turns your money into paying Customer
An appropriate advertising enterprise can quickly identify a way to reach an able consumer base and convert them into paying customers. As noted, marketing agencies are closely results-oriented. This means you could measure their service in improved traction to your website or company.
This increased traction will bring about a small range blooming into paying customers. The Agency should achieve this by providing the best white label SEO services and this by increasing your SEO or launching an effective ad marketing campaign toward your target audience.
The audience in marketing refers to the group of people for whom the message or product is meant. The very motive of marketing is to deliver a message to specific people present in society, which would grow sales.
An agency goes via a phase of thorough research to determine where, how and will deliver the message to the people, creating the most significant effect and giving top-notch results.
How will an Outsourcing Marketing Agency help your Startup Business? 
In startup businesses, they are strict to their budget, and also there is the possibility that they are not so active on social media platforms. That's why outsourcing business can be a significant step for startups.
With a small budget, allocating resources is essential. Hiring a professional digital marketing firm like SEO Corporation that offers guaranteed effects is a secure bet on your investment. Our skilled team will assure growth which works best for your startup business.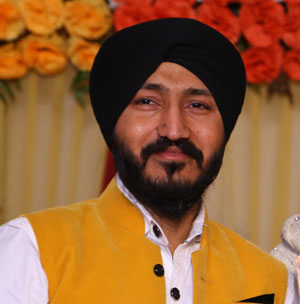 Jaspreet Singh, the genius mind behind SEO Corporation. A Digital Marketing enthusiast who speaks fluently on all arrays of Internet marketing. He beholds in-depth understanding of digital platforms and guided countless businesses globally in achieving top position in the market. Whether you would like to perceive recommendations for your startup or tips related to digital marketing for your business, he is never short of talking about it.