What career options do students of Digital Marketing Courses or SEO Courses have? A business can hardly survive without marketers. Marketers help you discover new markets and influence them to maximize your ROI. Marketing has a lot to do with promotion and branding so if you thought it was just about sales, you are definitely
What career options do students of Digital Marketing Courses or SEO Courses have?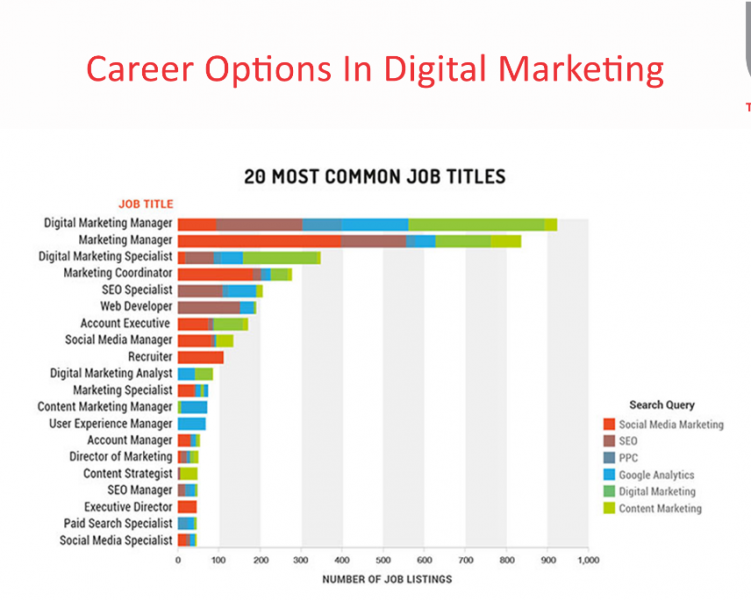 A business can hardly survive without marketers.
Marketers help you discover new markets and influence them to maximize your ROI.
Marketing has a lot to do with promotion and branding so if you thought it was just about sales, you are definitely wrong.
Digital Marketing is redefining how even the biggest names in marketing looked at selling and promoting.
And, the icing on the cake is that there is a growing demand for digital marketers too.
Unfortunately, a lot of students with digital marketing education don't explore the scope and end up becoming an SEO Expert.
It's as if the education has been typecasted.
But the truth is far different from what appears to fresh graduates and diploma holders.
Having an applaudable background in digital marketing helps students pursue different career options like Content Writing or Business Development or Email Marketer, etc.
The whole point of an SEO course is to make the student aware of the search engines, social media and related techniques and how they can be used for promotional and marketing tactics.
With SEO, SEM, SMO, PPC and ORM knowledge, a business developer can develop an expertise in digital marketing lead conversions.
Or a writer can specialize SEO Writing and pursue options like content strategist, creator, expert, blogger, etc.
Digital Marketing Companies have plenty of roles to fill such as Link-builders, Affiliate marketers, Lead generator, etc. So, the scope for students with Digital Marketing education is vast.
What profiles can you pursue with a digital marketing educational background?
Here's is a list of different professions that Digital Marketing students can consider:
1. Business Analysts in Digital Marketing Agencies
Key skills: Market Research, Microsoft Excel/Google Spreadsheet, Programming, Selling and Marketing, Coherent Writing, Knowledge of business models, etc.
How much do Business Analysts in Digital Marketing Agencies/IT sector make?
USA: $84,000
UK: £35,543
Canada: C$64,655
Australia: AU$81,663
India: INR 5,84,753
In India, the salary of students with professional training from Digital Marketing Institutes is reported to be 2,60,000+ INR (estimated).
2. Business Developers in Digital Marketing Companies
Key Skills: Knowledge of Digital Marketing, People Oriented, Communication Skills (Written and Verbal), Online Bidding, Cross Selling, Lead Generation etc.
How much do Business Developers in Digital Marketing Agencies make?
USA: $96,947-$141,965
UK: £23,667
Canada: C$56,783
Australia: AU$71,173
India: Rs 2,74,184
Business Developers starting their career in the IT sector can earn up to INR 1,44,000 or more. Most Digital Marketing and other IT agencies offer incentive options or a cut from the sale made.
3. Digital Marketing Analyst, Analytics Expert
Key Skills: Technical skills in data analysis (Web Analytics, Tools application), Search Engine Optimization and Marketing, Link Building, Content Strategy, Affiliate Marketing, Google AdWords, Email Marketing, etc.
How much do Digital Marketing Analysts and Analytics Experts make?
USA: $57,813
UK: £30,015
Canada: C$69,002
Australia: AU$68,824
India: 5,60,000 INR-7,90,000 INR
An Entry level Digital Marketing Analyst in India can earn up to 366,286 INR.
4. Independent or Freelance SEO Consultant
Key Skills: Creative, Analytics, HTML knowledge, Link Building, Technical & Programming, Google Spreadsheet/Microsoft Excel, Search Parameters Knowledge, Critical Thinking, Communication Skills, Adaptability, etc.
How much do Independent SEO Consultants make?
USA: $43,332
UK: £25,000-£45,000
Canada: C$66,346
Australia: AU$58,958
India: 2,90,000 INR
An entry level Freelance SEO Consultant can earn upto 183,601 INR.
5. Niche SEO Consultant (For instance, SEO expert for Real Estate, SEO expert for E-commerce, SEO expert for Travel, etc)
Key Skills: Specialized Domain knowledge (such as Travel, Entertainment, Gaming, Retail, E-commerce) Creative, Analytics, HTML knowledge, Link-Building, Technical & Programming, Google Spreadsheet/Microsoft Excel, Search Parameters Knowledge, Critical Thinking, Communication Skills, Adaptability, etc.
How much do Niche SEO Consultants make?
Niche SEO Consultants earn quite as much as their regular, independent SEO Consultant counterparts.
However, as one develops an expertise in a particular field, they can charge a higher fee per project (30%-50% higher than the usual charges).
6. Content Writer (Internet savvy with SEO skills)
Key Skills: Versatility, Research (includes interviewing skills, staying updated with trends online), Digital Marketing (Keyword Research, Calls to Action), Editing, Time Management, WordPress (&Blogspot and other blogging tools), Social Media, Grammar (Spelling, Diction), Communication Skills, etc.
How much do Content Writers make?
USA: $44,689
UK: £19,664
Canada: C$35,928
Australia: AU$50,635
India: 8,90,000 INR
A Content Writer with 2-3 years of experience can earn upto 352,341 INR. While an Entry level Content Writer is usually paid around 2,00,000 INR.
7. Link Builder
Key Skills: Communication Skills (Verbal and Written), Analytics, Search Engine Optimization and Marketing, Content Management, Link-Building, etc.
How much do Link Builders make?
USA: $33,000
UK: £25,712
Canada: C$40,000
Australia: AU$46,847
India: 2,00,000 INR
An entry level Link Builder in India may get hired for less than 1,80,000 INR.
8. PPC expert
Key Skills: Analytical Experts (Google Analytics, Statistical, mathematical data analysis), Search Engine Marketing, Keyword Research, Creative, Google AdWords-Pay Per Click Marketing, etc.
How much do PPC Experts make?
USA: $54,044
UK: £33,428
Canada: $53563
Australia: $69,900
India: 5,20,000 INR
An entry level PPC expert may earn up to 1,70,000 INR.
9. Email marketers
Key Skills: Knowledge of Google Spreadsheets, Microsoft Excel, Data Extraction from Search Engines, Good Communication Skills (Verbal and Written), Lead Generation, etc.
How much do Email Marketing Managers/Specialist make?
USA: $68,763
UK: £36,978
Canada:C$45,316
Australia: AU$60,000
India: 2,50,000 INR- 4,50,000 INR
An entry level Email Marketing professional may earn upto 1,44,000 INR.
10. Blogger
Key Skills: Content Writing, Creative Writing, Networking, Social Networking, Branding and Marketing, Photo Editing, Avid Reader, Great Listener, etc.
How much do Bloggers make?
USA: $49,132
UK: £20,000-£40,000
Canada: C$60,000
Australia: AU$76,000
India: 3,50,000 INR
Plus all the free goodies that companies send for sponsored posts.
In India, entry level bloggers get hired for 1,80,000 INR.
11. Affiliate Marketer
Key Skills: Problem Solving, Decision Making, Creativity, Marketing (SEO), Basic technical knowledge, People Oriented, Data Analysis, Money Management, Domain and Hosting, etc.
How much do Affiliate Marketers make?
USA: $56,916
UK: £31,123
Canada: C$49460
Australia: AU$62465
India: 3,36,048 INR
In India, an entry level Affiliate Marketing Specialist may get hired for 20,000 INR.
12. Lead generator
Key Skills: Selling, Upselling, Marketing, Sales, Telecalling, Email marketing, Networking/Social Networking, Communication Skills, Outbound Sales, etc.
How much do Lead Generators in Digital Marketing Agencies make?
USA: $23,890
UK: £20,000
Canada: C$51744
Australia: AU$46704
India: 283,431 INR
An entry level Lead Generator in India may be paid upto 1,80,000 INR.
13. Sales Consultant
Key Skills: SEO (Digital Marketing), Persuasive, Communication Skills, Relationship Management, Cross Selling, etc.
How much do Sales Consultants in Digital Marketing Agencies make?
USA: $48,116
UK: £21,935
Canada: C$80,313
Australia: AU$45,712
India: 249,833 INR
In India, an entry level Sales Consultant may earn up to 1,88,000 INR.
14. Influencers
Key Skills: Specialization/niche expertise (Travel, Food, Fashion, Motherhood, Retail), Aesthetics (Photography, Visualization, Photo Editing, Videography/Cinematography), Versatility, Brand Marketing, Social Media, Networking, etc.
15. Youtube Stars
Key Skills: SEO (Video SEO), Content Writing (Script/Skit Writing), Sense of humour, Collaboration & Teamwork, Acting, etc.
How much do Youtube Stars and Influencers make?
People with around 7 million followers/subscribers on YouTube may make up to $300,000 in video collaborations in USA.
The same number sinks to $187,000 and $150,000 for Facebook and Instagram respectively.
Your earning really depends on the number of subscribers and followers you have and the volume of user engagement you drive.
16. Social Media Strategist/Manager
Key Skills: Community Management, Creative and Organized, Adaptive, Copywriting, Sales & Customer Service, Strategic, Decision-Making, Analytics, etc.
How much do Social Media Managers/Strategists make?
USA: $48,614
UK: £25,287
Canada: C$43,925
Australia: AU$56,778
India: 449,976 INR
An entry level Social Media Manager/Strategist gets paid 3,12,935 INR.
Choose the path which suits your personality.
How you perform depends on your personality. Determining your personality can really help you consider better career options.
Teenagers and 20-21 year olds just out of college often don't have the slightest idea about what jobs will be the best match for them.
Figuring out what you will excel at depends on how clear you are about your personality type as it doesn't just hamper your day to day activities but also your performance and productivity as a professional.
For instance, an outgoing and people-oriented person may underperform in an analytics job but excel in a leading or business development position.
Take a look at the different personality types here and learn what job will be the best fit for you.
1. Extrovert
Extroversion influences your choice of profession, school and friends. An extrovert person wouldn't want to be left in a situation where he/she can barely communicate.
If you don't mind being the centre of attention in social circles, you can try and become a leader.
By honing your leadership skills along with a subtle package of extroversion, you can grow extraordinarily in the online and real market.
Extroverts perform their best at positions that require them to be social.
So, Business Development, Process Head and Manager, Content Strategist, Bloggers, etc pose as the best career options for extroverts as they do well in social situations.
Extroverts can also become video bloggers (Vloggers) and design visual content to attract shares, likes and comments.
An extrovert can also become the representative or face of an SEO company and work alongside the business development and consultant team while nurturing the company's vision.
2. Introvert
Introverts are extremely underrated because they don't make enough noise to attract attention.
But the biggest advantage is that introverts don't need supervision. They are naturally dedicated people who avoid social gatherings and keep to themselves.
An introvert is handmade for research.
As an introvert, you can try your hand at Analytics and data analysis or become a PPC expert, link builder or Email Marketer.
Introverts are people with opinion too but they usually keep to themselves which is why they are least suited to jobs that require professionals to be social.
3. The Solo Player
A lot of people blur the line differentiating introverts from solo players.
Here is the truth: Solo players just work alone. They aren't anti-social or introverted. They just like working alone.
Solo players are often perfectionists and do everything by themselves instead of hiring someone else for the job or getting assistance. They avoid working in the company of people and have a low tolerance for interruptions.
But there is nothing wrong with being a Solo player. It's great to see a professional be so enterprising and handle all the project all by him/herself.
If you play solo, you can be a very successful Independent or Freelance SEO Consultant.
You can further explore the SEO industry and become a niche SEO Consultant for travel or cosmetics, or any other domain.
4. Team-work
If you enjoy having people around you and want to work with a team then you can easily try your hand at profiles that often include team-work.
If you enjoy teamwork, you are likely to excel at Content Writing or a Sales Consulting, Blogging, Lead Generation, etc.
All these profiles don't always come with happening job responsibilities and adventure but they sure do offer the professionals a chance to work on their skills.
If you enjoy teamwork, you should try and interview for the positions that include a team. For example, if you end up getting by a startup or an established company but there is no team, it will crush your personality and affect your performance.
If you enjoy team-work, you can try just about any profession in the Digital Marketing sphere.
5. Open to change
The digital marketing industry changes every second. If you are not open to change, you are doomed to get crushed by your competitors.
Search engines keep making changes to their algorithm which may make it harder for you rank.
But, as long as you are open to embracing change in the industry, you will stay competitive.
A good digital marketing student or professional should be open to change.
People with openness to change will surely perform better at jobs that require them to stay updated with news and other sources.
Anyone working in the digital marketing industry should be assertive and open to change.
If you don't embrace change, your skills may get outdated so it's best to stay in the loop when changes occur.
Education and Skills
Your educational background in addition to the personality type also influences how you perform and what job is best suitable for you.
● For instance, somebody with a background in economics or commerce wouldn't be such a good match for content writing as someone with writing education (English major) will be.
*Exceptions exist in every vertical so somebody with a knack for writing may simply excel at it regardless of their educational background.
So, if you studied English as a subject and enjoy writing, you should consider a writing job for Digital Marketing companies. You can eventually make the switch to writing ad copies for major media agencies.
● If you happen to be a commerce student but would still like to get into digital marketing, you can try analytics.
● Creative minds with a knack for humour can start publishing video content and start making money with advertisements.
● Those with a bright sense of humor can always try writing clever skits and become a Youtube Star.
● Those with great insights and data analysis skills can also become an analyst with a Digital Marketing company.
There is no grand rule stating that an Economics degree holder won't make a good leader or a great content writer.
Choosing the right path for your careers depends on how you figure out your personality.
Ask yourself these questions:
1. Do you enjoy company and don't mind supervisors or managers interrupting frequently?
Answer: If you enjoy company of people and wouldn't mind supervisors circling your workstation then you can go for any of the profiles that work with a team like SEO Experts, analysts, PPC team, etc.
2. What kind of work do you like the most? Do you enjoy motivating others and being the one in charge or do you not mind taking orders and don't want the hassle of running an entire team or company?
Answer: If you don't mind leading the team and have a gift for keynote speaking, then you can make a great entrepreneur. If you like being in charge, what better job than being your own boss.
You can also be a freelance SEO Consultant and offer paid consultations for business owners and organizations.
3. Do you enjoy researching online and reading for hours?
Answer: If you like reading online for hours then Content writing is the best option for you.
Content creators, strategist and developers are required to keep an eye on changing trends online.
You can start your own independent blog, support it with keyword planner and Content Marketing trends to get a good audience.
You can also write scripts for Youtube videos and further venture into writing on a freelance basis for digital marketing companies.
4. Are you prepared for the stress that a digital marketing job will entail as you may have to keep your eyes and ears open 24 hours a day when trying to rank a website?
Answer: If you are prepared to handle the stress of search engine rankings and don't mind making a website your soulmate then you can be an SEO expert, SEO consultant, Link-builder, Marketing Strategist, Marketing Consultant, etc.
5. Do you enjoy organizing everything and being in charge of cultural activities or do you enjoy partaking in decision making activities in an office?
Answer: If you enjoy partaking in decision-making activities at workplace then you should try and develop an expertise in recruitment for Digital Marketing firms.
6. Do you like working with other people or are you the lone wolf?
Answer: If you don't mind working with a team then you will easily survive just about any job in the Digital Marketing field.
If you are the lone wolf and enjoy everything solo then trying your hand at Freelance SEO Consultant or a niche SEO Consultant may really turn your life around.
7. Do you like deciding your own work hours and numbers of clients you want to work with?
To be able to decide the number of clients you want to cater to and the number of hours you want to put in, you will have to be your own boss.
So, you can be your own boss through by being an independent freelance Consultant. Or you can be a lead generator or Business Development Executive or Manager on a freelance contractual basis.
8. Do you like analyzing data and draw insights for better marketing strategies?
If you enjoy analyzing data and drawing conclusions or predictions based on the data available, you can try for the position of Business Analyst.
You can also work as a consultant for the marketing department as your research and insights will help marketers develop better campaigns. You can also try and be a social media strategist for businesses looking to leverage the power of social media.
9. Do you just want a desk job so you don't have to interact with a lot of people and just do what you are told?
Some people don't enjoy the attention. They like keeping to themselves. If you are one of them, you can try your hand at Link-builders, Email Marketers, Affiliate Marketer, etc.
Any job that doesn't include a lot of interaction will be great for you.
If you are good with coding, you can also try on-page optimization and SEO Friendly Web Development jobs.
10. Do you enjoy fame and publicity and avoid regular jobs?
If you hate the 9-5 setup, want to work your own hours and enjoy fame at the same time, you can be a Social Media Star.
There is plenty of scope for Youtube Stars and Instagram stars rake in their fair share of the green bills too.
A lot of Instagram Stars, vine stars are now making the switch to the film industry or collaborating with famed Youtube stars.
Last but not the least, ( Words of Advice)
Whether or not you will succeed depends on how seriously you take your job.
A Digital Marketing course can only teach you so much.
Hands on experience will probably the best teacher you will ever have.
So, keep your eyes and ears open for any market changes and learn about new tools every day.
As a digital marketing professional, there's nothing as enough tools. So, while you foster your knowledge base, keep looking for practical ways to boost your knowledge and acquire experience with new tools and applications.
Moreover, it would be great if you sign up for some reputed blogs for every day Search Engine Optimization and Marketing, Social Media Optimization, Paid Advertising inspiration.
Just running a search on Google for best blogs worth following on Digital Marketing and Content writing will get you the most authentic results.
Once you receive weekly or daily inspiration and information, you will begin to notice whether or not, you enjoy staying updated and what area are your particularly drawn to.
What a lot of Digital Marketing Students end up believing is that they can only be an SEO Expert post their course. Even, it appears to be the most natural choice, it doesn't have to be.
Based on your personal interests, personality and skills, you can pick from an array of professions that benefit from Digital Marketing Training.
Instead of forcing yourself into a profession based on your educational qualification, you can observe your personality and personal interests and design a better career path for yourself.
Have any questions? Leave us a comment and we'd give you the best answer!