The rise of the internet gave birth to a platform where business can interact with prospective customers. The initial days of web resembled Wild West. There were no rules and regulations in the place. But, things were about to change. Google came to its senses, and established law & order in the marketplace. The most
The rise of the internet gave birth to a platform where business can interact with prospective customers. The initial days of web resembled Wild West. There were no rules and regulations in the place. But, things were about to change.
Google came to its senses, and established law & order in the marketplace. The most important change comes in the form of quality content, as Google clearly shouted its love for engaging and compelling content. Suddenly, there was a mad rush, and every search marketer was singing praises for a content marketing campaign.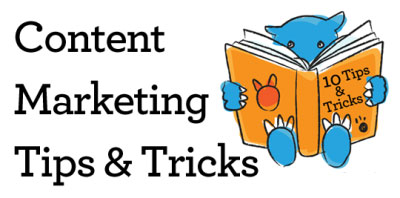 But, how many of them actually leverage the benefits of successful content marketing campaign? The sad truth is that most Content Marketing Campaigns die a miserable death. Actually, search marketers have failed to realize the tactics required to run a successful content marketing campaign. Here, I will discuss some tips and tricks to do it the right way.
First, Know the Real Meaning of Content Marketing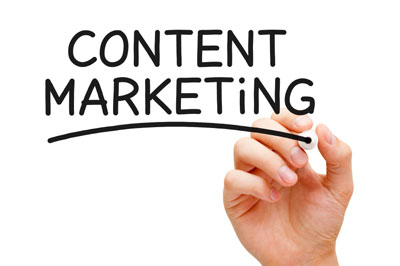 If the term 'content marketing' is unfamiliar to you, it is a matter of huge surprise. If you analyze the history of online marketing, you will find out that content marketing is nothing new. It is utilizing 'content' for promotion activities.
In fact, content marketing and SEO has always been an indistinguishable part of the online industry. And it will remain like that for years to come. However, the approach and techniques have changed. The subtle change in Google's approach asks for transformation from 'content' to 'great content'. Obviously, it started a sharp demand for specific and elite skill sets.
In a nutshell, the content-driven promotion has shifted its focus from Google to readers. However, in the process, numerous businesses suffered a setback.
Anyway, Google is far from being satisfied. So, this domain will remain volatile for years to come.
Is the Hype Justified?
To some extent, it is justified. People love to read, and Google wants them to spend more time on the internet. The search mogul's intention is pretty clear, and it is openly rewarding sites with maximum content. In a nutshell, there is a direct correlation between the total numbers of pages and incoming traffic.
The buzz around content marketing is not going away anytime soon. Let's see some facts to test this hype.
Case I:
More Pages Equal More Traffic: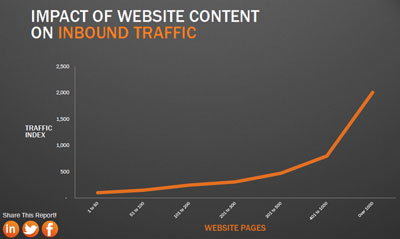 The sites with 1-50 pages receive the minimum web traffic. Then, there is a steady and uninspiring growth up to 300 web pages. The first noticeable escalation comes when the mark touches 500+ pages. The maximum growth goes to 1000+ pages.
Case II:
Increase in Content Generates More Leads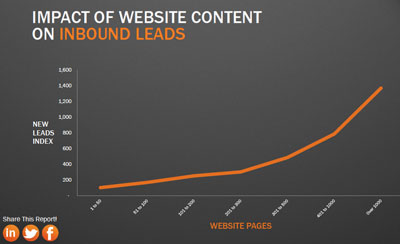 Increasing density of content also leaves a positive impact on lead generation. The growth picks up pace when the bar hits 300 pages. The websites with 1000+ pages get maximum leads. In a nutshell, building a strong repository of content is essential for your online business.
Case III:
Impact of Landing Page: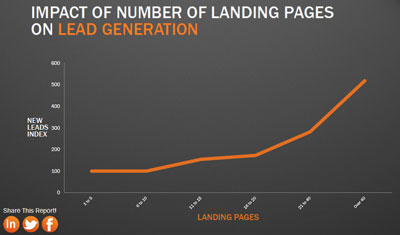 Building up landing pages also influences prospects of getting leads. In a nutshell, content on landing pages are your precious assets. Businesses with landing pages anywhere between 1 and 20 see disappointing growth in leads. However, the moment the tally surpasses 20+ marks, lead generations shoots up. Another wave of growth happens for sites with 40+ landing pages.
Case IV:
Impact of Blogging on Traffic: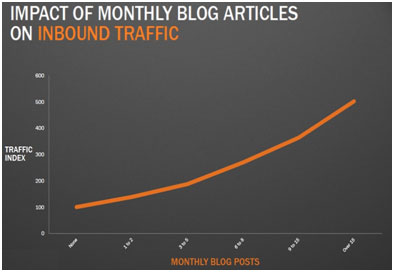 When it comes to blogging, frequency does matter. The growth is fairly steady. The message is clear: More blogs will generate increased visits to your site.
Case V:
Blogs Influence Leads: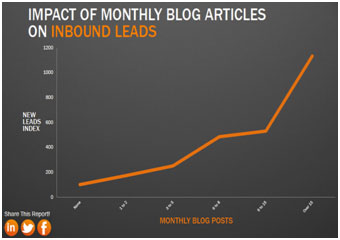 Although a time-consuming process, blogging establishes trust between blogger and readers. Sites that augment their frequency from 3 to 15 roughly double their prospects of getting leads. The steepest growth comes from posting 15+ blogs every month.
How to Taste Success in Content Marketing?
Content marketing is clearly a different game now. In addition, new players enter the domain every single day. Here, I've discussed some tricks to formulate a successful content marketing campaign. Have a look:
Trick 1: Identify Your Purpose:
In my view, content marketing without a purpose is definite to fail. Without passion and purpose, your blog post will look soulless. Anyway, a bland accumulation of words is nothing more than a waste of resources.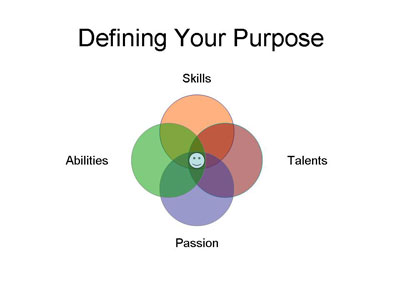 So, should you just stop there? The answer is a resonating no. To get a meaningful purpose, you need to consider these questions:
How content marketing complements your broad promotional philosophy?
Do you have the expertise to write on a topic?
How it will drive leads?
Finally, what you can offer to readers?
I know that this 'purpose' conversation seems useless. However, these questions are essential to give your content the right start.
Trick 2: Use stories:
People love to hear about other people's experiences. It is one of the most effective ways to keep readers engaged. It also evokes a powerful response from your readers. I know that setting up a relevant story is a difficult task, but you should try to incorporate this aspect into your blog.
Trick 3: Have a Consistent Message:
It is wisely said that selling starts with the message. In a similar fashion, content is hopeless without a concrete message. Don't leave your readers confused, or they'll never come back.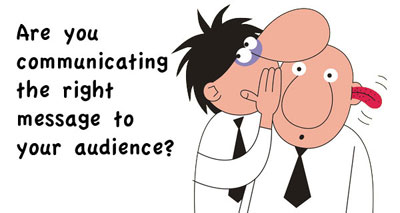 Ideally, you should stick to a single topic, and NEVER rush to publish a post. Sadly, most bloggers write just for the sake of pleasing Google. It is similar to shouting 'Hey! I am writing! So, give us traffic''. Mark my words, it will never work. In fact, it will dilute your complete reputation.
I know you must be feeling confused. So, let's take an example. A blogger is writing on 'Tips to choose the best interior decorator service.' Here, the mission is to help users pick the right interior decorator. So, the entire content should revolve around it. Talking about anything else will only baffle readers.
Trick 4: Stimulate Emotions in Reader's Heart:
Okay, I know this may sound a bit immoral. But, playing with user's information can make your content from 'useful' to 'unforgettable'. I appreciate the fact that your blog is brimmed with colossal information, and readers appreciate your efforts.
But, you need to move your reader. And arousing their emotions is the only way to achieve this.
The most shared content on the internet always has some emotional value attached to them. So, it makes sense to look beyond the 'useful' provision. I am not asking you to churn out a tear-jerker. But, spend time and efforts to discover what excites your audience.
This strategy will also get you some baffled readers. As long as the right people appreciate you, there is no need to worry at all!
Trick 5: Find Out the Needs of Your Audience:
Content marketing is just like show business. If people don't like it, you're dead. Extensive research is essential to know your reader's needs and aspirations.

I've always believed that blogging is always about what people want. Bloggers should learn how to attract them, please them and retain them. So, when start talking or writing, think about the needs of readers.
Once you know their needs, you can offer the right solutions. And when you provide solutions, they'll trust your knowledge. In the end, it will benefit your business.
Trick 6: Consistency is Necessary:
Your blog should show some sign of life. So, fresh content is essential to keep Google interested. I know that compelling takes time to materialize. But, there is no escaping the harsh realities of the online landscape.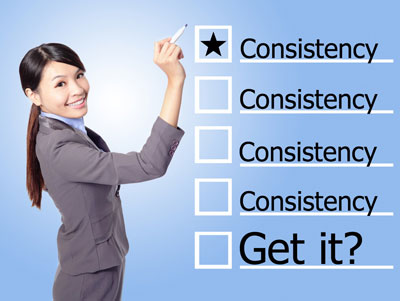 Consistency counts for retaining the reader's loyalty. I personally prefer sites with regular updates. To come up with new ideas, brainstorming and research help a lot. Don't shy away from getting inspiration from other blogs in your domain. In this manner, you will get new blog ideas for your content marketing campaign.
Trick 7: Employ Images to Tell Your Story:
A picture says a thousand words. So, combining them with real words is definite to spell magic on your readers. I know that it is quite tempting to pick random images from Google and other image-sharing sites, but I am a firm believer in originality.
If your site possesses custom-made images, Google will develop an inclination for you. To tell you the truth, the results are not dramatic. But, even trivial things count in our profession.
I am no expert in graphic designing. So, I recommend taking help from professional services. It doesn't cost much, so it will not trouble your marketing budget.
Trick 8: Pay Attention to Keywords:
Every marketer in the marketing business knows about keywords. But, they don't know the right methods to use them wisely. Keyword research in content marketing is a complicated term. Here are some tips to learn the right methods:
Never indulge in keyword stuffing. Google likes to kill such sites with penalty.
Generic keywords are difficult to tame. So, focus on something different.
Amusingly, many naïve marketers forget or dismiss keywords. They are definite to be doomed.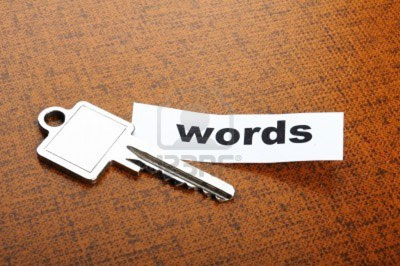 Trick 9: Walk the Diversification Route:
The definition of content surpasses even your wildest imagination. It comprises of eBooks, case studies, infographics, videos, tweets, interviews, etc. In a nutshell, content is way than writing a blog. Most marketing campaigns fail to happen because a diversifying approach is absent.

I am not devaluing the importance of blogs. But, I can't deny the ever-growing importance of videos and other forms of content. If you don't have an Instagram account, there is no harm in trying it out. Anyway, variety is always good for business. It will also help in the fulfilment of content marketing goals.
Trick 10: Be a Rocks Star Blogger:
There are lots of voices in the online industry. So, you NEED to be a rock star to break through the clutter and get the maximum attention. Here are some suggestions to write like a Rock star Blogger:
Passion is the driving force behind such personas. So, you should your passion.
Believe in your capabilities.
You should play the long-term game.
A rock star is never afraid of failures. Instead, he will arise more powerful and passionate.
Of course, hard work is essential.
Building relationships with your readers is also highly recommended.
Capability to experiment is also crucial.
Rock star bloggers also tend to read a lot.
A firm belief in originality is crucial.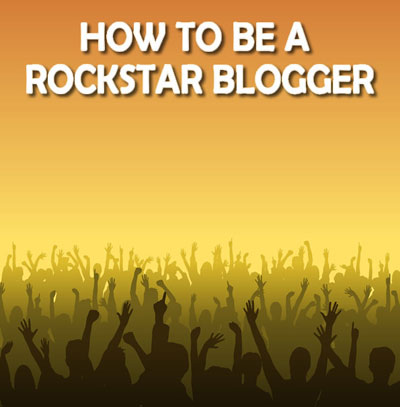 Trick 11: Include Call to Action:
There is no need to be afraid of including Call to Action. Everyone has to earn his bread and butter, including bloggers like us. If your content isn't driving conversions, something is terribly wrong. But remember that the Call to Action must not be annoying.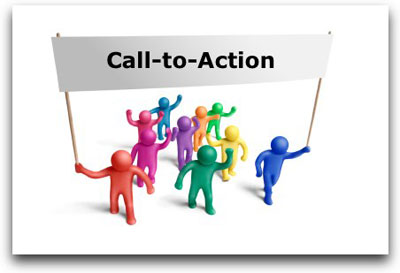 These CTA buttons could be on footer, sidebar or header. These messages should be clearly visible to your readers.
Trick 12: Little Humor Always Helps:
I am not asking you to make fun of readers. However, a little humour always helps to lighten up the situation, and uphold the reader's attention. I am a big fan of subtle sarcasm and always try to include it in my blogs.
You need to careful here, as an overly-casual attitude may cost you reader's confidence. Don't go overboard.
Trick 13: Internal Linking is Crucial:
Sadly, many search marketers forget to include an active internal linking strategy. Next time you write a piece of content, include some links to other relevant posts. Ignoring this will weaken your SEO prospects as well.
Trick 14: Develop an Easy-to-Read Content:
If you're aiming for success, you need to focus on developing easy-to-read content. Most content marketing guidelines value reader engagement, which is possible by separating the content into sub-headings.
My content always has sub-headings. This increases users average time spent on a blog post. Plus, it gives my content a clutter-free feel.
As I generally write lengthy content pieces, sub-headings are essential to make them readable. Not just for long posts, sub-headings are useful in almost every scenario.
Trick 15: Learn from Your Mistakes:
No one is born perfect. You also need to evaluate your performance. If you're making some mistakes, don't get disheartened. Learn from it and move on.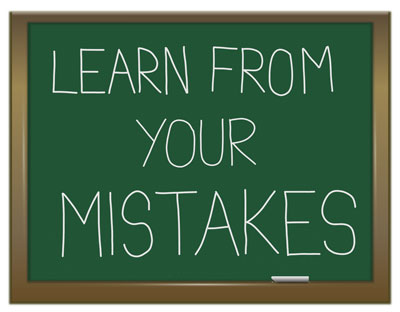 In my view, you can't avoid failures in your professional life. In the online market, you are more likely to face roadblocks than in other industries. So, it's better to adopt a 'Never Give UP' attitude.
Trick 16: Create Attractive Headlines:
Most search marketers tend to emphasize only on the quality of content. In the process, they forget about another important aspect, the headlines. If your headline sucks, no one will click on the link.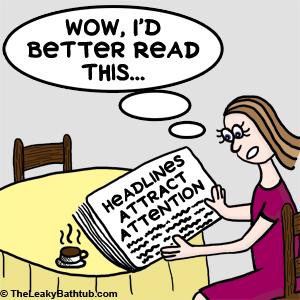 A compelling headline could help even an average post, and a mediocre one could ruin even the best content pieces out there. Generally, you should try to include one or two keywords in the title.
Trick 17: Promote, Promote and Promote:
I have always believed that content is social in nature. So, you should encourage your readers to share your content. The more shares, the better! In addition, you should undertake every possible promotional tactic out there.
I am a big fan of social networks. I also believe that content marketing and social media are inseparable.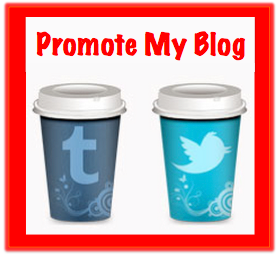 Here, the key is to be desperate. No, I am not joking. Your high-quality content without the right promotion is hopeless. Even before you publish a post, a promotion strategy should be in place.
Conclusion:
If you consider the benefits of content marketing, it makes sense to invest time and efforts in this practice. As SEO gets synonymous with content marketing, you need to learn the right methods. If you have suggestions, use the comments section given below.
Jaspreet Singh is the Founder of SEO Corporation, a Search Engine Optimization Company based in New Delhi, serving clients across every continent in world except Antarctica. If you looking for link building suggestions, feel free to drop a mail to him.