Content marketing is not a new concept anymore. The term has really come a long way to take the face it has today. Originated back in the 19th century it was done only in the form of print media, but over the time has taken the shape of digital web content you see today on
Content marketing is not a new concept anymore. The term has really come a long way to take the face it has today. Originated back in the 19th century it was done only in the form of print media, but over the time has taken the shape of digital web content you see today on the web.
Due to changing customer expectations and competition getting tougher and harder each passing day the terms like SEO came into being. SEO or search engine optimization enables improving the visibility and enhancing search results of a website on various search engines.
SEO is one of the strategies through which content marketing is done and there are plenty other ways of doing it.
Due to increasing number of platforms to show web presence frequently the modes of doing content marketing are also rising, improving the chances of the webmasters to leave their mark on the web.
In simple terms through content marketing, quality and content having substance is shared liberally and freely on the web with the aim attracting more and more customers and making the prospective ones into committed ones. The content being shared is more or less in relation with your offerings.
There are ways of promoting business, the philanthropic and Corporate Social Responsibility way too where brand leaders reflect their thoughtfulness towards their customers in order to gain their trust and support.
The ultimate purpose is educating the customer base and stakeholders of your business in order to let them know about the purpose of your existence and why they should choose you to do business with.
Purpose of content marketing

To understand why your business and brand needs content marketing, know that people like to know more about product or service related information rather than seeing ads of them. Major purchasing decisions are made upon the facts related to the products or service they are going to associate with.
The importance social media has in terms of promoting word of mouth. Social media not only acts as a great platform of promoting your business or brand directly or increasing the traffic of your website, it also acts a fire in the woods medium for spreading word of mouth. Share an interesting fact or information about your brand that will appeal the target audience and you will be all over the web within no time. That is the power of social media.
Quality and sensibility of your content can improve the way Google ranks website on the web which will be solely responsible for how quick you will be found out on the web by the customers looking for the product or service you provide.
Advertising is not as magical as good content is, on the web. Advertising solely will not suffice online to promote your brand and business as such that people will put their trust in its name but high quality and informative content will definitely do that for you.
Being practiced by end number of fortune listed companies, with all their might and excellence, they claim it holds a great share in their success. Content marketing is included in their marketing strategy because it's really fruitful.
In return of the valuable information the brand leaders provide to their customers they receive their loyalty towards them which makes content marketing a very wise investment.
The correct way to do content marketing comes out as a procedure. The procedure is not hard and fast, but it's set chronologically. It goes in the following manner.
Designing and developing the content marketing plan: The first step is to design and develop a plan of the content and decide on its format. The most important tip with this step is to mention the core competencies and strategic advantages of your business. Your audiences will find it appealing.
Deciding on your target audience: Second step involves deciding on the audience. Choosing the target audience is very important because it will save you from running in circles and because you have already classified them you'll know just the right message you need to convey to them. Do not just focus on the customers here. There are lot of other people that have a stake in your business- employees, shareholders, credit providers and ignoring them will definitely cost you heavily.
Conveying mission and vision: Telling your story always helps in order to get interest and attention of your customers and prospects, because they relate themselves with it. Describing your vision and mission statements and telling your customers and prospects the purpose of your existence makes them feel important because it's all related in serving them.
Deciding on the right channels of content marketing: Holding up to a single channel for the purpose of doing content marketing is a foolish thing to do because every channel has its own benefits and perks avoiding which you are going to miss out on a lot of opportunities. If we take example of social media, trends and fads come and go there, plus you don't own it so you definitely will need other platforms to keep up with your content marketing efforts. In this phase of content marketing strategy you will be scanning all the alternatives available, deciding on their pros and cons, looking for ways to derive maximum benefit from each one of them and also deciding on the very important factor of cost effectiveness and budgeting as well.
Organizing the process in order: Among the good old famous principles of management given by Henry Fayol 'Order' holds an important place. Order means organizing everything at the right place. Assigning the right roles and responsibilities to the right people for your content marketing operations, giving guidelines to follow for bringing out the vision as it is to the reality, deadlines etc and all of this in an organized manner.
Make your content a bridge of communication: Once you have got all things at the right places and have the correct manpower to generate high quality content its time you communicate with your audiences and don't just blabber about your own self and make it one sided only. The golden rule of communication is listening, not hearing but listening. Listening makes your audiences feel you care enough for them and their opinions. Framing a high quality content won't suffice until and unless you convert it to communication with your prospective and existing customers.
Evaluating your content marketing strategy success and controlling: Controlling is something that is done in almost all the phases of a process. While you initiate a the plan you have to keep in check the resources and eliminate errors from the first stage of planning and after you implement the content marketing strategy practically you measure and evaluate the result in contrast of how it was expected to come out. Comparison of what is going right and what is not? Intensity of the errors and deciding on which of them action is supposed to be taken. This phase decides on action to be taken on damage control of on the flaws of your content marketing.
Let's talk in numbers the relevance of content for B2B transactions
Do you know that almost eighty percent of the business decisions are made not on the advertisement of a brand but on how the information about it is articulated in the form of content articles and blogs by the brand leaders?
Almost seventy percent of the clients believe that the content marketing done by their sponsors is responsible for making them close their sponsors.
Sixty percent of the business customers believe that good content provided by companies facilitates and eases their decision making ability for products.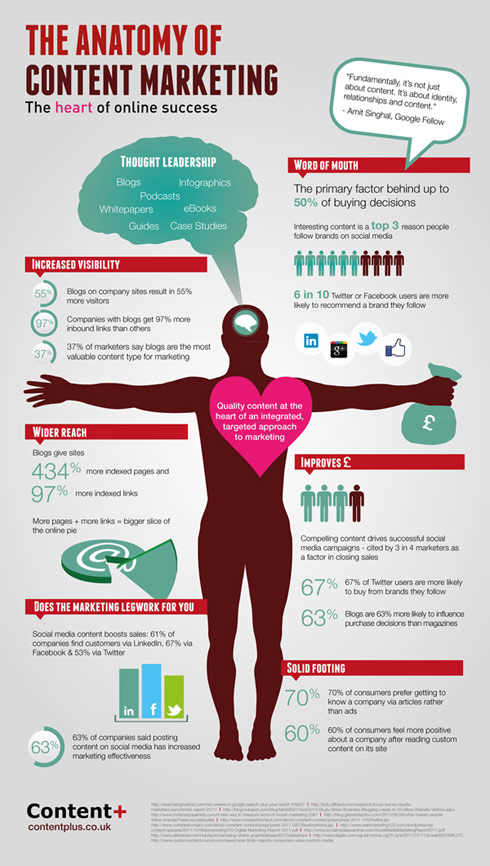 Forms of content marketing

Social Media platform: The platform offers great degree of exposure to your business and brand. Massive connections help you get the benefit of reaching door to door to every customer without meeting them in physical spaces. Shaking hand with each one of your clients is made possible through the brilliant platform called social media.
Search Engine Optimization: Better ranking and rewards are given to websites when they publish high quality content and keep up with the standards. It's a whole process and is a very important component of content marketing.
Public relations: PR strategies are used for targeting the spread of information from an organization or an individual to the public. Point of views and opinions are set and changed as well with the help of adopting the right PR strategies. PR strategies incorporate content marketing to a great extent. For the purpose communication with the stakeholders PR strategies are used for the purpose of doing content marketing and high quality and wisely written content is required for its success.
Pay per click: Pay per click is the amount of money businesses pay to website owners to get their advertisements clicked on their websites. How would you attract the customer for getting him to click the advertisement to see it? It's done with the help of developing high quality and intelligent content.
Inbound marketing of your business: Blogs, articles, white papers, e-books etc are the sources of inbound marketing and without adding high quality content in them, inbound marketing is impossible.
What's hot in Content marketing this year and how businesses must keep up with it?
The fad of social media will wear out
First thing that's needed to be made very clear in the minds of all the webmasters is that albeit content is the ruler for successful content marketing, it must not be confused with a large quantity of meaningless content scattered everywhere.
Quality is the first priority for your website to execute a successful content marketing plan. There is another element holding place as important as quality of the content and that's the parameters by which you measure whether the quality of content you produce is actually being liked by your audiences or not.
The reality is, not many businesses are actually doing it, because a chunk of the share almost prefers to trust social media the most as their platform for doing content marketing and researches depict, businesses making social media their platform do not measure the ROI on it, which is foolish and it will change in the time about to come.
As per a survey conducted out of 50% companies that claimed to have a content marketing strategy only 25% measured the success of it.
The days of social media are going to wear out very soon, because it's something that's not adding up to anything that customer's value. Does sharing post leaves a long lasting impact on the mind of a customer or do they simply share it and forget it? I feel latter holds more reality.
Platforms like white papers, case studies and if it's cost effective to companies they might go for choosing branded tools for marketing their content in the time to come.
The time is not very far when businesses will realise not measuring the ROI on their efforts of marketing on social media as non feasible and better tools to measure the success of a the separate pieces of content. I feel it's an eye opener for all the webmasters that its time-

To look out and be prepared for more serious ways of marketing and adding more substance to it, because consumer of today is as aware as he should be and wants correct and quality information.
To look for the correct tools on measuring the ROI of your content marketing efforts. Looking at the advancements very soon there will be time that the evaluation will be done in better ways than measuring the clicks and likes.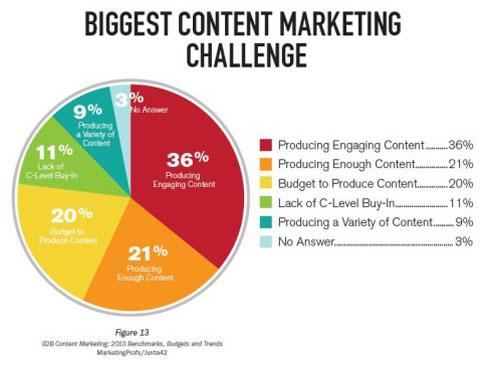 More emphasis will be laid on making conversions rather than simply attracting traffic
This statement doesn't mean that the focus on driving traffic will diminish, nor will it lessen but as the trends are telling there will be a shift towards making conversions of the prospects to dedicated and loyal customers. Driving traffic helps in improving the website traffic but conversions help in making money and business development.
The idea will be wholeheartedly followed by the websites that are staggering to survive in the competition.

For starters measuring success is imperative for the purpose of analyzing the potential of converting the prospective customers into the dedicated ones, so businesses are advised to keep a track of the potential customers that might get attracted towards the brand impressed by its content.
Doing segmentation of the metrics that will judge what matters for specific industry or area is significant. It can be anything- Amount of downloads or the volume of the order placed etc. The success in the way of conversions can be measured even as a combination of one or more metrics. So, the time that's approaching calls for attention in the direction of nitty-gritty of conversions of prospective customers of your company through content marketing. It doesn't just rest on driving traffic to the websites anymore.
A shift in terms of genre of content is sighted
As of now the focus to the greatest extent is on the generating content on the latest industry trends prevailing and topics like profile of the leaders, company offerings, its vision and mission, buying cycle phase etc are lagging behind the content coverage of industry trends.
Industry trends mostly focus on covering breaking news, launching of latest software and expert opinions on them etc.
Almost 65% of the generated content focus on the latest happening and current affairs and rest on talking about the company itself. But will this work in the long run? As I have mentioned before multiple times- "Consumers and audiences are smart and aware! "
They are well aware of their rights and you can't fool them with gimmicks. All these subjects that businesses are dedicating their content to, do not mention customers or prospects at all and this is going to change very soon because customers are realizing that this isn't giving any value to them.
Many experts on content marketing and I personally believe that its time that customers will make the businesses accountable for not focusing on their needs, not reading their minds and giving solution of the questions that are unasked but obvious.
The content that is being generated by businesses today is running in circles, because it doesn't clarify the reason of consumption of this content by the B2C and B2B customers and prospects.
Here a few examples on what steps webmasters must take to deal with this situation:

Do not just give your readers news on current happenings rather advise them how to make the best use of it, give them tips on adapting the changes for the 'good' of their business. The purpose of generating content on latest industry trends must not be self blabbering rather reflecting corporate social responsibility towards your audiences.
Share the profiles of the leaders and decision makers of your entity, narrate the winning stories and how you have satisfied your customers in past? Help your readers get success in their businesses through in depth and well arranged case studies and of which the results can be evaluated.
Don't give the customers your description in the form of characteristics in your content, rather ask their suggestions and opinions and also view points on what they expect from the offerings offered by you to them. Not only focus must be paid on conversions, up to the mark satisfaction of their individual needs must be paid heed upon as well.
It's good to track footsteps of your competitors but do not make the mistake of moving like a sheep in the herd. If you want to stand out in the crowd of competitors in the coming time needs you to conduct your own research and analyses it and follow its results rather than feeding on your competitors results, which might be misleading at times.
Some briefing in the end on the secret formula

Create your very own and original case studies. It will help you gain back links as well as well as will help you move towards becoming a renowned figure in the industry.
Organize a live event in the form of a conference or exhibition. It will reflect your thoughtfulness and act as a platform for sharing and learning brilliant ideas.
Do not forget to measure the ROI of your content marketing efforts. Not only you need to calculate the impact of numbers, but also the after effects in the forms of changes occurred post your content marketing efforts.
Share content for the consumer. The ultimate purpose of marketing is not to flaunt your business, but making customers the center of attention and acting on serving them by knowing what they expect, delivering the same. So frame the content keeping in mind your customers. They will pay attention to you, when they relate with it and feel important.
In this blog I have tried to incorporate not only what has been conventionally going on in the content marketing industry but also how the face of it is changing and how to adapt these changes.
In the hope that the measures I have given come out to be helpful to my readers I hereby conclude this one. Take care, stay alert and keep working hard.
Want to read more about content marketing. Check out The Ultimate Guide on Content Marketing . In, case looking  for content marketing company or content marketing services then click here.