What is Google Hummingbird Update The new bird in the flock of Google Algorithm is the Hummingbird. Launched last year on August 30th and its existence being announced a month later, Google hummingbird is another effort of Google engineers to upgrade and maintain the quality of Google search. It is one of the Google algorithms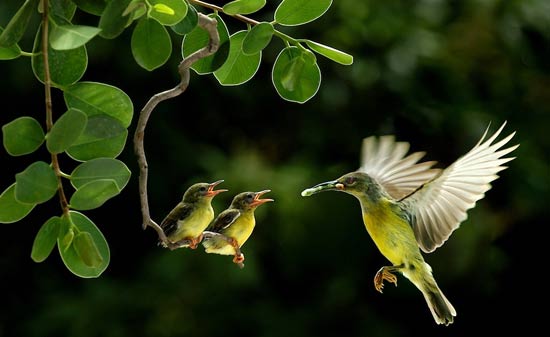 What is Google Hummingbird Update
The new bird in the flock of Google Algorithm is the Hummingbird. Launched last year on August 30th and its existence being announced a month later, Google hummingbird is another effort of Google engineers to upgrade and maintain the quality of Google search.
It is one of the Google algorithms aiming to make Google search more interactive and quick for the users. Has it changed anything? Well, not much really. Just raised the bar a little higher, but the websites already providing readers high-quality content having substance and making sense won't even sense the difference with the update.
As a matter of fact, it will help you upgrade the rank of your website, given that relevant websites are connected to it. The after-effects of the update will be almost similar to what Panda or Penguin might have left. Hummingbird so far doesn't give any big alarming signal.
Just in case Panda and Penguin have already given you a hard time I won't be surprised to know that you are not looking at hummingbird with high spirits and I won't blame you for feeling so, as the fear comes out naturally. In my opinion, it is just a pre-conceived notion that Algorithm updates are negative for your website ranking or traffic.
As long as you know how to do your work and you are executing it with excellence, not only you need be confident that no harm can be done by them but also know that these updates will make you stand out among your competitors and save you from the reckless competition.
If your competitors are using black hat SEO tactics or spam to fool the readers and Google just to attract traffic, the end of their days isn't very far. Long story short, you are responsible for the result of these updates on your website- negative or positive.
Right from the beginning, frame your content for the readers and not for the search engines. Practice and follow the Google webmasters guidelines as your bible for your SEO. Give quality and you will be rewarded, results of the contrary will be severe.
The following facts remain the same:

High quality and original content is unbeatable
Back links gained by using the legit SEO techniques have the same relevance.
Stuffing and shoving keywords will not take you anywhere.
Google researches and monitors all the SEO operations and because it has ingenious manpower, they keep on coming up with better ways and means to maintain its search quality. With hummingbird, it is doing the same. The competency of this algorithm is how it intelligently interprets what the user is researching through Google to bring out quicker and easier search experience for the user.
How SEO changed after hummingbird update and what do you need to do about your SEO techniques in 2014
It is a step ahead
Hummingbird incorporates the sophisticated features of Panda and Penguin together along with the new features it comes with. The sophisticated technology incorporated by Google deals with the search engine queries in a totally different manner which is better and faster. Hummingbird, the name is inspired by the accuracy and speed of the bird.
It's another feather in the cap of Google's achievement because it transforms the query in terms of context and not just gives the users' search results meaninglessly for plain words. It's not right to compare the algorithms because each of them has different criteria for maintaining quality but by far it's the smartest.
Are the days of specific keywords over?
Because hummingbird will transform each query in terms of context so it's obvious it will give better results for long-tailed keywords. Any form of a question the user asks from Google, a hummingbird will understand its sense and its context by making use of the long-tailed keywords rather than the particular keywords. This update targets to answer the question directly by understanding its purpose, so it brings long-tailed keywords in vogue.
Ultimate purpose behind hummingbird

Google has to stay alert and updated for giving users better experience than before, so another algorithm with better features had to be launched anyhow.
Google had to launch hummingbird because of the promise it already made to its users that it will answer their questions. The problem was Google search results were in the form of keywords and users were asking questions. So need of a mechanism that understood the context of keywords was required.
Navigation, GPS etc requires very accurate results, so Google had to meet up these expectations that it promised.
So the result aren't just a mere guess work of Google based on the understanding of keywords, it is way more than that, its comprehension of the questions and provision of an accurate answer which is commendable.
What's the baggage with hummingbird?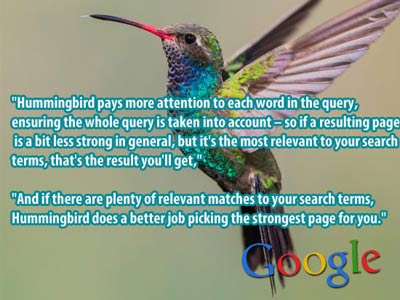 Pros and cons are attached with everything and hummingbird being a Google algorithm also comes with its baggage which might hurt your SEO operations.

Searchers are told by Google which site to choose: This can be a tragedy to you because the ingenious hummingbird will inform the users making research automatically where will they find the best solution to their problem. The users won't feel the need to browse multiple solutions then. This reduces the chances of the website owners to compete in terms of quality content because the users will definitely trust Google judgment of best solution making less probability for traffic diversion.
Traffic information card: It is a pain in neck. Google uses TIC from its knowledge graph and accordingly displays the results for the queries. It's a great feature but just in the case, you are the person making that search. But as you are a website owner, this will worsen the situation for you because Google here is indicating very loud and clear that it is not under any form of debt of yours. Furthermore, website owners are accountable to answer the effect of TIC on the CRO and CTR in case it spreads.
Mission and vision- Hummingbird is for the people
Google hummingbird like all other Google algorithms is for the people. This one is specifically designed for the ease, comfort and saving the time of the researchers. Improved ranking and segregation from the lower quality websites is a perk, but the competition becomes meaningless when we have to compete with Google- The big daddy! Following good quality content and legitimate SEO practices will help but the probability of winning competition is reduced.
Turning the tables around
As a website owner if you are feeling being threatened by the hummingbird algorithm, try to turn the tables around and make the best use of it? As you must have understood by now, long-tailed keywords will play a very important role with your SEO. The best and most cost-effective way to enhance your exposure on the web will be to focus on the content. It will take you to places.
Hummingbird is a magnet of opportunities- The significance lies in making your presence known to the search engines so that they can find you easily. This will require you to make your platform larger and for that, you will need to increase the number of entrance pages that will provide the answer of queries related to your niche. To deal with the crouching hummingbird, lots of these entrance pages containing the high-quality original content can be your solace. How? Let's see-
i.  Larger the number of pages with original content, larger will be the opportunities to resolve the search engine enquiries.
ii.  It will offer a very broad subject matter coverage arena for your skill
iii. It will give you the chance to incorporate more long-tailed keywords in the content.
iv.  Videos are attractive and easy media for the people looking for links that answer their questions.
v.  Use of infographics looks very attractive and it creatively provides the answer to the search engine enquiries.
vi. Use of media and websites providing news will help you generate stories on the burning topics of the hour.
Get attention and exposure using hummingbird- It's a good omen especially, for small websites because if your website can answer the question demanded by the researchers looking for solution Google will rank you well and will recommend you. It is a win-win option, be as creative and as bold as you can in building the entrance pages and embrace the success it will bring along.
Answer more and more questions- The best strategy for SEO is to answer more and more questions and for that, you can use blogs and increased number of entrance pages. The good old technique of using keywords is long gone by secure search and timely updates of Google algorithms, so you have to work hard and provide the researchers answer to their questions whichever way feasible.
The to-do list
Decisions made in haste often leave us with regrets. It's a reflex action to become paranoid and assault the existing content on the website in case an update hits it, but it is not a wise thing to do. There might be a chance that doing this might worsen the situation of your website. Here are a few steps you must take:
Blogs are a lifesaver in times like this :< /strong> Do not go back and modify the good content you already have, rather counterbalance it by adding blogs to your website. The blogs can be the 'How to' ones. Apart from blogs, adding good quality interesting articles can also help you. Screaming for attention by making big changes will only lead you to disaster. Small tweaking without making it prominent would suffice.
Make your presence felt on Google+: Google+ is one of Google's favourite babies and you must make links in terms of your website, blog and articles to your Google+ account, this is how you will be assigning your authorship to the content of your website.
Inform your circles: Google plus is a social media platform and everyone is present on it. A click is all that's needed to make people in your work circle know what you are up to. Take full advantage of the Google authorship option.
The not to do list
Do not act over smart and make a dumb move in return of the Google Roll Out. Google is every master's bid daddy and if you think you can fool it, you are making a fool out of yourselves. It is not possible that Google launches an algorithm and let the webmasters take advantage of it by using gimmicks. There is always a mechanism to deal with such over smart moves of the webmaster trying to take advantage of Google. Do not use a shallow strategy ever to deal with any Google algorithm.
No link building service can help you the way you can help yourself with the 'How to' links. The substance lacking tactics of link building by the service agencies will be noticed by Google at once and you will be paying for it, big time! "Content marketing" should be the Guru Mantra you must chant in times like these. Keep it simple silly! Come out as naturally and as creatively as you can and keep your focus on coming out with good content marketing strategies.
Take the legit advantage of Google's free services. Google's free services will help in improving the quality of your website. Examples are immense-
i. Use youtube for making the presence of your business known on the Hummingbird map which is people's favourite for learning instructions and getting answers for questions.
ii. Post the interviews with experts in your field. They obviously will be in the Q & A format which will make the task easier for you.
Some other ways for SEO in 2014 keeping in mind Hummingbird update

i. Incorporation of FAQ section
ii. Q & A section in the blogs
iii. Incorporation the 'How to' articles and blogs
iv. Posting researches
v. Debates related to your niche
vi. Post your expert comment and views
vii. Posts resolving- Why, when and what questions.
I have tried to incorporate the key points related to SEO along with hummingbird in the blog and I hope they will come out to be helpful to all the webmasters.