Google launched the improved version of its URL removal tool for third party content. Google had URL removal tool for long but this improved version is a lot smarter than its previous version.This URL removal tool checks the Url that you submit and informs you the option you have.
If you want to remove some URL from Google search engine database, then you can acces the tool by clicking :
https://www.google.com/webmasters/tools/removals?pli=1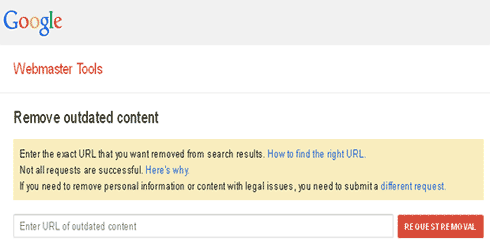 Enter the URL in the box shown above and the tool will guide you the right options.
What is the purpose of this updated tool:
There are trillions of webpages in Google index and some times some pages go dead or site goes down but Google is unaware of the changes. It is useful for Google ( for its relevancy) as well for users to update it immediately. This URL removal tool will make it easier to request updates.
The advantage of this tool is that you can request removal or updation of content on others site. In case you want some portion of content of your website to be removed then use this tool. This tool will allow you to remove an entire page , remove the cached version of the page, remove a directory or your entire site or remove an image.
How to request removal of content from Third Party Sites:
If the page has been removed completely then request for removal just involves following step:
Step 1: Enter the URL in exact indexed URL in the tool. If the content has already gone, the tool will confirm it and ask for your confirmation. You just need to confirm it.
How to request a page's cache & snippet be removed from search results
For this step you need at-least one word which was on the page previously and which has been removed then only you can request it.
1. Enter the URL of the page which has changed. This needs to be the exact URL as indexed in our search results. Here's how to find the URL.
2. Confirm that the page has been updated or removed, and confirm that the cache & snippet are outdated (do not match the current content).
3. Now, enter a word that no longer appears on the live page, but which is still visible in the cache or snippet. See our previous blog post on removals for more details.