As an SEO marketer, there's no denying that you're a natural multi-tasker. But constantly posting to multiple social media accounts while tracking the progress of various projects and responding to a full inbox can really impede your day's mental flow. And that's why project management tools, which automate you're daily processed for streamlined efficiency, are
As an SEO marketer, there's no denying that you're a natural multi-tasker. But constantly posting to multiple social media accounts while tracking the progress of various projects and responding to a full inbox can really impede your day's mental flow. And that's why project management tools, which automate you're daily processed for streamlined efficiency, are a godsend for a project juggler like you. Plus, they create more time for the big-picture creativity and strategy that's necessary for success. Here are some of the best project management tips and tools for 2018 that you'll need to know.

TIP 1: Create Customer Personas
The whole business of SEO and marketing is designed to attract people to your products and services. But in today's world, it can be easy to forget that there are real people behind those Google Analytics numbers. Before you do any keyword research, it's important that you create customer personas—or representations of your varied customers— so that you have a good idea of who exactly you're reaching out to.
This will help guide your marketing choices, from sales to product development to the way you create content and communicate with your customers—in other words, in almost all facets of your business. These visual representations will also help infuse your brand with a personalisation that can help you stand out since they'll specifically address your customers based on their needs.
For example, research might indicate that your customers over a certain age would prefer to be contacted by phone, and later in the evenings, while younger customers might prefer communication by text or email, and during the workday. Because you can use this feedback to guide the way your interactions, you'll be more appealing overall to potential buyers.
Here are some ways to create your own buyer personas:
Use web forms or integrated surveys on your site that are designed to capture important customer info and demographics like age, gender, location, desires or goals, or fears and challenges.
Take an inventory of your own contacts. Do they skew a particular way in age, sex, or location? Where did the majority of customers first find your service? Are they one-time buyers, or do they plan to use your products/services in the future?
"Take into consideration your sales team's feedback on the leads they're interacting with most. What generalizations can they make about the different types of customers you serve best?"
Ask them! You can go the old-fashioned route by interviewing buyers or prospects by phone or email, or you can ask (and pay attention) to what they're saying on social media about your products or services.
Take advantage of your site's reporting. Google Analytics will tell you how viewers found you, what keywords they used to find you, which pages they like best, and even how long they stay on certain areas of your site.
Go the simple route with buyer persona templates.
TIP 2: Smarter Keyword Research
Okay, we hear you. You're a professional marketer, so of course, you already know how important keyword research is to any SEO campaign. After all, the data it provides serves as the very lifeline to connect you with the people who are doing the searching. But it's not just any old keyword research that matters. A common mistake of rookie SEO marketers is to a) optimize for too many keywords, or "keyword stuff", which is a shady technique and can have negative consequences for your site or b) optimize for the wrong keywords.
For a healthy balance: set a goal of a few targeted keywords per page. This will increase your chances of success if one of the keywords has a high competition rate, but it'll also ensure that you don't use too many and, therefore, get penalized.
For the "right" keywords to target: you'll need to be smart and strategic about your optimization. Rather than relying solely on your metrics tools, you should trust your own instinct and intelligence. After all, the keywords you'll see suggested by Google KWP or SEMRush (or your keyword research tool of choice) will show you only the words that are very closely related to what you entered. This limits which searchers will find you, not only because you'll have less variation, but also because you'll have more competition when ranking for the most popular searches with more well-known sites.
You can find other terms and phrases that are less competitive yet still valuable by focusing on niche topics—a broad topic that opens up new directions and variations for the keywords you choose. For example, if your service is selling nutritional pre-packaged meals, SEMRush (or whichever tool you use) might suggest "nutritious meals" or "nutritional meals cost". But what about all the people who are searching for your exact service, yet using completely different words? You'll miss out on a huge percentage of search volume to synonymous searches like "healthy dinners to go" or "vegan frozen lunches".
To open yourself up to a ton of new keywords, you'll need to use a little elbow grease in order to find some niche topics. You can use mind-mapping software or just stick to an excel sheet, but either way, brainstorm a list of words that are associated/synonymous to your products or service—just like with the nutritional meals example.
These can be completely new keywords you hadn't thought of, and can also include long-tail keywords. Besides an exhaustive brainstorm, you can also find these by searching for your niche topics and identifying patterns in the search results, as well as checking Google's "related searches". Once you've got your new list, check each one into GKWP, SEM Rush, SEO Clarity (or whichever tool you use to filter) by search volume, competition, etc.
It might seem like antiquated work, but brainstorming your own list is crucial for finding synonymous and relevant keywords you would've missed out on otherwise. These could even end up being your most profitable targets!

TIP 3: Be Aggressive about your competitors
It's not enough to do competitor research only in the beginning or just when you're out of ideas for a new blog post or catchy tweet. Competitor research is crucial for SEOs most of all (especially when it comes to keyword research), and it needs to be an ongoing part of your job. To simplify this task, you can create alerts that will show you a competing website's new keywords.
This is important to do because you will most likely want to target these keywords as well. You can find their content based around a particular blog post, for example, and then outrank their content with a better (more informative and optimized) post of your own. You can automate it by setting up an alert in Ahrefs, which will update you with an email breakdown of all the keywords your competitor currently ranks for.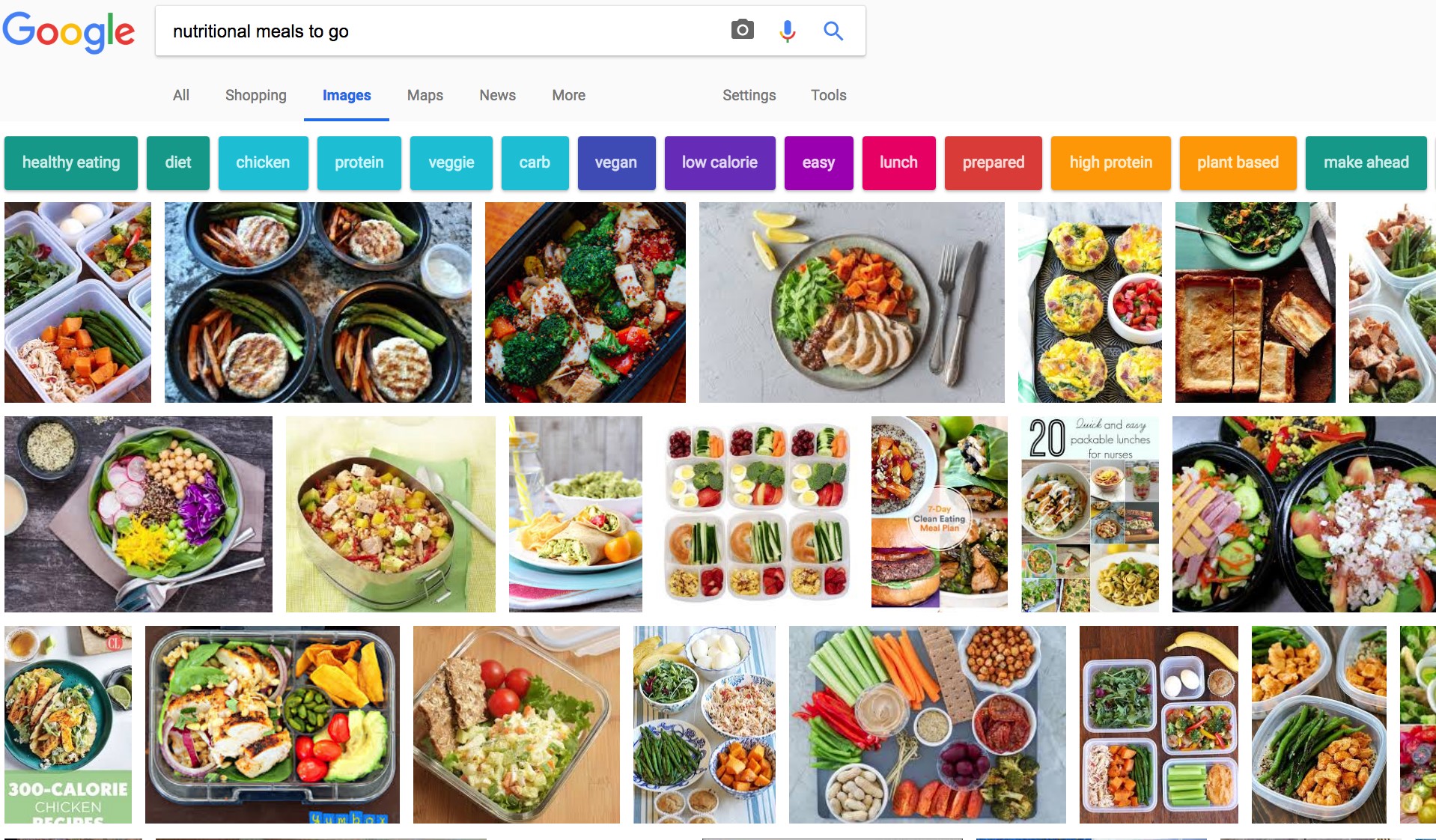 TIP 4 or 5: Optimize Your Images
The photos you use on your site aren't just to make your content extra pretty—they're also a crucial way for potential customers to find you. This is especially important if you're selling products on your site, since many buyers conduct their searches through Google images. And that's where alt tags come in.
The descriptions you give your photos aren't just there to make it easier for you to find them on your laptop; they also tell Google what is in each picture, so that Google will index them correctly and, therefore, turn up your search results for potential buyers. Add clear but descriptive captions to each of your photos, and employ keywords whenever possible.
Another step in image optimization is to compress your images. This is important because Google ranks sites based on speed, so once your images are compressed, they'll download much quicker and put you in Google's favor. Try a plugin to automatically compress your images as you upload—Imagify is a handy WordPress plug-in with that very capability, and you can even use its bulk optimization feature to handle multiple images simultaneously.
Now that you've got some best SEO strategy tips, here are some of the best marketing project management tools that will help automate your processes for a automate your busy workday.
TOOLS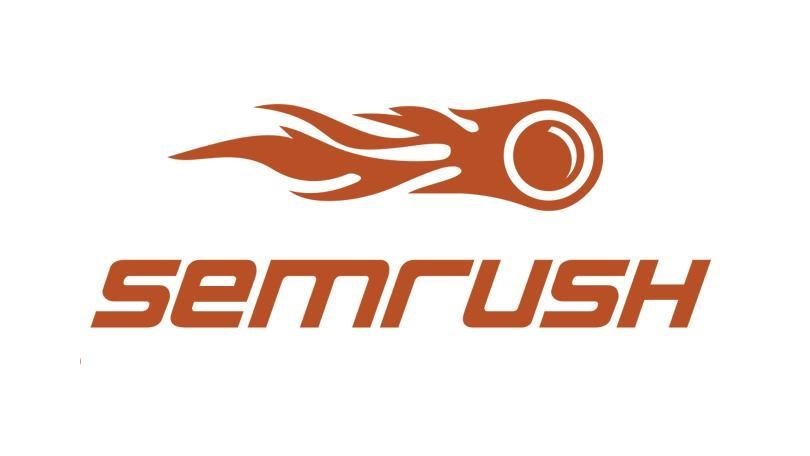 1. SEMRush
As a marketer or SEO, you know there's no shortage of tools that claim to do it all. But SEMRush is the keyword tool that lives up to its promises. First, it handles all of your keyword research, from what keywords you should try ranking for, as well as what you're already ranking for and how to improve them. Second, it tracks your competitors' keyword strategy, so that you'll know who you need to follow most closely and how you can learn from others' mistakes.
It can run a full audit on your site, finding any errors so that you can address problems before they affect your SEO. You can also discover new backlink opportunities from other sites, as well as sign up for the position tracker report, which emails you regular updates about your status compared to other sites in your industry for a simple analysis without even having to log in.
2. Trello
If it's good enough for the teams at National Geographic, Pixar, and even Google, you can be sure that Trello is the project management app to be trusted. Versatile enough to cater to almost any industry, Trello is a visual way to easily track projects of all size at every stage. It's a collaborative tool that organizes your projects by boards, and "cards" act as the smaller steps of each task, with the ability to communicate with other employees, attach images and documents and assign deadlines and updates for each.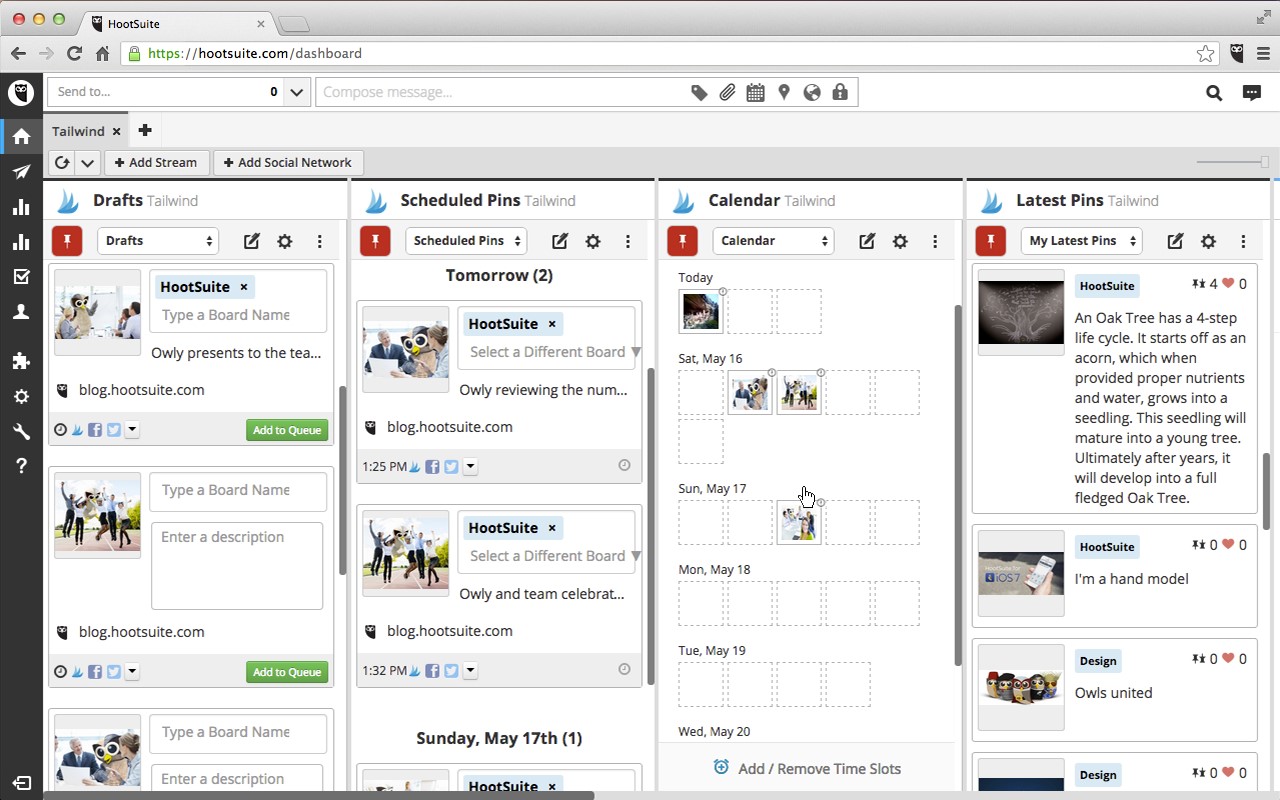 3. Hootsuite
There's no denying the importance of an updated social media presence for your site or brand, no matter your size. But keeping up with the demands of multiple accounts multiplied by frequent posts each day can be time-consuming. But with a platform like Hootsuite, you can integrate and access all of your social media accounts from one dashboard.
This makes scheduling, composing, and tracking your activity a cinch. And while there are other social media managing platforms out there, Hootsuite is the go-to for marketers and SEO-ers who love its full integration, not only with every imaginable channel, but with the different features of each—for example, the profiles pages, events, and groups for Facebook and Linkedin. It's also an industry favourite for its collaborative nature, weekly report update emails, multi-browser compatibility, and tiered subscription plans.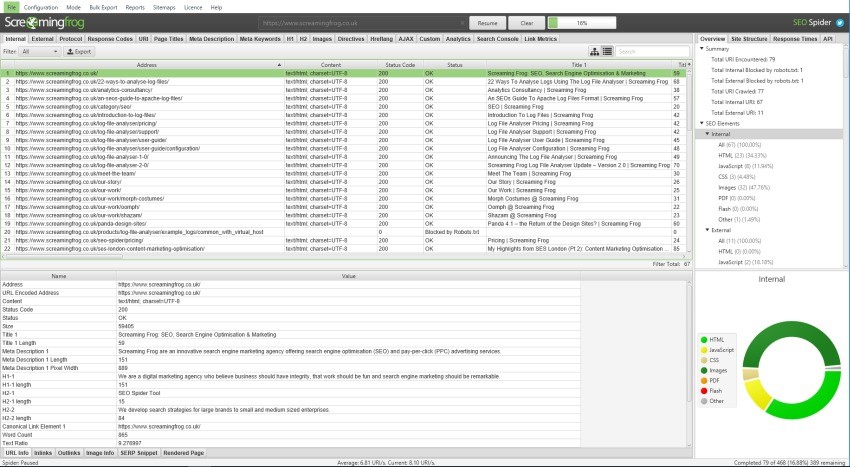 4. Screaming Frog
As an SEO, you can't go wrong with Screaming Frog as your go-to for a website crawler. This tool allows you to crawl the URLs of various sites and analyze their onsite SEO.
You can also use it to crawl your own site, similarly to how Google would, analyzing your URLs, meta description, page titles, headings, and more. You'll be able to keep track of the big-picture changes to your site after major changes in your content or algorithm updates, without needing to track each individual page manually. For improving your site's current health, as well as optimizing its future direction, you can't go wrong with Screaming Frog.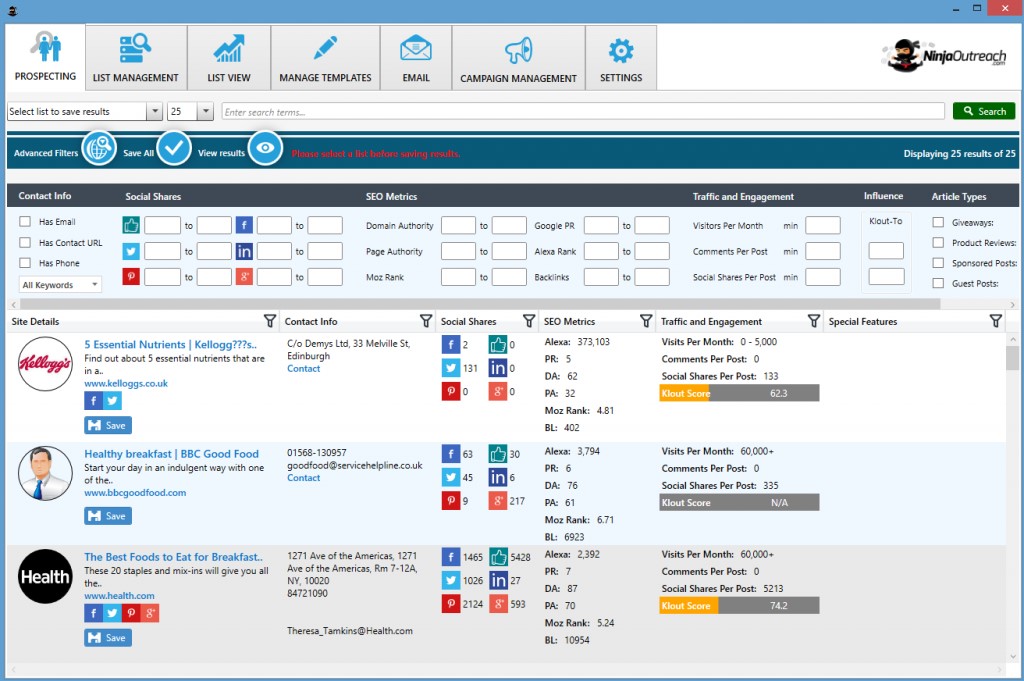 5. Ninja Outreach
Ready to make your tedious outreach campaigns a thing of the past? Ninja Outreach is a CRM that gives you easy access to bloggers and companies without needing dozens of Excel spreadsheets and various tools to keep track of your contacts and communication history. With list management organizational features and email templates, you'll be link building and generating more leads and contacts in no time.
These are just a handful of the many marketing and SEO project management tools available. Of course, to choose the tools that best suit your brand, you'll want to consider the size of your company and client base, as well as what's in your price range. Once you've found the tools that work best for you, you'll be on your way to a more streamlined business strategy and overall workday.