Handle an unlimited number of locations using Google My Business agency dashboard with just one registered account In May, Google made the announcement that they will be introducing the new Google My Business API, GMB Agency dashboard along with the agency partner program. The Google My Business Dashboard has been launched and now agencies will

Handle an unlimited number of locations using Google My Business agency dashboard with just one registered account

In May, Google made the announcement that they will be introducing the new Google My Business API, GMB Agency dashboard along with the agency partner program.
The Google My Business Dashboard has been launched and now agencies will find it very easy to manage different categories of content like posts for multiple locations, merchant descriptions at all.
But the USP is that with just one registered account on GMB, you will now be able to handle unlimited locations for a business. It allows users groups to handle internal teams and manage access to multiple locations. Moreover, users find easier product workflows to handle the listings.
This Agency Dashboard allows efficient management of the multiple listings and makes the task easier for Local Marketing Agencies and local SEOs handling the project.
You can follow this link and register here to get access and use Google My Business' new dashboard.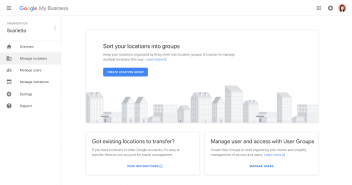 The new agency dashboard lets you:
Use one account and still handle multiple locations:

Once you register with Google following the link mentioned above, you will be able to handle unlimited locations. This sorted feature offers you organized options in one account and you will no longer be handling just 100 locations/account. This will definitely improve your performance as you won't have to switch between accounts.
Manage invitations for listings:

Using the new agency dashboard, you will be better able to handle the agency dashboard. The dashboard will let you see the invitations status in one place.
Location Groups:

You can simplify location management by containing all locations in a local group within your organization account. The location group was previously called the business account. Agencies can receive access to the customer's location by checking a location group. Even customers can send invites to the agency's location group to allow them to co-manage their listing.
User Groups:

Through user groups, agencies will be better able to handle teams and handling location groups access better.
Search:

You can also use the simple search button to look for different locations in your whole account and in a specific location group.
Once you reach the sign-up page, you will be instructed regarding how to proceed and complete the process to access all features of the agency dashboard.