AMP or Accelerated Mobile Pages is a project launched by Google in February of 2016 to rival Facebook Instant Articles. Since then, Google AMP has outlasted Facebook Instant Articles both in terms of usage and use in SEO. As the name suggests, the technology allows websites to render the mobile-ready version of their web pages.
AMP plays a role in present-day search engine optimization and is likely to stay that way in the upcoming year. But before discussing AMP's role in SEO first let's accustom with the concept of Accelerated Mobile Pages and its components first.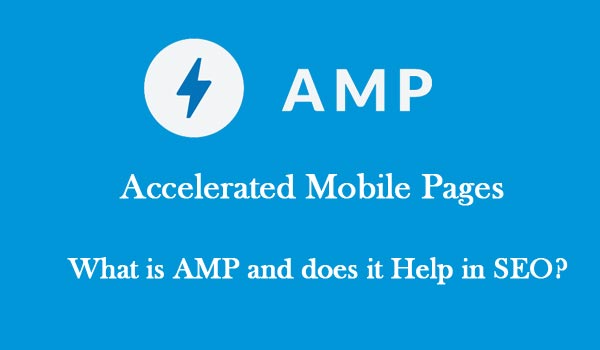 What is Accelerated Mobile Pages?
AMP allows websites to effectively cater content to mobile users. Using AMP can boost loading speeds, thus cutting on user wait time. This is important for businesses, as certain studies suggest that a webpage that fails to load within 3 seconds has a very high risk of being abandoned by visitors.
Any AMP webpage is built up of 3 main components, AMP Cache, AMP HTML, and AMP JS. Each one of them is briefed up as follows:
AMP Cache
Google AMP Cache is actually a proxy-based content delivery network meant for delivering all valid AMP documents. It fetches AMP HTML pages and caches them in order to improve page performance. The whole process is completed automatically. The document, all images, and all JS files, load from a single source when Google AMP Cache is used with HTTP 2.0. This allows for maximum efficiency.
In order to ensure that the webpage rendered by means of Google AMP to work and cut down its liability on external sources, AMP Cache comes with an inbuilt validation system. The main task of the validation system is to run a number of assertions in order to confirm that the targeted webpage's markup meets the AMP HTML specification.
AMP HTML
Typically, AMP HTML is HTML extended with custom AMP properties. Whilst most tags in an AMP HTML webpage stays intact as regular HTML tags, some of them are replaced with AMP-specified tags. The main reason behind using these custom elements, known as the AMP HTML Components, is to make the implementation of common patterns easy and effective.
Websites looking to make use of Google AMP has the flexibility to either keep only the AMPed webpages or both AMPed pages and the original web pages.
AMP JS
In order to ensure faster rendering of the webpage, AMP JS Library manages resource loading and provide custom tags in addition to implementing all of AMP's best performance practices. AMP JS makes each and everything coming from external sources asynchronous i.e. none of these can block anything from rendering to an AMPed version.
There are several performance enhancement techniques implemented by means of the AMP JS component of the AMP technology. Among all other techniques, disabling of slow CSS selectors, pre-calculation of the layout of each element on the page, and sandboxing of all iframes are mandatory.
AMP's Role in SEO
Even though Google award webpages making using of Accelerated Mobile Pages technology with higher standings on Google Search SERPs, SEO experts remain skeptical about its influence on SEO in the long run. The primary aim for AMP is to make web pages ready to be readily accessed from mobile devices.
In certain cases, Google AMP can yield as much as 300% speed boost in page load speed.As such, Google AMP a desirable technology for serving content to mobile users. Moreover, it allows businesses to effectively design mobile-optimized web pages without running separate operations to create quality content for mobile users.
In the present scenario, the mobile web users outshine system web users. Hence, mobile optimization is essential for every business to succeed in the competitive digital market. Moreover, as Google is awarding AMP adopters with better standings on the Google Search SERPs, it undoubtedly becomes an important way to make the best use of SEO.