Want your business to enter the first page of Google? It is an obvious nod from those who want to flaunt their small businesses as well as those who have established themselves as a Corporate Giant. Staying on the first page of Google is a silent battle that the internet ground is undergoing these days. Companies venture huge volumes of money to enhance the Page Rank of their websites.
Once your company is recognized by Google, you win half of the clients' faith. Although this is one of the most important aspects of promoting businesses online, very few recognize the art of getting on the first page of Google.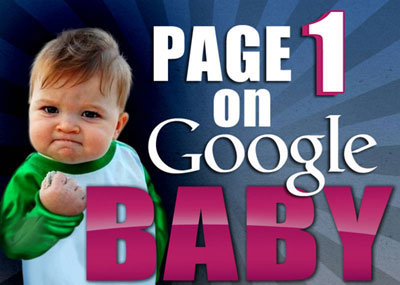 Search Engine Optimization
Condensed as SEO, search engine optimization is the method of modulating the visibility of a website or a web-page in a search engine. The process works with both paid (bidding) and unpaid (organic) methods. Theoretically, earlier and higher the frequency of occurrence of the website on the search engine, more the number of visitors it will receive from the search engine users.
The SEO process takes place in two ways– On-page optimization and Off-page optimization. On-page optimization refers to factors that are controlled by you or by coding on your page. These include actual HTML code, meta-tags, keyword placement and keyword density. Off-page optimization refers to factors that are off-site and are not controlled by you or the coding on your page. These include link popularity and page rank that can be enhanced through blogging, article submission, directory submission, press releases, etc.
In today's technological era where people believe in marketing everything online, it is important to have a website for your business. It is important to identify the sphere of influence of your business and develop relevant website for it. On-page optimization requires optimization through relevant keywords.
Keywords are the specific words or phrases that a layman may type to search about the type of business or information requirements. In SEO process, we identify the relevant keywords and judge their rankings. Thus, obtaining a domain name containing the main keywords can bring your website on the first page of Google.
After the domain is acquired, it is important to update it with relevant content that gives detailed information about your business. For example, if you are creating a website for an event management company, it is important to lay complete information about the services offered and the company profile as well along with the contact us form.
This not only allows users and browsers to learn about your business in detail but also helps in generating leads for sales purposes. The content written on the website should not be copied. Plagiarized content not only degrade your content quality but also pushes the Google ranking to a lower position.
Blogs, articles, press releases can be created with relevant keywords and submitted to various directories to enhance back-links. Forum posting, social bookmarking, blog commenting, exchanging links with other sites, software submission, etc also help in increasing the insights of the website and the traffic on the website or web-page.
Social Media Optimization
Condensed as SMO, social media optimization is the method of escalating the knowledge about a product, brand, service or event by means of a number of social media channels and communities. This helps in generating viral publicity, thus making it popular among genuine public. Social media optimization uses bookmarking sites, RSS feeds, social news and media sites, video channels and blogging sites.
The goal of SMO is similar to that of SEO as they both focus in driving page traffic to the website. With the popularity of Facebook, Twitter, LinkedIn, Instagram, Google+ and various other social media sites, it is very easy for people and businesses to gain social identity. However, it is important to maintain the identity to present yourself differently from the crowd.
Achieving top rank in Google requires lot of research and hard work. It is not a taken-for-granted job. An investment of billions will be useless if you do not research on keywords and target the relevant ones. The content has a key role to play as it is the basic ingredient of SEO and SMO process. So it is a job to be done with intensive care and high level of alertness.
Some other popular posts, you might be interested in.