Google Posts is a very good interactive feature in the Google My Business Page which most of the people are not aware of. Read this comprehensive guide on Google Posts.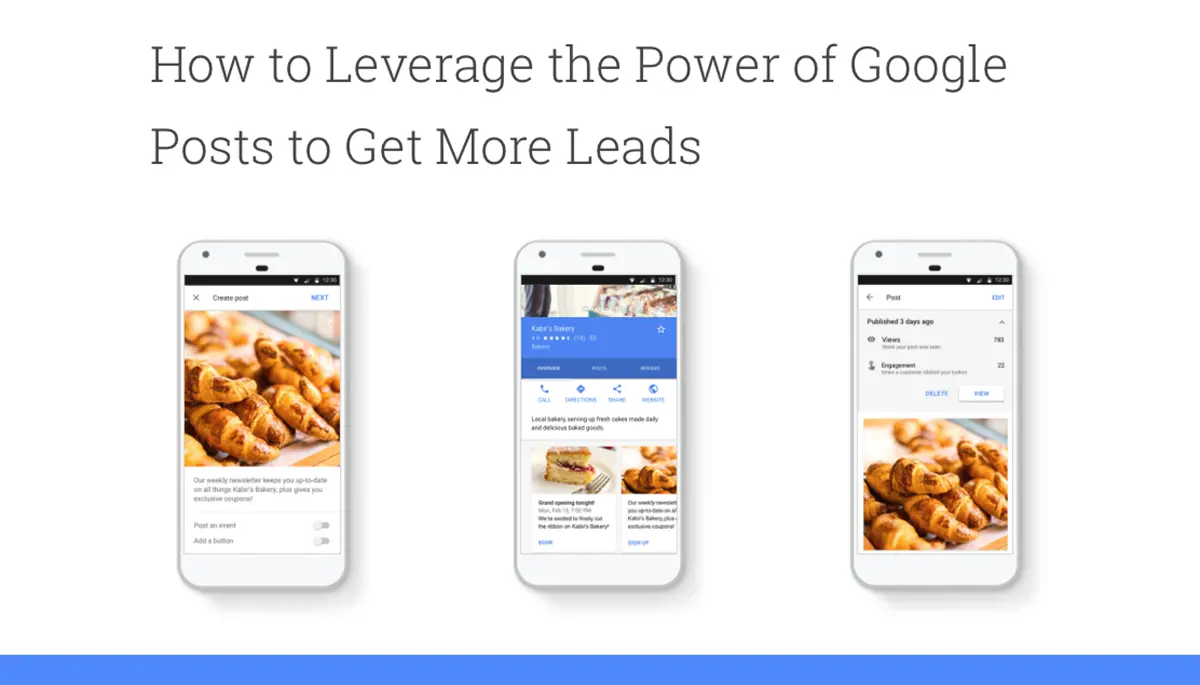 Ever since its launch in June 2014, Google My Business (GMB) has been instrumental in giving businesses a boost in local SEO.
As more than 90% of all internet activity begins with a search engine, GMB—by making your listing pop up when a user looks for it on Google Search or Maps—offers improved visibility and a greater chance to get more leads.
Besides, the Google posts feature helps you draw users' attention and gives you more control over your listings.
While a comprehensive study related to the benefits of Google Posts backed by statistics is yet to come, different agencies and companies have reported a significant increase in leads and traffic after using Google Posts consistently.
What is Google Posts?
A Google Post is a short content piece—of anything less than 1500 characters—that businesses use on their GMB listing to communicate with and engage their audience.
It may be an announcement about an event or any piece of news or information that business owners want to convey to their readers. It could be a new offer, enticing news that will facilitate a click, a discount, or any other communication for that matter.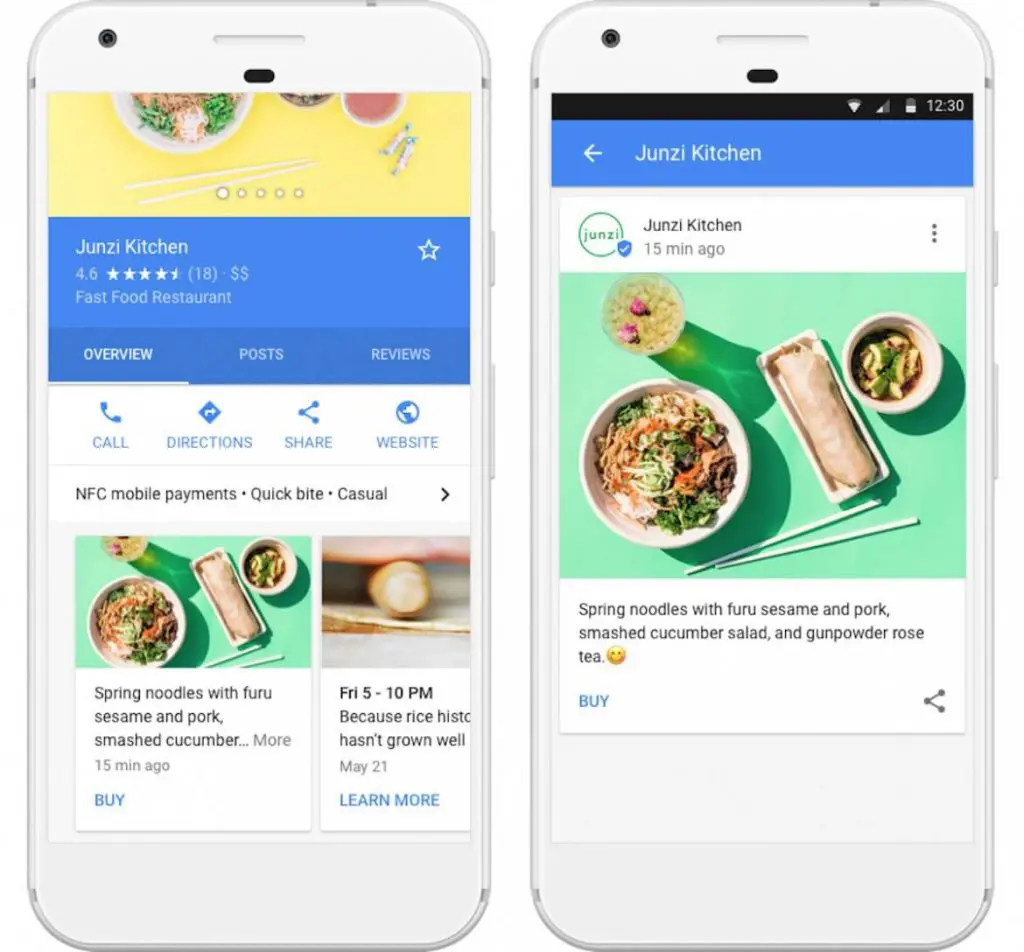 Rolled out two years back in 2017, Google Posts quickly became popular with business owners as it offered them a new platform to woo their users.
Accompanied by an enticing image and a captivating CTA, a Google post has the potential to gravitate the user towards you in the form of a lead.
Remember that Google Posts show up in the GMB listing only for seven days. Hence, it is advised that one publish at least one post a week in order to stay relevant.
Use of multiple posts is allowed, subject to a maximum of 10 at a time.
However, if a post is about an upcoming event, then the seven-day rule will not apply, and it will continue to show up until the day of the event.
What are the Different Types of Google Posts?
Google gives you four options when creating a post, namely, "What's New," "Event," "Offer," and "Product."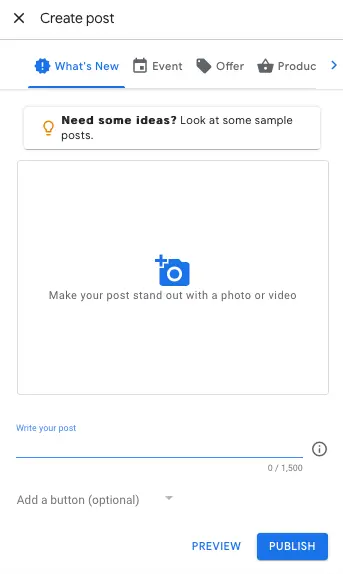 Depending on your engagement plan, you can choose the type of post you wish to create. The names of each post type are self-explanatory; nevertheless, here is a brief explanation of each:
What's New in the Google Posts?
You can create this type of post to inform your users about a recent and exciting development related to your business.
As GMB offers a great platform to interact with your audience using the messaging option, it is possible to understand their pulse and attract them by communicating news and events that will resonate with them.
For example, if you are a doctor, you could add a What's New post saying "NO-WAIT APPOINTMENT."
Event
Use this type of post when you want to invite your audience to an event you have organized. For example, if you are a manufacturer of musical instruments, you can create an event post inviting them to an exhibition of your products.
Note that an event must have a start and end date, along with a title. It is always better to add a photo or a video to enhance its appeal.
Offer
This is all about promotions and sales. When you are creating an Offer post, the CTA "View Offer" is automatically added to it.
A great offer is one of the easiest ways to attract attention. This can be used in the beginning of a business cycle to develop momentum.
Product
If you are a manufacturer or store owner, this type of post allows you to get more visibility for your product range. Just like other posts, you can add a relevant CTA like 'Explore More' or something similar.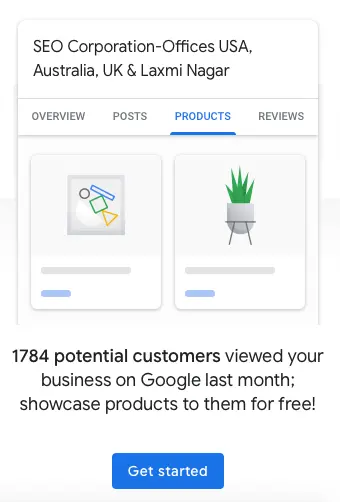 As a business owner, you may not be able to use all post types, but it is possible to choose from the four different types of posts the one or two that suit your requirements the best.
3 Benefits of Google Posts
Quality, without doubt, remains the primary criterion; however, in the digital world, quantity does play a significant role. The more visible you are to your customers, the better your chances of success.
Google Post helps you do this. They give you the leverage to increase your visibility and this wider net may help you catch more of the traffic.
Google Support mentions four key benefits of using Google Posts. Refer the screenshot below to read them.

This image succinctly explains what Google Posts can do; however, there are other benefits that emanate from these claims.
Increased Web Traffic
Google Posts is all about engagement with users. The more you engage with them, the more the chances of them thronging your website.
A compelling post can bring even a relatively uninterested user to your website. This may not result in conversion then and there but you have already made an impression on the user.
Real-Time Understanding of Customers
By checking the report of how a recent post was received, you can get a real-time assessment of what is resonating with your customers and what is not.
This will help you in making quick changes to your approach in order to win back your customers.
However, if your posts are gaining traction, you can push similar ones in the coming weeks to reap more engagement.
Your SEO Might Get a Boost
There is an indirect link between posts and SEO. If your posts are getting higher views, it means they are of high quality and of value to the users.
As Google tracks engagement, the organic clicks on CTA buttons will tell Google about your website's increased relevance which will eventually improve your SEO rankings.
How to Write Great Google Posts
No one can deny the significance of Google Posts, but the real question is, how does one write effective and engaging posts?
While writing a post on Google, it is important to take care of the five key points mentioned below. Let's take them up one by one:
1. Choose the Post Type that Relates to Your Content the Best
As mentioned in an earlier section, Google allows four types of posts. Choose the post type that best suits your offering.
Remember, not all posts are made with the intention to pull users to the website.
For example, if you just want people to know about a relevant change, choose the "What's New" post type to publish your content. Needless to say, only resonating CTAs should be added to the posts.
2. Make It Catchy & Unmissable by Adding Photos & Videos
Our minds process images 60,000 times faster than text. Hence the importance of images or videos in any post.
A picture is worth a thousand words may sound like a clichéd statement, but its truthfulness is beyond doubt.
Photos must only be in JPG or PNG format and have a minimum resolution of 400px by 300px.
As for videos, the list of acceptable formats includes AVI, MP4, MOV, FLV, WMV, MPG, M4V, MKV, M2TS, and MTS. The maximum size is 100MB, but it is advisable to keep it as light as possible.
3. Add a Good Title Since Many Won't Read Your Description
It is obvious that you need a punch in the title; however, what is important to note is the length.
Fifty-eight characters are the maximum you can go up to, but it is better to keep it to 35 characters or less. Remember, the long text has the effect of putting people off.
4. Add Relevant Details, But Avoid Cluttering
In the beginning, Google Post had a limit of 100–300 words. But now, the cap is not on words, but characters.
You can add up to 1500 characters to your description. But the golden rule is to use around 400–500 characters and not test the patience of the reader with long copies.
5. Appropriate & Relevant Calls to Action
A CTA has the potential to make or break the deal. A CTA resonating with the thought of the user is more likely to get a click compared to one which is completely off the track.
Some of the commonly used CTAs include "Book," "Order Online," "Call Now," "Buy," and "Sign Up."
How to Judge the Performance of Google Posts
Once you have published a post, it is time to sit back and observe its performance to see if it's working, or make some adjustments if it isn't.
For that, go to the "Posts" tab in your GMB account where the summary appears in the call out. You can see the performance of a single post or all the posts you have published in a week or in a month.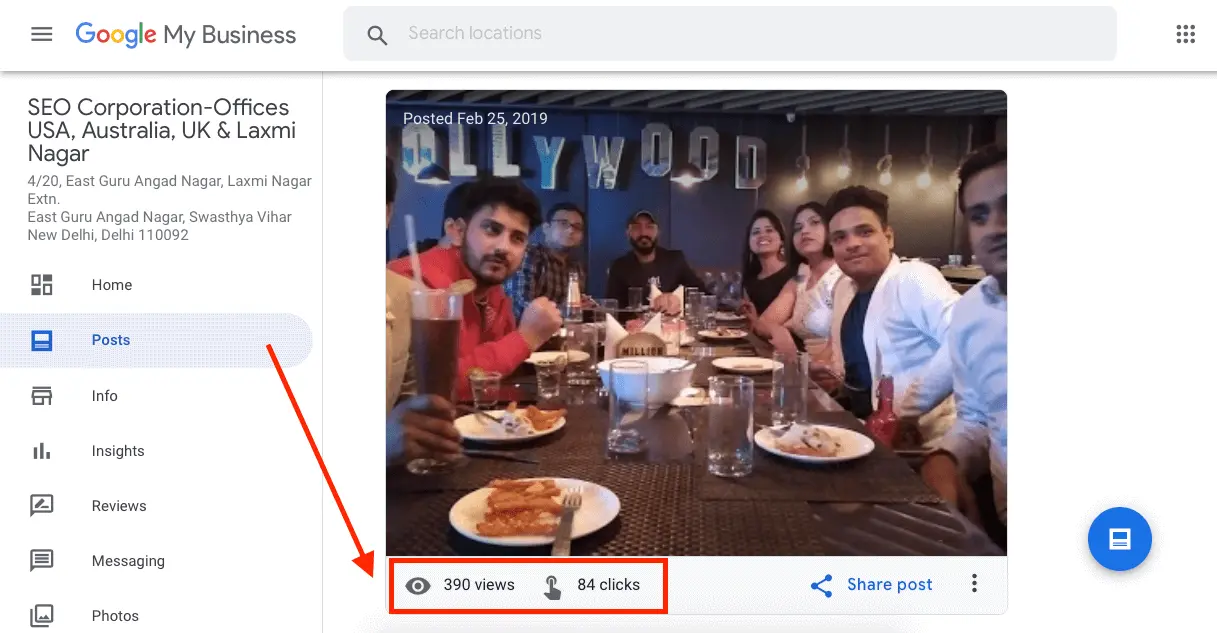 You will get near-real-time results which can be accessed both on mobile as well as desktop.
To conclude, Google Posts are among the simplest ways to interact with your target audience with great potential to turn things around in your favor.
They are essentially an additional platform for you to showcase what you have and entice the viewers.
Its strategic use can help you reap amazing benefits.