I am looking to hire an SEO firm in India for my ecommerce business. I am discussing with some of the vendors." "I have really got a bargain SEO deal. My vendors have agreed to take care of entire SEO effort in a dirt-cheap price! I can't let it go." Do you also talk like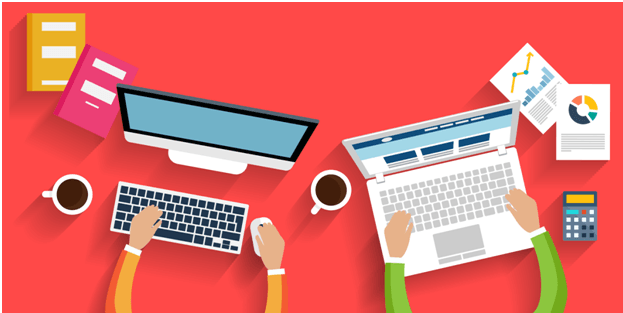 I am looking to hire an SEO firm in India for my ecommerce business. I am discussing with some of the vendors."
"I have really got a bargain SEO deal. My vendors have agreed to take care of entire SEO effort in a dirt-cheap price! I can't let it go."
Do you also talk like that? If yes—this is a MUST read post for you.
Various Google updates have made almost compulsory to hire an SEO agency for businesses as organic SERP ranking has become really important, but considering the high cost it entails, many businesses try to send their search engine optimization work in India to manage their SEO requirements. This helps them save on their budget. Smart strategy indeed! So are you thinking to do the same?
Nope! [We are sure you would have a blank face]
It's not that easy and making a wrong decision can break your business. That's because if SEO is important for your business, such mistake can prove really expensive. So the problem is strange: paying a low price will certainly result in wrong decision; however, paying a high price does not guarantee you'll end up getting a high-quality agency.
Like any other place, there are good and bad SEO firms in India as well, but finding them early would be a difficult task if you're not careful and apply yourself properly.
There are some common mistakes people commit while hiring an SEO agency. We have outlined a detailed 3 step process to make your task easier.
Step I Acquire Basic Information
Know Their SEO Methodology
Providing a long term sustainable result in SEO is not easy.
Why?
Everybody is trying to rank on the same set of keywords and the completion is really tough for the top spot in any niche. It's tougher that you might imagine. Nobody can provide overnight result. They can provide the desired outcome only when a robust process in the place. And every good SEO agency, whether it's in India or abroad has a well-defined process.
So you can ask these 18 questions from the SEO agency or expert to test whether they're really good at what they do:
What is the first thing will you do if we hand over our project to you?
How will you increase the page load speed of my website?
How will you change the URL structure of our web site and thus fix the broken link?
What is your expertise in technical SEO?
What's your strategy for Bing optimization?
What's your local SEO strategy?
How is your web design and development capabilities and how much extra would you charge for that?
How do you do social media optimization?
What's your link building strategy?
And if they talk about directory submission or commenting on forums. They are a crap. A good SEO agency will tell you the virtue of guest posting, influencer marketing, building a social profile to drive referral traffic.
What are your blog outreach skills?
What's your content marketing strategy? How will you create epic content around primary keywords? Can you show the proof of your authority content?
Who else you're working with and for how long. We have described this in detail in this post. Just keep reading this.
Do you guarantee results in keywords ranking?
[Legitimate and credible digital marketing companies may never guarantee results as they know they can't control Google algorithm updates. If an agency does that they're either a naïve or a con. We have outlined this in detail in the post. ]
Do you have any recommendation from a client you have worked for?
If your industry is a niche one such as manufacturing sector; you can ask about their understanding of the sector.
What's your paid promotion strategy?
How quickly you will respond to our queries?
Bonus Tip: If you're more curious to know their SEO process—ask them and if the response is anything like that, it's better to stop further discussion with them.
"We can't reveal our process as this is our trade secret."
"We use some proprietary techniques and strategies, and because of the highly competitive nature of our industry we can't reveal it. But we assure that it brings magical result."
"Sorry sir, it's our bread and butter and industry secret and we can't exactly reveal that."
"I'm not sure exactly, but I'll get back with you."
The bottom line is if an agency is doing an SEO, they must be able to explain the process as this is not a rocket science. If Neil Patel and Brian Dean can explain their SEO process, so why not these agencies.
What's Their Reporting Process?
Reporting structure is very important as it helps you get a clear picture about the progress of the project. So ask your agency about their reporting structure. What metrics do they use? How those metrics are useful for your primary goal.
A process oriented company will always have a right reporting structure and process in the place making your task easier. They will always be ready to answer your queries promptly. Credible agencies will always give weekly, fortnightly or monthly progress report. It's immaterial whether they use paid reporting tool or send you an excel sheet; but their metrics are easy –to-understand and aligned to your primary goal. Their SEO report templates must include the following information:
A list of summary of all daily or weekly activities such as email outreach, content creation, Meta optimization etc.
A list of metrics related to search traffic on your key keywords, bounce rate, and dwell time
Search ranking for your primary keywords
Conversion rate and how it's improving
Bonus Tip: Ask them to show the sample reporting structure.
Is Your Webmaster Well Aware of Google's Publicly Posted Guidelines and Best Practices? Do they Know the Common Mistakes Prohibited By Google Such As Sending Spams, Creating Suspicious Backlinks et el?
An ignorant webmaster can actually get your site banned by the Google leaving you utterly devastated and dejected. However, that won't be of any help. When Google shows a red card, you'll have to go out of the field for a long time.
Can They Show Their Past Results As a Matter of Proof?
This is where the real story starts. Their voice would start crumbling the moment you ask this question. Unreliable agencies would try to dodge it and would cite legal reasons for not sharing the reference of other clients.
They would take some of the big names, but will be mum to reveal whether they're still working with them. A reputable agency will have no hesitation in sharing past and present client references.
Who Will Actually Work on the Project?
This is the gem of the advice I am offering to you. Often digital marketing agencies rope in a senior person to talk to clients in the discussion phase, but later on hand over your project to junior resources.
That's a rampant practice across the industry. A good SEO firm will dedicate a full-time or part-time resource transparently.
Another question you can ask is to ask about their longest serving client, if that's below a year, it's a sure sign of a potential red flag.
Bonus Tip: Make sure to know who will work on your project. This is where SEO agencies often cheat. Your dedicated resources will actually be handling projects for other clients at the same time.
Can They Guarantee Putting You Top on the Selected Keywords?
If they're doing this, it's time to junk them first.
I would like to put here words of Rand Fishkin, the iconic founder of Moz, "Consider it a red flag if the candidate claims to have an insider relationship with Google or any other search engine that will get you priority search results rankings. Only Google, Bing and Yahoo can control how high or low websites appear in their search results."
What Changes Will They Suggest in My Website Or How Will They Carry It Out?
On page optimization requires many changes on the website and it is important to judge their web development and design capabilities. So ask them what kind of changes they plan to on the home page and landing page. If that requires changing the code largely, how will they do that? Or will they just update the existing HTML or CSS codes to modify the existing one. Will they also provide blog content and other web content? And how will they plan the website navigation?
Step II Get Rid of These SEO Misconceptions
Myth #1 They Have a Nice Looking Website, They Must Be a Great Company
Beauty often deceives, and this is true for SEO as well. Having a good website has nothing to do with the SEO capability of a company. However, many clients make this mistake. Some of the top names in the world of SEO don't have great websites, still their capability is well known. You should attach it importance only when you require web design capabilities.
Myth # 2 They Are Ranking In Their Niche and Area, So They Can Help Me Rank Too
This is another wrong assumption. Your prospective SEO vendor maybe ranking due to chance. Google attaches a lot of importance to how old is the domain name, and may be the company have an older domain and they have acquired some backlinks over a period, so they're ranking. However, it does not reflect the capability of an SEO company.
Myth # 3 They Just Need To Be Good in SEO
My dear! If you believe so; it's better you change your opinion. Search Engine Optimization is not an isolated thing. A good SEO company must have sound capability in social media optimization, content creation and promotion.
Social signals have increasingly become important as an important SEO ranking factor. And content is the soul of the search engine optimization process. If these two things are not at the right place; it won't be possible to rank for any keyword. Even if you rank somehow, it'll be ephemeral and you can't sustain it for long.
So the agency you hire must have experienced writer and a social media professional. This is the biggest weak links of most SEO companies in India. Some good companies have tie-ups with a large number of good freelance writers.
Bonus Tip: Study their blog section and social media page to judge their claims.
Myth # 4 They're a Big SEO Company, So They Must Be Good At What They Do.
The era of big SEO companies is simply over as it has become really an extremely specialized job. Even a company having 10-15 resources can be actually good for you. I would like to tell you that when we started 6-7 years back, we were really small; we had a crappy website, and a small cramped office in New Delhi. But we knew our job and passionate about our services. So we delivered results to our clients.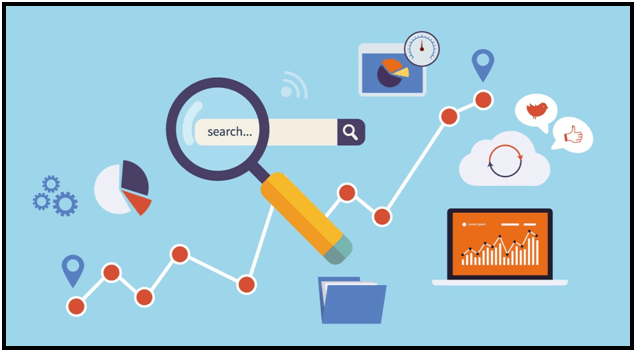 So never ever include a company just because they have a small team. I know a popular digital marketing firm in Delhi which ranks # 1 on some primary keywords in my niche; but they have no capability in SMO, ORM, and web designing. But since they rank on those keywords, they keep getting traffic and customers.
Myth # 5 They're Charging Just $200 Per Month, That's a Bargain Deal. How Can I Lose This Opportunity?
"Huhh" only God can save you if you think this way. SEO involves on-page optimization, off-page optimization such as link building, guest posting, social media optimization, and a lot of content creation. How can this be done in pittance. Sorry friend! You need to think about your strategy and expectations.
Step III Must Ask These 8 Most Important Questions Before Outsourcing Your SEO
In the last stage, you must ask these 8 questions before outsourcing your SEO work. Though we have asked some of these questions in the first step as well, but asking them twice would be good as it'll help you find discrepancies in their answers.
Do You Have Content –Driven SEO Approach?
An SEO result backed by content and social media is the most sustainable one. So you should ask their content strategy for your SEO effort. This includes how many blogs, infographics or other white papers they will write. Will they write syndicated content?
Using low quality content is what you should avoid at any cost. Content on their website indicates the reflection of their capabilities in this core area. Similarly, check their social profile to get an idea about their social media strategy.
Bonus Tip: How you can judge your SEO vendor on these parameters. Low quality grammar and content can be a big turn off for your services. Check their own website and you will have a fair idea about their content creation capabilities.
What's Your Link Building Strategy?
This is of paramount importance. Link-building is the most vital part of the off-page optimization process. Here is a question at Quora, I would like to mention.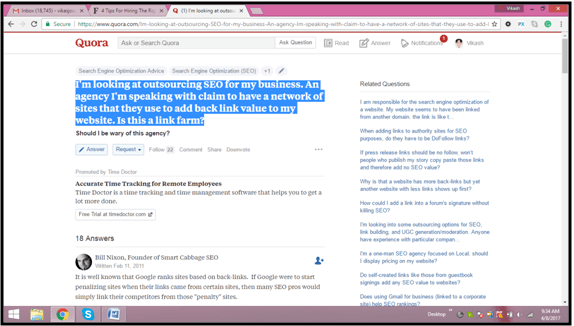 Obviously, there should not be any doubt about that. That's a link farm which will damage your website in medium to long term.

Image Source: Quick Sprout
So ask them—how will they build high-quality backlinks? Their typical response will be: we have a large partner network of websites.
They will also name a few names of relatively obscure websites. Here you need to become alert as not having a solid and authentic backlinking strategy will do more damage than benefit. Earning a quality link will cost not less than $80-100 per link backed by a solid guest post strategy, so those agencies claiming to manage the project in pittance needs to be junked.
You can't get result in less than $1 per link. Hummingbird and other Google updates have come down heavily on such spammy links.
What Tools Do They Use?
This is not of high importance, but reveals their capability to some extent. Using tools such as SEMrush, Ahref or Crazy Egg heatmap reflects that they invest to get the best result for their clients.
Reporting tools –That's an important part and can be created manually also. But having a paid reporting tool automates the process and can show you improvements on many parameters. You clients can also see the result in a single click.
Technical SEO tools –A tool such as Crazy Egg or Screaming Frog can crawl your site for a variety of technical SEO parameters and can tell you the exact problem that need to be fixed.
Research tools – Having a tool like SEMrush or BuzzStream allows you to gather information from a large number of sources quickly; thus saving your time and effort.
Are They Forcing For a Long-Term Contract?
Be alert! Doing that means you will be locked out for a long time. The best you can do is to go for a 3- month-contract; but not more than that. This way, you won't stick with your consultant.
What's Their Payment Structure?
Different SEO companies use different payment structures. It's important to know how much and when exactly you will need to pay so that you can factor it into your budget. SEO can be done in many ways and the charge depends on the time and effort deployed on the project. According to a Moz survey, 70.1% of SEOs offer project-based pricing. A good agency will tell you a differentiated pricing structure for different levels of services.
What Will Be the Payment Termination Terms and Conditions?
That's tricky!
They will talk you about virtues of long term SEO strategy and would lock you for minimum for six months or a year while charging you an upfront payment of 50%. After two months it becomes clear that you made a mistake hiring them.
You can do nothing now. You have no option to terminate the contract. You're locked. The situation becomes worse when you face a cash crunch situation.
Bonus Tips: Make the terms and conditions for the termination of the project clearly. There must be a clause that gives you the right of early termination of the project. Many agencies charge some penalty for early termination of the project, make a clarity about that.
Opt For a Performance Linked Pay Structure
You can go for some part of the fee upfront and a part of it after the completion of certain milestones such as releasing payment after on page optimization is over or your primary keywords come on the top page, etc. You can also devise some incentive structure for better than expected result or make them a partner in profit if sales exceeds beyond a certain point.
Conclusion
The three step process outlined in the post will help you weed out shady SEO agencies. Those looking to outsource SEO in India can save their skin with these practical tips.
The process may take some time, but believe me— it's worth the effort. A wrong decision may impact your business poorly. Would you like that?
Always remember that you should never go for a cheaper SEO agency, look for an affordable digital marketing company that does a reasonably good job.
Save
Save
Save
Save
Save
Save