Google Analytics' status as an indispensable tool to track and analyze target users and their preferences, it was only natural for businesses to feel jittery when Mozilla started blocking it recently.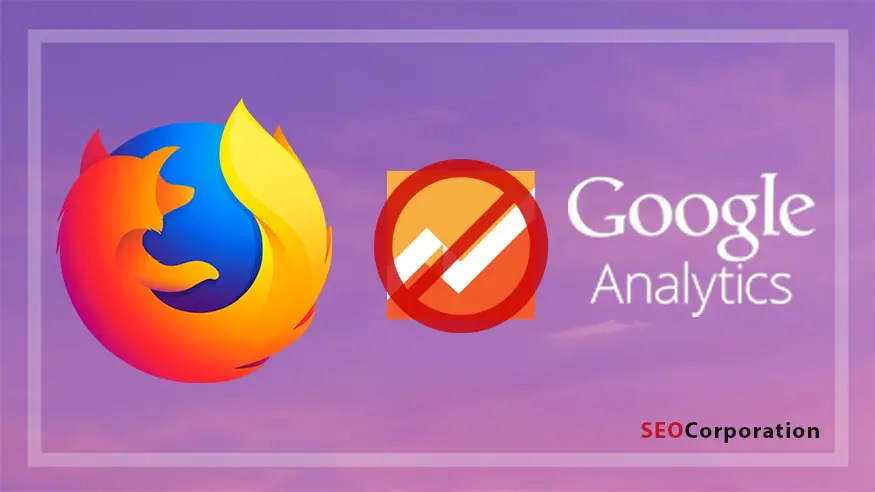 Given Google Analytics' status as an indispensable tool to track and analyze target users and their preferences, it was only natural for businesses to feel jittery when Mozilla started blocking it recently. To those who have been following Mozilla's moves in the past, it was something that was expected as the company has been working on this update for quite some time now and this was initially indicated in August 2018.
Business owners, users, and Mozilla's employees all took to Twitter to raise concern or clear the air depending on which side they were on, with Mozilla portraying itself as taking a moral stand in favor of data privacy, while businesses saw it as a move that snatched from them data that is key to helping them stay afloat in their trade.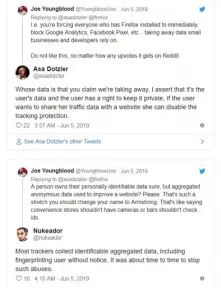 What Mozilla Claims to Do With This Update
Apart from stricter user privacy, Mozilla claims that the overall speed of the browser will significantly increase with this update. It has been noted that Firefox 67 loads page faster due to its better task performance at the optimum time.
According to Mozilla, Google, Amazon, and Instagram searches get executed between 40% to 80% faster as compared to the previous version. The latest version also has a feature that allows it to scan for alternative style sheets which helps in loading the page even faster. Firefox 67 also assists in a faster startup as it skips unnecessary and irrelevant tasks while loading.
What Has Really Changed with this Update
Contrary to the common perception, the update is not going to affect old users. Only those who install Firefox browsers from now on will have a default setting with tracking protection "on," whereas the old users will have their default setting as "off."
At the moment, Mozilla is blocking third-party cookies from over 2,500 tracking domains and the idea is to expand this list over time.
In addition, Mozilla has made it clear that site owners will still be able to generate analytic reports that help them fine-tune their website. That is because the analytic report uses a first-party cookie, whereas the recent move blocks only third-party cookies.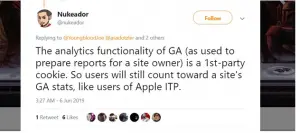 Should You Really Be Concerned?
The user share of Firefox varies between 9% and 11% according to surveys. Google Chrome still holds the top rank with a whopping 68% user share, but Firefox's figures are far from negligible.
Firefox is quite popular in Europe and is number one in Luxembourg with 28% of the population using it as their primary browser. Thirty-two percent use Firefox in Poland but the browser ranks in the second position. It is worth noting that the effect on businesses in these countries will be far more pronounced compared to places like Turkey where fewer people use Firefox (almost 83% of users in Turkey only use Google Chrome).
In a country like Australia where Firefox users number merely 3%, the impact may be negligible. But the flip side is that Australia already has a one-third population that uses Safari.
How Mozilla's Move is Different from Apple's Safari
Mozilla is not the one leading the charge in terms of blocking third-party trackers. A couple of years ago, Apple added a similar feature to Safari where it modified the browser so that it blocks almost all trackers.
While Apple went the extra mile in terms of securing user privacy, this resulted in multiple issues for the end users because several websites rely on cookies and trackers so that people can be logged on to them and the websites can serve up relevant information. However, by blocking all the cookies and trackers, the user experience became a little erratic.
In comparison to Safari, Mozilla has been less vigorous in blocking third party cookies, trackers, etc. It has blocked only known trackers and not all of them. Mozilla has admitted that, if all the cookies are blocked, some of the websites may not work properly. Thus they have chosen the partial approach and blocked only known trackers and cookies.
What Can We Expect in the Future?
It is difficult to predict the future, but users are generally gravitating towards better user experience. The tracking system has made it possible for users to see ads, recommendations, and products that are relevant to them.
It is difficult to say whether users will sacrifice privacy for a better user experience by making a slow switch from Mozilla to other browsers or inch towards Firefox and establish that their privacy is dearer to them.
To conclude, it can be said that speculation is still rife on whether businesses are really going to suffer from the move as they will lose the key tool to track and target potential customers. With the next upgrade for Mozilla Firefox, Firefox 68, scheduled for release in early July 2019, it will be interesting to see what it brings along. As in many cases, time will provide the answer, so let's keep our fingers crossed since nothing concrete can be said prior to that.
Featured Blogs
All about Google Algorithms and updates
Google's Search Engine Console Affected Due to Deindexing Bug
What is Google Florida Update 2 & What You need to do if you lost Your Rankings?
Why Local Businesses Will Need Websites More than Ever in 2019
Flashback: Google's broad core algorithm update that shook the internet